Sriracha sauce is a hot sauce originating from Vietnam that adds heat and a hint of sweetness to daily meals. Also known as rooster sauce, it can be used as a dip, condiment, marinade and more!
Ingredient Spotlight is a new feature on the blog focusing on products that I love. It could be a snack, a dip, a condiment, a brand of tea or breakfast cereal that I am appreciating these days. It could be a newly launched product or be something that has been in the market for a while. It could be fresh food or frozen food. Just something that I want other people to also try it out!
The first ingredient spotlight is going to be Sriracha, a spicy hot sauce that tastes absolutely delicious with everything. It is made from a paste of chili peppers, vinegar, garlic, sugar and salt. It can be eaten on its own as a dip, or used to make mouth-watering condiments, or as a divine marinade to create even more stellar recipes.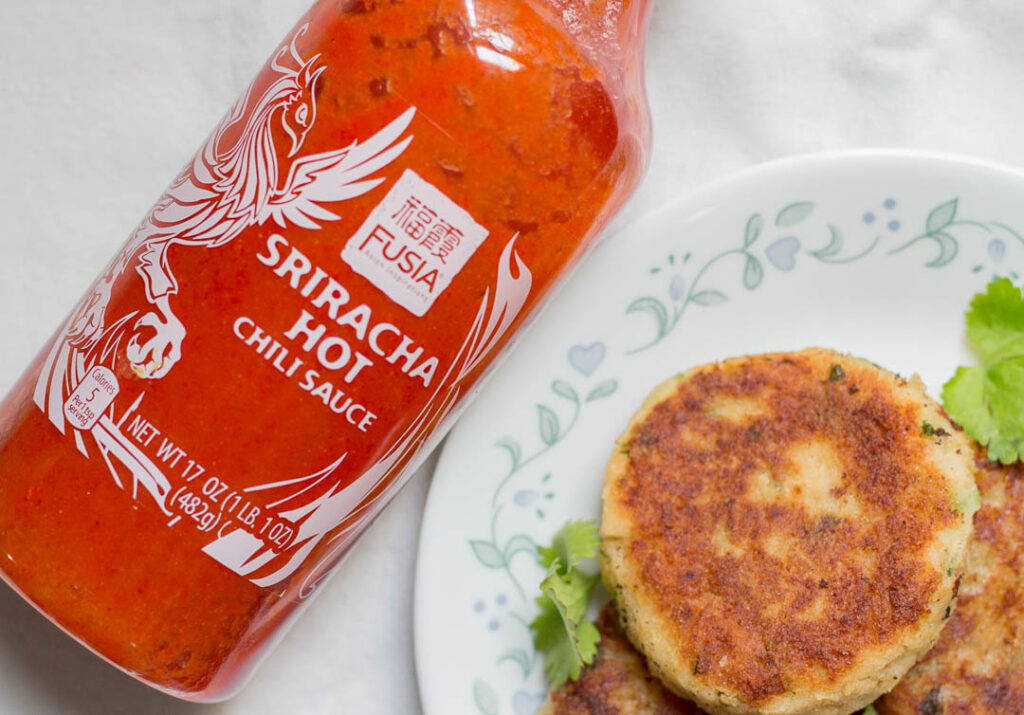 History of Sriracha Sauce:
In the early 1980's, a Vietnamese immigrant by the name of David Tran settled in the United States. Missing the spicy condiments that were served at home, particularly with the noodle dish pho, he decided to create his own hot sauce. Initially selling from his own van, the sauce became so popular that David formed a company by the name of Huy Fong Foods which now sells more than 10 million bottles of this immensely popular spicy sauce every year.
It's instantly recognizable by its iconic packaging – clear plastic bottle with the vibrant sauce inside, and a green cap, with the trademark rooster logo. Not to forget the text, which is in Vietnamese, English, Chinese, French, and Spanish.
The green cap and rooster logo are trademarked but the U.S. Patent and Trademark Office considers the name "sriracha" to be a generic term. That is why there are many other hot sauces called sriracha but the most famous one is the 'rooster sauce'.
Other than its commercial history, it is named after the coastal city of Si Racha in Chonburi Province of eastern Thailand, where a similar version of this sauce used to be served alongside seafood.
How to eat Sriracha:
There are many different ways in which Sriracha can be used, such as:
Serve Sriracha on its own as a dip with grilled meat, vegetable crudites or French fries.
Use sriracha as a marinade to add a burst of flavour in meat or vegetables.
Whisk it in olive oil and lemon juice to drizzle over a salad.
Use it as an ingredient in a dipping sauce, a sandwich spread with mayonnaise, or as a condiment to be served with anything that you want.
Where is it available:
In the United States, Sriracha sauce is commonly available at grocery stores and supermarkets but it can also be ordered from Amazon or from the Huy Fong Foods website. In Pakistan, the original rooster Sriracha sauce can be found at Agha's and Naheed's occasionally. However, there is a more common and a bit more affordable version by Suree that is available at other supermarkets like Springs, Tee-Emm, Shazz, Imtiaz and others.