Reminiscent of Zainab market in Karachi, Paddy's Markets at Haymarket near Chinatown is one of my favourite markets in Sydney for items like fruits and vegetables, clothes, accessories, gifts and souvenirs. 
There are numerous markets spread across Sydney, some that are only setup on certain days of the month and some that are regular fixtures housed in proper buildings. One of my most favourite ones has to be the Paddy's Market at Haymarket. At a 10 minute walk from Central station and a minute away by Lightrail it is easily accessible for people coming to Sydney CBD (central business district).
The market is similar to a shopping bazaar with dozens of stalls. In fact, it reminds me of Zainab Market without the cries of 'Baji, yahan aao na'. There are clothes, shoes, handbags, accessories and lots and lots of souvenirs. Perfect for buying to take for friends and family back home in Pakistan. There are of course food stalls with tables and chairs to sit and stalls offering services like threading, massages and facials.
There's a separate fruit and vegetable section, which is my favourite part of the market. The prices are better compared to the regular supermarkets (Woolies, Coles and sometimes even Aldi). Plus there is a lot of variety and it is possible to buy hard to find Asian vegetables and even Desi vegetables. For instance, I am able to find okra (bhindi), lotus root (beh) and fenugreek (methi) at pretty decent prices. Just the other day, I saw okra (bhindi) for 16 AUD/kg at Woolies and for 10 AUD/kg at Paddy's market. Pretty good bargain.  The central location means that it's possible to get the weekly vegetables (especially the Desi ones) in the city instead of going across town to the Desi suburbs. Coriander and mint, the Desi basic staple is available at all the supermarkets but its 3 AUD for a bunch at Woolies/Coles versus 1 – 1.5 AUD for a bunch at Paddy's or a Desi store.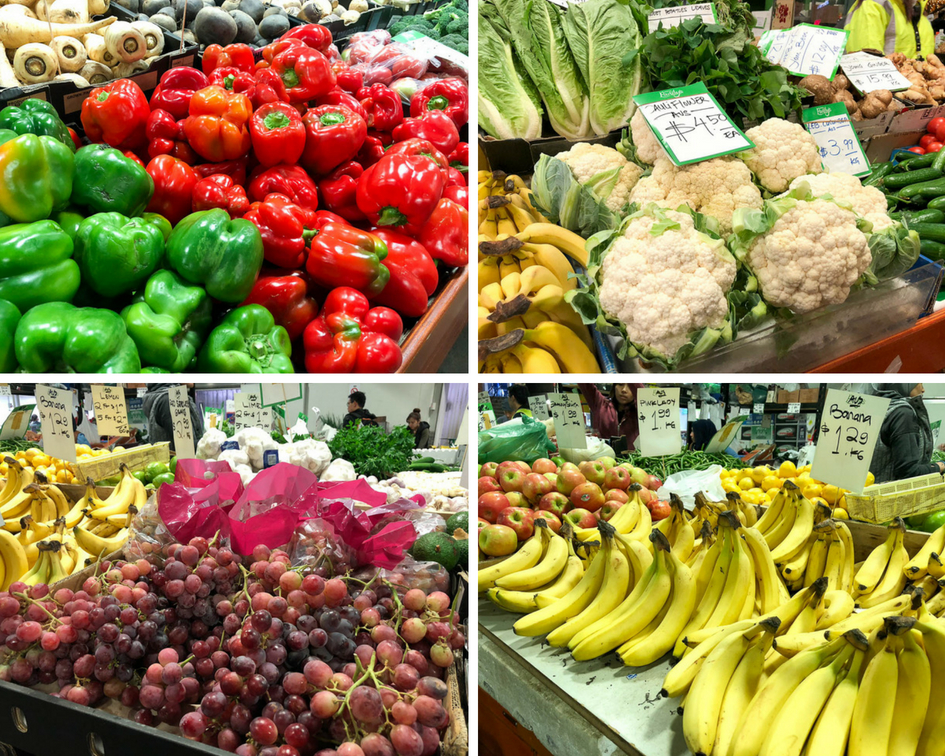 Another interesting thing that I like about this market is that certain stall owners make small bags of fruits and vegetables on offer, and one can purchase any number of bags for a specific price. For instance, there was a deal of 3 bags for 5 AUD last time I went and I ended up buying ginger and two types of green chilies. It was enough to last me more than a month. As it gets later in the day the stall owners put even more discounts to finish of their stock.
One more thing, Paddy's Market has also started doing pop-up markets so you might just get to see your favourite restaurant or cafe opening up a stall there. A friend and I went there on a Friday and found Zumbo's and Diego's doughnuts along with a few other stalls inside. YUM!
Paddy's Haymarket is housed inside Market City, a shopping mall featuring retail outlets, food courts and of course Paddy's market in the basement. The mall is open 7 days a week, but Paddy's market is open from Wednesday – Sunday from 10 am till 6 pm. It is closed on Monday and Tuesday.
Paddy's Haymarket is part of the same commercial enterprise that runs Paddy's Flemington. The Flemington market is much larger and is the main site for the delivery of fruits & vegetables to Sydney, hence has a wholesale section and caters to large businesses or bulk orders. Unlike the Flemington location which requires one to go very early in the morning and buy in bulk, there is no such compulsion at the Haymarket location. It's possible to buy even a kg of a specific fruit but not all stall owners will have a point of sale so keep cash handy.
Have you been to Paddy's Market in Haymarket? Do you enjoy shopping there? 
To keep updated with recipes, stories and so much more follow me on Facebook here, Instagram here and Twitter here.