Print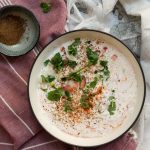 How to make raita and different types of raita
With a base of yoghurt or dahi, raita is one of the most popular sides in Pakistani and Indian cuisine. Not only does yoghurt temper the spice that is a characteristic part of Desi cuisine, but it also acts as a condiment or dip to soak up the roti for dry dishes like BBQ.
Vegetable raita:
3

tablespoons

onion

diced

3

tablespoons

tomatoes

diced

1

green chili

chopped

1

tablespoon

coriander

plus more for garnish
Green chutney raita:
2

tablespoons

green chutney
Plain raita with spices:
Place yoghurt in a bowl with milk and water. Whisk together and add more milk or water as required. Add cumin seeds, salt and red chili powder and mix through.
Vegetable raita:
Add the diced up vegetables to the plain yoghurt with spices. Stir together, leaving some coriander leaves for garnish in the end.
Green chutney raita:
Whisk yoghurt with milk and water. Add green chutney along with roasted cumin seeds and stir through. Taste and then add the salt and red chili powder.
How to make roasted cumin seeds (or bhuna zeera):
Place cumin seeds on a tawa / frying pan. Dry roast on low - medium heat for 2 minutes, making sure to move the pan around so the cumin seeds don't burn. Take off the heat and place in a spice grinder and ground into a coarse powder. Pour the roasted and ground cumin seeds into an air-tight bottle and it will last for a couple of months in the spice cabinet.
If you are looking for a recipe for home made green chutney, you can find one on the blog here