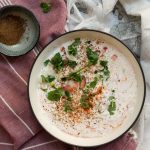 Print Recipe
How to make raita and different types of raita
With a base of yoghurt or dahi, raita is one of the most popular sides in Pakistani and Indian cuisine. Not only does yoghurt temper the spice that is a characteristic part of Desi cuisine, but it also acts as a condiment or dip to soak up the roti for dry dishes like BBQ.
Vegetable raita:
3

tablespoons

onion

diced

3

tablespoons

tomatoes

diced

1

green chili

chopped

1

tablespoon

coriander

plus more for garnish
Green chutney raita:
2

tablespoons

green chutney
How to make roasted cumin seeds (or bhuna zeera):
Place cumin seeds on a tawa / frying pan. Dry roast on low - medium heat for 2 minutes, making sure to move the pan around so the cumin seeds don't burn. Take off the heat and place in a spice grinder and ground into a coarse powder. Pour the roasted and ground cumin seeds into an air-tight bottle and it will last for a couple of months in the spice cabinet.
If you are looking for a recipe for home made green chutney, you can find one on the blog here