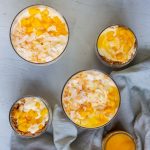 Print Recipe
No Bake Mango Cheesecake Jars | No Gelatin Recipe
These no bake mango cheesecake jars are the perfect party dessert. Crunchy biscuit base, with a fluffy mango and cream cheese filling, and fresh mango chunks on top. It's also vegetarian friendly, with no gelatin. This tropical dessert can be served in glass jars for an individual serving, or in a large bowl for a family style serving.
½

packet / 200g Digestive biscuits

plus more for garnish – see note 1

2

tablespoons

/ 35 grams salted butter

melted

1 ¾

cup

/ 300 ml cream

250

grams

cream cheese

softened

½

cup

caster sugar

Pinch

of lemon zest

1

teaspoon

lemon juice

1 ¼

cup

/ 300 gram mango puree – see note 2

Chopped mangoes

for garnish

Toasted coconut flakes

for garnish
To make the no bake mango cheesecakes:
Place the Digestive biscuits in a food processor, and pulse a few times till fine crumbs are formed. The crumbs should resemble bread crumbs. Add melted butter, and pulse another time to combine. Set aside.

Alternatively, place the Digestive biscuits in a Ziploc bag, and crush with a rolling pin till fine crumbs are formed. Place the crushed biscuits in a bowl, and add melted butter. Mix well and set aside.

Place cream in a medium sized glass or steel bowl. Beat the cream with an electric hand whisk till soft peaks are formed. Set aside. A stand mixer with a whisk attachment can also be used.

Place softened cream cheese with lemon zest and lemon juice in a large glass or steel bowl. Beat with an electric whisk till soft and creamy. Add granulated sugar and beat again for about 2 minutes till sugar is mixed through. Add 1 cup of the mango puree, and whisk for another minute to combine.

Use a spatula to fold through the cream into the cream cheese mixture in two steps until combined. Set aside.
To assemble:
Divide the biscuit filling between 8 small jars. Depending on the size of the jars, this can be 6 – 8 small jars, or 3 – 4 small trifle bowls. It can also be one large trifle bowl. Press the biscuit filling down with the back of a spoon.

Spoon or pipe the cheesecake filling into the jars until about ¾ from the top. Chill in the refrigerator for 3 – 4 hours.

Before serving, top with the remaining mango puree and crushed biscuits. Top with chopped mangoes, and toasted coconut flakes.
Any tea-time style biscuit can be used instead of digestive biscuits. Options include Marie biscuits, graham crackers, shortbread. Other unique options include Lotus biscoff biscuits, granola, a mix of nuts with biscuits.
To make mango puree, place mango cubes in a blender and blend till a puree is formed. A few tablespoons of water can be added to make blending easier. If fresh mangoes aren't available, canned mango puree is also available at Indian and Pakistani grocery stores. Depending on the variety of mango used to make the mango puree, the amount of sugar may need to be adjusted.