As exciting as it was, my move to Sydney was quite overwhelming and challenging, and that is why I decided to write a beginners guide to living in Sydney.  It's a basic guide that will help newcomers especially expats like me who have moved halfway across the world to come to Australia. From the transportation system in Sydney to where to shop from to whether you should tip or not, to the unpredictable weather and the availability of Desi and halal food.
1. Transportation in Sydney
Available transportation options in Sydney include trains, buses, ferries and light rail. It's possible to travel on all of them using an Opal card (similar to a metrocard in Dubai, US or UK) which are available at multiple retailers across the city, and also at train stations. Opal fares are calculated according to the distance that you have traveled. Transport in Sydney isn't cheap but there are concessions available. For instance, after 8 trips in a week on the same Opal card a weekly reward is reached and fare is discounted by 50%. There is a daily cap of AUD 15.80 and a Sunday cap of AUD 2.70.
It is possible to live in Sydney without a car and travel throughout the city on public transport at least in the first couple of months, especially if you are an expat who has recently moved .With parking being so expensive in the city people who have cars only usually take them out on the weekends only, or when travelling with children, buying groceries and other home supplies.
 2. Bringing items to Australia 
Australia has a strict border control and quarantine policy, and many items that are allowed in other countries will not be allowed here. Fresh food, plant material, even foreign dirt is not allowed in the country due to the potential hazards to the ecosystem. Certain food items are allowed but they need to be declared so they can be checked. If unsure, just declare because there will be no penalty even if the item is thrown away. On the plus side, you can find Pakistani items in Sydney at specific stores be it Desi pots & pans, Shan masalas, Nestle Everyday, mithai or papri.
If you are planning to move here, and are thinking of whether to cargo stuff here and what to cargo check out my blog post here.
3. Finding a new home in Sydney
The two best websites to go to for newcomers looking for places to live in Sydney are Domain and Real Estate. It's best to find a place that is near to a train station and/or a bus stop with good travel routes to the city centre (also known as CBD) as most work opportunities are there.
Inspection times are usually Wednesday & Saturday, 15 – 30 minutes long and open to multiple viewers. You can contact the owner or real estate agent to work out a different timing.  If you are interested, file an application immediately to be in consideration for the apartment. Keep identification handy (passport, driving license or photo ID) as it is required to fill in an application. Rent is quoted weekly, and a bond equal to one month's rent plus the first month's rent is required in advance. Having a car for inspection is really helpful as inspection times of different apartments in the same suburb are held very close to each other.
Suburb selection is a personal choice, and though it's not possible to understand a suburb till one actually lives there, one can get an idea by checking reviews online. Popular Pakistani/Desi suburbs include Lakemba, Bankstown, Mt. Druitt, Green Acre, Seven Hills, Merrylands, Auburn, Parramatta and Carlingford. Other suburbs with proximity to areas with a Pakistani community are Ryde, Homebush, Rhodes, Meadowbank, Wentworth point and Carlingford. Areas in the north of Sydney don't have a high Desi population but ones that can be considered are Chatswood, Artarmon, Hornsby, Lane Cove, Surry Hills, Darlinghurst and North Sydney.
4. Shopping in Sydney
The shopping in Australia can seem quite strange as the brands are so unfamiliar. Below is a broad category list that should help you identify where to get the essentials from.
Shopping Malls - There is a chain of shopping malls in Australia known as Westfield present in quite a few suburbs. Every Westfield has a variety of stores, at least one supermarket, a food court and restaurants.
Outlet Centres – DFO is known as direct factory outlet and its basically Australia's outlet store. Though it's known as an outlet store, I found the prices and discounts to be the same as regular stores. There is one DFO in Homebush and another outlet known as Birkenhead in Drummyone.
Department Stores – Myer is the most popular and can be found in almost every Westfield, after which there is Harris Scarfe and David Jones.
Budget Department Stores – Considering the array of products (think furniture, clothes, shoes, home décor and more) that K-mart, Target and Big W have, they can be considered budget department stores. There is also Daiso, the Asian dollar store, where the majority of products are 2.8 dollars.
Appliances – for large (fridge, washing machine etc) and small appliances check out are JB Hifi, Bing Lee or Good Guys.
Kitchen, Linen & Home Décor – though the department stores carry these items too, if you are looking for a greater variety and specialty stuff check out Victoria's Basement, Bed, Bath & Table, Pillow Talk and Wheel & Barrow.
Home Improvement – If you are looking for anything DIY, Bunnings Warehouse is where you need to go. The store is huge and carries everything from tools, cleaning supplies, wood, tiles, wood beams to a gardening section that has anything and everything.
Stationary & Office Supplies – Just go to Officeworks. It's also where you can get flyers, banners and pictures printed, scanned and copied.
Cosmetics, Personal Care & Medicines – the two most popular stores in this category are Priceline & Chemist Warehouse. They are drugstores where you get your prescriptions filled. If you are looking for premium stores, Australia does have Sephora here, and there is also Mecca Maxima which is the Australian version of Sephora and far more glamorous.
Arts, Crafts & Sewing – Lincraft, Spotlight, The Reject Shop and Asian stores like Hot Dollar have a variety of craft items along with cloth that can be used for sewing.
Furniture – Ikea and Fantastic Furniture are affordable options for furniture. Other than that, there are home maker centres in Artarmon, Alexandria and Parramatta where there are multiple furniture stores in one location.
Markets – Sydney is famous for its traditional markets with some being year round fixtures and a few at select times of the year. For instance, there is the Sydney Flower Market, Paddy's Market at Haymarket which is targeted towards regular consumers, and the Paddy's Market at Flemington which is targeted towards retailers and bulk purchases.
Budget Stores/Dollar Stores - Almost every suburb and mall will have a dollar/budget store of sorts, usually with an Asian proprietor. One that I see regularly is titled Hot Dollar, and in that store I can find pretty much everything. Disposable cutlery, cleaning supplies, party decorations, screwdrivers, extensions, rope and lots of other random things.
Co-op stores – Known colloquially as op stores, second hand stores are pretty common in Sydney and an be the source of many bargains. The common ones are Vinnies, Salvos and Goodwill.
5. Grocery Stores
There are two main chains of supermarkets in Sydney which are Coles and Woolworths (called Woolies for short). There is also IGA, Aldi and Harris Farm Markets but these are the two most common ones. If you are new in town, make sure there's at least one of them within a 20 minute walking distance.
There are specials on both stores every week and one can see what they are by picking a catalogue in store, checking the website or signing up for weekly e-mails. There's also an app 'ShopJam' that I use to make lists and compare prices on both stores. Make sure to compare unit price as certain products are still pricier even if they are on special. Once you have the hang of grocery shopping here, you can stock up when items are on special. Other than the catalog specials, the stores will put items that are nearing expiry on discount, particularly in the case of fresh produce or bakery items. If you know you can use the item within the expiry date, or if the produce still looks fresh it's an excellent way to get a bargain.
The majority of products will be the same across all stores but certain stores will carry suburb specific items. For instance, it is possible to find Shan masala at the Woolies in Lakemba or at the Coles in Greenacre and Punchbowl but not at every store. Its always a good idea to get a membership card for these stores. By using these cards at each store you can get points which could be availed for discounts later.
 6. Desi food & halal food in Sydney:
Though the variety is higher in specific suburbs, it is easy to find Desi cooking items and halal food in the city. The supermarkets have an international section where it's possible to get spices, herbs, lentils and more. Brands of chicken like Steggles and Lilydale are halal and available in the supermarket. Grocery stores mention ingredients clearly, add a vegetarian sign if applicable and add a halal sign if certified. There is always the option of e-mailing and/or calling the supplier to find out the product details in case unclear. Popular Desi stores include Ali Supermarket in Lakemba, CK Mart in Rooty Hill, Punjab Meat at Homebush, Desi Kasai at Harris Park, and Radhe Supermarket in Harris Park again.
There is at least one Turkish/Middle-Eastern restaurant and one Indian restaurant in malls, festivals, shopping centres which are halal. Chain restaurants such as Rashays, Oporto, Nandos, PappaRich have halal food. Ingredients and certifications do change with time so make sure to double check with the responsible person or e-mail the company to check.
7. Paying at the Counter & Tipping:
Payments are mostly done on the counter here in Sydney, and it is even possible to split the bill at the counter in certain restaurants. Not only does this save time, but it ensures that if you are using a card you are tapping it in the machine yourself versus giving it to someone else. Orders are also usually placed on the counter and sometimes a waiter will bring a menu to you.
If the order is placed at the counter, the cashier will hand you a token with a table number which you place on the table so that the waiter can locate you. The best part about this is if you are coming in a group, pay individually at the counter, mention the table number and the waiter will bring out the food. No spending hours trying to figure out how to split the bill. If a restaurant does not split bills, it will be mentioned. In Australia, stated prices have to include tax and service making it easy to split bills by item if necessary.
Unlike the US and Pakistan, tipping isn't expected in Australia. There is a tip jar (usually at the counter) where tips can be deposited if you wish.
8. Timing:
People in Sydney wake up early and subsequently sleep early too. Stores open early and will close by 6 pm and sometimes even 5 pm. Thursday is a special day when the stores & malls are open till 9 pm. In the CBD restaurants and stores will close even earlier and remain closed on the weekends. However, the grocery stores are open till late (10 pm for Woolies and 11 pm for Coles) and stores like Kmart & Target will be open too.
Since the mall closes at 6 pm, the food courts start packing up around 3:30 pm – 4 pm and will usually put up items on special/discount to clear the stock out. Not every vendor does this but quite a few do, and it's a great way to score a bargain lunch or take-home dinner. Living in Sydnye
9. Weather in Sydney:
Sydney experiences all 4 seasons which means that your wardrobe needs to have clothes that can work for cold weather and hot weather. It doesn't snow here so a wool coat or a fleece jacket will work for the winters, but there is a strong wind chill so a muffler, hoodie, or beanie is necessary. The weather can be unpredictable. Sunny in the morning, windy in the afternoon, and raining at night. So make sure to check the weather app, and carry an umbrella with you always. Sunscreen is essential since the sun can be harsh, plus there is the matter of there being a hole in the ozone near Australia.
Other than the unpredictability, there are a few other side effects to the weather in Sydney. The first being mould a direct consequence of the humidity in Sydney. Not just on the walls, but on clothes, behind cupboards and even upholstery on furniture like sofas. However, there are many mould killers available in the market, and they are easy to use. Just spray, wait and clean. Other than that, you can make sure that the house is properly ventilated to ensure that the humidity is controlled.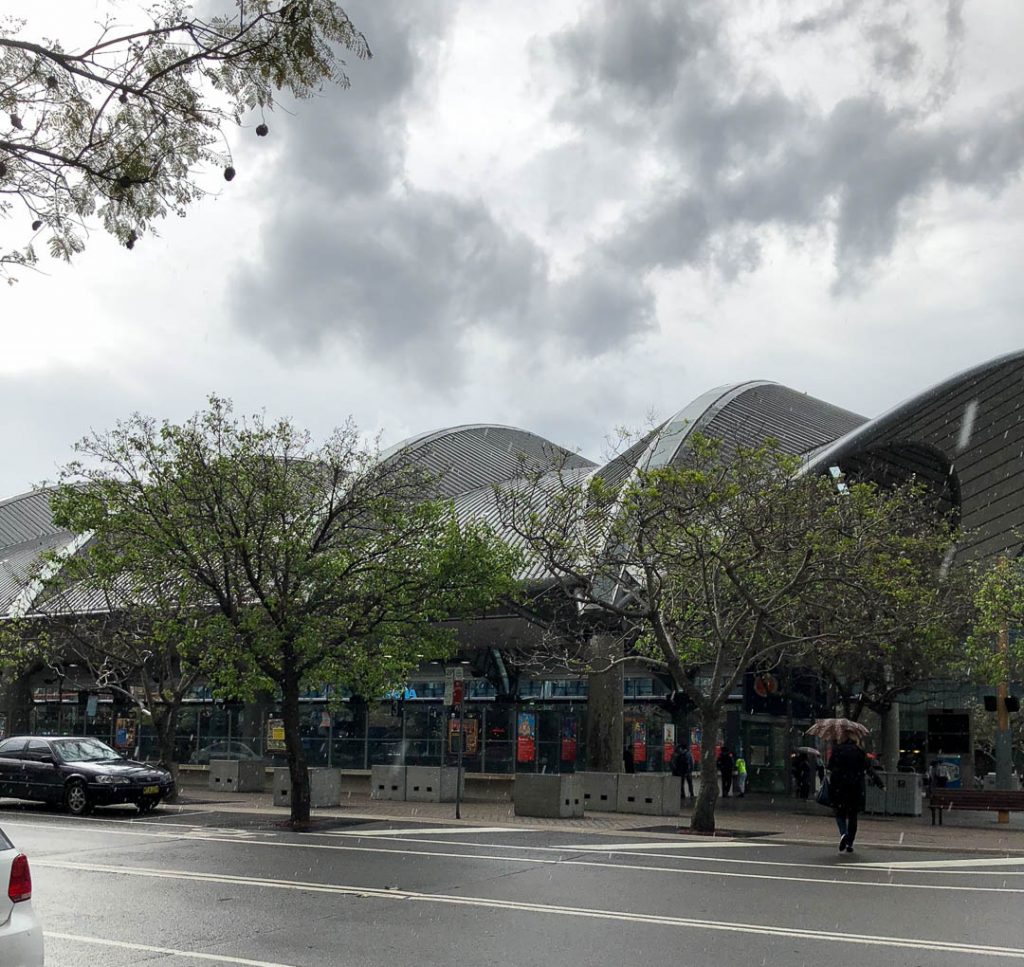 10. Wildlife in Sydney: 
Australia is an island continent, much isolated from the rest of the world and home to wildlife that is not present anywhere else. The people here have also taken much care to preserve the unique ecology of this country meaning that it's possible to see animals and insects on your way to work. Not kangaroos, but you can see an Ibis walking around, or a seagull soaring by, or hear a laughing kookaburra in the evening. Let's also not forget the Huntsman spider - it's not venomous but it's speed and size can make one scream. Just part of the unique experience that is called living in Australia.
If you live in Sydney, do share your experiences with this city, and any advice you can give to people who are moving here. 
This was a beginner's guide to living in Sydney, but I will be sharing more in the future on specific topics in more detail.  To keep updated with recipes, stories and so much more follow me on Facebook here, Instagram here and Twitter here.