A couple of weeks ago I got a message from a reader who needed help in stocking her pantry with the food essentials, especially the Pakistani ingredients. It made me think of how difficult it was when I moved countries and had to setup my kitchen from scratch. It also made me realise that while there are some excellent resources on stocking a pantry and kitchen organisation, there's not a lot of information for the Desi pantry. Especially not for the Pakistani kitchen and pantry. And that's where this blog post comes in.
If you don't know where to start when it comes to stocking your Desi pantry or want to start experimenting with Desi ingredients in your kitchen, or just need some Desi kitchen organisation help this is the blog post you need to read. Even though the pantry list has items specific to a Pakistani & Indian kitchen it can still work for you regardless of your nationality.
I have also created a free printable PDF you might be interested in. This PDF includes: 
a comprehensive grocery shopping list designed for the Desi kitchen in English with Roman Urdu translations mentioned
there's additional space so you can add your own items
it includes a section on Ramadan and Eid essentials
how to crush, roast and ground spices
substitution options for common ingredients
how to store herbs
and additional cooking tips
If it's something you are interested in, just subscribe to my mailing list here and the PDF will be sent straight to your inbox.
The Pakistani pantry has evolved over the years. Cooking shows on television, recipes available online and new restaurants opening up have made us try cuisines from around the world, and be more experimental with our cooking. Our traditional spices and herbs remain the same because there's no way we are skipping out on the chilli! But non-traditional items have started occupying our shelves. Extra virgin olive oil now sits next to desi ghee, quinoa sits next to Basmati rice, and our spice cabinet has items like paprika and onion flakes in addition to our regular Desi spices.
Building a pantry from scratch:
When I moved abroad, I only got the basic Pakistani spices and pantry staples in the beginning, and for speciality dishes like biryani and Haleem I got packaged spice mixes.  I wanted to be careful with my budget and storage space. I also wanted to settle in – it was a new country where the taste was not the same, brands were different and even regular ingredients looked unfamiliar. It's better to try out items a few at a time to figure out what you like instead of purchasing everything right away.
Remember that your pantry needs to be stocked with items that YOU use on a regular basis. Doesn't have to be daily but at least once a month. To identify those items, make a list of the meals that you cook regularly or want to cook. Look at the common ingredients across those recipes and start building a grocery list from there.
Make your grocery list based on the type of cook you are – are you a 'traditional cook' who prefers more Desi recipes or a more 'experimental cook' who prefers to try out new ingredients and spices? Are you a 'from scratch cook' who roasts and grounds their own spices or are you a 'convenience cook' who uses recipe mixes and spice blends? Perhaps you are a mix of all of them. Just stock what you will end up using, not what others think you should keep.
Start small and build your way up – bulk bags of spices can be cheaper but if you don't use them in time, they will lose their potency. It's best to buy a small pack, try it out and then buy a bigger pack next time. It will also let you experiment with brands and help you understand the frequency of usage of different ingredients in your pantry. If smaller packs or loose spices are not available, store spices in the fridge and periodically take out smaller quantities in jars to be kept in the cupboards.
Certain pantry ingredients are event specific or seasonal. My grocery list for Ramadan, Eid or when I am hosting a dawaat is different from my regular monthly grocery. For Eid and Ramadan, I will buy more of certain items such as chole (chickpeas) and besan (chickpea flour) and buy items that I would normally not buy such as seviyaan (vermicelli) to sheer khurma and chaandi ka vark (edible silver leaf).
In this pantry exercise the most important thing to note is what will you and your household use? If you aren't going to use an ingredient there's no point in getting it. I got a 5 kg bag of atta (wholewheat flour used to make roti) after I moved to Sydney because what is a Pakistani kitchen without atta and gol roti, right? As much as I wanted to make roti on a regular basis, I barely used that atta and after a year had to throw it away. From then on, I became super careful of what I bought.
P.s. In case you are wondering, my substitute for roti is wraps – just cook on a tawa and it puffs up like a roti.
How to use the pantry list:
The below list is a comprehensive list of items that are part of the Pakistani pantry and kitchen. But all of those items will not be used in every household. Use the list as a guide to make your own personal grocery list deleting and subtracting items as required.
For the new cook, it can be used as a guide to start building your Pakistani style pantry. I know how overwhelming it can be to decide what to buy which is why I have divided the spices and herbs into different tiers and included recipes that can be made with those items. Use it as a starting point and then add more items once you get the hang of the basics. The list is a guideline - buy a few or buy them all, just make sure you use them regularly.
The seasoned cook would already have an idea of the items that they use on a regular basis – they can use the pantry list below as a reminder of things that they need to buy. Print the PDF (link below) out and when you have filled your trolley skim through the list to make sure you haven't forgotten anything. The amount of times I enter the house and realise I have forgotten to purchase something at the store is too many to count!
There are some items that fall in multiple categories and I have sorted them into the category that makes most sense to me. For e.g. eggs can fall in dairy, baking essentials and breakfast essentials. I have put them in breakfast essentials because the way I see it, eggs are a necessary part of a Pakistani breakfast.
The PDF printable converts the pantry list in a grocery list format with additional space for you to write down your personal items (such as meat, fruits & vegetables, kitchen supplies etc). Print it out and use it as a monthly grocery list.
Pantry organisation - where to start:
I am done with my Pakistani grocery shopping – now what? So you come home from the grocery store with lentils, spices, flours, herbs and all sorts of stuff in your grocery bags and realise that wait – where am I going to put it all?
Hand in hand with grocery shopping goes pantry organisation. Some tips to help you out.
Look at each item in your grocery list and decide how you are going to store that item – in the bag it came in or will you put it in a container? Some ingredients can be kept outside, some in the fridge and some in the pantry.
If you are going to put it in a container do you have containers? If no, then you need to buy some. What sort of container and what size? Both are important. I have two masala dabbas (spice boxes) for my essential spices – one for the basics that include powdered spices, and another for whole spices. Instead of opening up multiple bottles, the majority of my cooking can be done by opening two boxes only.
Also think about where you are going to place the containers. Look into getting shelves or stackable containers so stuff can be stacked which will also save space.
If you can't buy enough individual containers get a couple of cheap baskets and boxes in which you can organise similar items. One basket for snacks, another for lentils and the third for baking supplies. The ingredients in the basket can be in jars, bottles or packets but keeping them in one place helps organise everything.
Lastly, are we even Desi if we don't reuse food containers? Re-use your biscuit tins, glass bottles, plastic yoghurt containers – just clean them properly and check if they can be re-used. The other day my husband asked me why we had three tubs of yoghurt in the fridge – had to tell him that one has imli chutney in it, the second has achaar masala in Ziploc and the third has well yoghurt.
There are lots of pantry organisation guides available on the internet – go through them for ideas but don't get too focused on the specifics. Work with items that are easily available and within budget. My suggestion for pantry organisation is to start off small with the basic items and add to it based on the space, time and money you have.
How to stock a Pakistani kitchen: 
Spices, Herbs and etc.
Spices form the cornerstone of Pakistani cooking. The range of spices and herbs used in Desi cuisine can be overwhelming. To make it manageable I have divided the spices into tiers. The most commonly used spices are kept in two masala dabbas (Indian spice boxes) and the rest are kept in bottles in a cupboard, and taken out as needed.
First tier: The first tier are the truly basic Pakistani spices - cumin seeds, red chilli powder, coriander powder, turmeric and of course salt. If you are a new cook or starting up a new pantry from scratch, start off with these spices and you are sorted with the weekly daal (lentils), sabzi (vegetable curry) and salan (meat curry).
Second tier: In the second tier are the whole spices such as cloves (laung), cinnamon stick (dar cheeni) that open up a range of possibilities – dishes like matar pulao (rice and pea pilaf), qeema (Pakistani style mince curry), korma etc. Whole spices can also be roasted and ground to add even more flavour. For instance, cumin seeds (zeera) can be crushed to make what we call kuta zeera (crushed cumin), and roasted and then ground to make bhuna zeera (roasted crushed cumin seeds). One spice resulting in three different applications. Invest in a spice grinder or use an old school mortar and pestle.
Third tier: In the third tier are spices such as black cumin seeds (shah zeera), fennel seeds (saunf) or pomegranate seeds (anaardana) that are used for speciality dishes – recipes that are made for special occasions, seasonally or in dawaats. These are spices that can be purchased when needed instead of being kept in the pantry at all time.
Spice blends and recipe mixes – not exactly a tier but a category in itself. This include spice blends such as chaat masala which are sprinkled on top of dishes like dahi baray (lentil fritters in yoghurt) and chaat or recipe mixes like biryani masala or nihari masala. Make your own or purchase ready made from the store. A spice blend made from scratch will be more fresh and have more flavour but packaged recipe and spice mixes save time, money and storage space.
Western herbs and spices – Not the traditional Pakistani spices and herbs, but have become part of the modern Pakistani kitchen as we have gotten experimental with our cooking. Items like basil, oregano, onion flakes, paprika powder (a must in my chicken paprika stroganoff). Same rule applies to these – buy what you will use else they will lose their potency. Another option is to buy a blend like mixed Italian herbs or Cajun spice blend instead of individual spices.
Remember that the use of spices differs from household to household.  Use what you like and what you feel comfortable it. After all, you are the one who is going to eat the food!
Spices – first tier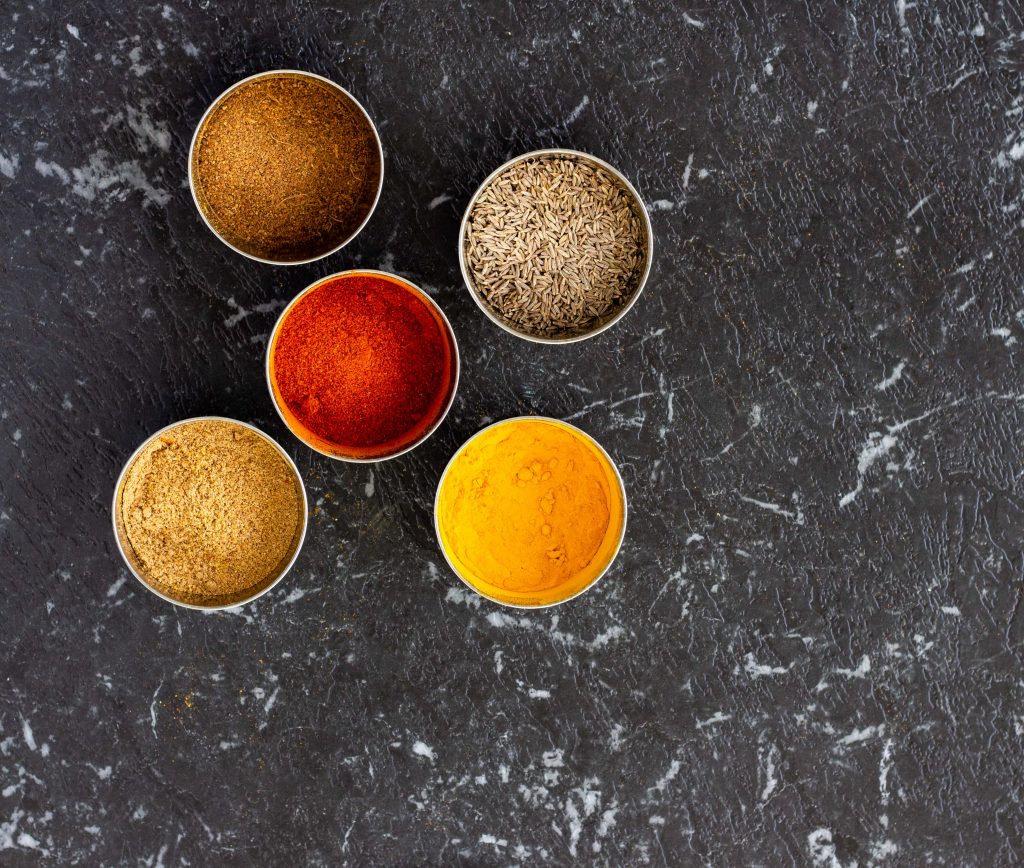 Coriander powder (Dhaniya powder)
Coriander seeds (Sabit dhaniya)
Cumin seeds (Zeera) –can be roasted and ground to make roasted cumin seeds (Bhuna Zeera)
Ground cumin (Zeera powder)
Ground black pepper (Pisi hui kaali mirch / kaali mirch powder)
Garam masala - can be bought packaged or make your own
Red chili powder / Cayenne Pepper (Laal mirch powder / pisi hui laal mirch)
Salt (Namak)
Turmeric powder (Haldi powder)
Recipes that can be made with these spices include zeera aloo ki sabzi, aloo matar ki sabzi, kaali daal, aloo gosht, karahi chicken, lobia ka salan, bhindi ki sabzi, aloo gobi matar ki sabzi and aloo baingan
Spices – second tier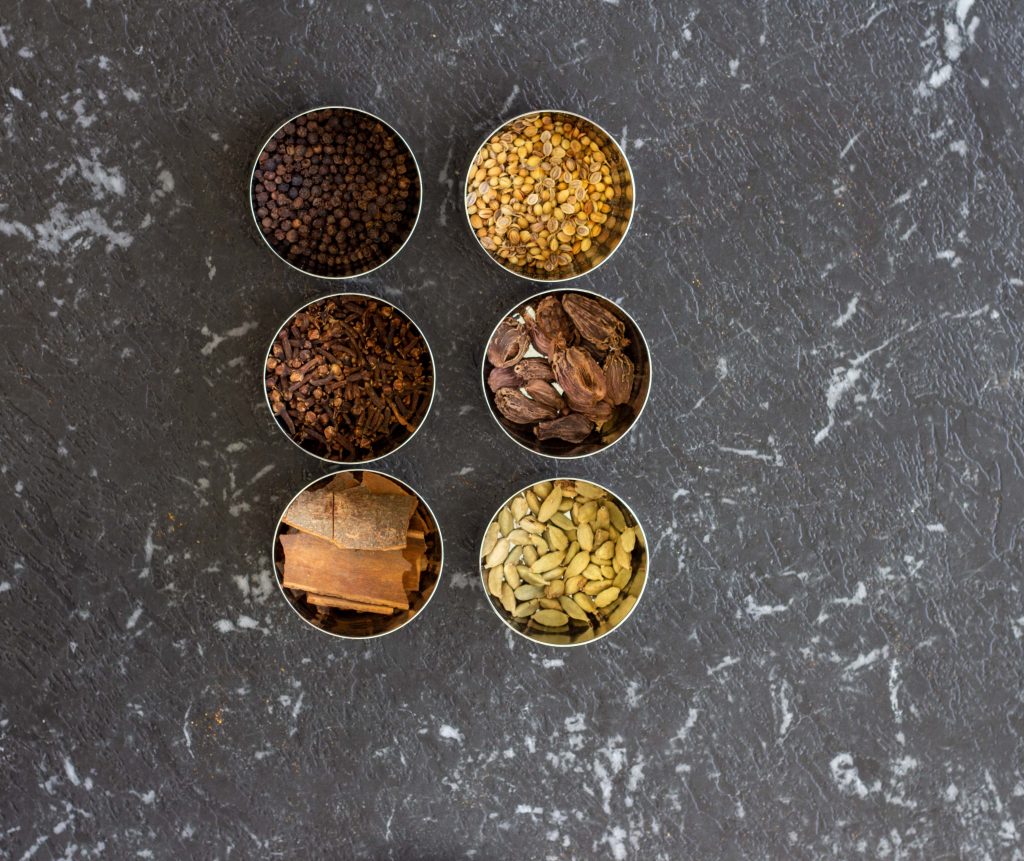 Bay leaf (Tez paat)
Black cardamom (Bari elaichi)
Black mustard seeds (Rai)
Cardamon pods (Elaichi)
Chaat masala – can be bought packaged or make your own
Cinnamon (Dar cheeni)
Cloves (Laung)
Dried fenugreek leaves (Kasuri methi)
Fenugreek seeds (Methi)
Nigella seeds (Kaloonji)
Tamarind (Imli)
Whole red chilies (Sabit laal mirch)
Whole black peppercorn (Sabit kaali mirch)
Recipes that can be made with these spices include aloo hari pyaaz, aloo ki tahari, chicken korma, shami kebab, Pakistani style breakfast qeema, aloo qeema and pakora karhi
Spices – third tier
Black cumin seeds (Shah zeera / kala zeera)
Black salt (Kala namak)
Carom (Ajwain)
Dried plums (Aloo bhukhara)
Dill (Soya)
Fennel seeds (Saunf)
Ginger powder (Saunth)
Kashmiri laal mirch (Deghi mirch)
Mace (Javitri)
Meat tenderiser (Raw papaya or Katchri powder can be used as well)
Nutmeg (Jaiphul)
Pomegranate seeds (Anardana)
Poppy seeds (Khash khash)*
Saffron (Zaafran)
Screwpine essence (Kewra)
Sesame seeds (Til)
Star anise (Badiyaan ka phool)
 *Please note that poppy seeds are banned in certain countries, and travelling with them is a criminal offence.
Spice Blends & Spice Mixes
Achaar masala
Biryani masala
Chaat masala (Fruit chaat or dahi bara masala)
Garam masala
Kebab masala
Nihari masala
Tikka masala
Tandoori masala
Herbs & Spices - Western Edition
Basil
Cajun spice blend
Chives
Curry powder
Garlic powder
Mixed Italian herbs
Onion powder
Oregano
Paprika powder
Parsley
Rosemary
Sumac
Tarragon
Thyme
White pepper
Zaatar
Oils
In the majority of Pakistani households, food is usually made in vegetable, corn or sunflower oil. Other types of oil are used but not as regularly or reserved for special dishes and occasions. For instance, mustard oil is used in pickles (achaars) or to make dishes such as bihari kabab. Ghee is used for festive dishes or desserts such as chane daal halwa (dessert made from split Bengal gram).
Clarified butter (Ghee)
Coconut oil
Mustard oil (Sarsoon ka tel)
Olive oil (Zaiton ka tel) – not exactly a Pakistani staple but usage has increased for health reasons
Vegetable oil / Corn oil / Sunflower oil
Rice and Flours
Atta to make roti and basmati rice to make chawal are staples in Pakistani cuisine. I mean,  how will you eat daal (lentils), sabzi (vegetables) and salan (meat curry) if there's no rice or roti to soak up the gravy. Rest of the items depend on your cooking style and seasonal usage. For instance, I will use maybe one kg of besan (chickpea flour) the entire year but come Ramadan and I will use up 2 kg of besan (chickpea flour) in the whole month to make pakoras (gram flour fritters)!
All-purpose or plain flour (Maida)
Basmati rice
Chickpea flour / gram flour (Besan)
Cracked wheat / bulgur wheat (Dalia) – used to make Desi porridge or dalia
Cornflour
Parboiled rice (Sella rice) - mainly used for biryani and pulao
Pearl barley (jao / jaw)
Semolina flour (Sooji)
Wholewheat flour (Atta)
Wholewheat grains (Gehoon) – mainly used for haleem
Staple Produce
Below is a list of the basic fresh produce that you will find in one form or the other in any Pakistani household. From making gravies (onions, tomatoes and/or yoghurt) to adding flavour (ginger and garlic) to being that essential garnish in a Pakistani salan (coriander leaves) these items are a part of every Pakistani pantry. Though it's best to buy them fresh, they are available in packaged, canned and/or frozen options for convenience. Such as fried onions and frozen green chilies. They can also be stored or processed in such a way to increase their shelf life.
Coriander leaves – fresh (hara dhaniya kay pattay)
Curry leaves (karri patta)
Garlic (Lehsun) - can be substituted with garlic paste
Ginger (Adrak) - can be substituted with ginger paste
Green chilies (Hari mirch)
Lemons (Neebu)
Mint leaves (Podina)
Onions (Pyaz)
Potatoes (Aloo)
Tomatoes (Tamatar) – can be substituted with canned tomatoes, tomato paste or tomato puree depending on the recipe
Nuts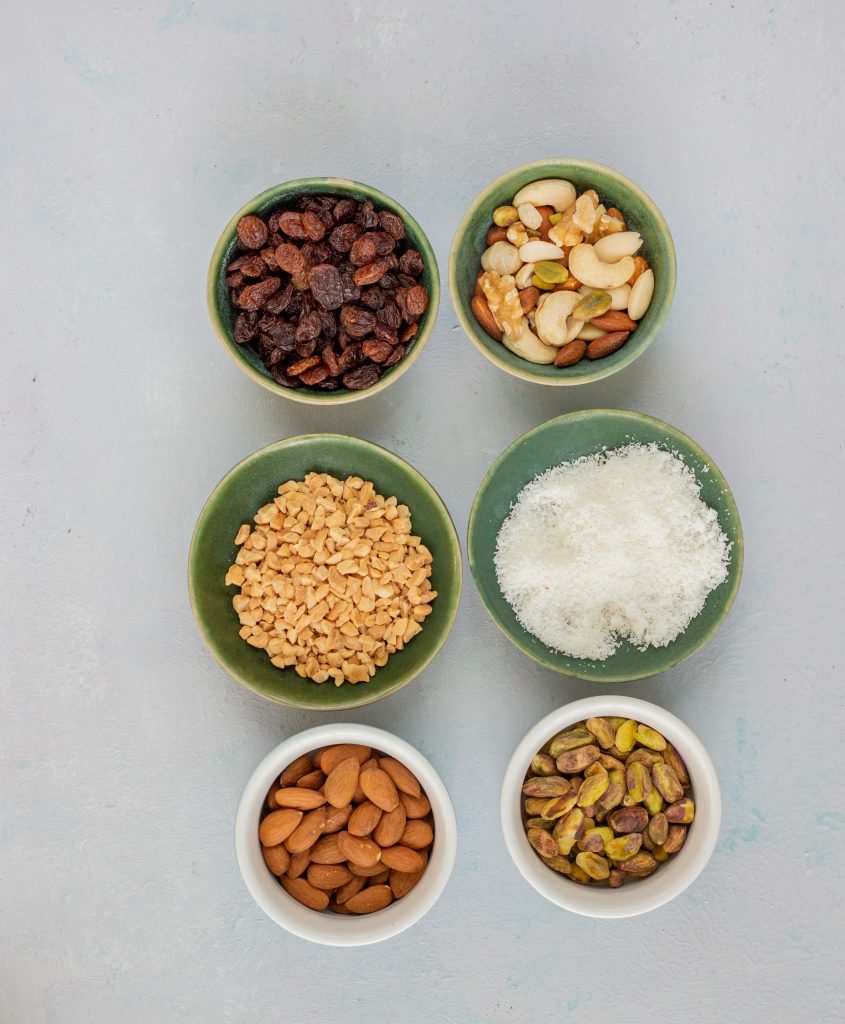 Nuts can be considered a seasonal item in a Pakistani pantry. Their consumption is relatively low throughout the year (eaten as snacks or in certain recipes) but come winter and nuts consumption skyrockets. They are eaten on their own on chilly winter nights and used in recipes that are super popular in the winter season. For instance, gaajar ka halwa (carrot halwa), Kashmiri chai, chikki (nut brittle), chane ki daal ka halwa etc. Nuts are on the expensive side and tend to get stale. Keep them in the fridge so that they remain fresh longer.
Almonds (Baadam)
Apricots (Khobani)
Cashews (Kaaju)
Coconut (Nariyal) – can be whole or desiccated
Melon seeds (Char maghaz)
Peanuts (Moong phalli)
Pine nuts (Chilgozay)
Pistachios (Pista)
Raisins (Kishmish)
Walnuts (Akhroot)
Daal / Pulses / Lentils & Beans
Daal is a staple food in Pakistani cuisine eaten with rice or rotis. They are easy to make, affordable and super filling. Plus varying the spices and tempering (tarka) ingredients a variety of daal options can be created. 
Chana daal (Split bengal gram)
Kaali daal / Sabit Masoor Daal (Black lentils)
Kalay chane (Black chickpeas / Tyson peas)
Laal lobia / Rajma (Red kidney beans)
Lobia / Sufaid lobia (Black eyed peas)
Mash daal (Urad daal / White lentils)
Masoor daal (Red / Orange lentils)
Moong daal (Yellow lentils)
Sufaid chole / Chole (Chickpeas)
Breakfast Essentials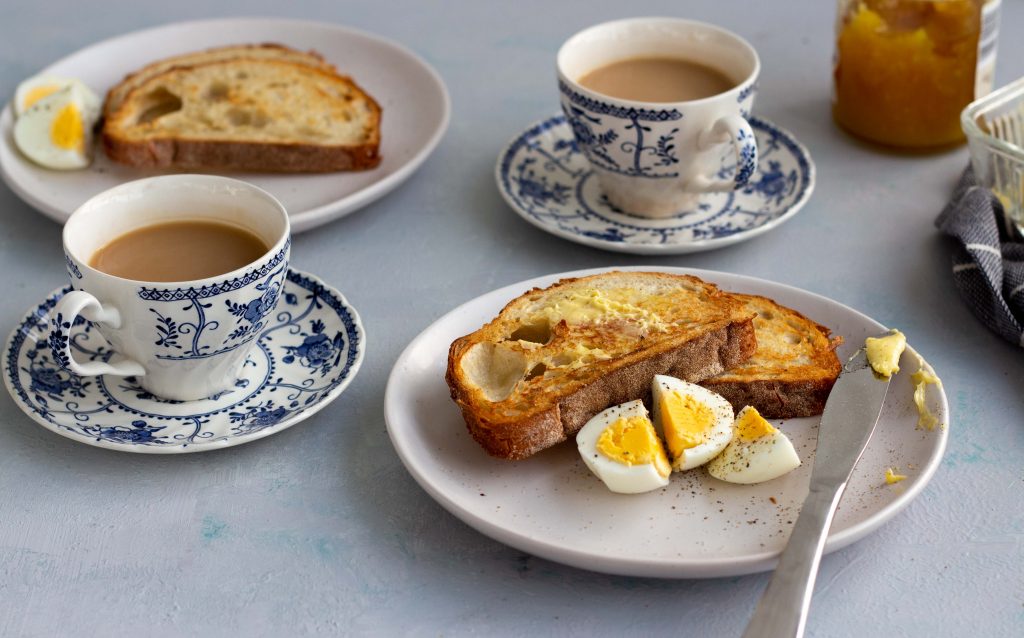 Bread
Butter
Cereal / Granola / Muesli
Coffee
Eggs
Green Tea
Jam
Milk
Oats
Porridge (Dalia)
Rusk / Cake rusk (Papay)
Sugar
Tea or Chai (Loose tea and/or tea bags)
Tea whitener
Baking Essentials
Baking is not a traditional Pakistani cooking technique but has gotten popular in recent years for savoury as well as sweet preparations. If you bake rarely, there's no harm in getting a baking mix. 
Baking powder
Baking soda
Baking chocolate and/or chocolate chips
Brown sugar
Unsweetened cocoa powder
Yeast (Khameer)
Vanilla essence
P.s. butter and eggs are part of breakfast essentials and plain flour is part of the rice and flours category.
Pantry Staples, Canned Goods and Condiments 
Coconut milk
Canned tomatoes
Canned chickpeas
Canned corn
Chili garlic sauce
Garlic paste
Ginger paste
Ginger garlic paste
Green chutney / Coriander mint chutney or Hari chutney - store bought or make your own
Hot sauce (such as Sriracha sauce, tabasco, and/or chili paste)
Instant noodles
Ketchup or Tomato sauce
Mayonnaise
Nimco
Noodles (Asian - preferred variety)
Pasta (Italian - preferred variety)
Pickles or Achaar
Soy sauce
Sweet chili sauce
Stock cubes (chicken, beef, or vegetable)
Tamarind chutney (Imli chutney) – store bought or make your own
Tomato paste
Tomato purée
Worcestershire sauce
Vinegar
Wraps / Roti / Naan / Paratha
Dairy Products
Cream (Malai)
Cheese – cheddar, mozzarella and a pizza cheese blend are the most popular options
Cottage cheese (Paneer) - storebought or make your own 
Milk fudge (Khoya)
Milk powder (full fat)
Yoghurt (Dahi)
Ramadan and Eid Essentials
Though a couple of the items will be part of a regular pantry, consumption of certain items such as besan (chickpea flour) and chole (chickpeas) increases during Ramadan so it needs to be accounted for in grocery shopping.
Chaat Masala
Chana daal (Split bengal gram)
Chickpeas (Sufaid chole / Chole)
Chickpea flour / gram flour (Besan)
Dates (Khajoor)
Frozen parathas / Rotis / Wraps
Lal sharbat (Rooh Afza or Jam-e-Shireen)
Pheni (Semolina vermicelli)
Rice
Samosa patti / Samosa wrappers
Spring roll wrappers
Squash / Cordial / Powdered drink mix
Sugar
Vermicelli (Seviyaan)
Wholewheat flour (Atta)
Chaat papri or masala papri
Dawaat / Party Grocery List
It's always a good idea to separate the grocery list for a dawaat / party from your regular grocery – this is so that you can better track your monthly budget because otherwise it's going to look inflated in the months you have had a big dawaat / party. Of course, you are going to be using certain items from your regular pantry for the dawaat cooking, but allocate the big ticket items (such as meat, fruits, vegetables and any special items purchased) separately. Either do the grocery shopping separately or do one shop and just mark the items as regular grocery and dawaat grocery in your shopping receipt. In case you want party food ideas on a budget, check out my blog post here
I hope you found this blog post on how to stock a Pakistani kitchen helpful. To get the Pakistani grocery list free printable, just subscribe to my mailing list here and you will get it in your inbox right away.
Looking for more Pakistani & Indian recipes for your weekly dinner inspiration. Check out the following:
To keep updated with recipes, stories and more follow me on Facebook here and Instagram here