It's going to be Ramadan in less than 2 months, and this is the best time to start thinking about the preps that you can do to make the month of Ramadan as stress free as possible. This is why today I am sharing a step-by-step Ramadan food preparation guide (including recipes). Lots of tips on how to prepare in advance for sehri / suhoor, iftar, and dinner.
When I was working on this article, I asked friends and family around me what they did for Ramadan, and everyone had varying responses. Some didn't prep at all, and just got dates and Rooh Afza. Some prepped a week in advance, and some prepped a month in advance. Some people got all the stuff from the supermarket, others did all the prep at home, and some did a mix of both. No method is wrong – it all depends on your individual lifestyle and personal circumstances, and what is easiest and stress free for you.
Step 1: Plan out your Ramadan menu plan
The first thing you need to do is to plan out your menu in Ramadan – how many meals will there be, and what you will be eating in those meals. You don't need to list down a menu for all 30 (or 29) days, but make a guideline based on what you normally do. Such as milk, salan and roti for sehri / suhoor. Two snack items for iftar, with dates, and fruit for iftar followed by a light dinner. To make this guideline, keep a couple of things in mind:
What are the things that you always have for sehri / suhoor and iftar? The items that you regularly have need to be part of this guideline.
Do you have a separate iftar or iftar and dinner? If you have iftar and dinner together, then your preparation will be for 2 meals, and the items served will be different compared to if iftar was a separate meal.
How many items do you generally serve at iftar, and what are they? Remember the more items you serve, the more prep that is required.
Will you be trying any recipes out, or are you going to focus on family favorites? The regulars are what you are most familiar in making, but it's always fun to try out new recipes.
Total number of people in your household, and the number of meals that are eaten in your home in Ramadan. More the number of people, more the prep required. Plus if there are people at home who are unable to fast, their meals also need to be planned for.
What is the iftar and suhoor time in your country, and how much time will you have to prepare both meals? Best to keep things simple if you don't have a lot of time. Also, for people living in western and European countries, iftar can be quite late so they have one meal only.
Work and commute timings: Depending on their job, as well as where they live, some people may not be able to make it at home for iftar. So their iftar meal needs to be easy to carry and eat.
Help available - this includes domestic help, as well as family members.
Are you going to make all the Ramadan food yourself, or get it from outside? This is based on the options available to you, as well as the time you have.
Once you have this guideline made, it will be easier to make your Ramadan grocery list, and also plan out all the food items that you can prep for in advance. Below is my basic Ramadan menu plan. There are certain things that are standard such as chocolate milk for sehri / suhoor, dates along with a dahi or chaat item with fruit for iftar. If iftar is heavy, dinner is light such as a sandwich. If dinner is proper such as biryani, then iftar is light.
Planning out your Ramadan Menu Plan
Sehri / Suhoor
Milk w/ Hot chocolate + Salan + Paratha
Iftar
Dates + Squash + 1 - 2 Iftar Snacks + Dahi Baray / Chaat + Fruit
Dinner
Sandwiches / Wraps OR One Pot Meals OR Asian Stirfries / Noodles
For more information on South Asian spices, check out my guide on how to stock a Pakistani pantry.
Step 2: Make your Ramadan menu plan
Once you have made a basic plan of your Ramadan menu, it's time to go in detail. Start listing down the things that you generally have or would like to have for each meal. Include old favorites, as well as any new recipes that you want to try out. Do take some time out to think about how you managed things last Ramadan – what worked, and what didn't work? Think about the sides as well, so that could be dates and hot chocolate for sehri, and imli chutney (tamarind chutney) or green chutney (coriander and mint chutney) for iftar. When making this list, also think about what items you are going to make by yourself, and what items you can get from outside. This could be from a home-based caterer or from the supermarket. Once you have a Ramadan menu plan in place, the Ramadan food preparation process is easy to organize. Here's an example from my side of my Ramadan menu plan guide.
Ramadan Menu Plan
Sehri / Suhoor
Drink: Hot chocolate
Mains: Salan, shami kebabs (homemade), and omelet
Sides: Roti (store bought) and paratha (store bought and homemade)
Iftar
Starter: Dates
Drink: Squash
Ramadan Snacks: Pakoras (homemade), paneer samosas (homemade), keema samosa (homemade), Desi chicken patties (homemade), box patties (homemade), cocktail samosas (supermarket) and wedges (supermarket)
Dahi Baray and Chaat: Dahi baray (homemade), dahi phulki (supermarket), dahi boondi (Supermarket), dahi puri and pani puri (get puri's from supermarket), chole and lobia (homemade and supermarket)
Fruit Chaat
Sides: Green chutney (store bought and homemade) , imli chutney, chaat masala and dahi bara masala
Dinner
Salan preps: Ginger paste and garlic paste (homemade) and fried onions (homemade and store bought)
Sandwiches (these can work for iftar and dinner): club sandwiches, chicken tikka sandwiches, paneer sandwiches, and bun kebab
One pot meals: Biryani, taheri, Singaporean rice, and halal chicken and rice
Asian meals: Chowmein, and stir-fries with rice
Step 3: Do your Ramadan grocery, and plan out your Ramadan food prep
Once you have made the detailed Ramadan menu plan, it's easy to plan out your grocery, as well as your Ramadan food prep timeline. Here is what you need to do:
Make your Ramadan grocery list:
What I like to do is make two grocery lists – one is my Ramadan prep grocery list which is for before the month starts, and one is my daily Ramadan grocery list. The daily Ramadan grocery list includes items like milk, fruits for fruit chaat, eggs for sehri, along with onions and potatoes for pakoras. When making the Ramadan grocery list, do consider the following:
How much space do you have: Try to get items and prep items in a way that they can be distributed among the fridge, pantry and freezer. One of my favorite items in iftar is dahi baray, and I have them daily. It's super difficult to make a batch big enough to last the entire month, so what I do is that I make a batch of frozen dahi baray, and I also get some dahi phulki and dahi boondi from the supermarket.
Have a look through your pantry, fridge and freezer: When making the Ramadan prep grocery list, have a look in your home first for any ingredients that you may already have with you. This could be ingredients as well as prepped items.
To get a free Pakistani grocery list printable with a Ramadan and Eid section, click HERE
Make a Ramadan food prep timeline:
This is when you start planning out how and when you are going to do your Ramadan food prep. Depending on the items that you want to make, club similar tasks together, and then decide when to do them. You could do everything on one day, but it's always a good idea to break tasks over multiple days. Dividing tasks across days just makes it more manageable. Make samosas and spring rolls one weekend, and kebabs the next weekend.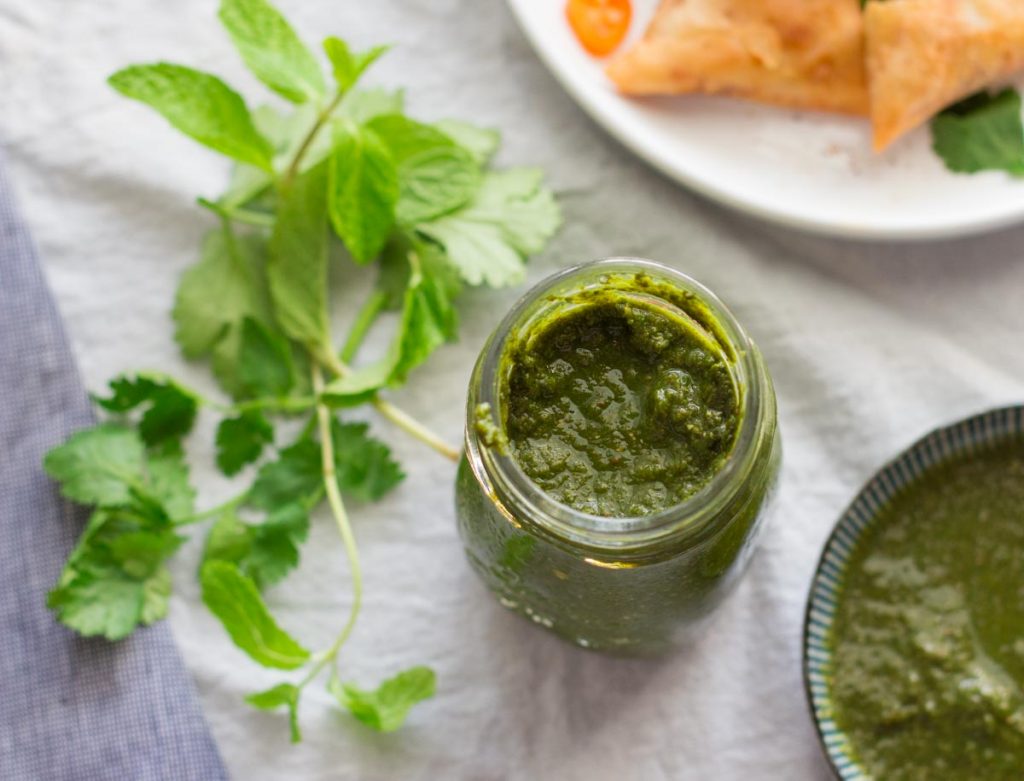 Step 4: Time to do your Ramadan food prep
Once you have a plan in place, the process of doing the Ramadan food preparation becomes much easier. Divide tasks across days, put your favorite music and TV show on, and get your family involved. Growing up, my mother and I would make samosas and spring rolls together. It was a great way to connect, while getting work done at the same time. An ideal situation would be doing all the Ramadan prep before Ramadan but let's be honest. That's not always possible. Do as much as possible before Ramadan, and top up as needed. Leftovers get used for Eid. I usually make homemade stuff before Ramadan, and if I run out of something in Ramadan, I will just get it from the supermarket. Below are some tasks that you can do as part of your Ramadan food prep.
Ramadan food preparation for Sehri / Suhoor:
Make parathas, and rotis in advance and then place them in the freezer. Wajiha here has a great blog post on how to freeze parathas, and Shazia here has a youtube video on how to store rotis. Alternatively, you can get frozen paratha, roti or naan from the supermarket.
Cut up fresh fruit, place in Ziploc bags, and store in the freezer. These can be used to make smoothies, used to make overnight oats, or added on top of porridge.
Shami kebabs (or other types of kebabs) are the perfect thing to have in the freezer when you can't think of what to make. To freeze shami kebab, form them into patties and place on a flat tray. Place the tray in the freezer till firm. Once they are frozen, remove and place in an airtight Ziploc bag. Fry directly as needed.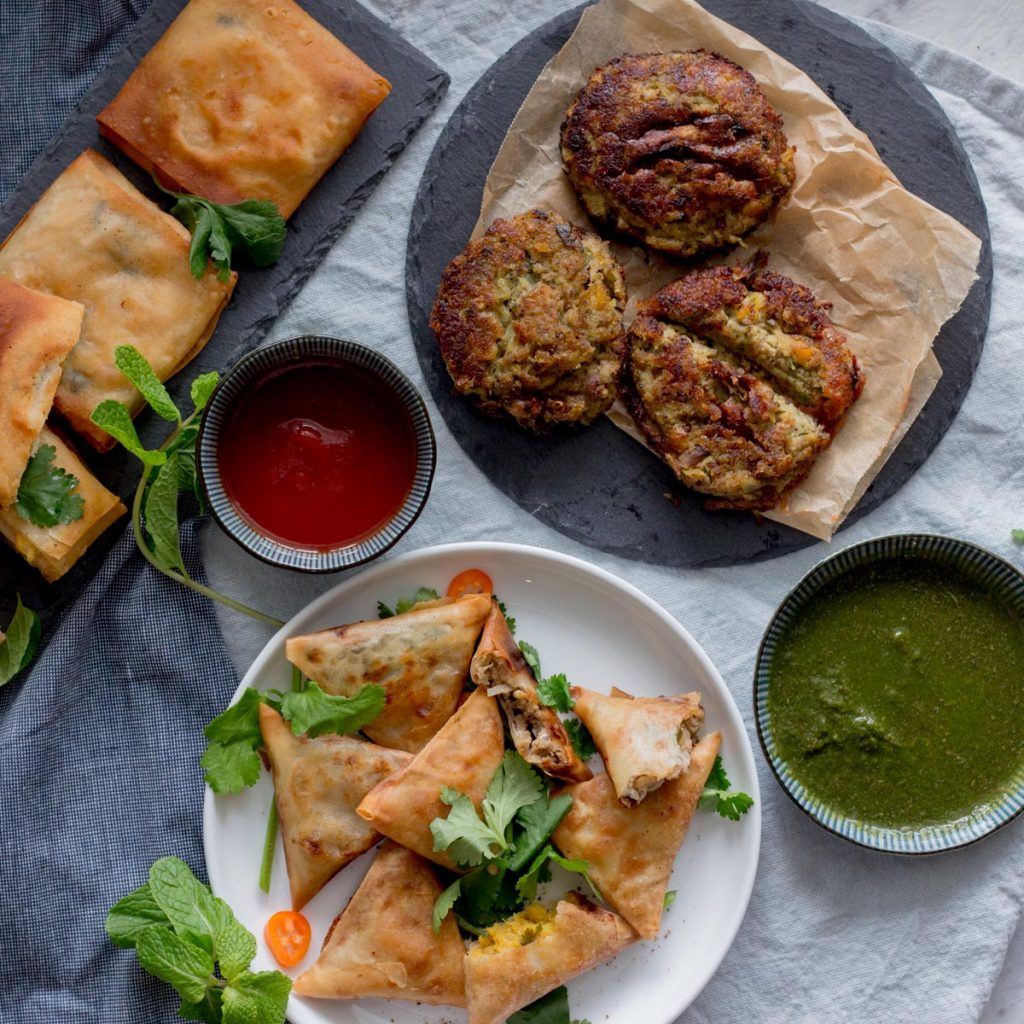 Ramadan food preparation for Iftar:
Beans like chole (chickpeas), lobia (black eyed peas) and tyson peas (kalay chane) can take time to be ready. Boil a big batch in advance and make packets that can be kept in the freezer. Once the chickpeas (or other beans) are cooked, separate them from the cooking. Let them cool, and then store in a box or Ziploc bag. Defrost by keeping in the fridge overnight or leaving it out at room temperature. If you have a multi cooker / Instant Pot, you can even skip the soaking step and boil directly. Alternatively, you can also get canned chickpeas or kidney beans from the supermarket. Canned chickpeas are a great pantry staple and is something I always keep at home.
Prepare and freeze Ramadan iftar snacks. Samosas, spring rolls, chicken and vegetable patties, box patties, peri bites and other such Ramadan iftar snacks can also be prepared in advance and kept in the freezer. To freeze, place the items on a flat tray. Place the tray in the freezer till firm. Once the items are frozen, remove and place in an airtight Ziploc bag or container. To use, directly fry them from the freezer. These snacks can also be baked or made in the air fryer. It's also possible to make a double batch of filling and keep one batch in the freezer to make later on. This is great for those Ramadan top-ups when the stash of frozen items runs out. Alternatively, you can also order frozen items from a restaurant or home-based caterer in your area, or from the supermarket. There are lots of options available nowadays especially at the Desi Indian and Pakistani grocery stores.
Make a batch of tamarind chutney and green chutney, and then use as needed throughout the month. Tamarind chutney will stay in the fridge for a couple of weeks, even months but green chutney should be made nearer to Ramadan. Alternatively, you can also make small portions of the chutney, and keep in the freezer.
Make dahi baray or dahi phulki, and place in freezer. Once the dahi baray have been fried, let them cool, and then place them in a Ziploc bag in the freezer. To use, take the baray out of the freezer and put them in luke warm water till they soften.
Chicken can also be marinated and kept in the freezer. If you keep it raw, take it out and bake, grill, or fry as needed. Just make sure to defrost properly, so that the chicken isn't stuck together. Chicken can also be boiled, poached or grilled. Slice into small pieces, or shred and make into packets to keep in the freezer. The chicken can be used to make sandwiches, wraps or other snack items. The same thing can be done with other cuts of meat such as beef or lamb.
Roast and prepare spice mixes. Before the start of Ramadan, roast and grind spices and also prepare spice blends. This can include items such as roasted cumin seeds (bhuna zeera), chaat masala, garam masala and dahi bara masala.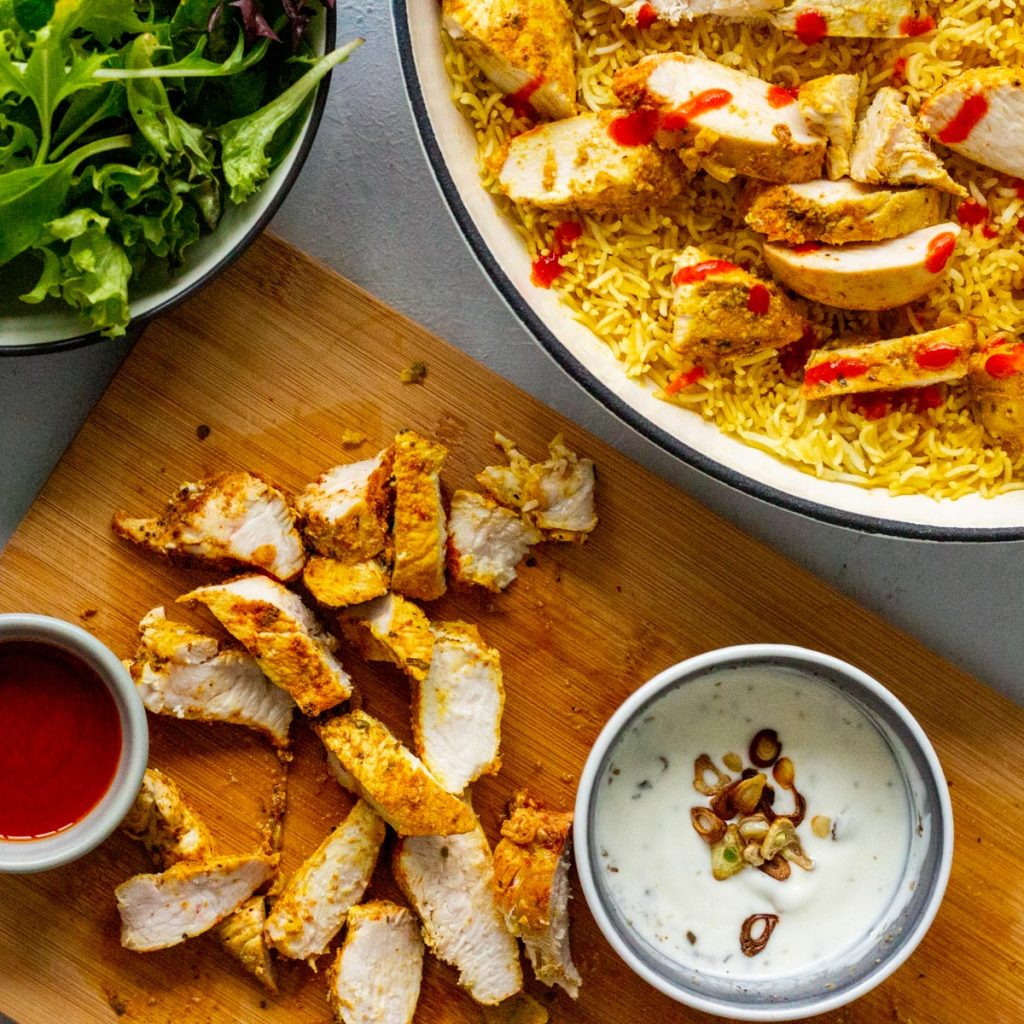 Ramadan food preparation for dinner:
The tips below aren't exactly Ramadan specific. Most of these things we already do on a regular basis to make preparing lunch and dinner easy for us.
Make a batch of salan masala, and store in the freezer. All of us have a basic masala paste that we use in most of our Desi curries. Make a big batch, and then store it in the freezer. That way, whenever you need to make a salan or sabzi, you can just add protein and vegetables directly and quickly prepare food.
Prepare ginger and garlic paste, and keep in fridge and freezer.
Make a batch of crispy fried onions (barista) and store in the fridge or freezer. Alternatively, you can also get fried onions from the store.
Cut and slice vegetables, make packets and keep them in the freezer. Alternatively, you can also buy frozen vegetables from the supermarket. The vegetables that you have frozen can be used to make many different things; frozen okra can be used to make bhindi sabzi, frozen diced vegetables can be used to make chicken pot pie, and stir fry vegetables can be used to make Singaporean rice.
Other than curries, non-Desi recipes can also be frozen. For instance lasagna, chicken pot pie, pizzas, and my chicken loaf recipe. Defrost in the fridge overnight, and then place in the oven to bake.
You can also freeze curries. Most Pakistani and Indian sabzi and salan recipes are super freezer friendly. In fact, they sometimes taste even better after being frozen and warmed. To freeze, it's best to keep the curries on the dry side, as too much liquid can create a mess when trying to freeze. Avoid the garnish as well – those are best added fresh. The best way to reheat curries is to do it on the stove top. Add a splash of water, and then cook till hot. Add a fresh garnish or tarka (in the case of dal / lentils) and serve.
I hope this blog post was helpful to you. Do let me know when you usually start your prep for Ramadan, and what food prep do you do?
Check out other posts in my Ramadan series below:
To keep updated with recipes, stories and so much more follow me on Facebook here and Instagram here