Green chutney or coriander mint chutney is a versatile Pakistani / Indian chutney made with coriander, mint leaves and green chilies. It's like the Desi version of ketchup; except it's green and depending on the amount of green chilies you add, can be mild or super spicy!
How do you make green chutney? 
The main ingredients needed to make green chutney are unsurprisingly green in colour - they are coriander leaves (dhaniya), mint leaves (pudina) and green chilies. All fresh - dried cannot be substituted. You can however switch up the ingredients based on personal preference. The recipe I have shared is for a coriander mint chutney but you can skip the coriander and use only mint. Or add more mint, and decrease the amount of coriander - it's all upto you! 
Other than these main ingredients there are a few supporting characters - salt, lemon juice and vinegar. I also add roasted and ground cumin seeds (bhuna zeera as we call it in Pakistan) which is something that is always in my spice box, and adds an extra flavour dimension to this super simple chutney.
Once you have all the ingredients ready, just place them in the blender, and blend till a smooth paste is formed. 
So you have made a jar of green chutney - what can you do with it?! 
In India and Pakistan, green chutney (or as we call it hari chutney) is eaten with pretty much everything - it's served on the side as a dip with popular snacks such as samosas, spring rolls and pakoras (fritters) or with shami kebabs and biryani. It's a necessary element to make all sorts of chaat adding flavour and spice. It's also used as a spread in sandwiches, or bun kebabs (Pakistani street food style burgers). It's mixed through yoghurt to make green chutney raita which is served on the side with rice dishes such as biryani or pulao. 
Some recipes that you can enjoy with green chutney are the following: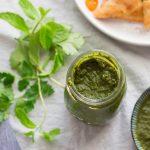 Green Chutney (Coriander and Mint Chutney) | Hari Chutney 
Green chutney or coriander mint chutney is a versatile Pakistani / Indian chutney made with coriander, mint and green chilies. 
Ingredients
1

bunch coriander leaves

½

bunch mint leaves

make sure to remove the stems

2 - 4

green chilies

½

teaspoon

salt

adjust to taste

1

tablespoon

lemon juice

1

teaspoon

cumin seeds

roasted and ground

½

teaspoon

vinegar

Water

as needed
Instructions
Place the coriander and mint leaves in the blender, making sure to remove the tough stems of the mint. Add the chilies, salt, lemon juice, cumin seeds, vinegar.

Blend till a smooth paste is formed, adding water as required. Taste and adjust seasonings as required.

Add water little by little as if you add too much, it will turn watery.

Place the green chutney in a clean glass bottle / jar. It will keep in the fridge for around 1 - 2 weeks. Just make sure to use a fresh spoon when using it.