Similar to a pilaf, aloo ki tahari or spiced potato rice is a Pakistani / Indian vegetarian dish made with rice and potatoes. Other vegetables can be used but the most popular are potatoes which has resulted in this dish also being called aloo chawal (aka potato rice). 
Tahari, taheri, aloo chawal or spiced potato rice is a really simple Pakistani & Indian recipe to make. It's an excellent option for "Meatless Mondays" or when you want to whip something quick for dinner, be it for yourself or for guests who have unexpectedly dropped by.
Aloo ki tahari is also known for its vibrant yellow colour which is due to use of turmeric – a popular spice in Pakistani / Indian cooking that has recently been re-discovered in the West due to its  anti-inflammatory and antibiotic properties.
How to make aloo ki tahari or spiced potato rice?
Tahari is made by sauteing ginger garlic paste, whole spices and then powdered spices in oil. Once the flavours of the spices are released add the tomatoes and potatoes and cook till the tomatoes are soft. At this point, add the rice along with double the amount of water. For best results, rice should be washed in at least three changes of water, and then soaked before it is cooked. The washing process gets rid of the starch left over from the milling process. Let the rice cook till the water has almost evaporated, and then close the lid for "dum". The process of "dum" in Pakistani / Indian cooking means to cook via steam, and the process requires using a heavy cooking pot with a tight fitting lid so the steam doesn't escape and cooks the ingredients in the pot.  
What vegetables can I use in this recipe?
The way that tahari is cooked in our family is always with potatoes. Quite a few of them in my case! However, other vegetables such as cauliflower, peas, beans and carrots can be used. In that case the dish would be called sabziyoon ki tahari / taheri (or vegetable spiced rice). 
What can I serve with aloo ki tahari or spiced potato rice?
Tahari  / taheri is a complete meal on its own and it's best served with raita (yoghurt) and/or a light salad such as kachumber or just slice up some cucumbers and tomatoes. You can also pair it up with a gravy such as chicken karahi or qorma. 
Check out other vegetarian recipes on the blog below:
Would love it if you could try out and rate the recipe, and let me know how it was in the comments below! 
To keep updated with recipes, stories and so much more follow me on Facebook here, Instagram here and Twitter here
📖 Recipe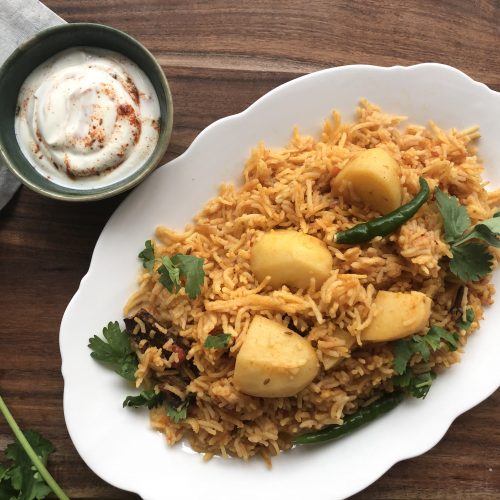 Print Recipe
Aloo Tahari or Aloo Chawal
Aloo ki Tahari or Aloo Chawal is a simple vegetarian one-pot dish made with rice and potatoes.
Ingredients
2

cups

or ½ kg basmati rice

¼

cup

oil

1

medium onion

sliced

1

tablespoon

ginger garlic paste

10 - 12

black peppercorns

3

cloves

1

teaspoon

cumin seeds

sufaid zeera

2

black cardamom

bari elaichi

2

inch

piece cinnamon

½

teaspoon

turmeric

½

teaspoon

coriander powder

½ - 1

teaspoon

red chili powder

salt

to taste

2

tomatoes

cut into cubes

4 - 6

medium potatoes

cut into 6 – 8 pieces
Instructions
Clean and wash rice. Soak for ½ hour, and set aside.

Heat oil.Fry onions for a few minutes till light golden.

Add ginger garlic paste, followed by whole spices (peppercorn, cloves, cumin seeds and cardamom). Saute for a minute and then add the powdered spices (coriander powder, red chili powder and turmeric). Cook for 2 – 3 minutes, adding a splash of water if spices are sticking to the pan.

Add cubed tomatoes and potatoes. Cook for 5 – 10 minutes, till tomatoes are soft.

Add rice with about 4 cups water. Add salt to taste and give it a stir.Cook on medium – high flame till water has almost evaporated.

Once the water has evaporated, add 2 – 3 green chilies on top. Close the lid and keep on low simmer (dum) till rice is cooked through.

Serve hot with raita on the side.
Notes
Other vegetables like beans or peas or cauliflower can be added to tahari based on personal taste.
Nutrition