Today I am sharing a super simple beverage recipe with you and that's of namkeen lassi or salty lassi! Namkeen lassi is a popular beverage in Pakistan & India made from yoghurt, salt and roasted cumin.
So what is lassi? and what exactly is namkeen lassi?
Lassi is a popular beverage from the Indian subcontinent made with yoghurt. It's a beverage that can be enjoyed throughout the year, but come summer, lassi consumption shoots up like anything! Because in the harsh summer sun, nothing beats a glass of ice-cold lassi – lots & lots of ice cubes of course.
There are many types of lassi, with the most common variant being the namkeen lassi or salty lassi which is made with yoghurt, salt and roasted cumin. And that's the recipe I am sharing today! The addition of salt and cumin in a beverage may sound a bit odd but let me tell you – it just enhances the tartness of the yoghurt and the final result is wonderful! For this namkeen lassi it's important to use roasted and ground cumin (also known as bhuna zeera), an ingredient I have talked about many many times on this blog! It is available already ground in Desi stores, but it's always best to ground it fresh.
The other type of lassi that you can find in Pakistan is meethi lassi (or sweet lassi) which is made with yoghurt & sugar – it can also be flavoured with additional spices such as cardamom or saffron. Perhaps a bit of mint.
Lassi can also be made with different herbs and fruits – for instance mint lassi, coconut lassi and how can I forget mango lassi! Though the former is far more popular in the west with mango lassi being a common menu item in Pakistani and Indian restaurants internationally. Back home, the two most common types of lassi that you can find at every roadside café or restaurant is the salted version (aka namkeen lassi) and the sweet version (aka meethi lassi).
Why is lassi so popular in Pakistan?
Well, because it's super simple to make and tastes super delicious and refreshing! Just blend yoghurt with the herbs, spices and/or fruit of your choice. Pour into glasses, add ice-cubes and enjoy. That's it!
But other than that, lassi also has many health benefits. Summers in Pakistan and India can be quite harsh and drinking a glass of lassi rejuvenates you and cools you down. It also helps in protecting from heat stroke giving you the necessary energy to sustain the scorching summer sun. The addition of salt in namkeen lassi (salty lassi) also replenishes the electrolytes that are lost through excessive sweating – a very common problem in the summers! Oh, and yoghurt is a natural probiotic meaning that lassi is also good for digestion, stomach problems and acidity.
Basically, if someone is sick make them a glass of lassi – not only is it a medicine that they will gladly take but they will start feeling better in no time!
Looking for more Pakistani & Indian recipes for your weekly dinner inspiration. Check out the following:
Would love it if you could try out and rate the recipe, and let me know how it was in the comments below! 
📖 Recipe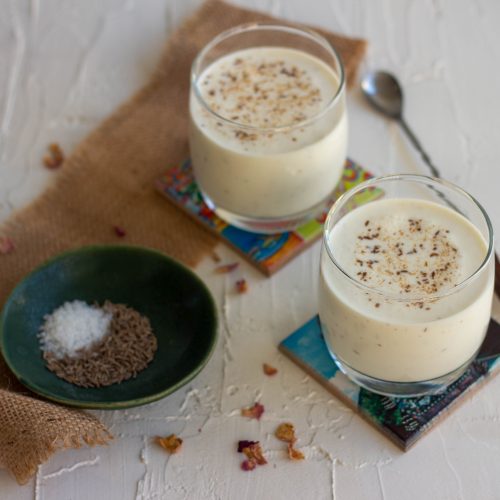 Print Recipe
Namkeen Lassi ⁠(Salty Lassi)
Today I am sharing a super simple beverage recipe with you and that's of namkeen lassi or salty lassi! Namkeen lassi is a popular beverage in Pakistan & India made from yoghurt, salt and roasted cumin.
Ingredients
⁠2

cups

chilled yoghurt ⁠

½ - 1

cup

water ⁠

½

teaspoon

salt (adjust to tast⁠

Sugar

optional

1

teaspoon

roasted and ground cumin powder

bhuna zeera, plus more for garnish ⁠
Instructions
⁠Place yoghurt, ½ cup water, salt and roasted cumin powder in a jug. Whisk together till smooth. Add more water if a more liquid consistency is preferred. Taste and add more salt or cumin seeds as required. If you feel the lassi is too sour, add a tablespoon of sugar to balance it out. The lassi can also be made in a blender. ⁠

⁠Pour into glasses and add ice cubes. Garnish with roasted cumin powder (bhuna zeerand serve cold. ⁠
Notes
How to make roasted cumin seeds (or bhuna zeera):
Place cumin seeds on a tawa / frying pan. Dry roast on low - medium heat for 2 minutes, making sure to move the pan around so the cumin seeds don't burn. Take off the heat and place in a spice grinder and ground into a coarse powder. Pour the roasted and ground cumin seeds into an air-tight bottle and it will last for a couple of months in the spice cabinet.
Nutrition