Presenting to you the ultimate guide on how to make an Eid cookie box, a delicious gift to make and gift to friends and family. From traditional Pakistani classics to modern cookies with a Desi spin there's something for everyone in this cookie box. The 2021 edition includes cardamom shortbread with chocolate and pistachios, nan khatai, coconut laddos, Italian almond cookies, puff pastry palmiers and thumbprint jam cookies.
Every year when the winter season would arrive, I would see social media exploding with pictures and recipes of cookies. Pretty much everyone was in the kitchen and coming up with delicious cookies, and packaging those cookies into cookie boxes to gift to friends and family. As we don't celebrate Christmas, I never got to experience that tradition in our house.
A few years back, I saw Hetal from Milk & Cardamom and Amisha from Jam Lab post a Diwali cookie box. It was at that moment – a lightbulb went on in my head. Why don't I do an Eid cookie box? Eid (specifically Eid-ul-Fitr) is the celebration that happens after we fast during the month of Ramadan. Eid is about family and friends getting together, and enjoying good food. People usually bring mithai (traditional sweets from the Indian sub-continent) when they visit someone's place. So why not substitute the mithai with cookies? Plus in times like these when it may not be possible to meet friends and family, these Eid themed cookie boxes are a great to present to drop off within social distancing guidelines.
Last year was my first-time foray into making a cookie box for the first time. On paper, it sounded super simple. Bake a bunch of cookies, pack them into boxes and give them to friends. But boy was it an adventure.
I didn't have enough space or boxes to store cookies in my house.
I couldn't find the right packaging material.
I didn't have enough baking trays.
I forgot to keep the butter outside so it could soften. Of course, when I remembered the butter would melt too much.
Even though I had planned my baking, what I didn't anticipate was the amount of time it took to bake cookies with just two trays in the oven, and the amount of time it took for the cookies to cool down.
This year, I prepared in advance and did a lot of baking in the last six months, and that's why I am presenting to you a guide on how to make an Eid Cookie Box. Read on ahead for tips on how to assemble, decorate, and decide the variety of cookies to put in the Eid cookie box.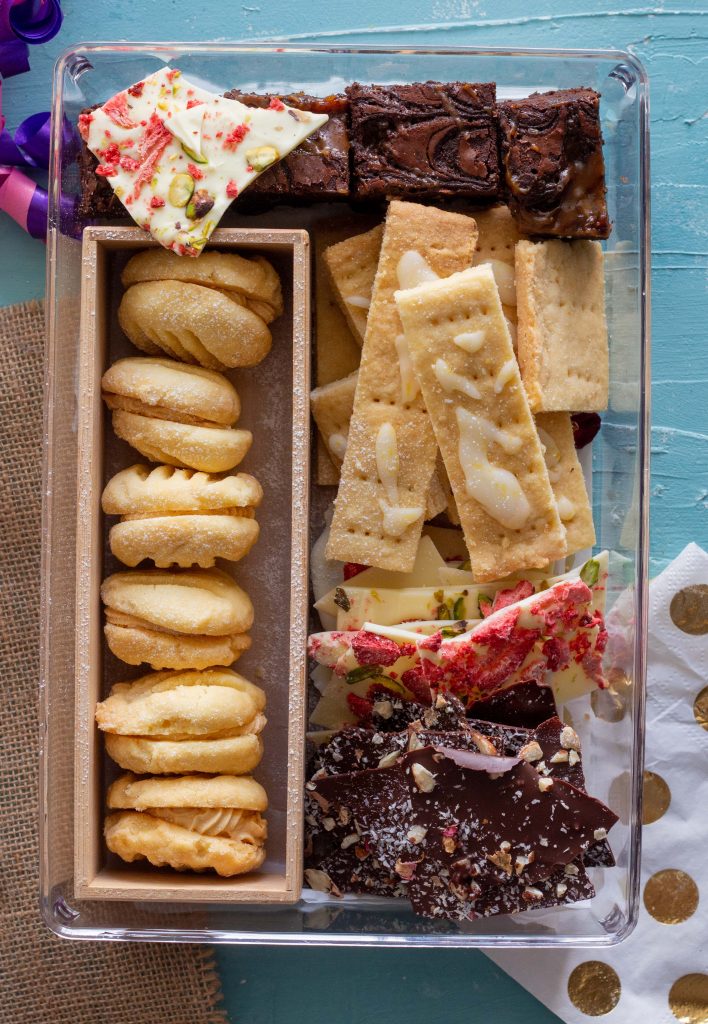 How to decide what cookies to add in your Eid cookie box
Before you start assembling your cookie box, you need to think about the kinds of cookies that you are planning to add to your cookie box. And how many! The cookies can be homemade or store-bought, or a mix of both. Don't be stressed out thinking that you have to make everything from scratch. It's the thought that counts, plus you can always jazz things up with the decorations. Things to keep in mind are:
The variety of cookies in the cookie box: Cookies of different shapes and sizes is always a good idea in a cookie box. They look pretty, and add contrast. Make a simple shortbread cookie and contrast it with a chocolate chip cookie. If you want to save time, you can make one classic dough recipe, and then experiment it with different add-ins. Use different cutters, and toppings to turn one basic cookie dough into a variety of cookies.
Quantity of cookies: Before you start baking, make a plan. List down the number of cookie boxes you want to make, and the number of cookies that you will approximately need. Keep a buffer because cookies get broken, and cookies also get eaten! The size of the cookie box will also determine the number of cookies that you will need. I prefer to give a small cookie box to couples, and bigger cookie boxes to families. Once you have decided on a number, pick recipes accordingly.
Baking time: If you are making cookies from scratch for a cookie box, it is a full day process and can take longer as well. Ingredients need to come to room temperature, dough needs to be made and chilled, and then the cookies need to be shaped. There's only so many cookies that can fit in the oven at one time, and you have to wait for the cookies to cool before you add decorations. To make life easy, divide the baking process over a few days, or get help from friends and family. Stick to tried and tested recipes. If you do want to experiment, do it with 1 – 2 cookie recipes only. In the cookie box that I made, I chose recipes with varying levels of difficulty. The coconut laddo were the easiest to make with no baking time required. The shortbread took the longest to make because I had to roll the dough out, cut the cookies, bake the cookies, and then wait for them to cool before I dipped them in chocolate and nuts.
Items other than cookies: The main focus of the box should be cookies because after all, it is a cookie box. But it doesn't mean you can't add other treats to add variety. It's possible to add other gift items in the cookie box, such as chocolates, mithai, candies, lollies, mini jars of jams or chutneys, or other treats. You can also add some non-edible items such as a candle, coasters, keychains or a decoration piece.
Shipping considerations: If you are shipping the cookies via mail, make sure to pick cookies that will hold up well in shipping. Stay away from soft frostings or glazes. Be share to wrap all the cookies so that freshness is maintained. Go for sturdier cookies that can keep outside for a couple of days, and won't break. Delicate cookies are best when transporting by hand.
Types of cookies I put in my Eid Cookie Box - 2021 edition
The cookies that I put in my Eid cookie box are as follows. I went with a mix of cookies, some which were super simple such as the coconut laddos, and some which required a bit of work such as the cardamom shortbread. I also tried adding a Desi spin to classic cookie recipes where possible. I will be updating the recipes in the next few days so make sure to come back.
Thumbprint jam cookies (Pakistani bakery style jam cookies)
Italian almond cookies (Ricciarelli)
Palmiers with cinnamon sugar and nuts
Cardamom shortbread with chocolate glaze and pistachios
Other options for cookies (and other treats) to add in your cookie box are salted caramel melting moments, caramel chocolate brownies, and lemon and cardamom shortbread. These are the recipes which I made for the 2020 spur of the moment Eid cookie box.
How to assemble and decorate your Eid cookie box
Step 1: Get a suitable container
First things first, you need a container to put the cookies. You can use a cardboard box like I did (I used a kraft box from Kmart), or use whatever is available near you. Use a shallow tray, a plastic box, a basket, a glass box, an empty cookie tin. You can also use a Chinese steamer basket, a baking tin such as a loaf pan, a cutlery tray, a jewellery box tray as packing options. It's also possible to use old packaging boxes around the house for a sustainable and eco-friendly option. Paint, or cover with wrapping paper, or vinyl adhesive sheets.
Keep size in mind when deciding on the container you use. If you are using a larger container, you will need more cookies, as well as wrapping material to fill it up.
Note: Use sturdier options if shipping the cookie box via post, or if transporting over longer distances.
Step 2: Create sections in the cookie box
Sections in the cookie box help in separating different types of cookies and make the cookie box look visually appealing. Options for creating sections include:
Foam core can be cut into strips and squares and used to create sections. Hot glue can be used to attach the pieces together. The number of sections depends on the number of cookies or other treats that you are planning to put.
Just like foam core, cardstock (or chart paper) can also be cut into stripes and squares to create sections.
Cupcake liners, muffin liners or other pastry cases can also be used to create sections in the cookie box.
Organza bags, goodie bags, or other forms of clear bags can also be used to create sections and also packaging for the cookies. It is preferable to use clear bags so that the cookies are visible.
Small containers (glass or plastic) can also be used to place items in the cookie box particularly small treats such as candies or chocolates.
Step 3: Decorate the cookie box
Be as creative and as wild as you want at this stage. Decoration elements can also act as a cushion so that the cookies don't break or crumble. Some options for decoration include:
The outside of the cookie box can be decorated by painting it, by sticking vinyl adhesive on it or washi tape. It is also possible to get a printed cardboard box.
Use shredded paper fillers, wrapping tissue paper, parchment paper, paper napkins, or fabric napkins as the base of the cookie box. These act as a cushion for the cookies as well.
Create sections using coloured or printed foam card or cardstock.
Use coloured organza bags or plastic bags to store different types of cookies.
Use ribbon, confetti, and other decorative embellishments to add colour to the cookie box.
Step 4: Assembling the cookie box:
If you are going to ship the cookie box via a postal service, then assembly will be quite different. You will need to use a sturdy box, additional filler material including bubble wrap, and have to pack the cookies individually in clear plastic bags so that they don't break. However, transporting the cookies from one house to another within the same city is easier.
The way I like to decorate my Eid cookie box is by first adding parchment paper or tissue paper wrapping at the bottom. I then start adding the big cookies in the corners, along with a stack of cookies in the centre. I then start to fill in the remaining spaces with the other types of cookies, as well as treats. The cookie box I have made doesn't have sections, so I used cupcake liners and the tissue paper wrapping to create rough sections.
If you are making a cookie box with sections, start off with first putting the bigger cookies in the bigger sections, and then placing smaller cookies or treats in the smaller sections.
I hope you enjoyed this Eid cookie box as much as I loved making it. I feel it's definitely going to be a yearly tradition on the blog. If you do make an Eid cookie box, I would love for you to share your creations with me. Tag me in your posts and stories on Instagram (@mirchitales), and use the hashtag #EidCookieBox.