These caramel chocolate brownies are requested by everyone – fudgy, chocolaty and deliciously moist! So addictive that you need to have another piece!
If I had to pick a dessert that I made the most at home, it would probably be chocolate brownies. Or wait the one bowl chocolate cake is a close second but these brownies are just love!
I discovered this particular recipe on the King Arthur Flour website a couple of years ago – the brownies are fudgy and delicious but what makes them even more special is that shiny crust on the top. The crust requires an additional step but it is SO worth it – that crispy crackly crust with the fudgy brownie below! SO SO good. Plus you really don't need a topping with that crust.
While these brownies are pretty much awesome on their own, over the years I have been tweaking and playing around the recipe. Sometimes I will add some walnuts, sometimes I will add some mint flavor, but the best variation has to be caramel sauce.
Make the brownies and then top with some rich caramel sauce. Give it a few swirls to mix it all up and then bake as is.
Absolutely yummy!
The caramel sauce that I use for my brownies is originally known as Dulce De Leche - the original name of the condensed milk caramel that we use but just to make it simpler I prefer calling it caramel sauce. After all, why complicate something as humble and delicious as a chocolate brownie. It takes a few hours to cook which is why I usually make at least two in a go (the more the merrier, don't you think?). Use half to make the brownies, drizzle some in this decadent granola pudding parfait and the rest – just lick it from the spoon! DE-lish.
Heading for the kitchen then?
📖 Recipe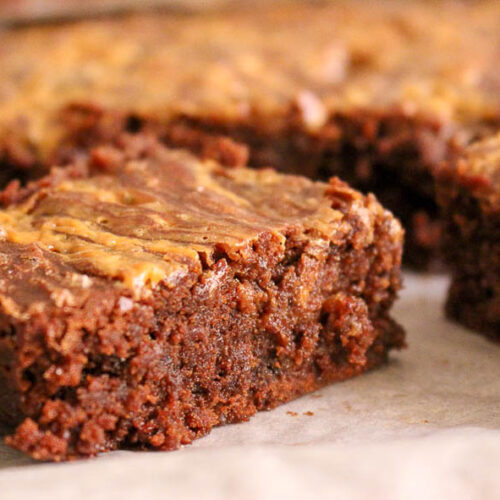 Print Recipe
Caramel Chocolate Brownies
These caramel chocolate brownies are requested by everyone – fudgy, chocolaty and deliciously moist! So addictive that you need to have another piece!
Ingredients
200

grams

unsalted butter

2 ¼

cups

sugar

4

eggs

1 ¼

cups

cocoa powder

1

teaspoon

salt

1

teaspoon

baking powder

1

teaspoon

instant coffee powder

1

tablespoon

vanilla essence

1 ½

cups

flour

200

grams

chocolate chips or 200 grams grated or finely chopped cooking chocolate

1

cup

Dulche De Leche

Recipe to make Dulce De Leche linked in the recipe notes below
Instructions
Preheat the oven to 180 C or 350 F. Line a 9" x 13" pan with either aluminum foil or baking paper (NOT wax paper). The foil / paper should be large enough to cover the hang from the edges. This will act as handles to take the brownies out later.

In a saucepan set over low heat melt the butter. Once butter is melted, add sugar to combine. Keep heat on low and keep stirring with a whisk every 30 seconds or so till the mixture is hot but not bubbling; it will become shiny looking as you stir it. Heating the mixture to this point will dissolve more of the sugar and produce a shiny top crust on your brownies. Whisking helps in dissolving more sugar.

Once the butter and sugar mixture is at the right temperature turn off heat and then set aside. The mixture should not bubble otherwise it can caramelize or burn.

Meanwhile, crack 4 eggs into a bowl. Add cocoa, salt, baking powder, coffee powder and vanilla. Beat for about 3 - 4 minutes on low speed till mixed together well. Make sure to stop the beater, and scrape the bowl with a spatula to ensure that it is mixed properly.

Add the hot butter/sugar mixture to the egg/cocoa mixture, stirring until smooth. Add the flour, folding it in with a spatula. Once the flour is mixed, add the chocolate chips and fold together.

Spoon the batter into the prepared 9" x 13" pan. Top with spoonfuls dulche de leche and lightly swirl with a knife.

Bake the brownies for about 30 – 40 minutes minutes, until a cake tester inserted into the center comes out clean, or with just a few moist crumbs clinging to it.

The brownies should feel set on the edges, and the center should look very moist, but not under-cooked. Additionally, there will be little dots of melted caramel in the brownies.

Remove them from the oven and cool on a rack before cutting and serving.
Notes
Recipe for making dulce de leche from scratch is available on the blog HERE.
Nutrition