This post may contain affiliate links.
The one question that I get all the time when I talk about my multi cooker is whether it's suitable for Pakistani and Indian cooking. This blog post talks about what is a multi cooker and gives a list of reasons (10 to be exact) on why a multi cooker is an essential appliance in a Pakistani and Indian household. Read on ahead to find out why.
First of all, what is a multi cooker?
A multi cooker is an electrical appliance with programmable modes that let you cook in different ways. The brand that I have is a Philips AIO (All in One Cooker) – the model I purchased only had the non-stick pot and I purchased an extra stainless steel pot from Amazon (linked here).
There are many other brands available (such as Tefal, Breville, and other home brands) with the most popular being the Instant Pot. The range of features differ from brand to brand, but the most common ones are pressure cooking and slow cooking with additional features such as yoghurt making, steaming and baking.
The newer Instant Pot models even have an air fryer option, and a sous vide function. Today's blog post is all about the benefits and features of a multi cooker, particularly for Pakistani and Indian cooking. If you want to read more about the differences between a multi cooker, a pressure cooker, and an Instant you can check out my blog post here.
For information on how to use the Instant Pot, check out the post by Izzah from Tea for Turmeric on how to use the Instant Pot for Indian and Pakistani cooking.
Why should every Desi household have a multi cooker?
1. It saves time
The multi cooker not only reduces the cooking time for dishes, but also saves up on prep time. The pressure cook function significantly reduces the cooking time – beef and mutton / goat meat recipes can be ready in less than 30 minutes, and beans such as chickpeas that normally require overnight soaking can be ready in less than an hour. Mash ki Daal can be made in less than 15 minutes, with just 30 minutes of soaking required.
The multi cooker also saves up on prep time. For instance, if you use the slow cook function, you can dump everything in the multi cooker pot, and let it cook. Go about your regular chores during the day, and by evening time, the meal is ready without having to fuss over on the stove.
Furthermore, you can use the pot in pot technique (known as PIP for short) to cook multiple recipes in the multicooker. For example, cook a liquid based recipe on the bottom such as daal / lentils, insert a tall steam rack, and then place a bowl on top to cook rice. Once pressure is released, a complete meal of daal / lentils and chawal / rice is ready to eat.
2. It doesn't require babysitting
One of the things that I love about the multi cooker is that it does its job, while I continue doing my chores. Once I close the lid and set the function, I can forget about it till it beeps.
In case I am away or busy with something, it will switch to a natural pressure release or keep warm function automatically. Traditional pressure cookers require careful monitoring of the heat and the time under pressure, and quite often that can be difficult to do.
3. The multi cooker isn't just a pressure cooker
It's an all in one device with multiple functions – it's a rice cooker, a steamer, a slow cooker, a yoghurt maker, and can even be used for baking. The new Duo Crisp model has an air fryer function, and the Ultra has a sous vide function.
It can also just be used as a regular stove – the saute and sear function means you can use it to fry off onions, make a sabzi (vegetable curry), make a chicken ka salan (chicken gravy) and even boil noodles.
4. It can be used as an additional burner
The multi cooker is in one way a portable stove – all you need is an electrical socket. Use it as an additional burner, especially if you don't have enough burners on your stove, or you don't have a large enough pot. It can also be used for road trips and vacations – take it to a motel, hotel or Airbnb.
5. The multi cooker can be used by anyone
Single, couple, students, working professionals, small family household or a large family household the multicooker can be used by pretty much everyone. There are also multiple sizes available so you can select the one that fits your household, and your counterspace. You can even get multiple multi cookers if you want!
6. Safety features
The biggest issue that people (especially people from Pakistan and India) have with using a manual pressure cooker is what if it bursts. But this is where the multi cooker has an edge over the traditional Desi pressure cookers. It has sensors to regulate internal pressure and temperature.
The cover needs to be locked in the right position for it to start building pressure, and once the time is up, the multi cooker goes into natural release mode. It is still an electronic gadget so care needs to be taken, but the risks of a Desi pressure are minimised in the pressure cook function of the multi cooker.
7. The recipes are super adaptable
Once you get a hang of the basic functions of the multi cooker model you have, it's very easy to adapt recipes to the multicooker. Be it recipes from other multi cooker brands (such as the Instant Pot, Breville or Tefal) or traditional Desi pressure cooker recipes and stovetop recipes.
The bhuna gosht (Pakistani beef curry) recipe and the aloo gosht recipe (Pakistani goat meat and potato curry) I have shared are both family recipes adapted for the multi cooker. Use the manual of the model as a guideline and then start experimenting.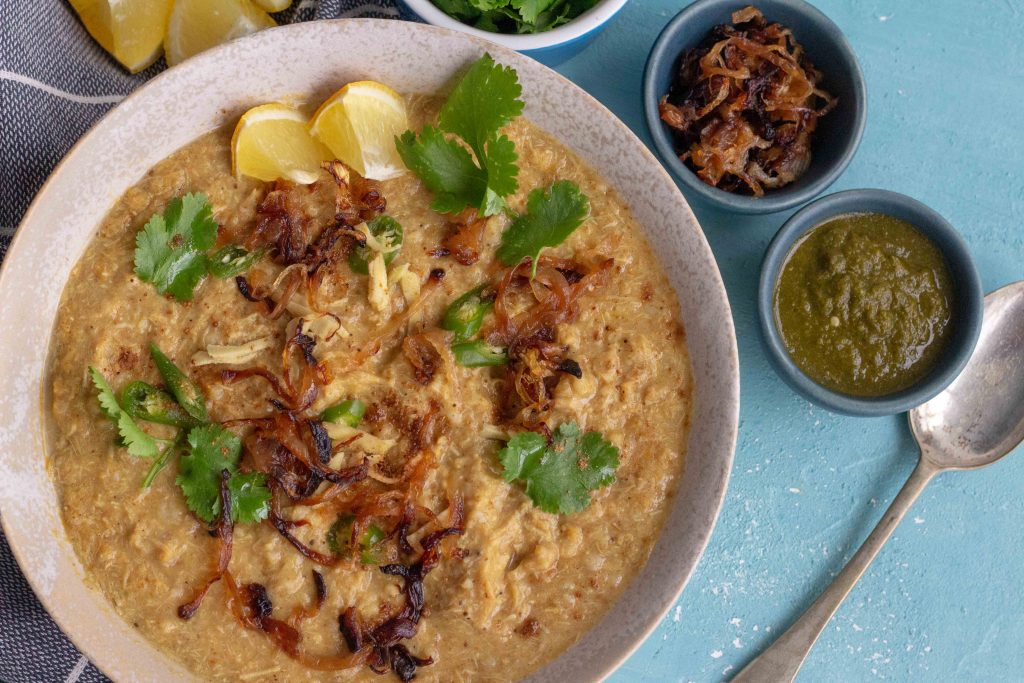 8. Easy cleanup
Cleanup is super easy for the multicooker. There's only one pot to worry about, and in most cases it can be put in the dishwasher, otherwise it's super simple to wash by hand. The other parts, and accessories are also usually dishwasher safe, and can be cleaned according to the guidelines given in the manual.
9. The amount of multi cooker recipes available online, particularly for Pakistani and Indian cooking
Newbies can feel a bit hesitant about trying the multi cooker but there is so much information available on the Internet on how to the appliance with groups devoted to specific models such as the Tefal Cook4Me, or the Philips AIO, and of course the Instant Pot.
From recipes, to cooking guidelines, to accessories, it's possible to find answers to pretty much everything. Following are some of my favourite sources, focusing again on sources that talk about Desi cooking (aka cooking from India and Pakistan).
Websites:
Facebook Groups:
Video Tutorials (including Youtube Channels):
The following bloggers and content creators have excellent recipes for the multicooker on their channels. I have added mostly YouTube channel links but videos can also be found on Instagram as well.
Books:
The Essential Indian Instant Pot Cookbook: Authentic Flavors and Modern Recipes for Your Electric Pressure Cooker by Archana Mundhe (Ministry of Curry)
Indian Food Under Pressure: Authentic Indian Recipes for Your Electric Pressure Cooker by Ashley Singh Thomas (My Heart Beets)
10. The multi cooker is designed for Desi cooking
The most common question that I get when I discuss my multi cooker on Instagram is 'whether it can be used for Desi cooking'. The answer is a resounding YES!
The stove top pressure cooker has long been used in Indian and Pakistani cooking, with the whistle of the pressure cooker being a regular feature in every Desi household. I remember my mother telling me to keep an ear out for the pressure cooker whistle, and tell her when it whistled once, twice or thrice depending on the recipe.
Not only that, the Desi pressure cooker was also used as a steamer (to make pudding, idli, dhokla etc), and the Pot in Pot technique (PIP for short) which is used to make multiple dishes was being done in Desi households long before the multi cooker was invented.
Think of the modern day multi cooker and Instant Pot as an extension of the Desi pressure cooker, which basically means anything that you can cook in a pressure cooker, can be made in the multi cooker.
Also, any recipe that is traditionally slow cooked – think Haleem, nihari, dal makhani, kaali daal, can be made using the slow cooker function of the multi cooker. There's also the yoghurt function, and the steaming function, and lots of other options too.
Finally what are all the dishes that can I make in the multi cooker?
The following is just a basic list of all the things that can be made in the multicooker – there are a multitude of recipes out there and people are constantly experimenting coming up with more on a daily basis.
Lentils – all kinds of daal / lentils can be made in the multicooker. Both the pressure cook function as well as the slow cooker function can be used. Check out this recipe for mash ki daal available on the blog.
Beans – same with beans such as chole (chickpeas), red kidney beans (laal lobia / rajma), black eyed peas (lobia) and more. Increase the cook time, and you can also skip the overnight soaking required.
Meat – make chicken, beef, goat meat / mutton, and lamb, be it with bone or without bone. Chicken ka salan, aloo gosht, Haleem, Nihari are dishes that can be made in a fraction of the time using the pressure cook function of the multicooker.
Rice – the multicooker can be used to make simple boiled rice, including brown rice, quinoa and western style pilafs. It can also be used to make our Desi tahari, biryani and all sorts of pulao.
Pasta – the multicooker can also be used to make pasta of all kinds. There are lots of one bowl pasta recipes on the Internet.
Vegetables – boil and steam vegetables or make vegetable curries, and all sorts of vegetable pulao in the multicooker.
Soups and stews – the multicooker can be used to make soups and stews, both Desi style as well as continental.
Other: the multicooker also has a slow cook function which is perfect for dishes that normally take hours to cook such as nihari, Haleem, kaali daal and other types of lentils.
If you are looking for inspiration, here's a list of some recipes on the blog that are made using the multi cooker. Mine are made using the Philips AIO, but they can be easily adapted to any other brand.
To keep updated with recipes, stories and so much more follow me on Facebook and Instagram