This blog post is all about how to make a Cheese Board for South Asians. Consider this a cheese board 101 guide with step by step pictures on what to do, along with things to keep in mind when serving a cheese board (or grazing platter) to Pakistani Indian guests.
It also includes how you can add a Desi twist to your cheese board, with Pakistani Indian inspired savoury snacks and sweets. The steps and guidelines in this post work for all kinds of platters, be it a grazing platter, vegetarian platter, a meat platter, a dessert platter, or a snack platter.
There is no concept of a cheese board in South Asian cuisine. This is why making and eating from a cheese board can be super intimidating for us of South Asian origin. I grew up in Pakistan, and in my house, there were two types of cheese – cheddar and mozzarella, and cheese was either eaten in a sandwich or placed on pizza, not eaten on its own. I can still remember the first time I was presented a cheese board – I had no idea what to do, and I am sure many people from Pakistan and India feel the same way.
This is why I created this how to make a cheese board guide. This blog post will answer all your questions about making a cheese board / cheese plate / cheese platter.
How to make a cheese board for South Asians - this guide is designed for beginners, so that's why there's a step-by-step guide with pictures.
Selecting the components of the cheese board – I go over the different categories, and list down the things that can be added. I have also mentioned dietary restrictions (Vegetarian, and Halal) for South Asians.
I have also added how you can add a Pakistani Indian twist to your cheese board or grazing platter – loads of Desi options here for you to add to your next cheese board.
I also talk about how to select different types of cheeses as a beginner.
Things to need to keep in mind when making a cheese board / grazing platter for South Asian guests.
In the end, I talk about what to do with the leftovers.
How to make a cheese board – step by step guide for beginners:
Step 1: Make a list:
Before you start making the cheese board / grazing platter, make a list of the items that you want to include in it. You can even sketch out a diagram. Think of the guests, how adventurous they are, and the theme of the menu then make your list. Treat the cheese board as a dish by itself, and select items that coincide with the rest of the menu. For a brunch party, I would go with croissants, fruits and add a soft cheese such as cream cheese, labneh or feta cheese. For a lunch or dinner party, I treat the cheese plate as my appetizer, and include items such as baked brie with garlic toasts, and crackers.
Step 2: Select the base, and the bowls: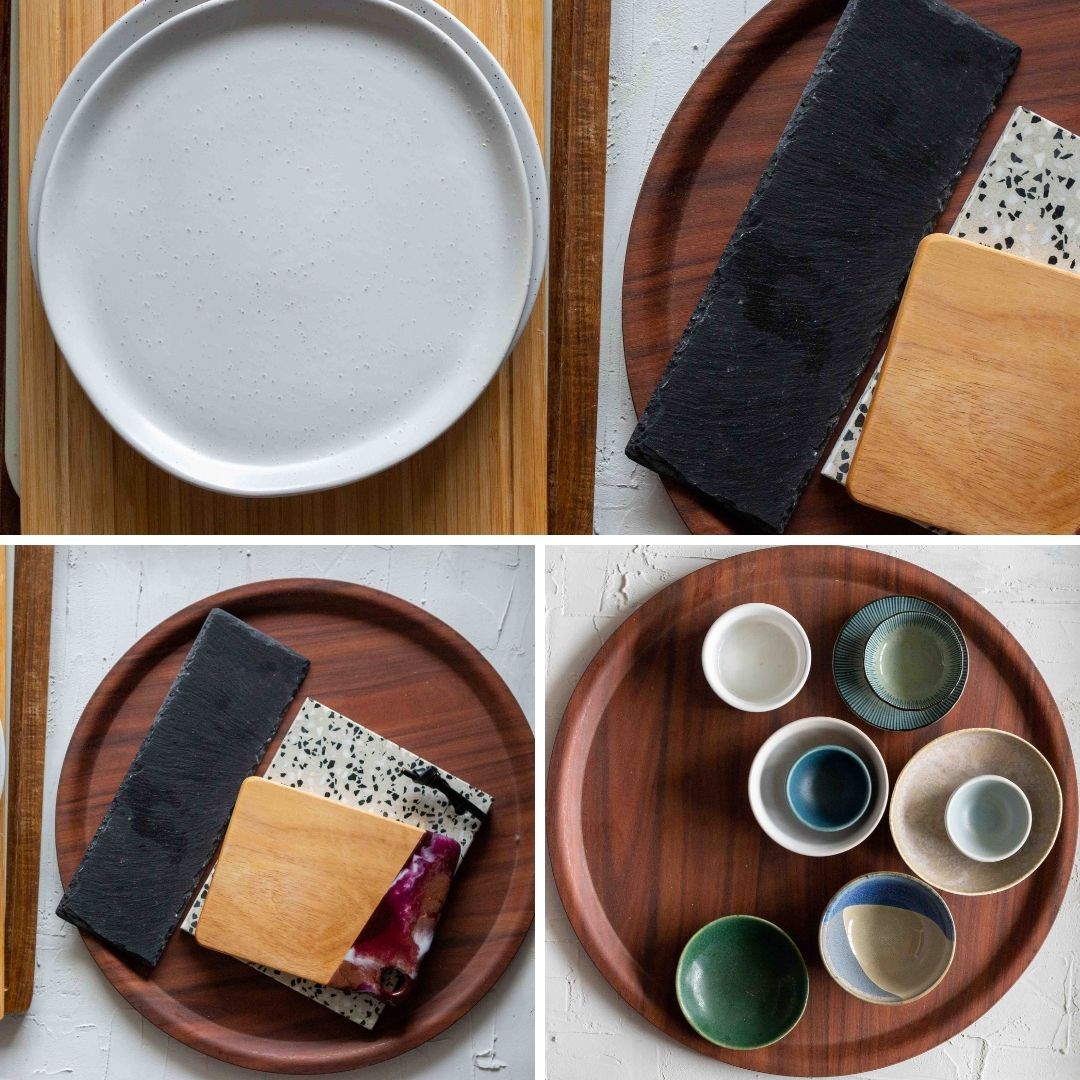 There's no need for a fancy speciality base for your cheese board. Chopping boards, baking sheets, serving trays, serving platters, dinner plates all can work. If you don't have a large enough board, put two small serving plates next to each other. Same thing with the bowls – dip bowls, cereal bowls, soup bowls all can work.
Step 3: Do a draft run:
Before I start making the actual cheese board, I take out the things that I want to use for the cheese board and set it out to see how it looks. I take out the cheese, along with the bowls in which I am going to put the rest of the elements, and then set it out on the base I have selected. I keep the cheese and dips that I plan to use in their packaging, but I place them on the board to see how it looks. If the board looks too empty, I will either switch to a smaller board or add another element. If the board looks too busy, I will switch to a larger board or remove an element.
Step 4: Prep the ingredients, and the board:
It's super important to prep the ingredients before you start making the cheese board. Wash the fruits and dry them – droplets of water is not what you want on the cheese board. Slice, and cut the cheese. Most cheeses need to be served at room temperature so make sure to take them out of the fridge 30 – 45 minutes before serving. Serving instructions will usually be written at the back of the packet. If I am using a wooden serving board or tray, I also like to place parchment on the board – makes clean-up so much easier later.
Step 5: Start laying out the big stuff: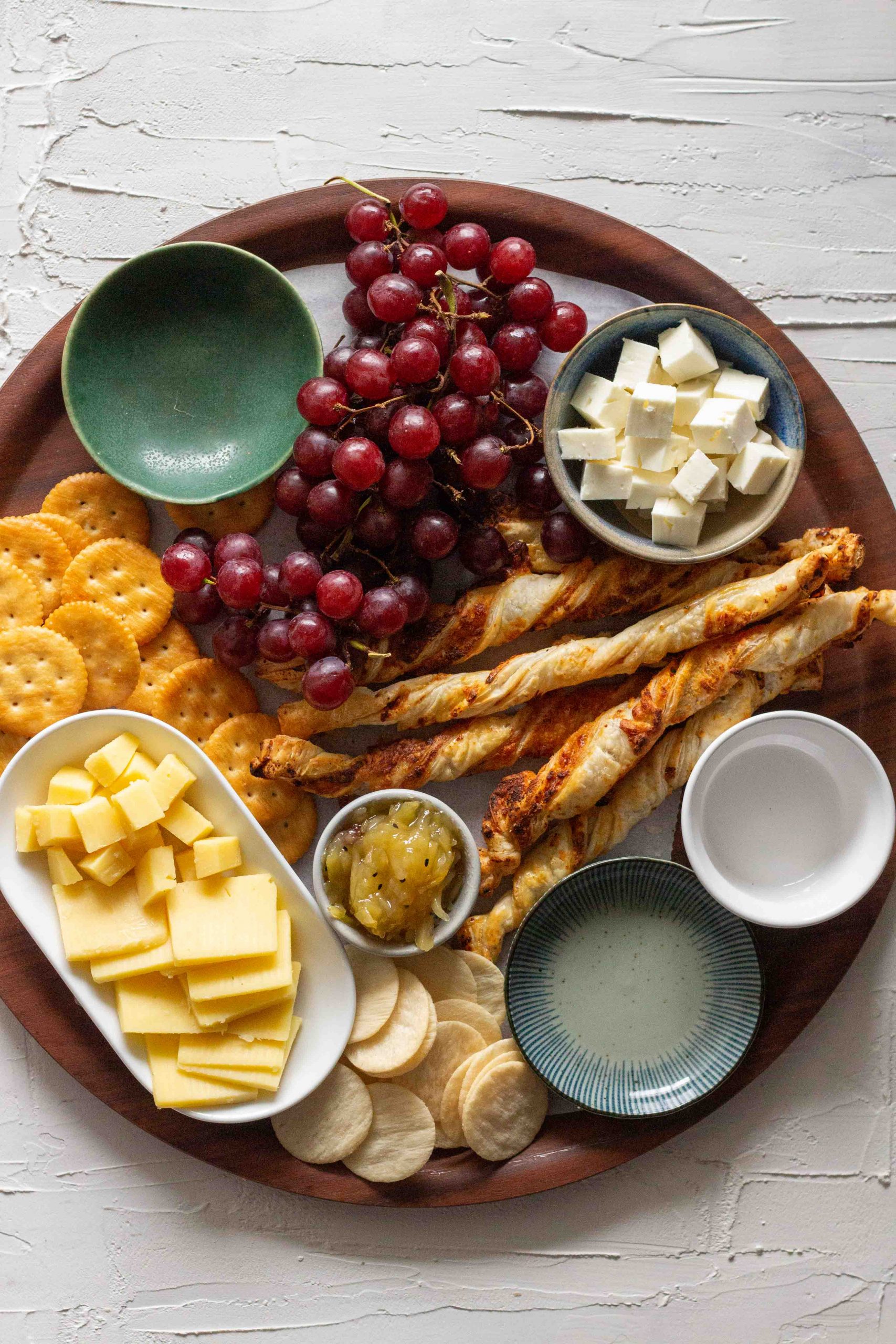 Finally, we are ready to start putting things on our cheese board.It's always a good idea to start with the big stuff. This could be the cheese, crackers, puff pastry twists or fruits. I know that cheese boards / grazing platters are all about filling the board up, but it also makes the cheese board look intimidating, and it can be difficult to figure out what to pick up. What I do is that I put my big ingredients in bowls, or plates and then I place it on the board. That way it's easier to move things around, plus it's also cleaner.
Note: For items that need to be added in the end such as a dip, bowls can be used to mark their space.
Step 6: Fill in the spaces, and the empty bowls:
Now that the big stuff is laid out, fill in the empty spaces. I like to do this with the crackers, biscuits and fruits. Fill in the empty bowls at this stage, along with any garnishes.
Step 7: Add the cutlery, and crockery:
The cheese board is done, but don't forget the cutlery. People don't always like using their hands, so keeping cutlery handy will encourage them to pick stuff up and try it out. Spoons for the dips, skewers or toothpicks for the cheese, and whatever other cutlery is needed. Also keep small plates, and napkins handy.
The different components of the cheese board (and how to add a Pakistani Indian twist to your cheese board):
There are so many options when it comes to building a cheese board / grazing platter. I am going to give you a basic guideline below, along with options on how to add a South Asian twist to the cheese board. As I mentioned earlier as well, cheese boards can be intimidating so adding options that are familiar to the Pakistani and Indian taste palate would encourage people to try things out.
Cheese:
Cheddar, mozzarella, feta and halloumi are cheeses that most South Asians know about and have tried. To fancy things up, you can add aged cheddar, fresh buffalo mozzarella, marinated feta cheese and/or pan-fried halloumi.
Mozzarella – get fresh mozzarella, not the shredded kind. Fresh mozzarella can be sliced, or mozzarella pearls can be added in bowls.
Cheddar – cheddar can be mild to sharp in flavor, depending on how long it is aged. Mild cheddar is aged for the shortest time, and extra sharp the longest. Stick to a mild option for people new to cheese boards.
Feta cheese – feta can be cut into cubes, or sliced, and it can even be marinated with olive oil, herbs and spices. Keep the feta in a bowl and add a fork or skewers.
Halloumi – not a classic cheese board cheese, but this semi-hard firm cheese (similar to paneer) has become super popular in recent times. Grill or pan-fry it before adding to the cheese board.
Paneer (Indian cottage cheese) – spicy grilled paneer would add a delicious South Asian twist.
Brie – Brie is a soft, creamy cheese which can be served as is, or baked. I like to serve baked brie because once it bakes, it melts and turns into a rich cheese dip which tastes so good with crackers. In fact, I only started loving Brie after I baked it. Another option similar to Brie is Camembert.
Cream cheese – flavoured cream cheese (such as Boursin) is a great addition to a cheese board. Other options include making mini cream cheese balls or adding a cream cheese dip. Just add a small knife for spreading the cream cheese.
Dietary considerations to keep in mind when selecting cheese: South Asians usually follow a halal and/or vegetarian diet. Most cheese is made from rennet, which is either animal based, or non-animal based (called microbial rennet). Guests may avoid trying cheese if they are not sure of the source of rennet. Letting guests know that the cheese is either halal and/or vegetarian and/or adding a sign for the same can dispel the confusion.
Meat:
Make sure to check with guests' dietary considerations when inviting them and plan out the meat items accordingly. If using smallgoods / sliced deli meat, make sure to get Halal certified options for Muslim guests, and mention the same to them. For vegetarian guests, keep the meat in a separate platter away from the vegetarian options, and keep cutlery separate to prevent contamination.
Kebabs
Grilled meat on skewers (this can be beef, lamb or chicken)
Cocktail sausages / Frankfurt
Sausages / Hot Dogs / Kransky – boil, or grill them, then cut them into pieces and add skewers
Deli meat / Smallgoods – options include mortadella, salami, pepperoni, smoked turkey and chicken roll.
Hunter beef – hunter beef (or roast beef) would add a great south Asian twist to the cheese board.
In Australia, Fettayleh and Yamos both have halal certified options for smallgoods / deli meat which are available at retailers across the country.
Nuts:
Walnuts
Almonds
Pistachios
Cashews
Peanuts
For a South Asian twist, make masala nuts. Saute your favourite type of nut (or an assortment of nuts) in a little oil, and then add salt and chili powder. Toss together, and then serve.
Fruits:
Grapes (I love red grapes for their colour, but green and black can work as well). Leave the stem on so it's easier to move them around.
Berries – strawberries, blueberries, or raspberries. I like to put them in bowls, and scatter a few in any empty spaces at the end.
Apples and pears – add them in the end, and drizzle a few drops of lemon juice so that they don't brown
Pineapple – cut into slice or wedges.
Melon – melon is a favourite in fruit platters. Cut it into slices, cubes or if you are feeling particularly fancy, scoop out melon balls. I would suggest keeping melon in either a bowl, or on parchment as it can get messy.
Vegetables:
Carrots – sliced
Cucumbers – sliced
Capsicum / Bell Pepper – sliced, but only the yellow, orange and red coloured capsicum / bell pepper as the green one can be sharp in taste. You can also use marinated and roasted red peppers as part of the cheese board. Make your own, or get them from the deli section.
Cherry tomatoes
Olives – get whole seedless olives from the supermarket, or get an assortment of marinated olives from the Deli section.
Bread and Crackers :
Plain, salted and flavoured crackers – I like to use Ritz crackers, along with rice crackers.
Pita chips – get some from the store, or make your own with pita bread.
Breadsticks
Puff pastry cheese straws (cheese twists) - get some from the supermarket or make your own using the recipe here
Baguette – cut it into slices and toast
Garlic toasts
Savory Snacks:
Dips, condiments and chutneys:
Traditionally cheese boards usually have a chutney as a sweet element to balance the saltiness of the cheese and crackers. In addition to a sweet chutney, you can also add dips and condiments which would be great with the salty crackers and chips.
Hummus, baba ganoush, garlic sauce, and tzatziki are classic middle eastern favourites.
For a South Asian twist on the classic chutney and jam, add mango chutney, imli chutney (tamarind chutney) or green chutney.
Guacamole and salsa can give your cheese board a Mexican twist – make sure to add corn chips or tortilla strips on the side.
Other options include honey, garlic mayo dip, sour cream and chives dip, and beetroot dip.
How to make a Cheese Board for South Asians - putting it altogether:
The idea behind any platter, be it a cheese platter or a grazing platter is that all the elements complement each other. It's like making a bun kebab – the burger bun is the base, the kebab is the filling, and the onions, tomatoes and chutney are the flavour carriers bringing it altogether. French fries on the side make it a complete meal. Same concept applies to the cheese board.
Bread, crackers and etc: The bread, toast and crackers are the base of the cheese board. Raw vegetables (known as crudites) also serve the same purpose.
Cheese, meat, dips, and condiments: These are what add flavour to the cheese board. The crackers can be had on their own but add a slice of cheddar on top, or spread some cream cheese, and their flavour gets enhanced. It's a good idea to add a hard element (such as slices of cheddar cheese) with a creamy element (such as a dip, or a soft creamy cheese) for contrast and variety.
Something sweet: The crackers, and cheese can be on the salty side so adding a sweet element to the cheese board can balance things out. This can be a chutney (for e.g., mango chutney), fruits and/or honey.
Something savoury: This can be meat, nuts, and other savoury snacks to eat with the cheese and crackers. Meat is usually eaten with the bread and toast, and the other items are added for texture, crunch and flavour.
An ideal cheese board would have a balance of sweet, salty, and spicy. It should also balance crispy elements with creamy elements, and also include fruits and vegetables to add a pop of colour and freshness.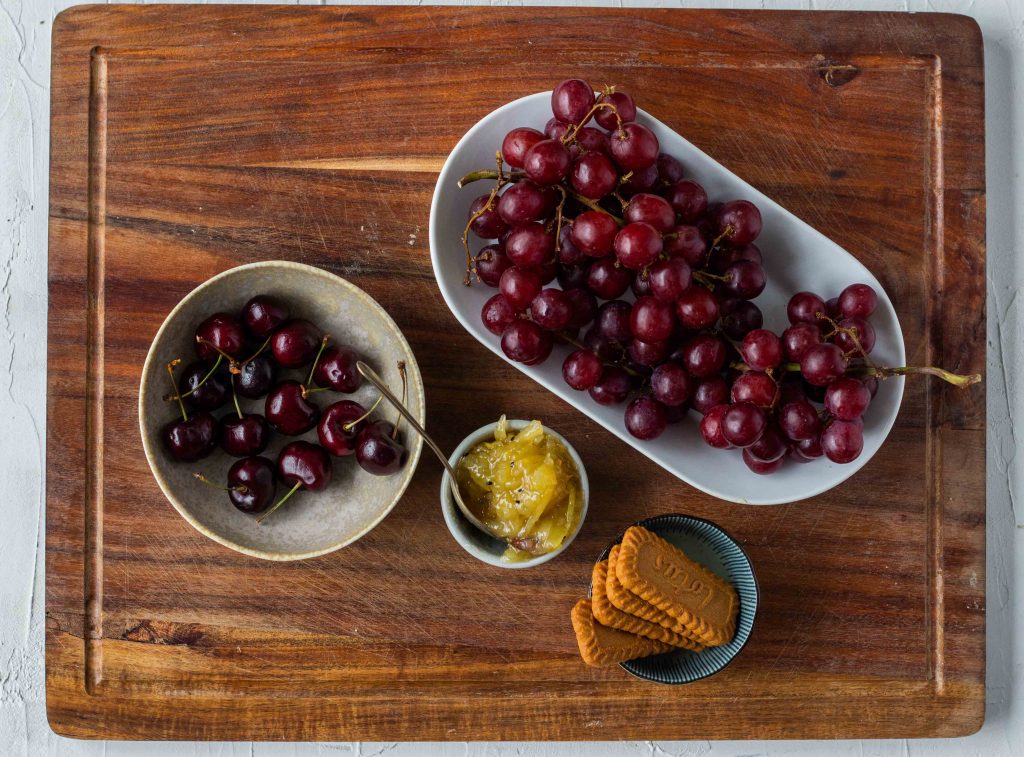 How to select cheeses for a cheese board?
Buying cheese can be overwhelming – so many brands and types to choose from. The following tips can help you out:
Select one cheese at a time: Pick a type of cheese you want to try. Let's say cheddar. Go to the supermarket and pick an option. If you like it, get another brand or variant of that cheese, and try that out. If you really like it, you can look for similar cheeses. For instance, if you like cheddar try gouda. If you like Brie, try Camembert next. If you like feta cheese, try chevre or goat's cheese. If you like cream cheese, try ricotta cheese next. If you don't like something, move onto the next cheese type.
I prefer to go to Aldi for my cheese shopping in Australia because they have a good selection of cheese at reasonable prices, plus all the cheese packets I have seen have the source of rennet mentioned. They don't have a huge variety as other stores, which is also good in a way as I don't get overwhelmed with choices.
Read packet instructions: Every cheese has guidelines on how to serve it. For instance, almost all cheeses are served at room temperature for the best flavour. Additionally, certain cheeses need to be ripened and they get milder and creamier near to their expiry date. This is written on the back of the packet.
Check the ingredients: One of the ingredients used to make cheese is rennet, which can be vegetarian based (microbial rennet) or animal based. If animal based, it can be halal rennet or non-halal rennet. Depending on dietary preferences (halal and/or vegetarian) check the ingredients for the source of rennet and/or for the halal logo. Quite a few manufacturers use microbial rennet to cater to dietary restrictions and will mention the same at the back of the packet, or on their website.
Tastings: If you have a cheese shop near you, you can also go there for advice. They also usually offer samples for tasting and can guide you as well. Follow the same principle above and stick with the basic types of cheeses.
Let's also talk about what cheese should NOT be added to a cheese board:
Shredded cheese of any cheese
Pizza cheese of any kind – this goes great for pizzas and bakes, not for a cheese board
Processed cheese – this refers to processed American cheese be it sliced cheese, cheese spread (such as cheez whiz), and also processed cheese block (such as Velveeta).
Cream cheese spread – though it's possible to use block cream cheese to make a dip or mini cheese balls, DO NOT use cream cheese spread in a cheese board.
Sliced cheese, especially processed cheese slices. It's always best to slice and cut your own cheese.
Things to keep in mind when making a cheese board for Indian and Pakistani guests:
It is quite possible to serve a fancy cheese platter at a party for South Asian guests, and have it remained mostly untouched. Keeping the following things in mind will ensure that guests are open to trying out the cheese board.
Plan the cheese board / grazing platter keeping guests in mind: Think about what your guests like and dislike, and how experimental they are when it comes to trying out new food items. The new generation and people living abroad are relatively more familiar with western food traditions. If the guests are not familiar with cheese boards, and they are not adventurous skip the cheese and keep the platter simple. Fresh fruits, nuts, and savory snacks are safe options. Think more grazing platter – less cheese board.
Plan the cheese board as per the occasion: Cheese boards / grazing platters are best suited for a party where snacks are the theme – this could be a tea party, a game night, a picnic at the park, even a road trip. If you are planning a cheese board for a lunch or dinner keep it simple. In a South Asian gathering a cheese board / grazing platter will always be treated as an appetiser, regardless of how fancy it is. People might even avoid eating too much from the cheese platter because they don't want to make themselves too full for the main meal.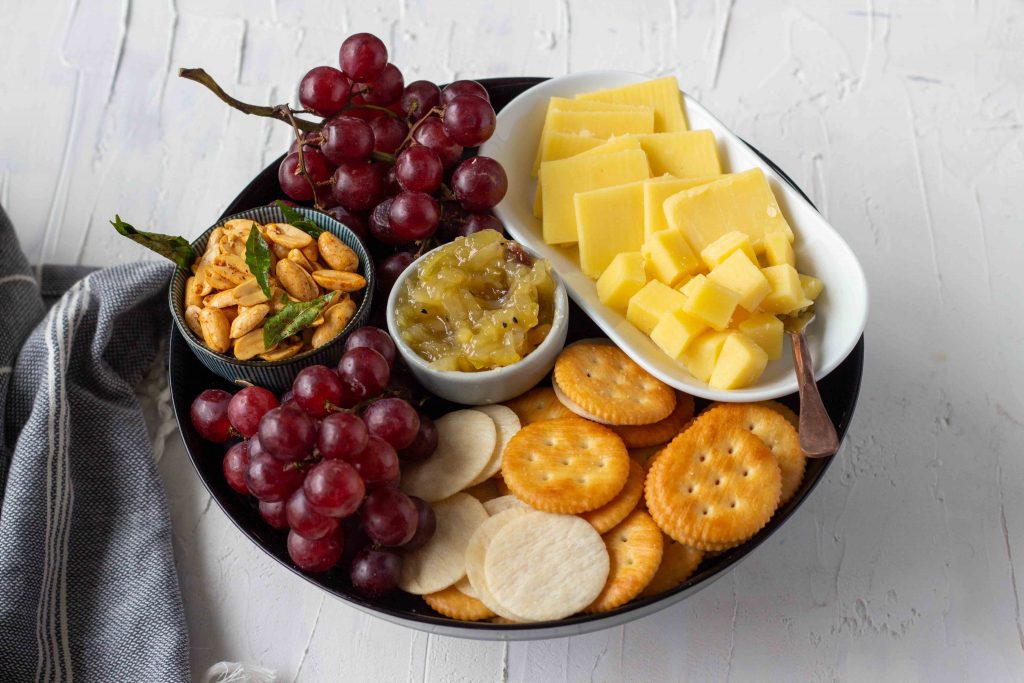 Keep dietary restrictions in mind: Guests can feel hesitant to try cheese because they are not sure if it's Halal and/or vegetarian. Make sure to ask guests of their dietary restrictions and inform that they are taken care off.
Add labels and instructions: People not accustomed to cheese boards can find them intimidating. Adding labels to the cheese and adding instructions on how to mix things up can help guests figure out what to do, and encourage them to try new things out.
Slice and cut the cheese, and keep toothpicks handy: A wedge of cheese can be super intimidating especially to people not familiar with a cheeseboard. It's also super awkward trying to cut a wedge of cheese in the middle of the party. Slice up the cheese, cut into cubes, add some skewers or toothpicks to make it easy for your guests to try things out.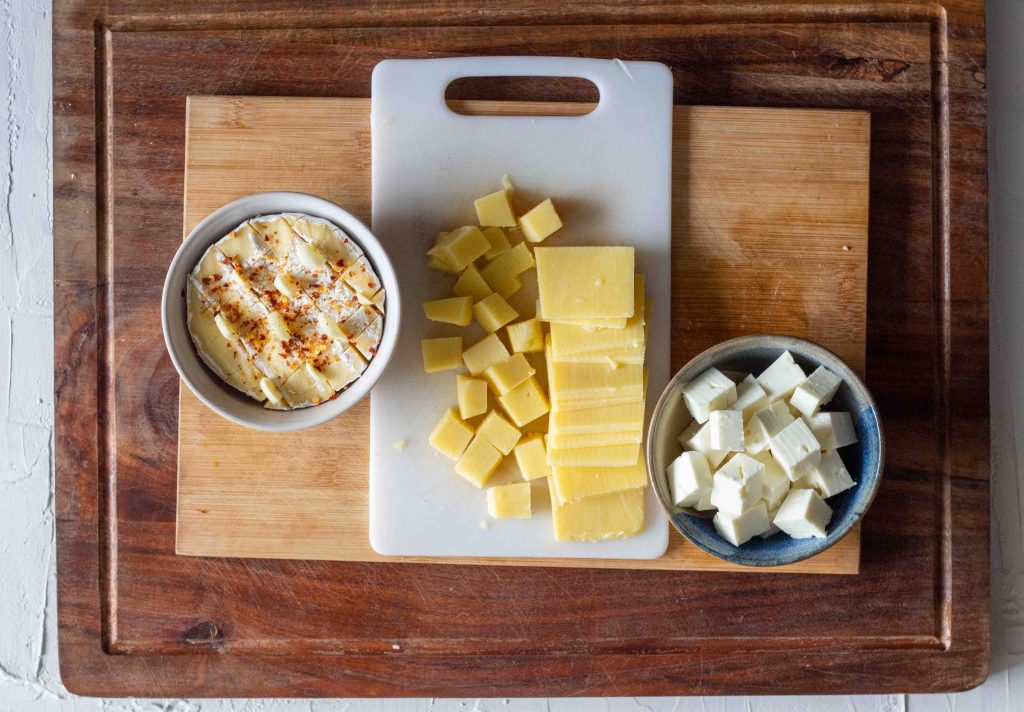 What to do with the leftovers from the cheese board?
The guests are gone, and so is most of the cheese board but some items are left. I place the leftover cheese in an airtight box in the fridge and use in recipes such as wraps, sandwiches, omelettes, and pasta bakes. Toasts, bread and crackers can be kept in plastic boxes or Ziploc bags. The dips and condiments can be covered with clingwrap or a silicon wrap and kept in the fridge. However, do make sure that all ingredients are in optimal condition – if the cheese board has been kept outside too long, or it's a hot summer day things may get spoiled.
Looking for more appetizer inspiration – check out the following recipes:
Would love it if you could try out and rate the recipe, and let me know how it was in the comments below!
To keep updated with recipes, stories and so much more follow me on Facebook and Instagram
📖 Recipe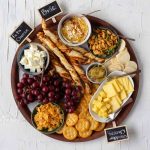 Print Recipe
Cheese Board for South Asians (Cheese Board with a Pakistani Indian Twist)
How to create a cheese board for South Asians, with ideas on how to add a Pakistani Indian twist to your Cheese Board. The list is a basic guide on creating a cheese board - feel free to add or subtract with the things that you like, and have around the house.
Ingredients
Cheeses
Brie

Brie can be served on its own, or baked. I prefer to add Baked Brie with garlic and red chilli flakes

Sharp Aged Cheddar

sliced, or cubed

Feta Cheese

cubed
Breads and Crackers
Ritz Crackers

Rice Crackers

Puff Pastry Twists (or Cheese Straws)
Fruits and Condiments
Grapes

Mango Chutney

I used a homemade raw mango chutney

Cherries
Savoury Nibbles for a Pakistani Indian Twist
Masala peanuts

Fried peanuts with curry leaves and spices

Paapri

Chilli Chips

Papar (Papad / Papadum)
Instructions
Prepare the Ingredients
Take out all the ingredients that you plan to add to your cheese board - cheese, crackers, biscuits, fruits and etc.

The cheese needs to be taken out at least 30 minutes before serving - read packet instructions for specific timelines.
Set out the board and bowls
Depending on the number of ingredients that you are going to add to the cheese board, decide on the board as well as bowls. Bowls can be used for stuff like dips, and condiments, and also fruits and chutneys.
Make your cheese board
Start with setting out the big items as well as the bowls in the cheese board - cheeses, bowls for condiments, fruits, and dips.

Fill in the empty space with with the crackers, bread and toast along with fruits like grapes.

Fill in the bowls with the condiments, dips and similar elements. Also fill in any empty spaces with additional crackers, and nuts.
Add labels, crockery and cutlery
Finish off the cheese board by adding labels, along with cutlery and crockery for the guests to make their own plates.
Nutrition