Take chicken mince along with onions, coriander, spices and herbs and bake it to create this super easy baked chicken keema recipe. 
One of my favourite things to cook for dinner is keema, basically a style of curry that uses mince. It's super easy to throw together, freezes beautifully and can feed a crowd if needed. Today I am sharing an even easier keema recipe in which I am baking the keema to make a Desi style chicken meatloaf. What I love about this baked chicken keema is that it's super versatile - it can be eaten as is with roti with some yoghurt, cut into cubes and added into salads, or sliced up to use in sandwiches and wraps. Plus it's super healthy - only uses 2 tablespoons of oil!
Jump to Recipe
How to make the baked chicken keema?
Start off by placing boneless chicken in a food processor and pulsing it to turn it into chicken mince. Set aside the chicken mince. If a food processor isn't available, just buy chicken mince directly from the butcher.
In the same food processor add an onion, ginger, garlic, coriander leaves and the rest of the spices. Pulse it altogether till finely chopped.
Mix the vegetables and herbs with the chicken mince, and then add an egg and breadcrumbs to bind it altogether.
Place the chicken mixture into a baking tray or loaf pan and bake till cooked through and golden brown on top.
Eat it on its own, slice it up to use in sandwiches and wraps, cut it into cubes to add to salads, or eat it with roti. It's super healthy and is an excellent meal if you are looking to eat healthy or on a diet.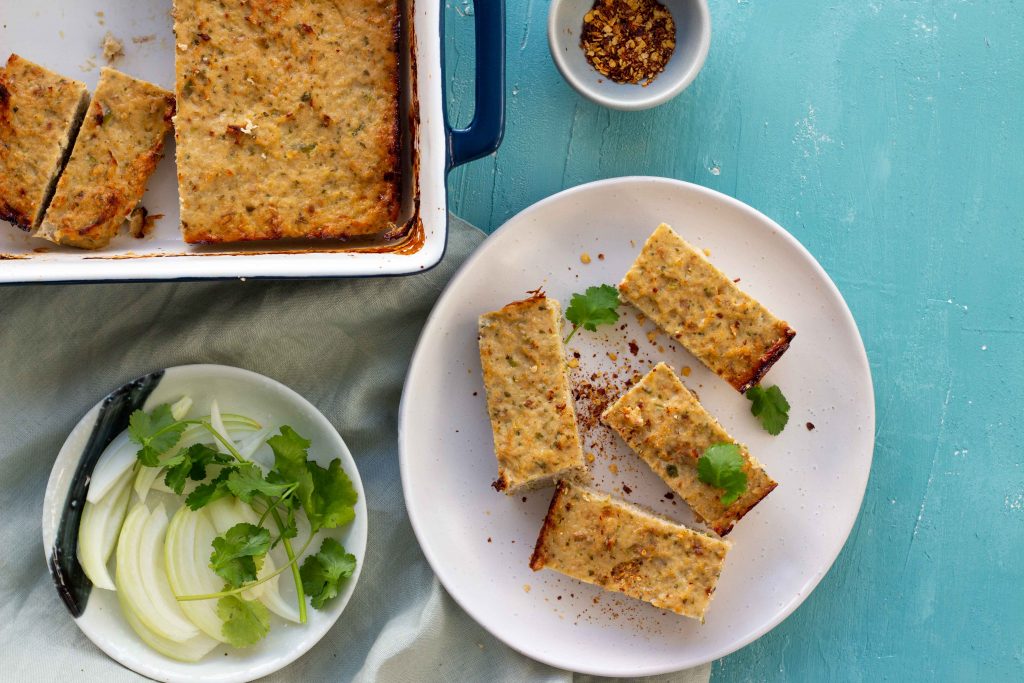 Tips and tricks in making this Desi chicken meatloaf: 
This meatloaf is a great way to finish up those leftover vegetables in the fridge. So far I have added extra onions, capsicum and carrots. The carrots do turn the colour of the keema orange but other than that, it tastes great. It's also a great way to stretch your budget and make children (and even adults) eat more vegetables. Just add more salt and spice.
The keema mixture is open to lots of playing around. In fact, if you have picky eaters at home you can divide the mixture into two, creating two variants of the same base mixture. So one portion can have more spices for let's say the adults, and the other portion can have less spices for the kids. Bake them separately and serve together.
Once the keema mixture is ready, you can taste the seasonings by making a tiny kebab and frying it off.
In fact, this keema mixture also makes excellent chicken kebabs. Once the raw mince mixture is ready, form round patties and fry for a few minutes each side until golden. These chicken kebab patties can also be frozen.
 The keema mixture is great for freezing. Just put the raw keema mixture in small aluminium foil trays and freeze. It can be baked directly from the freezer, just increase the baking time by a few minutes.
Looking for more Pakistani & Indian (including a couple of keema recipes) recipes for your weekly dinner inspiration. Check out the following:
Would love it if you could try out and rate the recipe, and let me know how it was in the comments below! 
📖 Recipe
Print Recipe
Baked Chicken Keema | Chicken Meatloaf
Take chicken mince along with onions, spices and herbs and bake it to create this super easy baked chicken keema recipe. The keema bakes into a meatloaf form that can be eaten as is, sliced and added into salads, sandwiches, wraps and more. 
Ingredients
½

kg

boneless chicken

cut into pieces

1

onion

chopped in quarters

4

cloves

garlic

cut in half

½

inch

piece of ginger

cut in half

1

cup

coriander leaves

2

green chilies

roughly chopped

2

tablespoons

soy sauce

½

teaspoon

white pepper

¼

teaspoon

red chili flakes

adjust to taste

½

teaspoon

red chilli powder

salt

adjust to taste based on saltiness of the soy sauce

2

tablespoon

oil

divided

1

egg

1

slice

of bread

roughly torn
Instructions
Pre-heat oven to 200 C.

Put the chicken in a food processor and pulse till it turns into mince. Take the mince and place it in a bowl.

Place the rest of the ingredients (vegetables, herbs, spices, egg and bread) with 1 tablespoon oil in the food processor and pulse together till a chunky paste is formed. Add the chicken in the food processor and give it a pulse to combine. Alternatively, use your hands and combine in the bowl.

In case there isn't space in the food processor for all ingredients, a small food processor can be used. Just pulse the ingredients in 2-3 parts and combine in a bowl.

Grease the edges of a baking dish with a little bit of the reserved oil. Pour the chicken mixture into the baking dish, and then top with the remaining oil.

Bake for around 45 minutes till edges are golden brown and chicken is cooked through. It will be ready when the chicken loaf releases from the edges, and the juices from the chicken mince run clear. Don't overbake as it can become dry. Broil for 2 - 3 minutes at the end to given a golden-brown crust on the top.
Notes
In order to check the seasonings, just make a bite sized kebab and fry it off in a saucepan. Taste, adjust and then put the whole mixture in the oven.
The spices and herbs used in the recipe can be varied depending on personal preference. Add more chillies or reduce the coriander leaves. Add additional vegetables such as carrots or capsicum - just make sure to adjust salt to compensate for additional ingredients. 
Nutrition