A hybrid between Pakistani spices and Italian herbs, this baked chicken loaf is healthy, delicious and oh so easy to make … 
For someone with a busy schedule, it's important to have recipes that can be easily made, and that can serve as multiple meals at the same time. This chicken loaf is one such recipe. It can be sliced and served with roti for dinner, or used to make sandwiches. It can be eaten on its own, or cut into chunks to add in an omelet or sprinkle over a green salad.
It's simple to make, since it just requires adding all the ingredients in the food processor and giving it a whiz. Once the mince mixture is ready, just pop it in the oven and it will be ready to eat in less than an hour. Switch up the seasonings and spices as you like – add coriander instead of basil or add paprika instead of red chili flakes. 
For more healthy recipes on the blog, please check the category 'healthy eating' HERE
Would love it if you could try out and rate the recipe, and let me know how it was in the comments below! 
To keep updated with recipes, stories and so much more follow me on Facebook here, Instagram here and Twitter here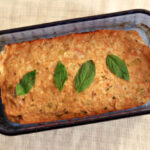 Chicken Loaf with Basil
A hybrid between Pakistani spices and Italian herbs, this baked chicken loaf is healthy, delicious and oh so easy to make.
Total Time
1
hour
10
minutes
Ingredients
1/2

kg

boneless chicken

cut into pieces

1

onion

chopped in quarters

4

cloves

garlic

cut in half

1/2

inch

piece of ginger

cut in half

1/4 - 1/2

cup

basil leaves

2 - 3

green chilies

roughly chopped

2

tablespoon

soy sauce

2

tablespoon

vinegar

1/2

teaspoon

white pepper

1/4

teaspoon

red chili flakes

adjust to taste

¼

teaspoon

black pepper

1

teaspoon

salt

adjust to taste

2

tablespoon

oil

divided

1

egg

1

slice

of bread

roughly torn
Instructions
Pre-heat oven to 200 C.

Put the chicken in a food processor and pulse till it turns into mince. Take the mince and place it in a bowl.

Place the rest of the ingredients (vegetables, herbs & spices) with 1 tablespoon oil in the food processor and pulse together till a chunky paste is formed. Add the chicken in the food processor and give it a pulse to combine. Alernatively, use your hands and combine in the bowl.

In case there isn't space in the food processor for all ingredients, a small food processor can be used. Just pulse the ingredients in 2-3 parts and combine in a bowl.

Grease the edges of a baking dish with a little bit of the reserved oil. Pour the chicken mixture into the baking dish, and then top with the remaining oil.

Bake for 45 - 60 minutes till edges are golden brown and chicken is cooked through. Broil for 5 minutes at the end to given a golden-brown crust on the top.
Recipe Notes
In order to check the seasonings, just make a bite sized kebab and fry it off in a saucepan. Taste, adjust and then put the whole mixture in the oven.
The spices and herbs used in the recipe can be varied depending on personal preference. If basil isn't available other herbs like coriander or rosemary or thyme can be used. However, adjust the quantity depending on the potency of the herb.