This delicious chicken paprika stroganoff is made from boneless chicken with mushrooms in a rich & creamy paprika based sauce.
This is another recipe discovered quite by chance when I was looking for something to make for dinner. I was combing through my recipe books and searching through bookmarked recipes when I came across a recipe for chicken stroganoff. The recipe piqued my interest because it had mushrooms (which I absolutely love) but I just wanted to make it more flavorful. Add more spices to give it that spicy kick which we Pakistani's love. So I started looking for variations on the same recipe, and then I came across a recipe for Chicken Paprikash Stroganoff on Mel's Kitchen which had the flavors that I wanted. So I started fiddling around, and adapted the recipe to something that I would enjoy.  When it comes to international recipes, that's something we usually need to do. Follow the authentic technique, but add seasonings (especially chili) as per our taste, otherwise the final dish maybe too bland for our palate.
It's spicy & flavorful. There are lots of spices, but you can add more chili flakes if you wish. It has a delicious creamy sauce which is brilliant with noodles and of course that stunning orange-red color. I always thought paprika was a less spicy version of chili powder only used for color, but I was so wrong. Its got this unique flavor which gives food a subtle smokey flavor. Honestly, this chicken was so yum that I could easily use the recipe to make sandwiches, or add in pasta or shred it up and make croquettes. Lots of experimentation to do with paprika in the future.
Would love it if you could try out and rate the recipe, and let me know how it was in the comments below! 
To keep updated with recipes, stories and so much more follow me on Facebook here, Instagram here and Twitter here
📖 Recipe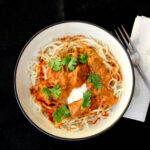 Print Recipe
Chicken Paprika Stroganoff
This delicious chicken paprika stroganoff is made from boneless chicken with mushrooms in a rich & creamy paprika based sauce.
Ingredients
For Chicken Paprika Marination and Browning
½

kg

boneless chicken

cut into bite-sized pieces

1

teaspoon

vinegar

2

tablespoon

paprika

1

teaspoon

red chilli powder

2

teaspoon

salt

½

teaspoon

black pepper

3

tablespoons

all-purpose flour

or maida

2

tablespoons

oil

plus more as needed
For the Stroganoff Sauce
1

teaspoon

oil

3

cloves

garlic

finely minced

1

medium onion

chopped

1

can

or 400 grams mushrooms

sliced

2

cups

chicken broth

1 Knorr chicken cube dissolved in 2 cups hot water can work as an alternate

3

tablespoons

tomato paste

1

teaspoon

red chilli powder

can be removed to reduce spice level – 1 teaspoon to marinate chicken & 1 teaspoon in the sauce

2

teaspoon

red chilli flakes

can be reduced as per taste

1

teaspoon

paprika

¼

cup

cream + more to garnish

1

teaspoon

fresh or dried parsley

for garnish

450

grams

noodles/spaghetti or steamed rice

for serving
Instructions
For Chicken Paprika Marination and Browning
In a medium bowl, place the

the chicken and add the vinegar, paprika, red chilli powder, salt and pepper. Sprinkle the flour on top of the chicken and toss to coat.

Heat oil in a large nonstick skillet or frying pan or wok over medium heat until hot. The cooking vessel needs to be large enough as the sauce will be made in the same pan. Alternatively, use a frying pan for browning the chicken and a wok for the sauce.

Add the chicken in a single layer and cook until golden brown on each side. Cook the chicken in two batches if required, and add a little more oil when cooking the second batch. The chicken only needs to be browned at this stage – it will cook for more time in the sauce so it does not need to be completely cooked through. Once the chicken is browned, take it in a plate and set aside. Do NOT place on a kitchen towel. All the crispy bits and seasonings will be added back to the sauce for flavor
For the Stroganoff Sauce
Add another teaspoon of oil to the pan, and add the chopped garlic.

Cook for 1-2 minutes till the garlic is lightly browned and then add the onions. Cook the onions for 1 minute, and then add mushrooms. Saute the mixture, and keep stirring occasionally till the onions are translucent and mushrooms are browned. This will take about 5 - 6 minutes.

Pour in about ¼ cup of the chicken broth and deglaze the pan by scraping up any bits from the bottom. Stir in the tomato paste, whisking to combine. Add the rest of the chicken broth and keep stirring till the mixture comes to a boil.

Add the chicken back into the skillet and simmer the mixture over low to medium heat, until the chicken is cooked through and the sauce thickens slightly, about 5-6 minutes. The sauce will thicken due to the flour coating on the chicken.

Add red chilli pepper, paprika and red chilli flakes (optional) and stir. The quantities mentioned in the recipe will result in a spicy sauce so adjust based on personal preference.

Stir in the cream and cook for about 2-3 minutes longer. Taste and adjust seasonings if required (salt & spices). If the sauce is thin, then thicken using a cornflour + water mixture (1 tablespoon cornflour with 2-3 tablespoon of water). Keep stirring till the sauce is thickened.

Garnish with more cream and parsley.

Serve with noodles or steamed rice, though noodles are preferred. Noodles and chicken can be served separately, or the chicken can be served in a platter over the noodles.
Notes
Recipe adapted from Mel's Kitchen The chicken can also be served with rice, which is what I had the leftovers with the next day, however, noodles are better. Alternatively, it could also be served with mashed potatoes and grilled vegetables.
Nutrition