Made from scratch creamy mushroom soup recipe.  Made with fresh mushrooms, this soup is so much better than the canned version and requires just a couple of ingredients. Serve with garlic bread for a delicious weeknight dinner.  
How do you make creamy mushroom soup?
Saute the onion and garlic: Heat butter until melted, then add garlic cloves and cook them until fragrant. Then add the onions, and saute till translucent.
Cook the mushrooms: Once the onions are translucent, add the mushrooms. They will look like a lot but as the mushrooms cook, they will reduce in size. Cook them until they caramelize and turn light golden. Take out a couple of mushrooms for garnish at the end.
Add spices, herbs and stock: Season the mushrooms with salt, black pepper and add dried Italian herbs. Also add stock (chicken or vegetable) and simmer for a couple of minutes
Blitz till smooth: Turn the heat off, and pulse the soup till smooth with a hand blender, or pulse in a blender in batches. I prefer the soup a little on the chunkier side.
Add milk and cream: Add cream and milk to the blitzed up soup, and cook till warmed through. Once the cream is added, be careful of cooking too much as milk and cream may curdle if kept on heat for too long.
Serve: Serve the delicious, rich and creamy mushroom soup with garlic bread on the side.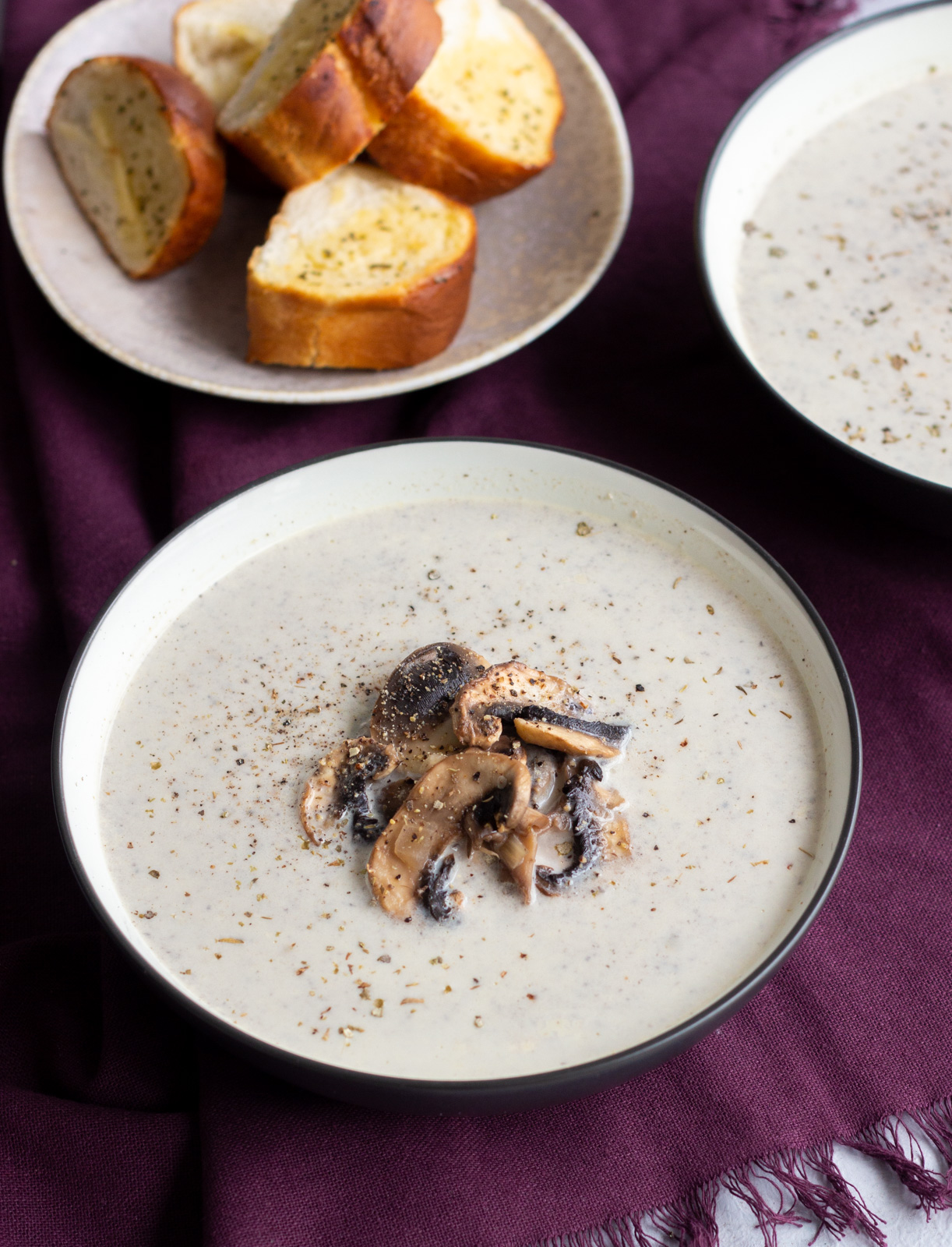 Ingredients required for creamy mushroom soup:
Making creamy mushroom soup from scratch is super easy, and requires just a couple of ingredients. It also has a far greater depth of flavor compared to the canned mushroom soup, and also allows for customization. Below are the ingredients that you need.
Mushrooms: I usually use fresh button mushrooms for this recipe but other commonly available mushroom types such as fresh brown mushrooms, cremini mushrooms and portobello mushrooms work great for this recipe. Shiitake mushrooms also work but are not that easily available. It is also possible to use a mix of mushrooms – that will create more depth of flavor. In case fresh mushrooms aren't available, canned mushrooms can work but there will be a difference in flavor and texture.
Onion and garlic: Garlic complements mushrooms beautifully – ever tried garlic mushrooms?! Onion adds flavor, and also gives body to the soup.
Spices and herbs: Basic spices are all that's needed in this soup – salt, black pepper, and Italian herbs. I usually use a dried Italian herb blend, but you can use fresh if preferred. Thyme, parsley, oregano, rosemary, tarragon, basil all taste great in this soup.
Cream: It can't be a creamy mushroom soup without the cream, can it?! It's best to use heavy cream, or whipping cream, or thickened cream depending on what it is called in your country as it adds richness and creaminess to the soup. But if you prefer a lighter version, light cream or half and half can be used. For a dairy free or vegan version, coconut cream can be used. Make sure it's unsweetened coconut cream though.
Stock: Make your own vegetable stock (or use chicken stock) otherwise get it from the supermarket. The tetrapak liquid stock works great, otherwise a stock cube or bouillon cube can also be used instead.
What to serve with mushroom soup?
Garlic bread - plain garlic bread or garlic bread with cheese, both would taste great!
Croutons
Roasted potatoes or other roasted vegetables of your choice. Check out my detailed guide to roasting vegetables.
Looking for more soup recipes – check out the following below:
Would love it if you could try out and rate the recipe, and let me know how it was in the comments below!
To keep updated with recipes, stories and so much more follow me on Facebook and Instagram
📖 Recipe
Print Recipe
Creamy Mushroom Soup Recipe
Made from scratch creamy mushroom soup recipe. Made with fresh mushrooms, this soup is so much better than the canned version and requires just a couple of ingredients. Serve with garlic bread for a delicious weeknight dinner.
Ingredients
2

tablespoons

butter

4

garlic cloves

sliced

1

medium onion

chopped

400

grams

button mushrooms

sliced (see note 1 on types of mushrooms)

½

teaspoon

dried Italian herbs

½

teaspoon

black pepper

½

teaspoon

salt

500

ml

vegetable stock

1

cup

milk

200

ml

cream

see note 2 on types of cream
Instructions
Heat butter in a medium saucepan over medium heat until melted. Add the garlic cloves, and cook until fragrant, about 1 minute.

Add the chopped onions, and saute the onions till they turn translucent.

Add the sliced mushrooms and cook them on medium heat until they are lightly browned and have released most of their water, about 8 – 10 minutes.

Remove 2 tablespoons of the mushrooms at this side, and set aside. This will be used as the garnish at the end.

Add the Italian herbs, salt, black pepper and vegetable stock to the mushrooms. Bring to a boil on medium heat, and then turn heat to low. Simmer uncovered for about 10 minutes. Turn off the heat.

Using an immersion blender or working in batches with a blender puree the soup until smooth. I prefer a little texture in this cream of mushroom soup, so I blitz it about 90%, leaving just a tiny bit of texture.

Return the mushroom soup to the saucepan and add cream as well as milk. Stir through, and heat the soup till it's just warm, and then turn off the heat.

Garnish with reserved mushrooms and serve the cream of mushroom soup hot with garlic bread or croutons on the side.
Notes
Mushrooms: My choice of mushrooms is fresh button mushrooms as they are affordable and easily available. Other options include fresh brown mushrooms, cremini mushrooms, portobello mushrooms and even shiitake mushrooms. It is also possible to use a mix of mushrooms. In case fresh mushrooms aren't available, canned mushrooms (or canned mushrooms in butter sauce) can work but there will be a difference in flavor and texture.
Cream: In this recipe, I use what is known as thickened cream in Australia – this is cream with around 30 – 36% fat, and it also has stabilizers added. Depending on the region you are from heavy cream, whipping cream, tetra Pak dairy cream can all be used in this recipe. In case a lighter mushroom soup is preferred, light cream (or single cream) or half and half can be used. For a dairy free or vegan version, coconut cream can be used. Make sure it's unsweetened coconut cream though
Nutrition