This vegetarian mulligatawny soup recipe is made with red lentils, carrots, onions, potatoes and seasoned with Indian spices. With origins in India, it is a rich, hearty, and comforting lentil-based soup that is also vegan and dairy free.
What is the meaning of Mulligatawny?
To learn about the history of Mulligatawny soup and how to make it, I consulted two cookbooks. One "Classical Indian Cookery" by Julie Sahni and the other "Madhur Jaffrey's Indian Cookery" by of course Madhur Jaffrey. The former I consulted more for the origin of the soup, and the latter for the recipe. Julie Sahni states that the term 'Mulligatawny' comes from two Tamil words 'mullaga' which means pepper and 'tanni' which means water or broth. It is believed that during the days of the British Raj the local cooks in South India served the Britishers the South Indian soup rasam. Rasam is made with black pepper and known as Mullaga Rasam or Mullagatanni. Thus the term "Mulligatawny" can roughly be translated into "pepper water".
What is the origin of Indian Mulligatawny soup?
According to Lizzie Collingham in her book "Curry" it was one of the earliest dishes to emerge from the hybrid cuisine that the Britishers developed in India, where they combined British concepts of how food should be presented with Indian recipes.Soups, especially rich and hearty British style soups are quite alien to Indian cuisine so the local cooks adapted the South Indian soup rasam (made with black pepper) to create a hybrid style fusion soup to appease the British palate. Over the years, there have been so many changes to the ingredients that the contemporary version bears no resemblance to the traditional South Indian rasam. The traditional South Indian rasam is a spicy vegetarian broth, whereas Mulligatawny soup is a rich, creamy and velvety style soup. What it does have in common with the original rasam are the Indian spices, both powdered and whole spices. With all this history, Mulligatawny soup is also considered to be India's national soup.
Is Mulligatawny soup vegetarian?
Mulligatawny soup can be both vegetarian or meat based, with the choice of meat for the soup being either chicken or lamb. The base recipe that I consulted for this soup was Madhur Jaffrey's chicken mulligatawny soup which I then adapted to make a vegetarian version, that is also vegan and dairy free. The creaminess and richness in the soup comes from the red lentils (or masoor dal) and the mix of chopped vegetables. I have seen recipes that call for coconut milk which also add richness and creaminess to the soup.
Is curry powder essential in a Mulligatawny soup recipe?
Curry powder is often confused to be a part of Indian cuisine, but it is actually a British invention to simplify Indian spices and not Indian. Mulligatawny can be made from scratch, using a combination of different spices, however, I was reading Julie Sahni's description of Mulligatawny soup and in her recipe she suggests using curry powder in this one instance just to recreate the flavor and aroma that is present in the Anglo Indian version of this soup. That's why in my recipe I have used the regular Indian spices (coriander, red chili and turmeric) along with curry powder for that fusion flavor. In case curry powder isn't available, just increase the quantity of the regular powdered spices.
What to serve with Mulligatawny soup?
Mulligatawny soup is quite a hearty soup – it's got lentils and vegetables, and if you were making a meat version, then it would have chicken as well. Some things that can be served with this soup are:
Plain boiled rice served on the side or on top as a garnish is a traditional accompaniment.
Yoghurt (Dairy free for a vegan diet)
Light green salad
Croutons
Poppadum or papaar
Check out other vegetarian recipes from the blog below.
To keep updated with recipes, stories and so much more follow me on Facebook and Instagram
📖 Recipe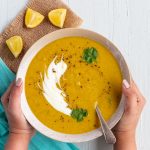 Print Recipe
Vegetarian Mulligatawny Soup | Vegan and Dairy Free
This vegetarian mulligatawny soup recipe is made with red lentils, carrots, onions,potatoes and seasoned with Indian spices. It is a rich, hearty, and comforting lentil-basedsoup that is also vegan and dairy free.
Ingredients
3

tablespoons

vegetable oil

3

cloves

garlic

sliced

¼

inch

cube of fresh ginger

peeled and sliced

1

onion

chopped

1

teaspoon

cumin seeds

8

black peppercorn

1

cinnamon stick

3

cloves

1 ½

teaspoon

coriander powder

½

teaspoon

red chili powder

½

teaspoon

turmeric

½

teaspoon

curry powder

1

carrot

diced

1

potato

cubed

1

apple

diced

4

oz

113g red split lentils / masoor daal

600

ml

vegetable stock

1

teaspoon

salt

1

tablespoon

lemon juice
To Serve
Vegan yoghurt

for garnish

½

cup

Coriander / cilantro leaves

chopped

Boiled rice
Instructions
Heat oil in a heavy medium sized saucepan and add the sliced garlic and ginger. Saute for a minute till the garlic gets light golden and aroma is released.

Add the chopped onion, and saute for 2 – 3 minutes till onion is translucent.

Add the whole spices (cumin seeds, black peppercorn, cinnamon stick and cloves) and saute for a minute.

Add the powdered spices (coriander powder, red chili powder, turmeric powder and curry powder) and saute for around 2 minutes. In case the spices stick to the bottom of the pan, add a splash of water.

Add the cubed carrot, potato and apple and saute for a minute. Then add the soaked lentils, followed by the vegetable stock.

Bring the soup to a boil, and then turn heat to low.

Partially cover with a lid and cook for around 30 minutes till vegetables and lentils are tender and soft.

Turn off the heat, and remove the whole spices, especially the cinnamon stick and the cloves.

Blend with an immersion blender, till smooth or let it cool for 10 – 15 minutes and then blend it in batches in a blender.

Turn heat to medium, and bring the soup to a light bowl. Add salt, and lemon juice. If preferred additional liquid can be added at this stage.

Garnish with coriander leaves, and serve hot with boiled rice and yoghurt on the side.
Nutrition