Keema samosa is a popular Pakistani snack with a filling of keema enclosed in a flour based pastry and deep fried. Enjoy it hot with mint chutney on the side. 
Samosa making is an art learnt by trial and error and a line of broken samosa pattis along the way. 
Every year in Ramadan samosa making was a ritual with my mother. I remember how I struggled when she started teaching me. As much as I tried, I could never get the right shape and then one day I could. It was such a feeling of accomplishment. A folded samosa, triangular in shape with a filling that didn't fall out. 
Of course, I didn't mind the broken samosa patti's that much because once you fry them up they just taste SO good. Especially with khowsuey. 
Different types of samosas and how to make qeema samosa 
A samosa is made by placing a filling inside a pastry. There can be many different types of fillings though the most common (and my favourite) is the keema (or qeema) samosa. Other popular types are the aloo samosa and the chane daal samosa. The pastry coating for the keema samosa is usually a regular samosa patti known as maanda patti. It's a rectangle sheet of flour based patti, which can be shaped into a triangle. A flour based glue is used to close the edges. Near to Ramadan, it's easily available at supermarkets and grocery stores. In Sydney, the brand of samosa patti that I got is named Shahi and can be found in the freezer section of Desi supermarkets. Alternatively, spring roll sheets cut into half or thirds can also be used. 
Aloo samosas are usually made with a flour (maida) based dough, that is kneaded by hand. Dough is rolled out in a circle shape, cut in half  and the semi-circle pastry shape is used to make a samosa. 
To make the keema samosa, you start off with boiling keema and whole spices together. You can use beef, chicken or turkey mince. To the cooled boiled keema, add chopped onions, green chilies and coriander. Mix together and just start filling.  
Do you enjoy eating keema samosa? What's your favourite type of samosa?
Some other snack recipes that you can try are:
Would love it if you could try out and rate the recipe, and let me know how it was in the comments below! 
To keep updated with recipes, stories and so much more follow me on Facebook here, Instagram here and Twitter here
📖 Recipe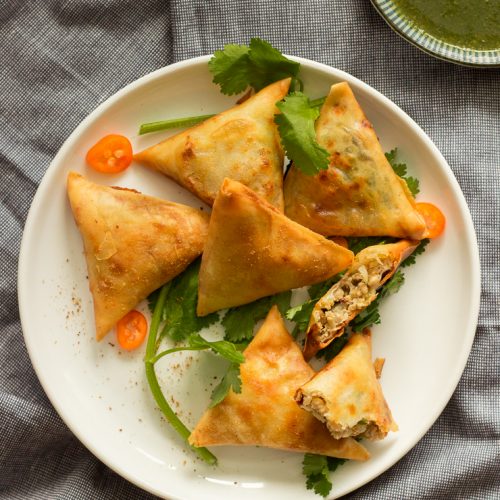 Print Recipe
Keema Samosa or Qeema Samosa
Keema samosa is a popular Pakistani snack with a filling of keema enclosed in a flour based pastry and deep fried. Enjoy it hot with mint chutney on the side.  
Ingredients
500

grams

chicken mince / qeema;

can use beef or turkey as well

1

teaspoon

salt

1

teaspoon

red chili powder

¼

teaspoon

ginger paste

¼

teaspoon

garlic paste

1

teaspoon

coriander powder

few drops of oil

1

teaspoon

roasted cumin

bhuna zeera

½

teaspoon

garam masala

¼

teaspoon

red chili flakes

3 - 4

onions

finely chopped

2

cups

coriander

finely chopped

2

green chili

sliced

½ - 1

cup

mint

optional

40 - 50

samosa patti

or spring roll wrappers, cut into the required size

4 - 5

tablespoon

flour or atta

Oil

for frying
Instructions
Put the mince and water (about 1 ½ cups - 2 cups) in a saucepan.

Add salt, red chili powder, ginger garlic paste, coriander poweder and a few drops of oil.

Bring the mince to a boil, and cook till water is evaporated and mince is cooked through.

Take out the mince in a large bowl, and set it aside to cool.

Add roasted cumin seeds, garam masala and red chili flakes to the cooked mince and mix well. At this point, the mince mixture can be kept in the freezer if needed.

Add the onion, coriander, green chili and mint (if usinto the mince mixture and mix through. Set aside.

Mix flour and water in a small bowl to make a thick paste.

Fill the samosa patti with the mince mixture (about 1 - 2 teaspoon of the filling), and fold it into a triangular shape using the sticky flour mixture to glue it shut.

The samosas can be fried off right away, or frozen to use another day.

To freeze, place the samosas on a tray making sure they don't touch each other. Keep the tray in the freezer for about 30 - 45 minutes till the samosas are frozen. Once the samosas are frozen, they can be removed individually and put in a plastic bag. Spray oil on the tray to make sure the samosas don't stick to the bottom.

To fry, just take the frozen samosas out of the freezer and place in medium heat oil. Fry till golden brown. Frozen samosas will take 1 -2 minutes longer to cook compared to fresh samosas.
Notes
Samosa patti / wrappers can dry out quickly so make sure to cover them with a kitchen towel to keep them soft and pliable.
If making samosas in bulk, use a baking tray and clingfilm to stack samosas so that they take up less space. Spray oil on a tray, and start placing the samosas on the tray. Once the first layer is done, cover with cling film and put a 2nd layer on top.
I usually make 500 grams of the mince mixture in one go. I then divide it into two parts, keeping one half in the freezer and adding the onion and coriander to the remaining to make samosas.
500 grams of mince mixed with onions and coriander will make about 40 samosas using a standard samosa patti.
Nutrition