Nip it in the bud - how to reduce food waste and leftovers. This blog post covers 12 ways to stop leftovers from happening in the first place, so food waste is minimised.
Today is World Food Day, an international day celebrated every year around the world on 16 October in honor of the date of the founding of the Food and Agriculture Organization of the United Nations in 1945. Every year, World Food Day has a different theme, and this year's theme is
Grow, Nourish, Sustain. Together.
Food is essential to life, and the COVID-19 pandemic showed it's necessity in so many ways. Particularly so in poor and vulnerable communities, who were hit hardest by the pandemic, and are still suffering because of the resulting economic shocks. At this time, it has become even more important for us to recognise and support our food heroes - the farmers and the workers throughout the food system, who are tirelessly working to ensure that food makes its way from farm to table, amid the many disruptions caused by the COVID-19 crisis. There are many ways that we can help our food heroes, and these are all listed on the FAO website here
The area that I want to focus on is "Food Waste". One of the best ways we can respect food and food heroes, is to reduce the amount of food waste we create. Minimise our food waste in the first place, and then creatively use leftovers to create more meals for our family, and the people around us. 
When it comes to how to reduce food waste and leftovers, there are two ways to deal with the issue. First is to minimise the leftovers from happening, which is what I will cover in this blog post. Second is when there are leftovers, how to use them creatively so food waste is reduced and results in more meals for the family. This is covered in another blog post here. Let's start with what you can do to reduce food waste and your leftovers, so food waste is minimised.  
1. Make a shopping list, AND stick to it! 
Before you actually go grocery shopping, spend an hour (or two) planning out your grocery list. This step will ensure that you only buy what you need, and reduce grocery expenses in the long run. Look into the pantry, fridge and freezer and see what's available, then build your grocery list. Once you go to the grocery store, stick to the list and avoid impulse shopping.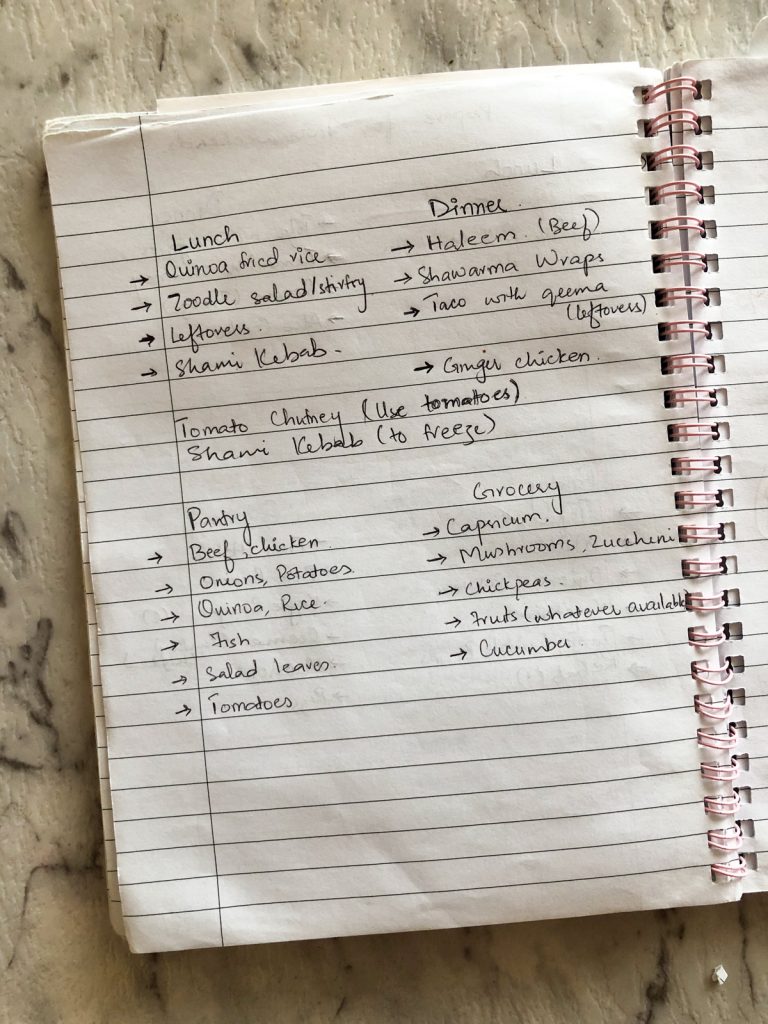 2. Check your pantry and fridge on a regular basis
Make a habit of skimming through the fridge and pantry on a regular basis to check for ingredient freshness, and expiry dates. Check for stuff at the back or in hard to reach places, because they tend to be forgotten till it's too late. 
Do this every few days or once a week for the fridge, and if something is going to spoil soon either eat it or put it in the freezer. Do the same every fortnight or once a month for the pantry. Keep stuff that is going to expire soon at the front, so it serves as a reminder to use it quickly.  
3. Think before you buy
Especially when you are buying in bulk, or if the item is on sale. There have been times when I bought a big bag of vegetables because it's on a good deal, and I have had to throw them away as I wasn't able to use them. Now I only buy what I need, and if I do buy in bulk, I plan out recipes so I can use the ingredients in time. For instance, when I get a bag of red capsicum / red bell peppers, I make roasted red peppers out of them which can be used to make sandwiches or salads. Similarly, I always get a big box of mushrooms because it's cheaper and I love mushrooms. I will use half the box in a recipe or two, and as soon as the rest are nearing expiry, I will fry them off in garlic and butter. The cooked mushrooms can be kept in the fridge for a couple more days and used again in sandwiches, omelettes or pasta. That way I am able to finish the box, and also not mushrooms everyday of the week.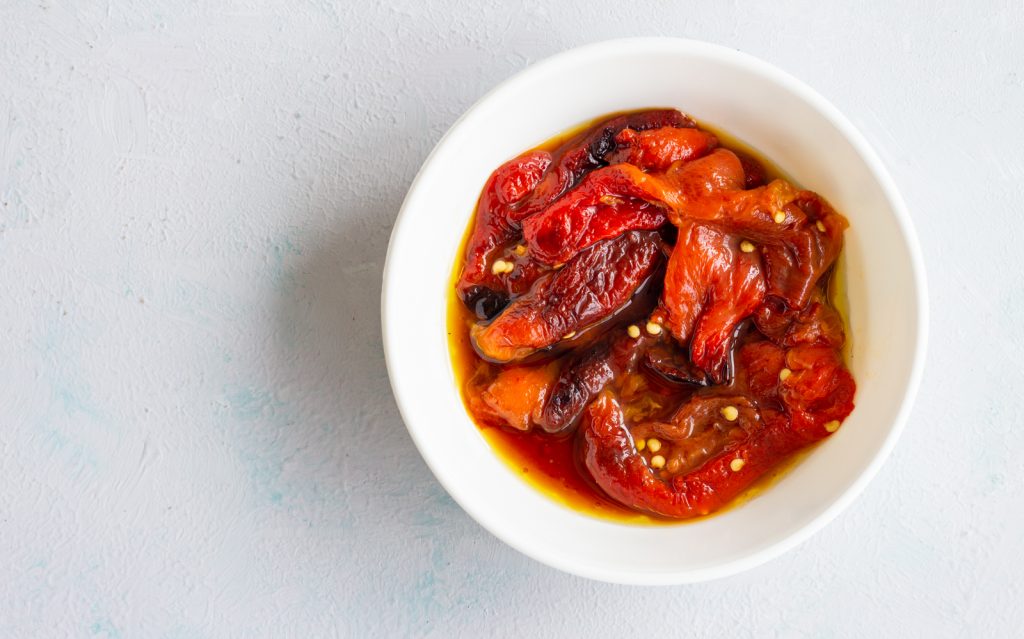 4. Cook the right quantity  
An effective way to reduce leftovers (and food waste) is to cook the right amount. Calculate the serving size and number of portions each recipe will result in and cook accordingly. We are a family of two, and my usual serving size for whatever I cook is four people. Each meal is enough for either lunch and dinner the same day, or dinner twice in a row. When I do lunch meal prep, I will make a big batch and then portion it into glass containers to use for the next 4 days. Sometimes I will double the recipe, and freeze one portion to use another day. Depending on whether you do daily cooking, every few days cooking, or weekly cooking plan your quantities accordingly. 
5. Select your recipes carefully 
When planning meals for the week, or for the month, select recipes where the ingredients are similar or work with each other. That way you can potentially buy in bulk, and are not left with a tiny bit of an ingredient that you don't know what to do with. For instance, my butter chicken recipe uses 150 ml of cream, and a standard packet of cream is 300 ml, which means I will be left with 150 ml of cream. I will try to use it in another recipe that week such as palak paneer or maybe make a quick dessert, or freeze the cream in a container so I can use it another day. 
6. Manage your leftovers, and as soon as possible  
Every food item has a best before date, and the simplest way to ensure that it doesn't get wasted is to either eat it before it's best before date, or preserve it. If I know I won't be eating something in time, I try to manage it as quickly as possible, before it gets to a point where it spoils or can't be salvaged. That means putting the keema curry that I know I won't be able to eat in the next 2 days in the freezer, turning ripe bananas into banana bread, and putting ripe strawberries in the freezer to make into smoothies. If I am recipe testing a bunch of stuff, I will invite my friends over for dinner, or just tell them to pick up food on their way home. For the leftovers that remain, eat them over the next few days and if you get bored, use them in different ways or spice them up with a brand new tarka (tempering) or some sauces. 
If you have a garden, you might have an excess of fruits and vegetables at certain times of the year. Use and donate as much as you can, and for the rest you can look into preserving - pickles, jams, jellies, and relishes are a great way to add flavour to your meals, and enhance shelf life. 
7. How to reduce food waste - store food properly!  
If food is stored properly, it can add days, weeks and even months to it's best before date. Correct storage depends on many different things - the country you are living in, the weather and humidity, the actual food item, the storage container, and how it's been stored. Dry goods should be stored in air-tight containers to avoid moisture and insects, items in the freezer must also be properly sealed else there will be freezer burn, and certain fruits and vegetables are better stored outside versus the fridge. 
Another thing to keep in mind is follow the storage conditions after opening a new ingredient - canned items once opened need to be stored in a container not the can itself, biscuits and chips need to be sealed with a rubber band or a clip else they will go stale, vegetables once cut need to be put in a container or covered with cling wrap else they will dry out. I keep a variety of containers (mostly glass but also a few plastic) along with silicon covers, ziploc bags, plastic clips and rubber bands for this very reason. 
8. The freezer may just be your best friend
Frozen food gets a bad rap, but the freezer is an excellent option for prolonging the life of many food items, especially when you are unable to eat them in time. Fruit can be chopped up to add in smoothies, vegetables can be diced and sliced to use in curries, herbs can be minced to add as garnish, and let's not forget kebabs which are a Pakistani household favourite. The other day we were leaving for a road trip, and I had a saucepan full of rice in the fridge - I ended up freezing it. Now they can be used to make fried rice. Just make sure to periodically check your freezer so that stuff doesn't start piling up in there. 
9. Think before ordering 
Food waste doesn't just happen at home, it also happens when eating outside. Take a few minutes and think before ordering - don't order so much that you won't be able to finish it. Ask the server about portion size, and if they are large, see if you can share with a friend, or order a side dish. Maybe even a kid's meal. In case the food isn't enough, you can always order more later on. It's better than ordering too much, and having way too many leftovers. Oh, and avoid the buffets - they are a sure shot way to food wastage.  If you do have leftovers, get them packed up and take them home. I used to feel awkward getting leftovers packed up, but I couldn't stop thinking about all the food that I wasted, so now I either eat it or get it packed up. 
10. Think before gifting food as well
It's unthinkable to go to someone's house empty handed in a Pakistani household, especially for the first time or at a festive occasion like Eid. Inevitably, the majority of the time, the items that we take to people's houses are food items. What I have realised is that even though we mean well, they can contribute to food waste. Certain times, people are forced to dispose of stuff that they have been gifted because they can't store it, they are unable to eat it due to medical conditions and allergies, or they just don't like it. 
This doesn't mean that you shouldn't take food items to someone's place - you can do so, just think before gifting. Think about what they like, and if they have dietary restrictions. Take stuff that doesn't spoil quickly such as a tea cake instead of a cream cake that needs refrigeration, or perhaps a bunch of fruit, or even just packaged stuff like biscuits and cookies. Avoid super sweet and spicy stuff, and items with nuts with them in case of possible allergies. 
11. Donate if you can 
If you have too much food, and you don't know what to do with it, look into donating the food to a charity, or a homeless shelter, or similar organisation in your neighbourhood. When it comes to donating food, it's important to have a look at what is allowed as per local laws and regulations because certain food perishables are not allowed due to potential spoilage, contamination and allergies. If you have a cleaner or domestic help coming at your house, you can also give them leftovers making sure that the food isn't spoiled, and checking with them on allergies and dietary restrictions.  
12. Understand expiration dates
With all that said, keep in mind that all foods do have an expiration date, and as much as it pains us, sometimes it needs to be thrown away. Certain food items have a use by date, and some have a best before date. Use by indicates when a product may no longer be safe to eat. At that point, you should not eat, cook, or freeze it even if it looks alright. If you freeze something before it's use by date, then it's life is prolonged. Best before dates are an indication of quality rather than safety. Food can still be eaten after it's best before date, but flavour and texture may not be as good.  In using up leftovers, don't ignore the 'use-by' and 'best-before' dates because that can result in your family eating potentially dangerous food. 
At the end of the day, we have to realise that as much as we try, there are times when we have no option but to throw food away. In that case, make a note of why it happened, and try to ensure it doesn't happen again. 
Do share your tips and suggestions on how to reduce food waste and leftovers in the comments section below - I am sure we can all learn from each other, in this no waste journey.  
To keep updated with recipes, stories and more follow me on Facebook here and Instagram here