A roundup of 25 popular and traditional Pakistani vegetarian recipes. With vegan options and substitutes. This list features lentils, beans, vegetarian curries, snacks, chutneys and more. From everyday weeknight meals to showstopper dishes for parties, there's a Pakistani vegetarian recipe for every occasion.
Jump to:
There is a general assumption that Pakistani cuisine is all about meat. Pakistani cuisine is known for it's speciality meat dishes, however, there many vegetarian recipes as well. Here's a list of more than 25 Pakistani vegetarian recipes for you to try. The list includes vegan Pakistani recipes and recipes that can be made vegan with a few ingredient substitutions.
To make for easy organising, I have divided them into four categories as follows:
Quick and Easy Pakistani vegetarian and vegan recipes - these are simple to prepare and packed full of flavor sabzi (vegetable) and daal (lentil) options. Most are ready in less than 30 minutes making them perfect for weekday dinners.
Show stopper Pakistani vegetarian & vegan recipes - these are vegetarian recipes that are designed to impress! They require extra work but are worth the effort - perfect for dawaats, celebratory feasts or for a special family dinner. 
Pakistani vegetarian chai snacks - the category says it all. Recipes that are perfect as snacks to have with tea. Enjoy them on your own or serve them to guests as part of the Eid trolley or at hi-tea dawaat. 
Pakistani vegetarian sides - not exactly a meal on its own, but the necessary chutneys, pickles, dips and sides which complete a meal and make it something super special.
If you need help in figuring out what spices and herbs to purchase, check out my guide on how to stock a Pakistani kitchen
Quick and Easy Recipes
1. Lobia ka Salan (Black eyed peas curry)
A Pakistani vegan recipe, this is made with lobia (or black eyed peas) in an onion-tomato gravy base. It's comfort food in a bowl, and leftovers are excellent for an office lunch with rice or quinoa. Recipe contains directions for a stovetop as well as pressure cooker / Instant Pot version.
Note: This recipe is vegan as well.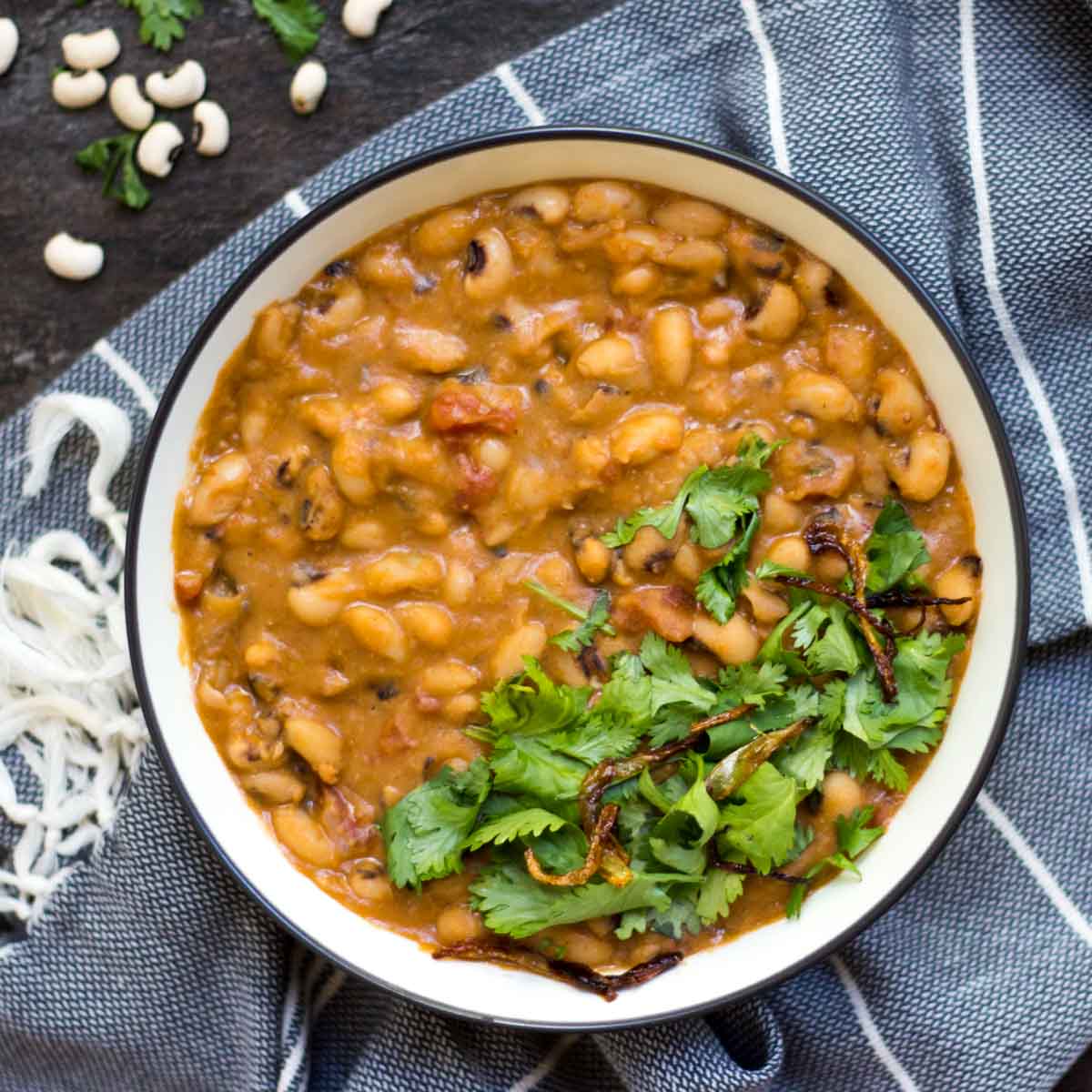 2. Aloo Matar ki Sabzi (Potato and peas curry)
This is a simple vegetarian curry made with potatoes and peas. Use frozen peas to whip it up even more quickly. It can be served with rice or roti, or just eaten on its own with a spoon (yum!).
Note: This recipe is vegan.
3. Aloo Baingan (Potato and eggplant vegetable curry)
Another simple recipe made with eggplant and chopped potatoes in an onion-tomato gravy. Quick to cook and makes for a hearty meal.
Note: This recipe is vegan.
One of my favourite daal recipes, this is a popular Pakistani dish made with black gram lentils. Can be eaten with rice or roti, but my favourite way is with rice with pickled onions or kachumber salad on teh side. Recipe contains stovetop as well as pressure cook options.
Note: This recipe is vegan.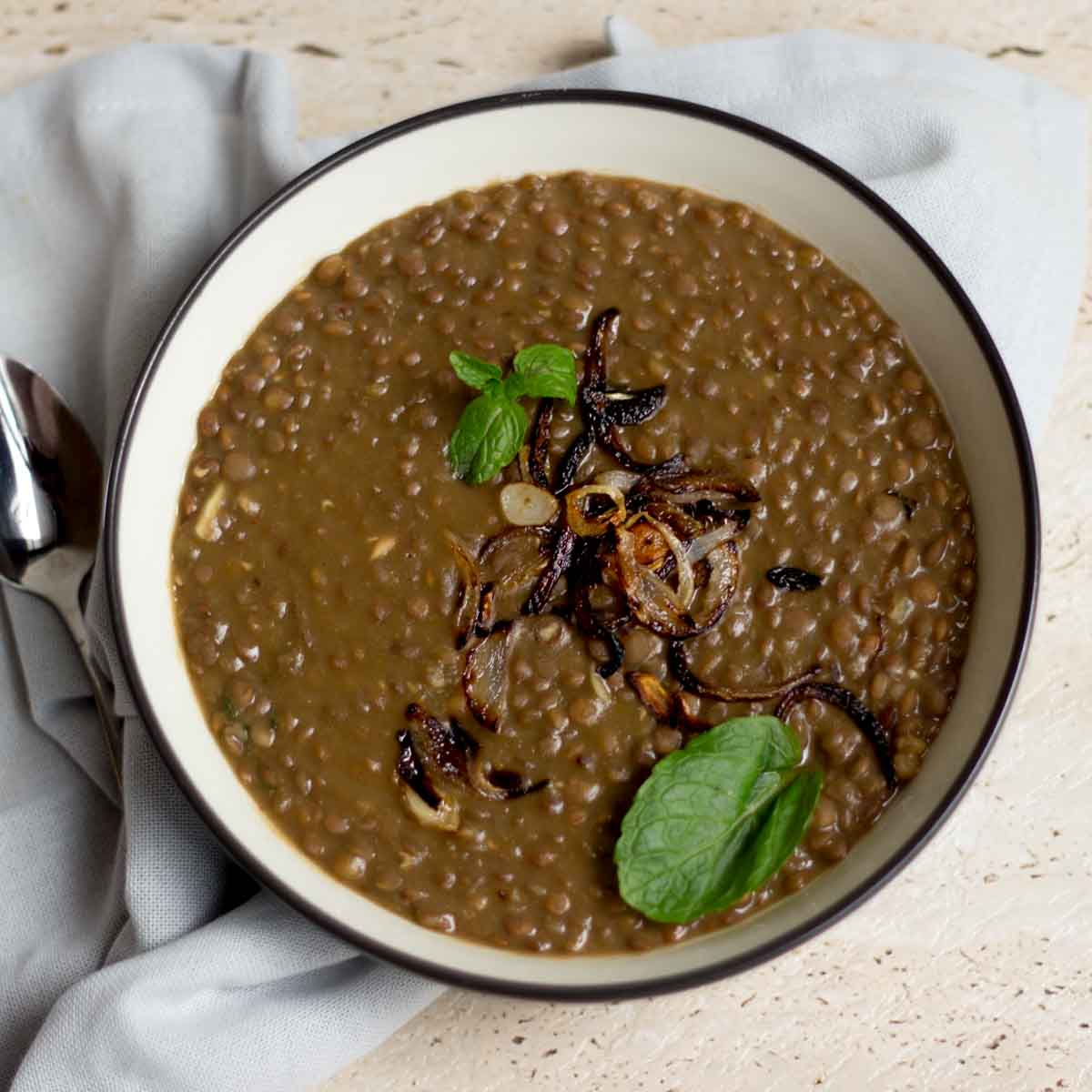 5. Zeera Aloo Sabzi (Potato curry with cumin seeds)
This is one of the quickest potato curry recipes ever - just 5 ingredients and ready in less than 30 minutes! It's what I make when I need dinner on the table quickly and I can't figure out what to cook.
Note: This recipe is vegan.
6. Aloo ki Tarkari (Spicy & tart potato curry)
And we have another recipe featuring potato. In case it wasn't obvious we do love potatoes in Pakistani cuisine. And though there are multiple recipes featuring potatoes as the main ingredient, they all taste completely different! For instance this aloo ki tarkari is a spicy and tart - similar to the one that is available at the halwa puri stall for weekend breakfasts. It's super simple to make and tastes delicious with puri, paratha or kachori. All you need is some achaar on the side.
Note: This recipe is vegan.
7. Bhindi ki Sabzi (Okra vegetable curry)
Another vegan recipe with okra (or bhindi as we call it in Urdu) as the star ingredient! This quick recipe is made with okra, sliced onions and spices finished off with lemon juice. Delicious with chapatti. In case you can't get fresh okra, just use frozen ones which are easily available at any Desi store.
Note: This recipe is vegan.
8. Aloo ki Tahari or Aloo Chawal (Spiced potato rice)
Similar to a pilaf, this one pot rice dish is super simple to whip up - perfect for weekly dinners that need to be ready in less than 30 minutes or when unexpected guests drop by.
Note: This recipe is vegan. Just serve with vegan yoghurt.
9. Lotus Root or Bhae ki Sabzi (Lotus root curry)
A regional speciality from the province of Sindh in Pakistan, this vegetarian recipe is made from lotus root (bhae or bhay in Urdu/Sindhi) in a onion based gravy with potatoes and tamarind pulp.
Note: This recipe is vegan.
10. Aloo Kebab (Potato cutlets)
Aloo kebabs or potato cutlets are made with mashed potatoes, herbs and spices. Serve them for lunch or dinner, or mash them up to make a sandwich or just serve them as is with tomato sauce or green chutney.
Note: This recipe is vegetarian but can be made vegan by substituting the egg and breadcrumbs with vegan options.
11. Aloo Gobi Matar (Potato, cauliflower and peas vegetable curry)
Potatoes, cauliflower and peas come together to create a vegetarian gravy that will make you want to dive in! It's bursting with flavours and is excellent for meatless Mondays.
Note: This recipe is vegan.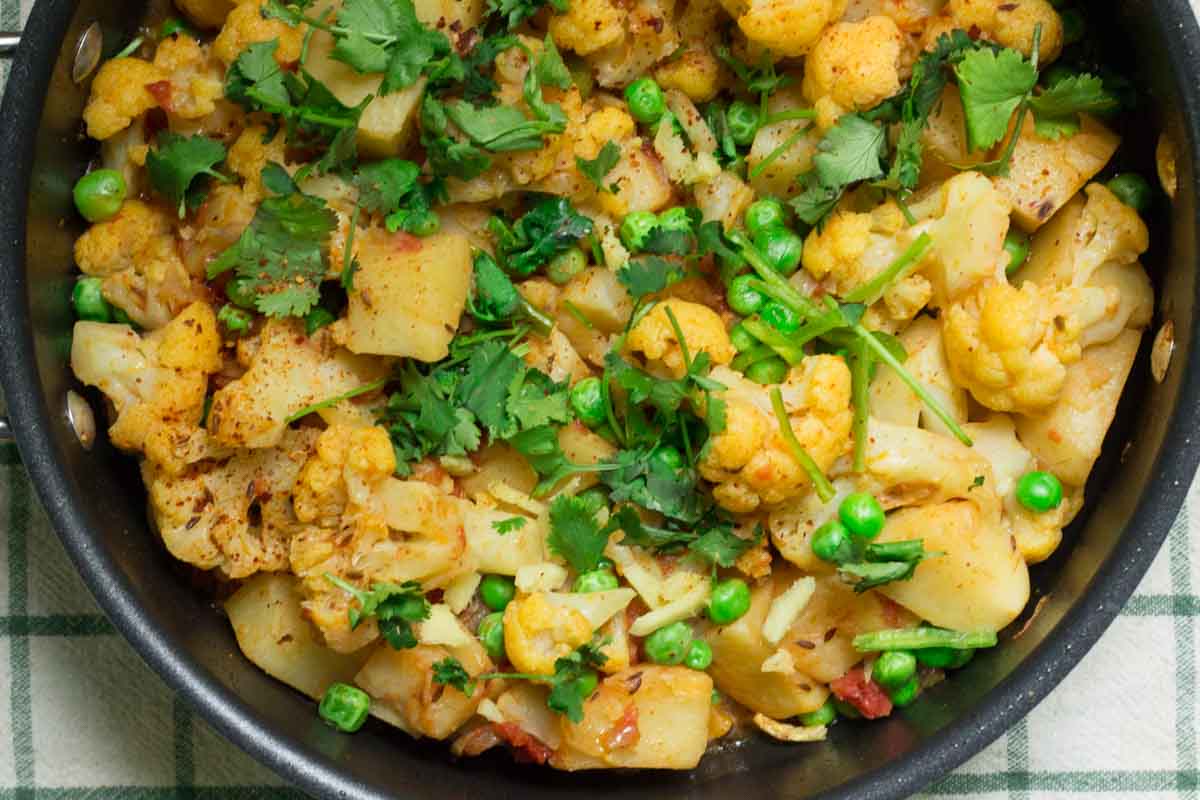 12. Aloo Hari Piyaz (Potato and spring onions vegetable curry)
A mix of Desi and Asian flavours, this particular recipe is made with diced potatoes, spring onions and spices.
Note: This recipe is vegan.
13. Sindhi style crispy bhindi / okra (healthy air fryer recipe)
A healthy version of the traditional crispy bhindi (okra). This is a dry style crispy okra that can be served with naan / paratha or lentils and rice. Gluten free, and vegan.
Note: This recipe is vegan.
14. Khagina (Khageena) – Pakistani scrambled eggs
This is the South Asian or Desi version of scrambled eggs. Made with onions, tomatoes, green chilies and coriander leaves / cilantro. Ready in less than 20 minutes, it's a popular breakfast option. It's also delicious as breakfast for dinner. Serve wtih paratha, roti or bread.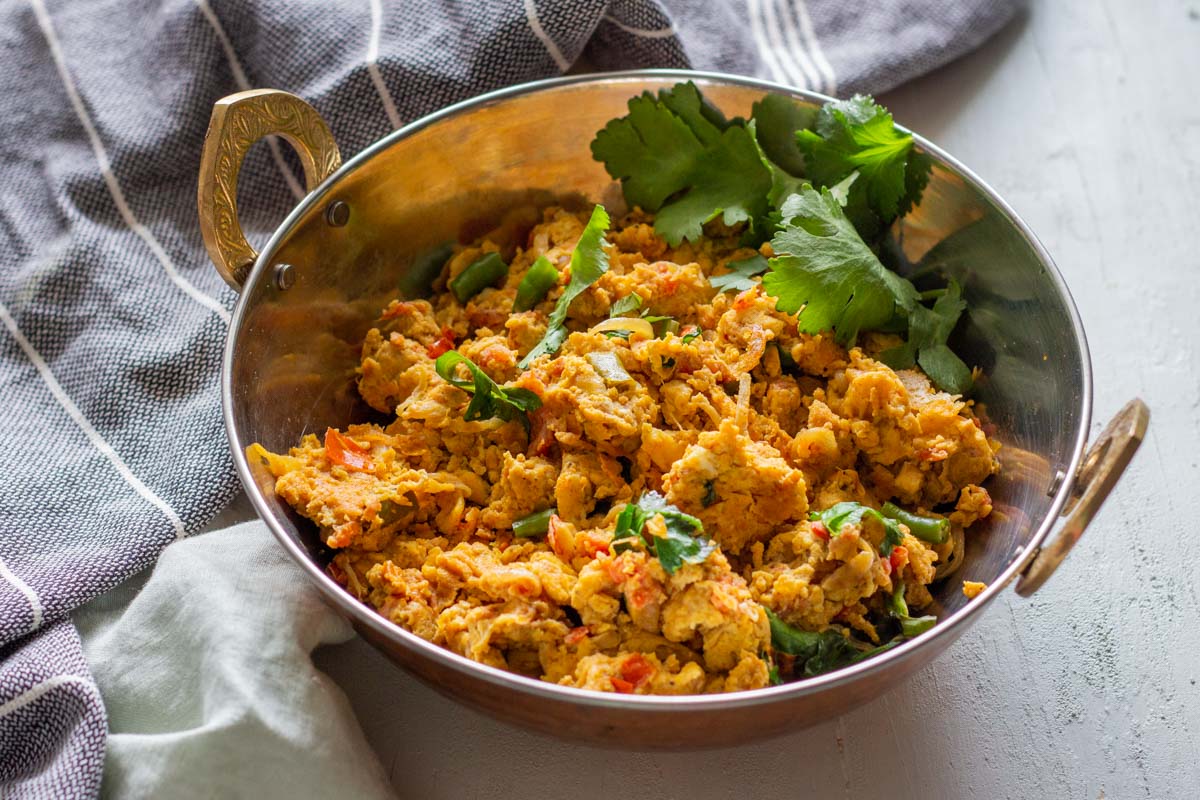 15. Moong Masoor Daal (Red and yellow lentil curry)
Ready in less than 30 minutes, this lentil curry is an excellent option for a quick and hearty dinner.
Note: This recipe is vegan.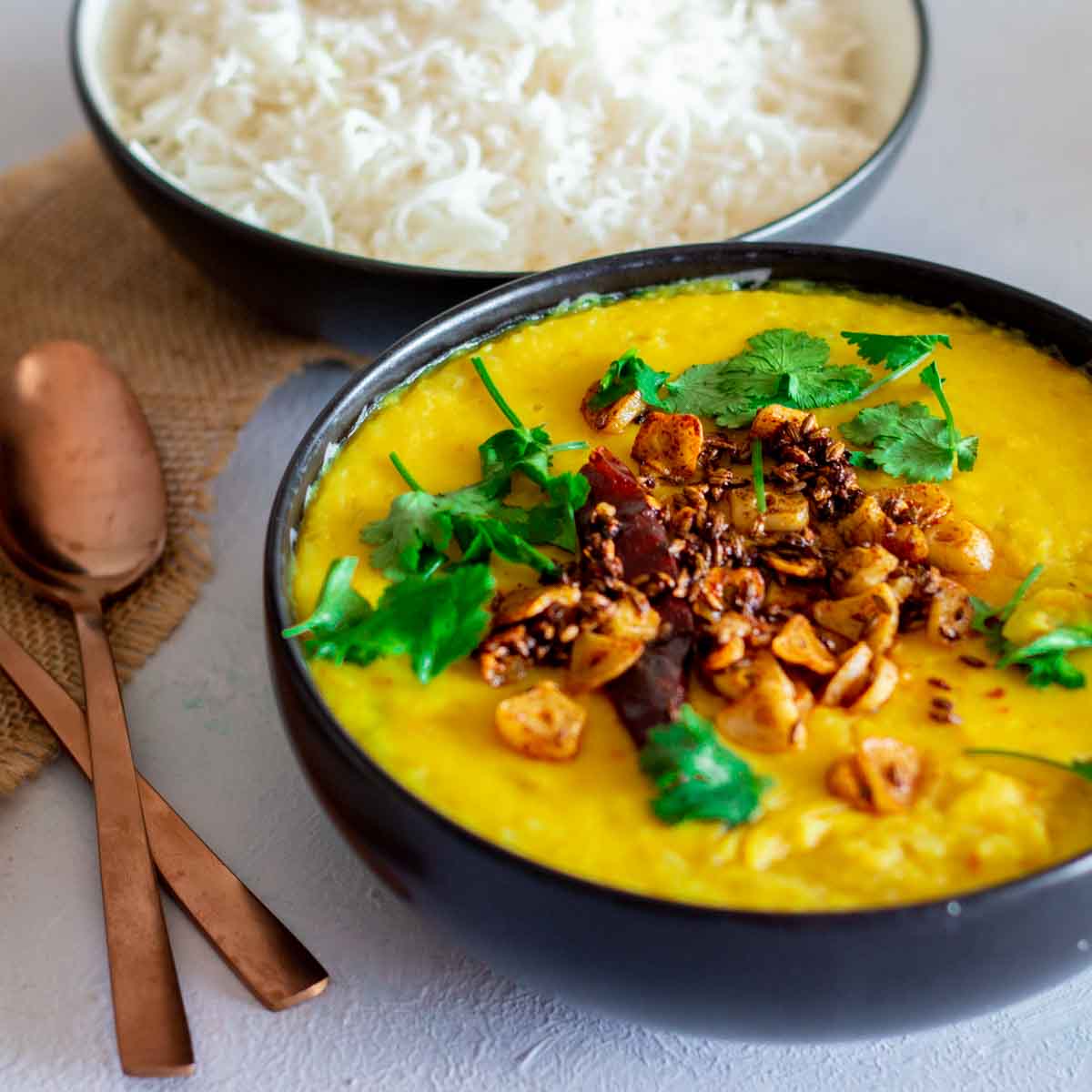 Show Stopper Recipes 
16. Pakora Karhi (Yoghurt curry with chickpea fritters)
My absolute favourite comfort food! Karhi or pakora karhi is a vegetarian Pakistani dish consisting of a sour yoghurt & chickpea flour/besan base with pakora's or vegetable fritters. Serve it with rice, roti or both. It's absolutely delicious either way.
Note: This recipe is vegetarian.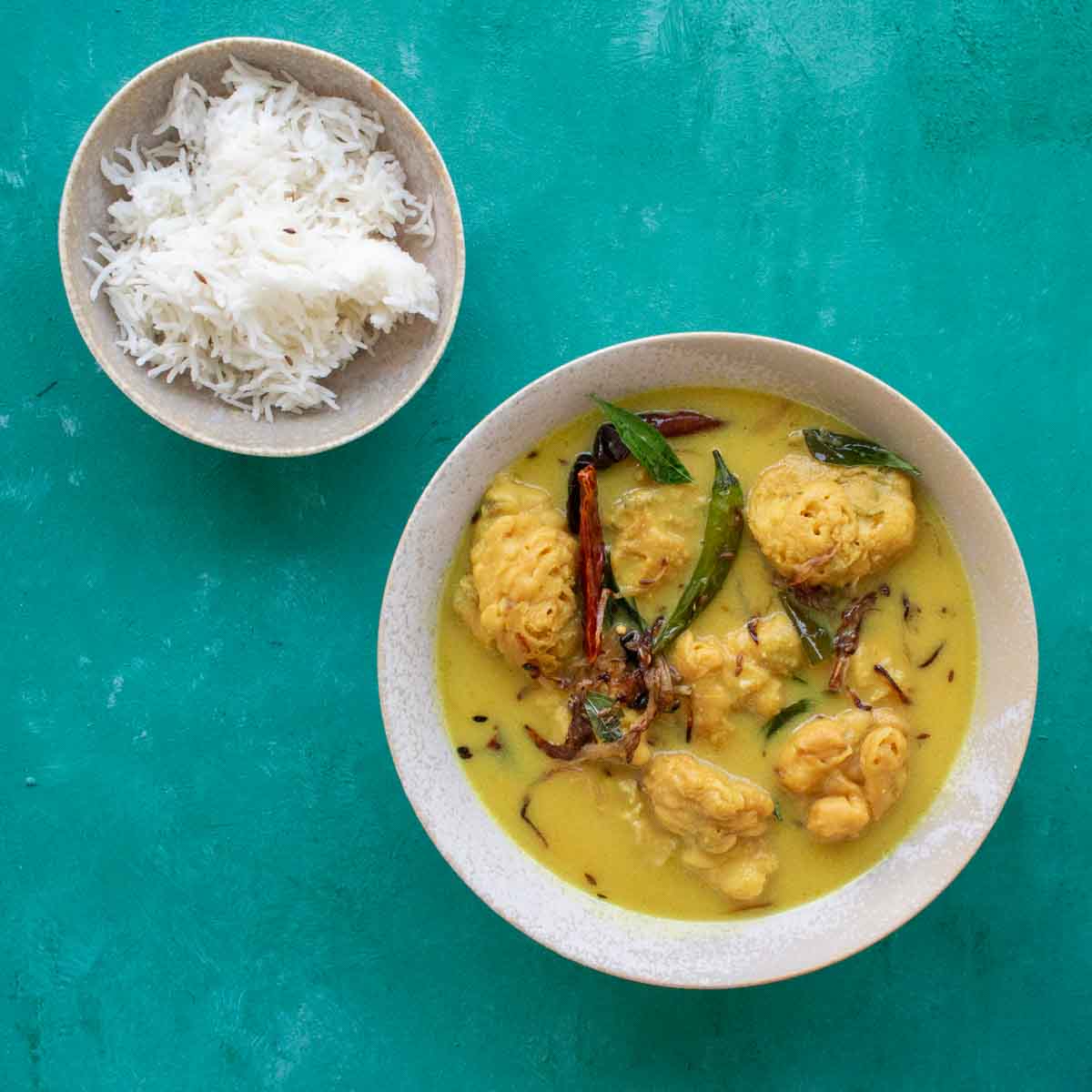 17. Baingan ki Borani (Eggplant with yoghurt)
If you are looking for a recipe that converts a person who dislikes vegetables into a person who loves vegetables then this is what you need to cook! Baingan ki Borani or borani banjan is a Pakistani vegetarian recipe comprising of fried eggplant in a spicy gravy, topped with yogurt, coriander and onions.
Note: This recipe is vegetarian. Make it vegan by substituting yoghurt with a vegan alternative.
Desi spices and Asian stir-frying techniques come together to create vegetable jalfrezi, a popular restaurant dish seen in local Desi restaurants as well as international. With onions, carrots, potatoes, capsicum, corn and more as part of its ingredient list, this vibrant restaurant style dish makes for one delicious meal. Serve it with rice on the side.
Note: This recipe is vegan as well.
Chai Snacks 
19. Pakoras (Chickpea fritters) 
Pakoras are one of my favourite Pakistani snacks! They are the Pakistani version of the fritter but with a batter made of chickpea flour and all sorts of vegetables as the filling. Crispy and crunchy, just the thing to have with Chai especially if it's raining outside. I have a recipe for aloo pakoras made with sliced potatoes and pyaz pakoras made with sliced onions, green chilies and coriander. If you are looking for a healthier treat, I also have a guit free air fryer pakora recipe. Just make sure you have green chutney or tomato sauce on the side.
Note: Both recipes are vegan as well.
20. Chane Daal Samosa (Split bengal gram samosas) 
This vegan version of the popular qeema samosas are made with chana daal or split bengal gram. Make sure to freeze a batch so you can have them whenever you want. Perfect for tea time with green chutney or raita on the side.
Note: This recipe is vegan as well.
21. Dahi Baray (Lentil fritters in yoghurt)
My favourite Ramadan snack and an essential at Iftar! The baray/ lentils fritters are first deep fried. Then added in yoghurt, seasoned with salt and spices and topped with a sweet and tangy tamarind chutney.
Note: This recipe is vegetarian.
22. Chana Chaat or Chole Chaat
Chaat are a popular Pakistani street food snack, and there are many different versions out there. This one is a quick and simple version with chickpeas (or chana) as the star and onions, coriander and green chilies as the supporting characters.
Note: This recipe is vegan as well.
23. Daal and Aloo Bun Kebab (Pakistani potato and lentils burger)
A bun kabab is the Pakistani version of a burger, just more spicy! This particular bun kabab is vegetarian with a patty made of lentils and potatoes, and filled with lots of spicy green chutney, tomatoes and onions. Make sure to serve extra green chutney on the side to dip the bun kabab in!
Note: This recipe is vegetarian. Make it vegan by substituting egg with a vegan alternative.
24. Vegetable Patties / Veg Puffs (Spicy potatoes in puff pastry)
Vegetable patties or veg puffs are a popular snack available at Pakistani bakeries. My version has a spicy potatoes and peas filling encased in crispy flaky puff pastry. Best part is that they are freezer friendly so you can make a large batch, and bake whenever the craving hits!
Note: This recipe is vegetarian. Make it vegan by substituting the egg wash with a vegan alternative.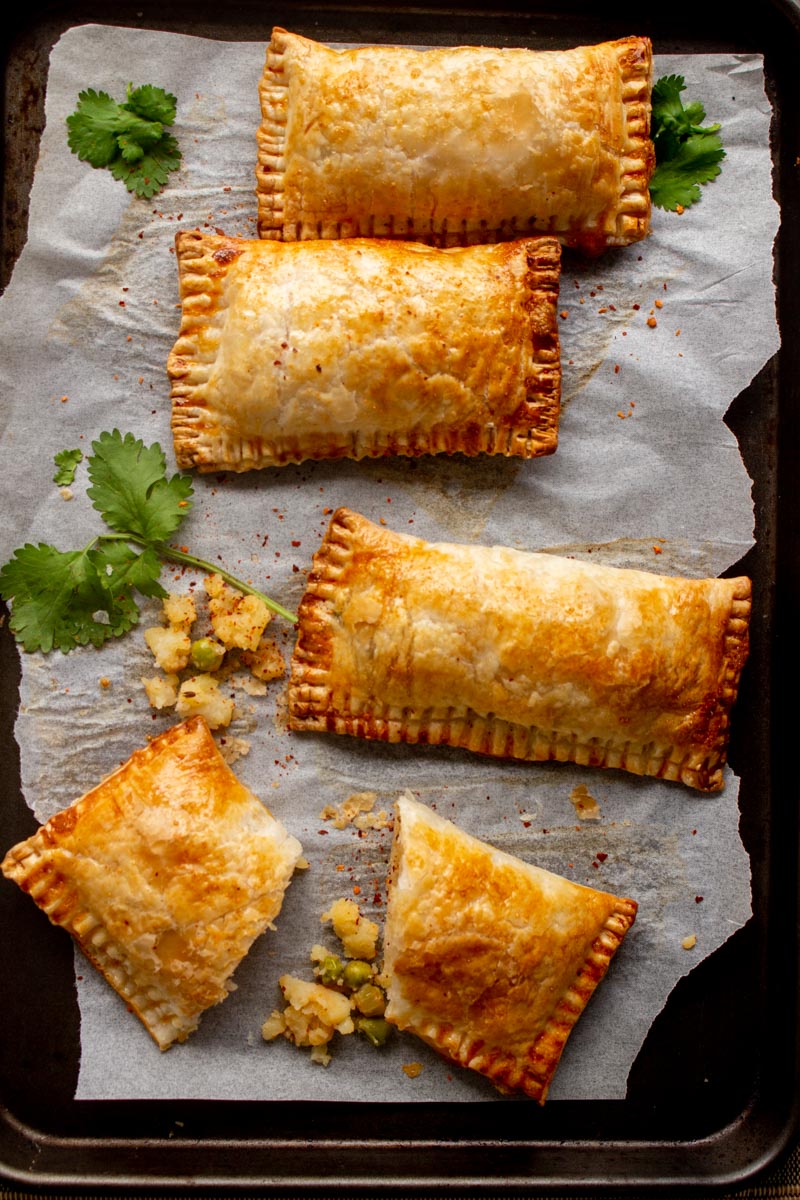 25. Paneer tikka sandwich (Paneer toast with green chutney)
You will love the burst of flavors in this spicy paneer sandwich. It's got green chutney, tikka spiced fried paneer (cottage cheese), and lots of cheese. Enjoy with chai, or as a weeknight meal.
Note: This recipe is vegetarian. Make it vegan by using a plant based protein and vegan cheese.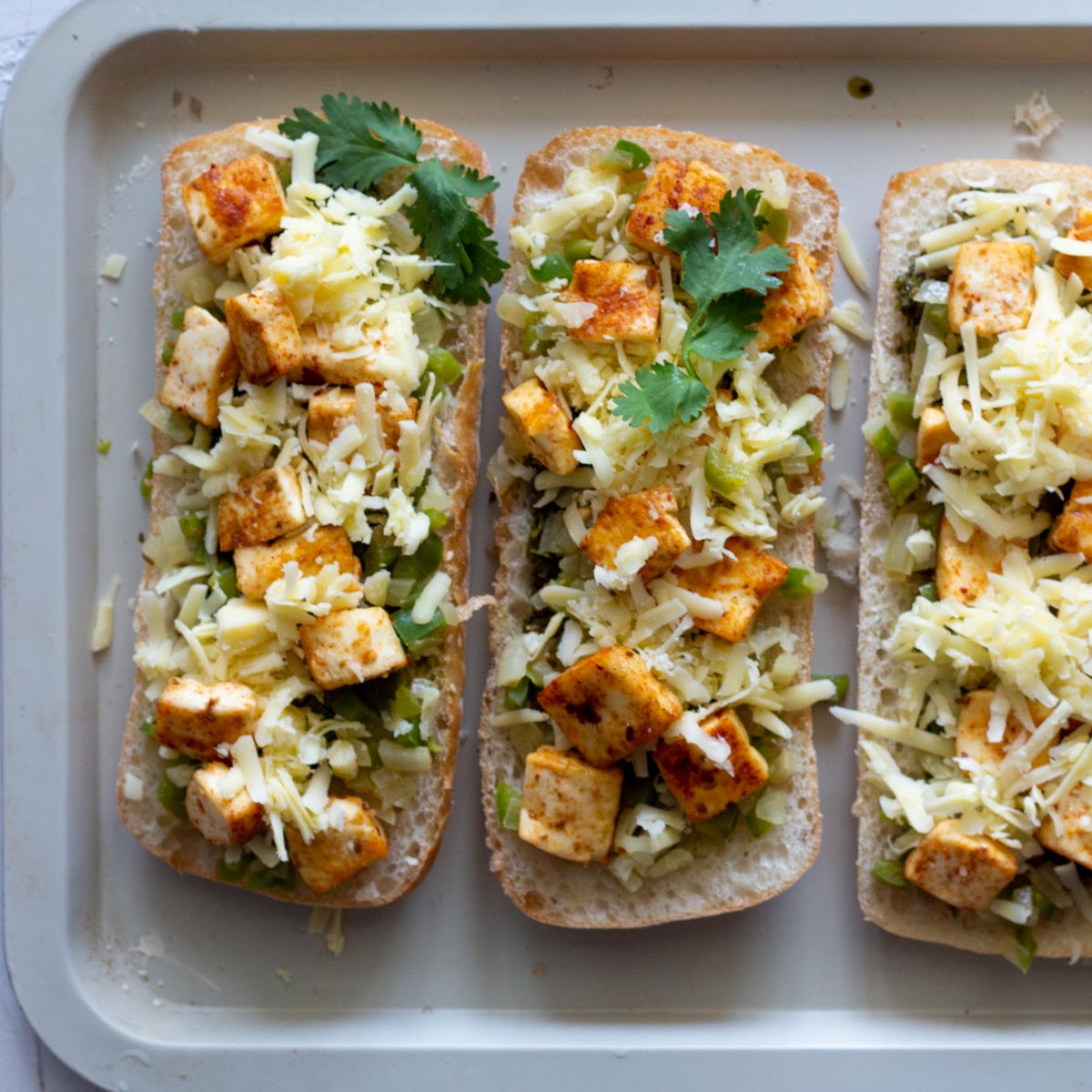 Sides - Chutneys, salads, raitas and more ...  
26. Imli Chutney or tamarind chutney
I have been known to eat imli chutney (tamarind chutney) with a spoon. That is how much I love it! It's sweet, tangy and absolutely delicious. Perfect accompaniment for dahi baray, chana chaat, samosas and more!
Note: This recipe is vegan as well.
27. Green Chutney (Coriander Mint Chutney)
Another sauce that just goes with everything! Green chutney or coriander mint chutney is like the Pakistani version of ketchup except it's green and spicy! Serve it with samosas and pakoras, spread it on sandwiches, drizzle it over chaat and use as a dip with bbq meat. Super super versatile.
Note: This recipe is vegan as well.
This light and refreshing fresh vegetable salad is a Pakistani staple. Made with onions, tomatoes and cucumbers you can serve it with daal chawal, curries or just have it on its own.
Note: This recipe is vegan as well.
Our masaledaar cuisine needs something light to temper the spice and that's where raita comes in. With a base of yoghurt, raita is one of the most popular sides in Pakistani cuisine. Serve it with rice dishes such as biryani and pulao, or use it as a dip alongside dry dishes such as chicken tikka or beef boti. Best part
30. Rishte ka achaar (Grated mango pickle)
This spicy and tangy achaar is a delicious side to everyday dinner meals. Unripe green mangoes or kairi are shredded and tossed in spices. A tempering of curry leaves and whole red chilies finishes off the achaar.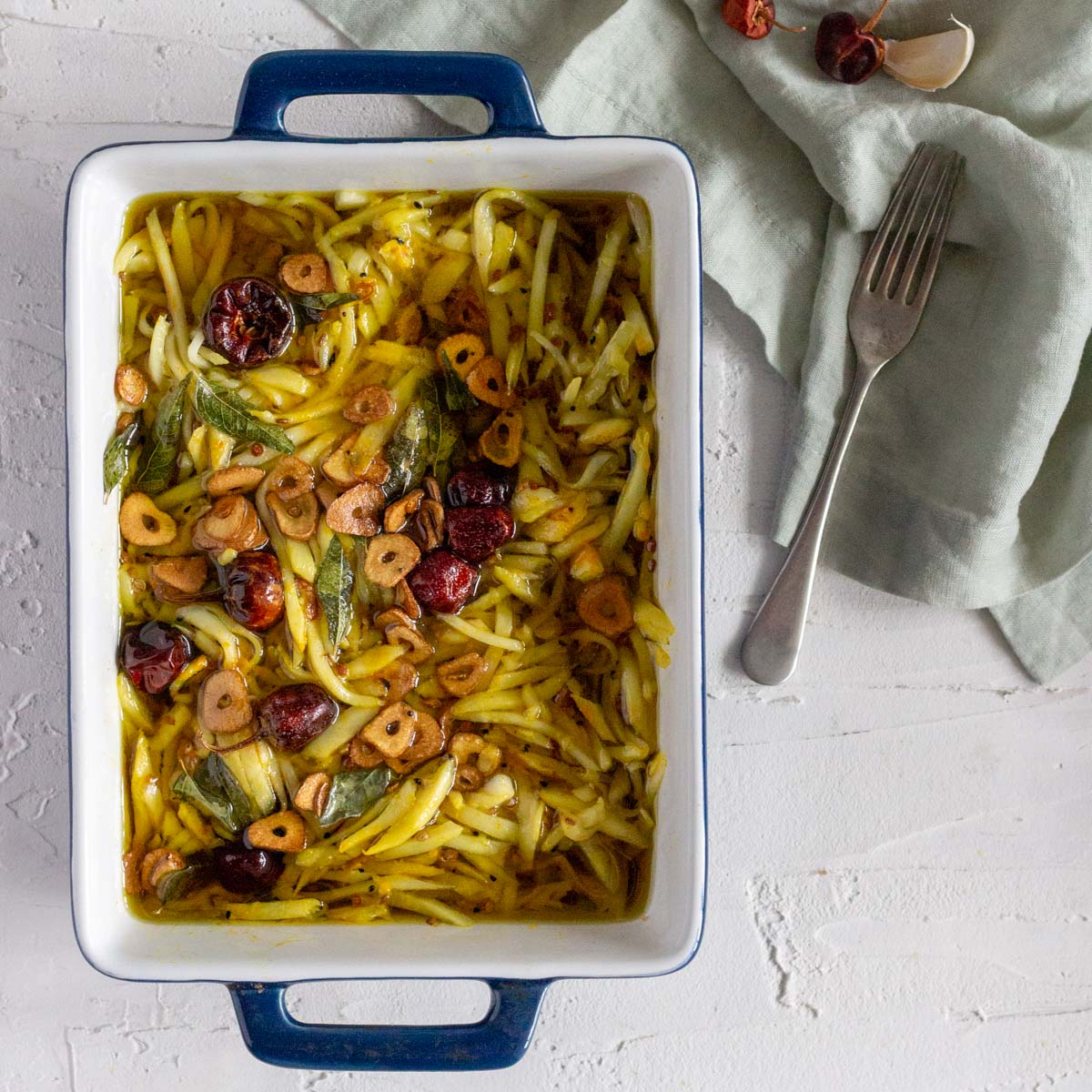 31. Nauratan chutney (Sweet and sour chutney)
This is a popular Indian and Pakistani mango chutney made by cooking unripe raw green mangoes or kairi with sugar and other spices. It has a sweet and tangy flavor and goes well with savory dishes such as daal chawal (lentils and rice) and kebabs.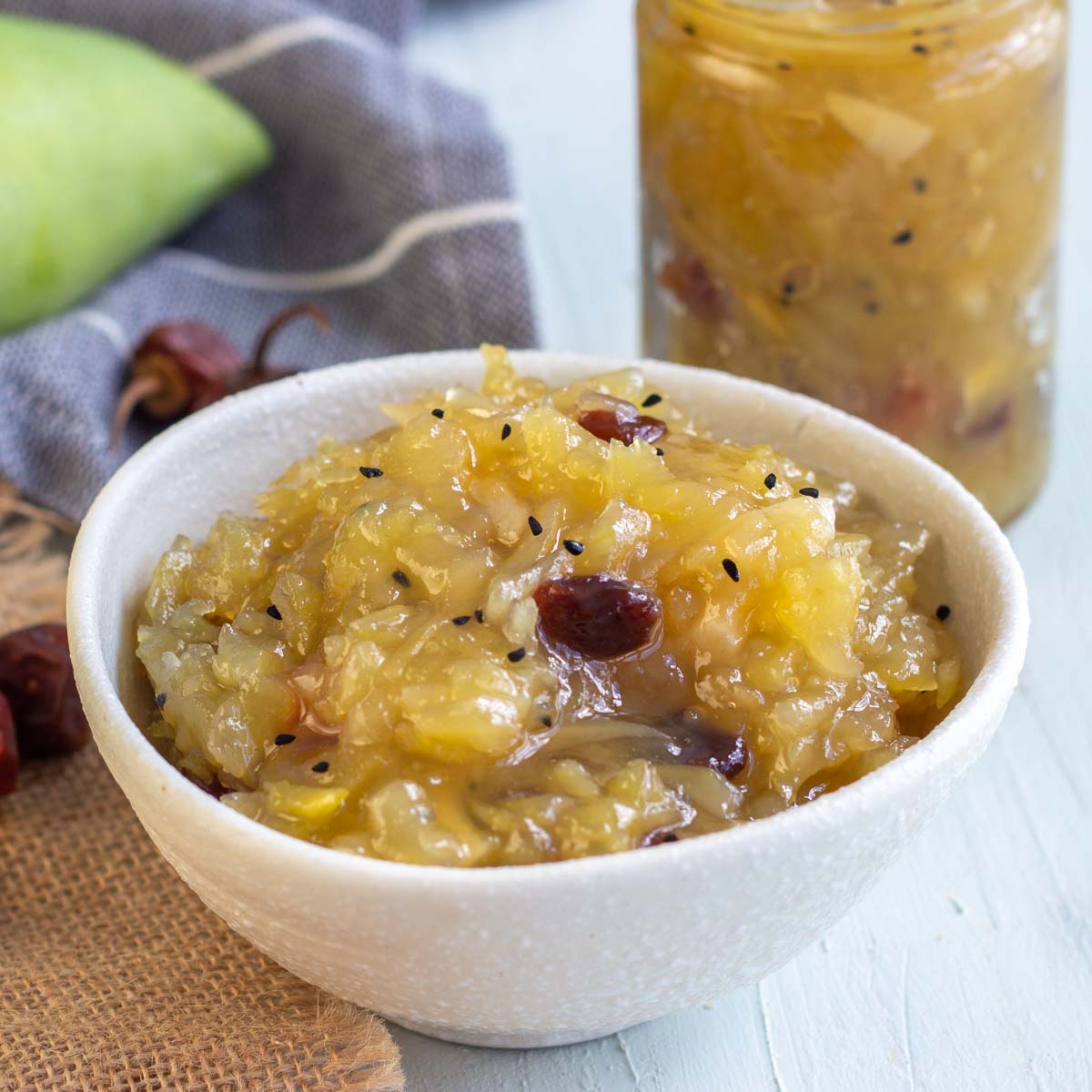 Let me know your favourite Pakistani vegetarian recipe in the comments below. If I missed them out, would love to add them to this recipe round-up in the future.