This one bowl chocolate cake is the easiest and quickest chocolate cake ever. Mix everything in one bowl, pour in a baking pan and bake. Plus the crumb is so tender and soft, that it doesn't even need a frosting. Cut into slices and serve on its own, or if you are feeling decadent with a dollop of cream or ice cream.
The process of baking has always felt super therapeutic to me. Selecting the recipe, measuring out the ingredients, mixing it altogether, and then watching it come together in the most magical way that (usually) makes everyone go "ooh" and "aah".
One of my favourite baking recipes to make is this one bowl chocolate cake. It's a cake I have been making for years, and requested often by family and friends who always call it a brownie. The best thing about this cake is that it makes people think it takes ages to make, but only takes 15 minutes, and I have been making it for so long that I make it in a way that washing up is minimal. I also make it in a rectangle 13 x 9 inch tin instead of round cake pans, so it's easier to cut and serve. Great to take to a party.
I feel like I have seen this one bowl chocolate recipe before - where did it originate from?
I discovered the recipe of this one bowl chocolate cake in some magazine where it was titled "Magic Cake", and I found it quite magical in how it was. Later on, when I discovered the World Wide Web (or at least Broadband Internet) I found out that there are quite similar versions of the same cake. The one that I follow is by Ina Garten (Barefoot Contessa) called Beatty's Chocolate Cake. But there are other versions, the Hershey's Chocolate Cake and the Scharffen Berger one which are quite similar. The differences are that the Hershey's and Scharffen Berger use 1 ½ teaspoon of baking soda and baking powder each, along with regular milk instead of buttermilk like Ina Garten does. Additionally, the Hershey's cake uses boiling water instead of coffee. I have tried all versions over the years, but my favourite is still the Barefoot Contessa one - the buttermilk just makes the cake super soft, and the coffee just makes the chocolate more chocolate-y. The one change that I do make to the recipe is adding ½ teaspoon of cinnamon, and sometimes orange zest (depending on my mood).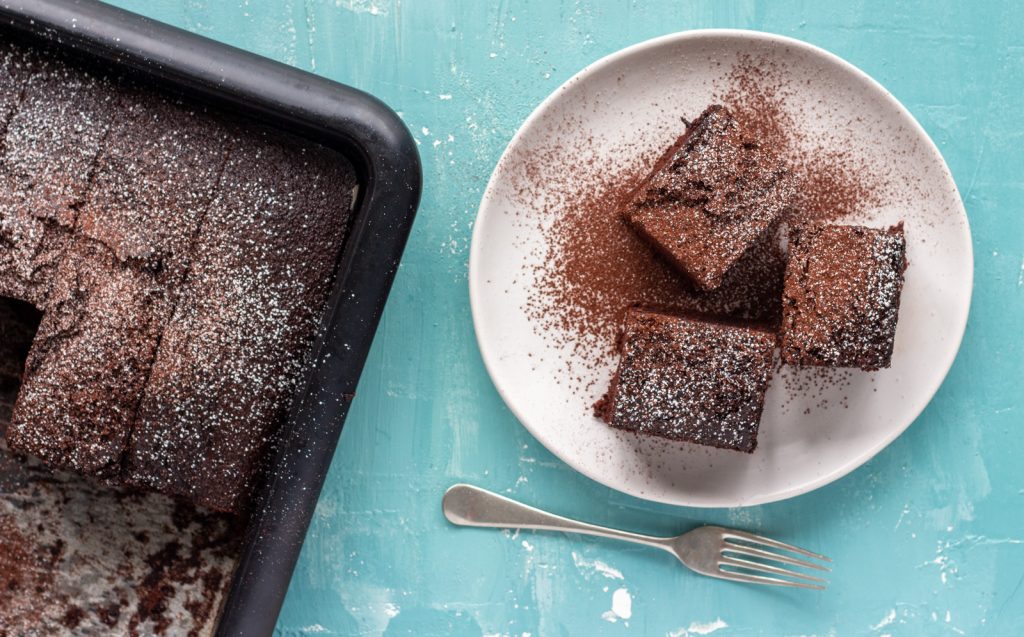 How to make the easiest and quickest chocolate cake ever!
Prepare the buttermilk: I have never used actual buttermilk for this recipe because I never have it at my place. So the first thing I do is put 1 cup milk and 1 tablespoon vinegar in a glass jug (the Pyrex one is perfect) and let it sit for about 10 minutes till it splits and looks like it has curdled. This is an excellent buttermilk substitute, and one I have been using in pretty much every recipe.
Get the dry ingredients ready: While the milk is just sitting there, place all the dry ingredients in a large mix bowl, and mix them together well with a whisk or fork.
Add the wet ingredients: At this point the buttermilk should be ready so just add the milk, eggs, oil, vanilla essence and coffee. I tend to use instant coffee for this cake, so I would just pour the buttermilk, and make a cup of coffee in the same jug, and place it in the microwave till hot. Then add to the wet ingredients.
Mix: Use an electric whisk (or spatula even) and whisk for 1 ½ - 2 minutes till combined. The batter will be on the runny side. The Barefoot Contessa recipe states to mix until incorporated, but in this case I follow the Hershey's Chocolate Cake version and whisk for about 2 minutes.
Bake: Pour into a prepared pan, and bake in a pre-heated oven till done.
If you are looking for other dessert recipes, do try out the following:
Would love it if you could try out and rate the recipe, and let me know how it was in the comments below!
To keep updated with recipes, stories and more follow me on Facebook here and Instagram here
📖 Recipe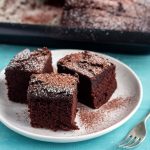 Print Recipe
One Bowl Chocolate Cake | Easiest Chocolate Cake
This one bowl chocolate cake is the easiest cake ever. Just mix everything in one bowl, pour in a baking pan and cake. Plus the crumb is so tender and soft, that it doesn't even need a frosting. Cut into slices, and serve on its own or if you are feeling decadent with a dollop of cream or ice cream.
Ingredients
Oil or butter

for greasing the pans
Dry Ingredients
1 ¾

cups

flour

2

cups

sugar

¾

cups

cocoa powder

plus more for dusting the pans

2

teaspoons

baking soda

(soda bicarb or meetha soda)

1

teaspoon

baking powder

1

teaspoon

salt

½

teaspoon

cinnamon powder
Wet Ingredients
1

cup

buttermilk

See note 1 for substitution

½

cup

vegetable oil

2

large eggs

at room temperature

1

teaspoon

vanilla essence

1

cup

hot coffee

See note 2
To serve
Powdered Sugar or Icing Sugar

To garnish
Instructions
Preheat oven to 180°C/350°F (160°C fan forced). Grease one 13-inch by 9-inch rectangular cake pan with butter or oil. Line with parchment paper, then butter and dust the pan using cocoa powder. See note 3 for pan substitutions.

Place the sugar in a large bowl. Sift the flour, cocoa, baking soda, baking powder, and salt into the same bowl. Use a fork or a whisk to mix all the dry ingredients together thoroughly.

Make a well in the center of the flour mixture. Add all the wet ingredients. Use a spatula or a spoon to just barely mix the dry and the wet ingredient. This is so that the flour doesn't start flying around when you start the electric whisk.

Beat for two minutes, using a spatula to scrape the bowl as needed. Please note that the batter will not be thick as regular cake batters, but will be a bit liquid.

Pour the batter into the prepared pan and bake for 35 to 40 minutes, until a cake tester comes out clean. Cool in the pan for 30 minutes, then turn it out onto a cooling rack and cool completely.

Dust with powdered icing sugar or cocoa powder, and serve. Can also be served with a dollop of cream or ice-cream. You can also frost with your favourite buttercream frosting or chocolate ganache.
Notes
Buttermilk substitution: Substitute with 1 cup milk + 1 tablespoon vinegar or lemon juice. Leave for 10 minutes till it looks like the milk has split, and looks a bit curdled. 
Coffee substitution: Dissolve 2 teaspoon instant coffee in one cup of boiling hot water.  
Cake pan substitutions: The same cake can be made in two 9-inch round baking pans or three 8-inch round caking pans. Bake 30 to 35 minutes or until wooden pick inserted in center comes out clean.
Cupcakes: The same cake can also be used to make cupcakes. Line muffin cups with paper liners, and fill about ⅔ full with batter. Bake for about 22 - 25 minutes until wooden pick inserted in center comes out clean. This quantity of batter will make about 30 cupcakes.
Nutrition