The first time I made vanilla pudding from scratch I was blown away by how simple it was - just add everything together in a saucepan and stir till it thickens. That's all it takes to make homemade vanilla pudding, and once it's made you can eat it as it is or use it to make a vanilla pudding dessert with your choice of toppings.  
The best part about this vanilla pudding is that there is so much that you can do with it. Enjoy it on its own or with fresh fruits - berries, bananas, mangoes and stone fruit would be delicious or even some fruit compote. Use it as a filling for dessert parfaits and serve it at your next dinner party or make a layered dessert out of it which is my favourite way to use this pudding, and the recipe I am sharing today. 
How to make this versatile layered vanilla pudding dessert: 
What I love about this dessert is that it is super adaptable, which is the case with most layered desserts. The pudding is the main component but the rest of the elements can be mixed and matched depending on your personal preference and what is available at your house. 
Start with deciding how you are going to serve the dessert and how many layers to make - it can be served family style in a square or rectangle dish or a trifle bowl; or it can be served in small glasses or bowls individual style. Clear glass serve ware is preferred as the layers are clearly visible. 

Start off with the base layer. This recipe uses store bought plain vanilla cake but you can use other flavours such as chocolate. Make your own or get it from the store just make sure it's plain with no frosting. In case the cake is dry or a few days old, add a simple sugar syrup or coffee syrup (for chocolate cake).

The next layer is going to be that silky smooth pudding all made from scratch. Now you can keep the flavour plain vanilla or add other flavours. Add chopped up chocolate to make chocolate pudding or make a butterscotch or caramel version. 

On top of the vanilla pudding, add sliced strawberries (or preferred fruit), caramel sauce and crushed walnuts. In this recipe I have used my favourite salted caramel recipe but you can use dulce de leche or even store bought caramel. Same with the fruits and nuts - use whatever is in season and available at your home. 

Repeat with sliced cake, the remaining pudding and then decorate with the fruit, nuts and more salted caramel sauce on top. 

Cover with cling film and keep the layered vanilla pudding dessert in the fridge. Serve chilled.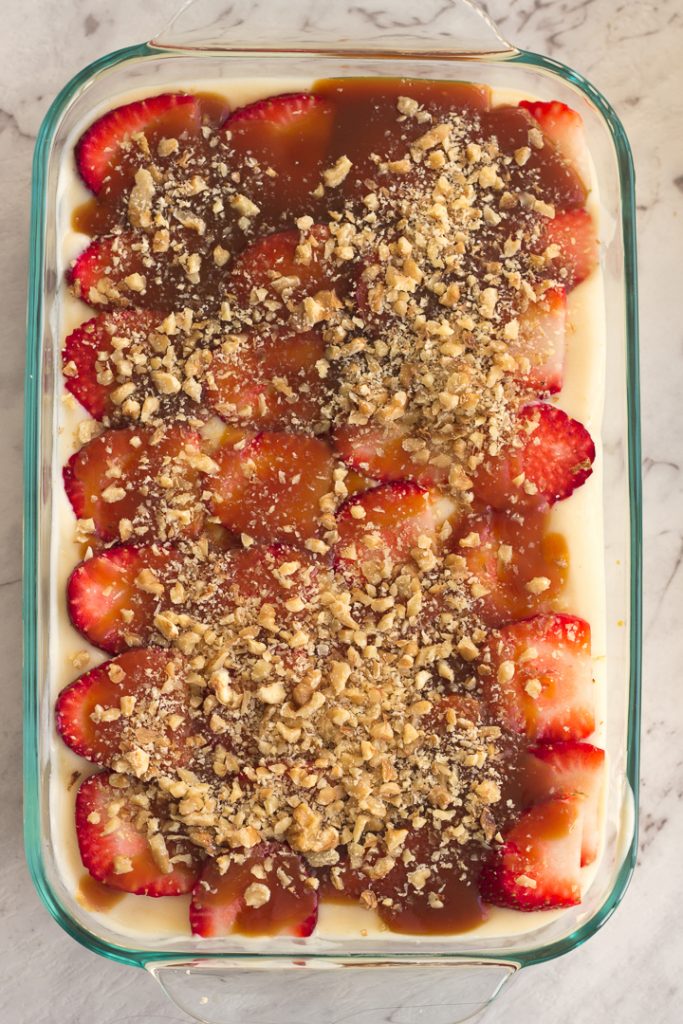 If you are looking for other dessert recipes, do try out the following:
Would love it if you could try out and rate the recipe, and let me know how it was in the comments below! 
To keep updated with recipes, stories and more follow me on Facebook here and Instagram here
📖 Recipe
Print Recipe
Vanilla pudding dessert with berries and caramel | Homemade vanilla pudding
This layered vanilla pudding dessert is a hit with kids and adults both. Layers of homemade vanilla pudding with cake, berries, caramel sauce and nuts.
Ingredients
For the vanilla pudding:
½

cup

sugar

⅓

cup

corn flour

⅛

teaspoon

salt

4

cups

whole milk

divided

4

egg yolks

1 ½

teaspoon

vanilla essence

½

teaspoon

cinnamon powder

optional
For assembling the vanilla pudding dessert:
1

plain vanilla cake

about 400 - 450 gms, sliced

¾

cup

salted caramel sauce

or other caramel sauce

2

cups

strawberries

sliced (or other fruits of choice)

½

cup

walnuts

crushed
Instructions
For the vanilla pudding:
Combine the sugar, corn flour and salt in a medium saucepan. Add ½ cup milk and stir to form a smooth paste. Whisk in the remaining 3 ½ cups milk and the egg yolks.

Turn flame to low and heat the mixture while stirring continuously. Continue stirring till mixture is thickened and small bubbles can be seen at the edges (about 8-10 minutes). Remove from heat and stir in the vanilla and cinnamon. The mixture will thicken a little bit more on cooling.

Optional step: To remove lumps in the pudding, place a fine mesh strainer over a large heatproof bowl. Pour the pudding mixture through the strainer and into the bowl. This additional step will remove any lumps in the pudding and result in a smoother silkier pudding. But it can be skipped if you don't notice any lumps in your pudding.

Let the pudding warm for 5 - 10 minutes, and then cover the top with cling film. This will ensure that no skin is formed on the pudding. Refrigerate for a few hours till chilled.
For assembling the vanilla pudding dessert:
Start with layering the plain cake slices on the bottom of the dish. I used a 2 litre rectangle Pyrex baking dish.

Then top with half of the vanilla pudding, followed by the sliced strawberries, salted caramel sauce and walnuts. Reserve some of the strawberries, caramel sauce and walnuts for the final garnish.

Once the first layer is complete, layer with cake slices and the remaining pudding.

Smooth the pudding and then decorate with remaining salted caramel sauce, sliced strawberries and crushed walnuts.

Cover with plastic wrap and keep in the fridge until chilled; about 1 hour or overnight. Serve cold.
Nutrition