Healthy, delicious, home-made chicken shawarma recipe. Serve this Middle-Eastern dish in a wrap with caramelised onions & capsicum, lettuce, tomato and dollops of tzatziki sauce.
Today I am featuring a popular Middle Eastern inspired dish, chicken shawarma, which I am sure everyone must have had in one form or the other. Maybe at a roadside stall, in the mall, at a café or restaurant, or perhaps even at a wedding. Sometimes the shawarma is served as a sandwich roll, sometimes in a wrap or pita bread or in a plate form with accompaniments like salad, sauce and pita on the side.
The origins of shawarma are from the Middle-East where meats such as lamb, chicken, turkey, beef, veal or a mixture are stacked on a metal skewer, and a motorised spit slowly turns the stack of meat in front of a heating element, continuously roasting the outer layer. Meat is sliced off from the outer edges for serving, while the remainder meat keeps rotating and heating through.
The accompaniments of shawarma will vary from region to region, but popular vegetables that are served with shawarma include cucumber, onion, tomato, lettuce, parsley, pickled turnips, pickled beets, gherkins, pickles, cabbage, or French fries. Popular dressings include tahini, hummus, garlic mayonnaise, toum (garlic sauce) or chili sauce.The Turkish doner kebabs and the Greek gyros are also cooked on a spit just like the shawarma, but the meat seasoning and the fillings differ from region to region.
My particular version of chicken shawarma is an adaption of recipes that I wanted to try out, combined with things that I enjoy eating. The spice mix is from An Edible Mosaic: Middle Eastern Fare with Extraordinary Flair by Faith Gorsky, though I skipped the ground cumin and added zaatar and coriander seeds instead, both of which add this lemony tart flavour which can be a bit strong if one eats the chicken on their own, but is balanced when adding the other ingredients.
I also added brown sugar and hot sauce when grilling to add an extra layer of caramelisation to the chicken. I wanted to keep the shawarma on the healthier side so I skipped the garlic sauce for tzatziki sauce made with Greek yoghurt, but I added a double dose of garlic in the form of crushed garlic and garlic powder to compensate.
Serve this shawarma in a wrap with tzatziki sauce and a cucumber & tomato salad. The spiced rice from my halal cart chicken & rice recipe also goes really well, and of course you can skip the wrap and just serve all the components separately so people can make their own wrap.
Would love it if you could try out and rate the recipe, and let me know how it was in the comments below! 
To keep updated with recipes, stories and so much more follow me on Facebook here, Instagram here and Twitter here
📖 Recipe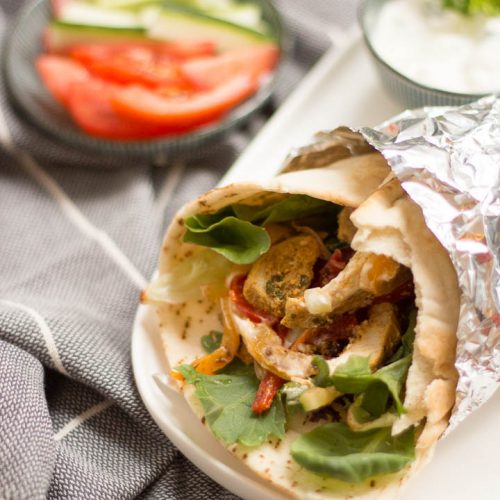 Print Recipe
Chicken Shawarma Wraps
Healthy, delicious, home-made chicken shawarma recipe. Serve this Middle-Eastern dish in a wrap with caramelised onions & capsicum, lettuce, tomato and dollops of tzatziki sauce
Ingredients
Shawarma Spice Mix
1 ½

teaspoons

ground coriander

1

teaspoon

ground black pepper

½

teaspoon

ginger paste

¼

teaspoon

ground fenugreek

methi

2

cardamom pods

remove the seeds & crush

2

cloves

crushed

½

teaspoon

paprika

¼

teaspoon

ground turmeric

½

teaspoon

garlic powder

1

teaspoon

chili pepper

adust to taste

¼

teaspoon

coriander seeds

crushed

½

teaspoon

zaatar

optional
Chicken Shawarma Marination
½

kg

boneless chicken

cut into pieces

6

tablespoon

plain yogurt

1

tablespoon

fresh lemon juice

1

teaspoon

vinegar

3

cloves garlic

crushed

1 - 1 ½

teaspoons

salt
Vegetables
2

medium onion

sliced

1

red capsicum

sliced

1

yellow capsicum

sliced

3

garlic cloves

sliced
For grilling
3

tablespoon

oil

2

tablespoon

brown sugar

1

teaspoon

hot sauce
Tzatziki Sauce
1

cucumber

finely chopped without seeds

1

teaspoon

salt

2

garlic cloves

crushed

1

teaspoon

lemon juice

¼

teaspoon

garlic powder

1

cup

thick yoghurt

or Greek yoghurt
For the assembly / sides
1

tomato

sliced

½

cucumber

cut into long slices

1

cup

lettuce or salad Leaves

5 – 8

Lebanese bread

khubz, pita bread or tortillas (the quantity of meat & vegetables is enough for 5 large Lebanese bread / tortillas but if using a smaller size, more will be required)
Instructions
Shawarma Spice Mix
Crush the cardamom seeds, cloves and coriander seeds in a mortar and pestle. Place in a large bowl, and add coriander, black pepper, fenugreek (methi), paprika, turmeric, garlic powder, chili powder and zaatar (if using). Mix together.

Add yoghurt, lemon juice, ginger paste and salt and mix.

Add the boneless chicken and toss together to coat properly. Cover and refrigerate for at least 2 hours or leave overnight.
Chicken Shawarma
Heat a grill pan (a skillet can be used if a grill pan is not available) with about 1 tablespoon oil.

Sprinkle about 1 teaspoon of brown sugar and a few drops of hot sauce. Stir for a few seconds, and then add the chicken.

Make sure that the chicken pieces do not overlap one another. Cook till one side is golden brown, and then grill on the other side. The chicken can be cooked in two batches, with oil, brown sugar and hot sauce added as needed.

Remove the chicken from the pan and then transfer it to a cutting board. Slice the chicken into thin pieces. Transfer the chicken back to the grill pan, and cook for 1-2 minutes enough to heat and crisp up the chicken. This along with the brown sugar caramelises the chicken from the outside, and gives it the shawarma like effect at home
Vegetables
Heat a tablespoon of oil in the same pan, and add the onions to the pan. Add brown sugar, 1 -2 drops of hot sauce and hot sauce. Cook for a few minutes till the onions caramelise and turn soft & golden brown. If you think the onions are turning crispy or black, add a splash of water and continue cooking on low heat.

Take out the onions and place in a bowl. Add the sliced capsicum and again season with salt, brown sugar and hot sauce. Cook on low heat for a few minutes till they turn soft and caramelised. Place in a bowl.
Tzatziki Sauce
Put the finely chopped cucumber in a colander and sprinkle salt on top. Let this sit for an hour with a plate below it in the fridge so that the water from the cucumber is is reduced.

Add the cucumber along with crushed & chopped garlic to the yoghurt. Add lemon juice and mix it all up. Taste and adjust as required.
For Assembling
Heat a large frying pan or tawa, and toast the pita bread, wrap or Lebanese bread.

Add lettuce or salad greens, followed by sliced chicken, caramelised onions, caramelised vegetables, lettuce, tomato and then add dollops of tzatziki sauce.

There are two ways that this chicken shawarma can be rolled. One method is by folding the edges from top and bottom, and then rolling it up spring roll style, after which the shawarma roll can be cut into half. The other method is folding from one end, and then rolling it up so it becomes a chicken shawarma wrap that is open from one end.

Serve with more Tzatziki sauce, chili sauce, hummus or baba ganoush on the side.
Notes
The best way to fold the wraps is to place a baking paper or foil sheet on the bottom and then rolling the chicken shawarma on top of that. This will help in the rolling, and ensure that the ingredients don't fall out.
The brown sugar is added to add in the caramelisation of the chicken and to give a lovely brown color - it will also give a subtle sweet flavor to the chicken which is really tasty in the dish, however, in case you don't like the flavour, then brown sugar can be reduced or not even added altogether. The grill pan will still give a good char on the chicken.
To make Greek yoghurt, just take regular yoghurt and put it in a fine mesh strainer or in a muslin cloth for a few hours till the liquid drains out and you are left with thick yoghurt.
Nutrition