These chicken spread sandwiches are a great option for lunch boxes, be it a school lunch box or for the office. Just spread it on bread, add sliced vegetables and cut into halves or triangles. Whatever you prefer! 
The first time I tried a chicken spread sandwich was from my friend's lunch box - she had bought sandwiches to school and made me try them. That very day I asked my mother to get me a bottle for home, but as I started having it on a regular basis, I realised something. The chicken spread tastes good for the first 2-3 bites, but after that it starts getting a bit monotonous. And that's because the brands available in the supermarket usually had far more mayonnaise than actual chicken.
A few weeks ago, I was craving those chicken spread sandwiches, and I ended up making this version for myself and later for a dawaat, making sure that this time around there was more chicken than mayonnaise!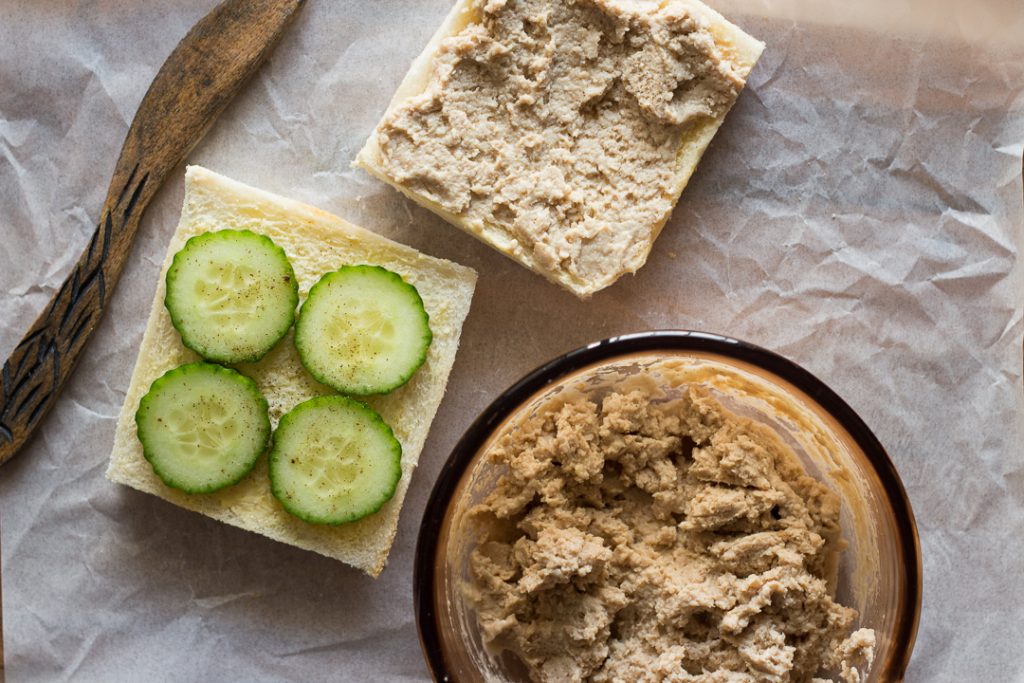 This chicken sandwich spread is open to countless variations - add some finely chopped herbs or peri peri spice for some kick. Pulse some carrots or maybe some celery and mix it in the chicken - perfect way to sneak in some vegetables for the kids (and even adults!). You can keep the sandwich spread in the fridge for a couple of days - use it for lunch boxes, and it's also an excellent option for a high-tea party, a picnic or just with your evening chai. 
Were you a fan of chicken spread sandwiches growing up?
Some other snack recipes that you can try are:
Would love it if you could try out and rate the recipe, and let me know how it was in the comments below! 
To keep updated with recipes, stories and so much more follow me on Facebook here, Instagram here and Twitter here
📖 Recipe
Print Recipe
Chicken Sandwich Spread 
This chicken sandwich spread is a great option for lunch boxes, be it a school lunch box or for the office. Just spread it on bread, add sliced vegetables and cut into halves or triangles.
Ingredients
125

g

boneless chicken

diced

½

teaspoon

white pepper

½

teaspoon

soy sauce

½

teaspoon

garlic paste

Salt

to taste

1

teaspoon

oil

5 - 6

tablespoon

mayonnaise

2 - 3

tablespoon

evaporated milk

can substitute with regular milk if not available

1

small cucumber

1

loaf of bread

18 - 20 slices of bread
Instructions
Marinate chicken with white pepper, soy sauce, garlic paste and salt. Let it sit for 10 minutes.

Heat oil in a frying pan, and add the marinated chicken.

Cook for about 10 - 15 minutes until the chicken is tender, and the water has dried.

Remove the chicken and let it cool.

Add the chicken in a food processor with 4 tablespoons mayonnaise and the evaporated milk. Pulse till the chicken shreds and turns into a paste. If the chicken spread feels too thick, add another tablespoon of mayonnaise.

The consistency of the chicken spread will depend on how much you pulse it. If you pulse more, the spread will be more like a paste but if you pulse less, the chicken spread will have more texture. So process as much as you prefer.

Take out the chicken spread and place it in a bowl. Taste and adjust seasonings if required.

To make the sandwich, spread the chicken spread on one bread slice, and then place 4 cucumber slices on top. Top with the other bread slice, and then cut into half or triangles.
Notes
Recipe Notes:
If you don't have a food processor, you can make the chicken mixture manually. Just shred the chicken by hand and then just roughly chop it with a knife so it gets chopped into small pieces. 
Leftover chicken is a great option for these chicken spread sandwiches - if you have some leftover grilled chicken, roast chicken or even some chicken boti from a salan for dinner. However, if you are using leftover chicken from a salan, just wash it before using so that the spices get neutralised. 
Options for add-ins:
Add ½ teaspoon red chili flakes or 1 teaspoon sriracha sauce to give the chicken spread an extra kick. 

Instead of soy sauce, marinate the chicken in Nando's peri peri sauce. 

Add vegetables - carrots or celery would be a good addition to the chicken spread mixture. Just mince them in the food processor and mix them through. 

Add herbs - you can add ½ teaspoon of dry Italian herbs or 1 teaspoon of freshly minced herbs (options include parsley or basil). You can also give a Desi twist to the chicken spread by adding coriander and green chili. 

In addition to the sliced cucumbers, add some tomatoes or a slice of cheese. 
Nutrition