Made with fresh mint leaves and lemon juice, frozen mint lemonade is a super refreshing summer drink. It's like a mint lemon slushie mocktail.
It's been two years since I moved to Australia, and I have yet to get used to how seasons are the opposite way round here. The days are super short. The sun sets at 5 pm, making me feel the day is half gone by the time I get up in the morning. Though I can feel the chill in the air, I miss the feel of summer in July.
To recreate that feeling, I am sharing one of my favourite summer drinks with you – frozen mint lemonade or a mint and lemon slush.This ice cold mocktail is made with fresh mint leaves, freshly squeezed lemon juice, sugar and lots of ice cubes for that slushie texture.
I have also added a pinch of black salt (or kala namak) for it's salty smoky flavour, and the balance it provides to the sweetness in the drink. Black salt is a common ingredient in Pakistani and Indian cuisine, and is used often sprinkled on fruits or added in drinks to add a unique salty smoky flavour. It's an ingredient that I love in shikanjabeen or nimbu pani, which is the Pakistani or Indian version of a lemonade. So when I added black salt to this frozen mint lemonade, it made me feel like I was having a slushie version of shikanjabeen.  If black salt isn't available, plain salt can be used instead.
Tips to make frozen mint lemonade:
Sugar syrup can be made in advance and kept in the fridge.
Always use fresh lemon juice to make this drink. In fact, squeeze a few lemons in a small bottle and keep in the fridge to whip up this mocktail quickly.
Unless you have a powerful blender (such as the Vitamix), be careful of crushing ice cubes directly in the blender as the blades may get damaged. Crush them manually by placing them in a clean kitchen towel or Ziploc bag, and smashing with a wooden spoon or rolling pin. These crushed ice cubes will be much easier to turn into slush in a regular blender.
Looking for more summer themed recipes to try. Check out the following:
Would love it if you could try out and rate the recipe, and let me know how it was in the comments below! 
📖 Recipe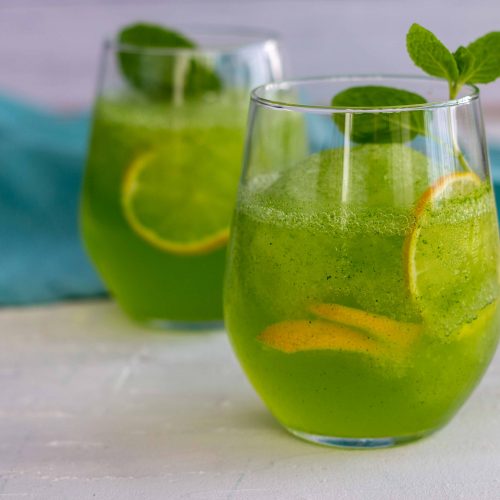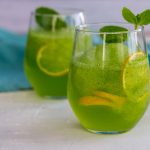 Print Recipe
Frozen Mint Lemonade | Mint and Lemon Slush
Made with fresh mint leaves and lemon juice, frozen mint lemonade is a super refreshing summer drink. It's like a mint lemon slushie mocktail.
Ingredients
½

cup

sugar

1

cup

hot water

2

tablespoons

fresh lemon juice

8 – 10

fresh mint leaves

¼

teaspoon

black salt

adjust to taste

8 – 10

ice cubes

crushed

1 ½ - 2

cups

cold water

Sliced lemon

for garnish

Mint leaves

for garnish
Instructions
Dissolve the sugar in 1 cup of hot water to make a sugar syrup. Set aside and let it cool to room temperature. The sugar syrup can be prepared in advance.

In a blender add sugar syrup, lemon juice, mint leaves, and 1 cup of cold water. If your blender is strong enough to crush ice cubes (such as a Vitamiadd the ice cubes as is.

Otherwise place the ice cubes in the centre of a clean tea towel. Close the tea towel from the edges and then smash with a large wooden spoon or a rolling pin till the ice cubes are crushed.

Add the crushed ice cubes to the blender, and pulse for a few seconds till a thick slush is formed.

Taste and adjust the sweetness level. If you find the mint slush to be too sweet, add ½ - 1 cup more cold water and pulse again.

Add sliced lemon in the bottom of the glasses and pour the mint slush on top. Garnish with mint leaves and serve right away.
Notes
Black salt (or kala namak) is available at Indian and Pakistani grocery stores. It should also be available at food speciality stores as it is a popular ingredient in vegan cuisine. If black salt isn't available, normal salt can be used.
Nutrition