Baked brie with garlic and chili is the perfect party appetizer. Requiring just 3 ingredients, and ready in less than 20 minutes! Take a round of brie, top it with garlic and chili and place in the oven. Serve the rich and creamy melted brie with toast and crackers, or use it as the centerpiece of your cheeseboard.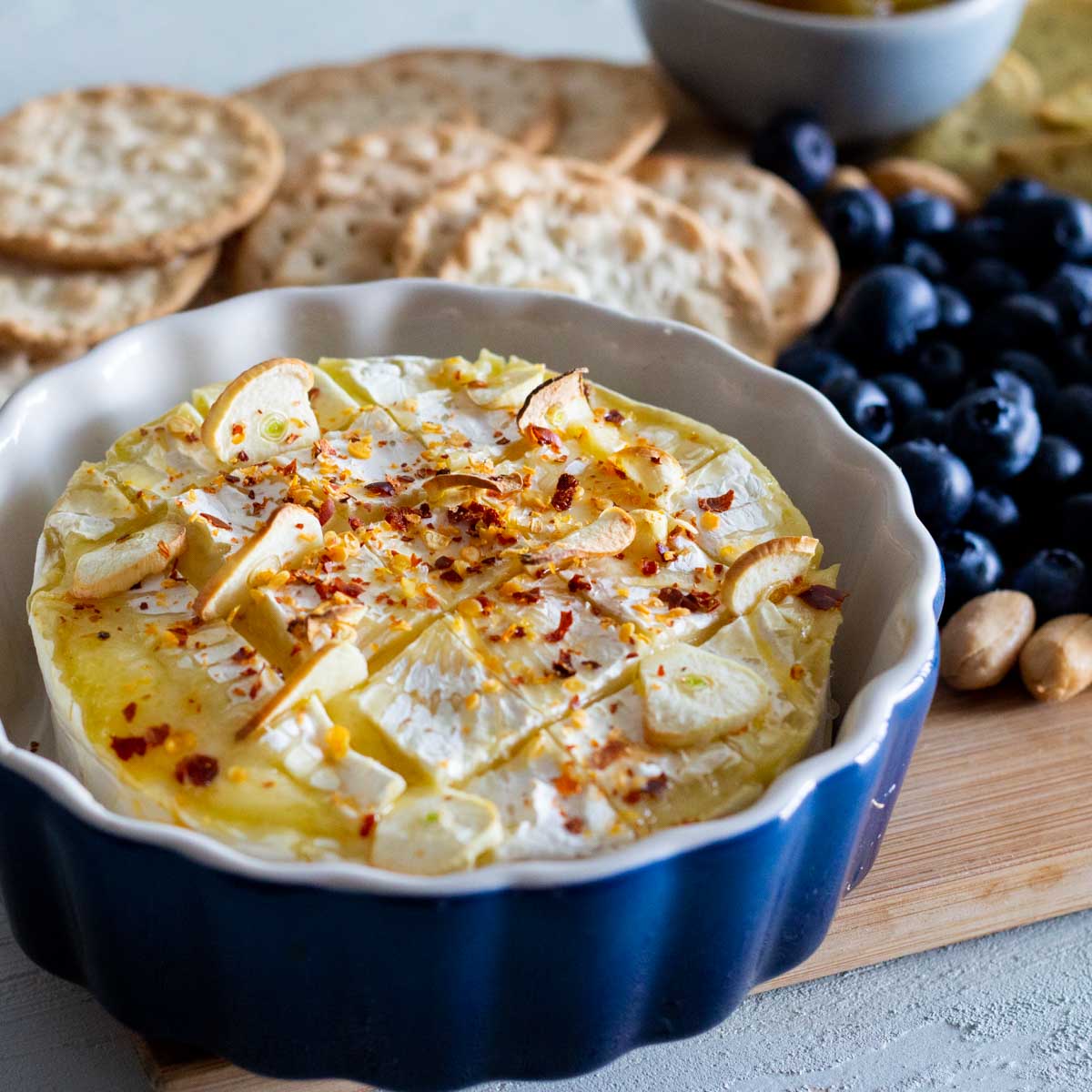 Read on ahead to find out how to make this super easy and delicious appetizer, along with tips on how to select brie for baking, as well as instructions on what to do with leftovers (just in case there's something left).
What is Brie?
Brie is a soft cow's milk cheese named after Brie, the region in France from which it originated. It is made in It is pale white in color with a light greyish tinge and has a rind of white mold. The rind can also be eaten. Brie is like Camembert, another soft cheese made from cow's milk.
Brie is regularly available as a full wheel, or as a segment. Brie is ready to eat when the outside is firm, and the inside is slightly creamy but still firm. Under ripe brie maybe quite hard, whereas overripe brie is creamy and almost runny. The cheese can be served on its own, or it can be baked. Once brie is baked, it melts and turns into this super creamy, delicious cheesy goodness that tastes fantastic with crackers and toasts. Think cheese dip or cheese fondue! A perfect starter to a dinner party or as part of your cheese board.
How to make baked brie with garlic and chili?
Prepare the brie: Unwrap the brie from its packet, and using a sharp knife take off the rind very carefully from the top. The rind is edible, but I like to take it off as its easier to add the garlic and chili with the top off. Score the top of the brie with diagonal lines on both sides, and place sliced garlic in the intersection. Add chili flakes on top.
Select the right baking dish: Place the prepared brie in an oven safe dish. A circular, shallow oven safe dish is best, but you can use a small oval or rectangle one as well if that's what you have. Make sure it is deep enough for it to be possible to dip / scoop the creamy baked brie later. If an oven safe dish isn't available, parchment paper / baking paper can be used instead. Place the parchment paper/baking paper on a baking tray and place the brie on it. Make sure the parchment paper is large enough and twist the edges so if the brie bursts open during baking, it is contained.
Bake the brie: Place the brie in a pre-heated oven and bake for around 10 – 15 minutes till the brie is soft. Smaller size brie rounds will bake quickly, and larger brie rounds will take more time.
Baked brie - flavor variations:
There are many flavor variations for baked brie. For this recipe I did garlic and chili. You can skip the chili or add Italian herbs such as thyme and rosemary. Fresh is best, but dried can work as well.
For a sweet touch, bake the brie till it's melted, then add honey on top, along with walnuts or pecans.
How to select brie for baking?
Look at the ingredients: Brie is made from rennet which is an enzyme that can be animal based or plant based (known as microbial rennet). If you have dietary restrictions (such as vegetarian or halal) make sure to check the source of rennet. I follow a halal diet so I make sure that the brie I purchase is either halal certified or vegetarian.
Check the best by date: Brie is best enjoyed when it's ripe. If it's underripe, it will be too hard, and when it's overripe it will be too creamy. The date on the packet will indicate when brie will be ready to eat. If you are planning to serve the brie in about a week or 10 days, it's best to get underripe brie so it can ripen in your home and be ready for serving when the date of the party arrives.
Get a budget brand: The best part about baked brie is that it tastes delicious for almost all brie types, budget or high-end. In fact, I prefer using a budget brand because if I get an expensive brand, I will prefer to eat it on its own instead of baking it.
Get a reasonable size: In saying that, make sure you get a decent quantity of brie, at least 200g or 250g. It is possible to bake a small round (125g) of brie too, but it makes it difficult to scoop or dip.
What to serve with baked brie?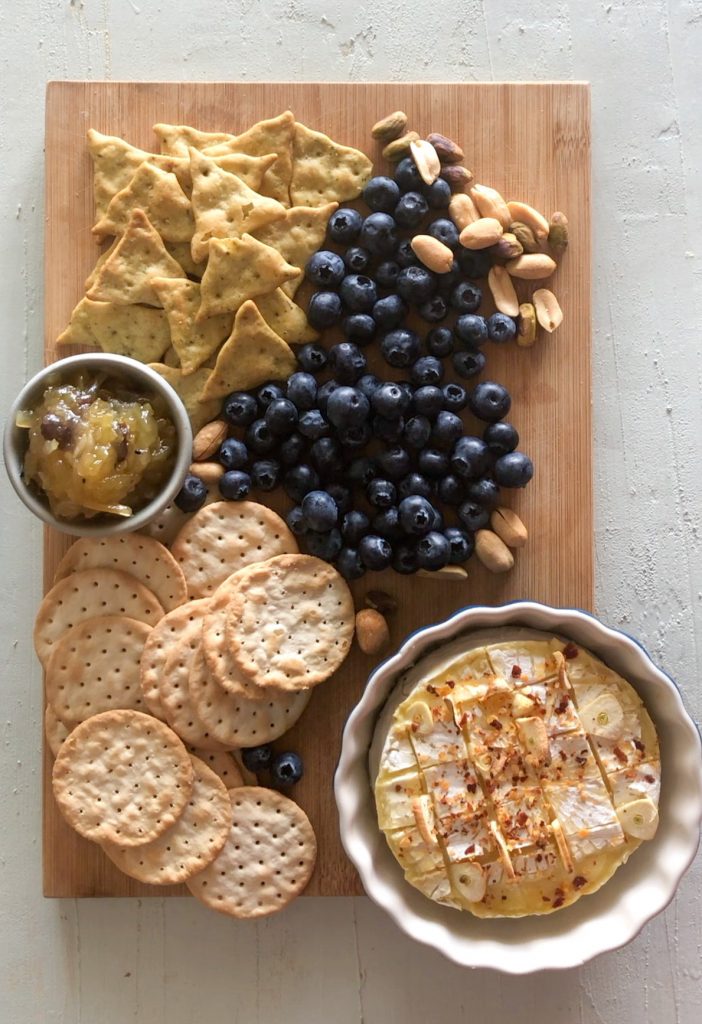 Baked brie remains melty and gooey for about 15 minutes or so, after which it will start hardening. So it's best to serve it right out of the oven. What I do is that I prepare my cheese platter in advance, keeping an empty space for the brie. Baked brie is best served with crackers and toast, or as part of a cheese platter / cheese board. Make sure they are on the sturdy side as it can be difficult to dip / scoop the creamy cheese with super thin crackers. Also add a cheese knife so it's easy for guests to smear the brie on the toasts. Brie is quite a rich cheese, and it's flavor can be quite savory. To balance the saltiness, make sure to add some sweet elements such as grapes or berries. Other options include honey, walnuts or pecans, and perhaps some mango chutney.
What to do with baked brie leftovers?
In case there are any leftovers, they can be reheated in the microwave for a few seconds till the brie becomes soft and creamy again. The leftovers can also be kept in an airtight container in the fridge for a few days. The leftover brie can be used in wraps, sandwiches, burgers, even added in omelets or pasta. Once it is heated, the cheese will melt and add a rich and creamy flavor to your recipe.
Looking for more appetizer inspiration – check out the following recipes:
Would love it if you could try out and rate the recipe, and let me know how it was in the comments below!
To keep updated with recipes, stories and so much more follow me on Facebook and Instagram
📖 Recipe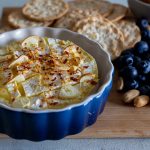 Print Recipe
Baked Brie with Garlic and Chili
Baked brie with garlic and chili is the perfect party appetizer. Requiring just 3 ingredients, and ready in less than 20 minutes! Take a round of brie, top it with garlic and chili and place in the oven. Serve the rich and creamy melted brie with toast and crackers, or use it as the centerpiece of your cheeseboard.
Ingredients
For brie:
200

grams

/ 7 ounce round brie

see note 1 for options

2

cloves

garlic

sliced

¼

teaspoon

red chili flakes
For serving:
Garlic toast

crostini or other crackers

1

bunch grapes

preferably red grapes but green can also work

Nuts

such as cashews, almonds, pistachios, peanuts or walnuts
Instructions
Arrange a serving board with toast, fruit, nuts and whatever other accompaniments you prefer to serve with the brie. Leave a corner empty for the brie.

Preheat oven to 160°C/320°F (180°C fan forced).

Unwrap brie and take off the top rind carefully with a sharp knife. This step is optional, but I prefer to lightly take off the top so that it's easier to place the garlic.

Score the top in a crosshatch pattern with a knife. Don't go all the way to the bottom, just do this to the top part of the brie. Place the pieces of the garlic into the intersections on top of the brie, and sprinkle with red chili flakes.

Place the brie in a small, round, shallow oven safe dish – this needs to be a bit larger than the brie itself. The dish can be round, square, oval or rectangle. If a dish isn't available, place on a piece of parchment paper, and either twist the sides or crumple up the baking paper.

Bake for around 12 – 18 minutes, or until cheese is melted. It will take about 12 – 15 minutes for a 200g round of brie, and longer for a 250g round of brie. The brie should feel very soft in the center, if you touch it.

Carefully transfer the brie to the serving board. Be particularly careful if you have used parchment paper / baking paper, as the brie can collapse.

Serve immediately. Make sure to keep a cheese knife on the sides to cut through the brie, and also to scoop up the cheese on the toast or crackers. The brie should melt when you cut through it.
Notes
Brie selection: Any brand of brie will work for this recipe – just make sure to look at the ingredients and the source of rennet for dietary restrictions (halal and/or vegetarian), if any. Don't get a small round of brie. Get at least a 200g or 250g round of brie. I prefer the Aldi emporium selection brie round.
Leftovers: Once the brie comes to room temperature it will harden. Reheat for a few seconds in the microwave, and it will turn creamy again. Otherwise, leftovers can be placed in the fridge in an airtight box for a few days. The leftover cheese can be added to sandwiches, wraps, omelets, and even in pasta bakes.
Serving size and nutrition: Nutrition per serving assumes 5 servings for a 200g / 7 oz brie round, excluding crackers and other sides. 200g / 7 oz brie is enough for 5 people, possibly more, if there are other cheese options on the cheese board. Brie can be quite rich, especially when melted so a little goes a long way.
Nutrition