This delicious lasagne made with mincemeat, white sauce, mushrooms and lots of cheese is seasoned with Pakistani spices for a Desi kick. 
The spelling of lasagne has always confused me. Is it lasagna or lasagne? Turns out both are correct, depending on the speaker's origin. English speakers from North America call it lasagna whereas people outside North America use lasagne. The word itself originates from the Italian language, because of course, the recipe is from Italy. In Italian, lasagna is the singular noun and lasagne is the plural, but in English, both the plural and the singular forms are treated as mass nouns, taking singular verbs. Whatever you end up calling it, the important thing is that it's a dish that is loved across the world!
Inspite of it's popularity, lasagne is a recipe that I never tried making. I used to find it too meaty and tomato-ey for my taste, and boiling those lasagne strips was a hassle. Then a friend sent me a version she makes in return for cookies I sent her (best kind of friends!). It was just delicious, and primarily because it incorporated ingredients and flavors I loved. The meat sauce was saucy, but it wasn't chock-full of tomatoes like most other lasagne dishes that I have eaten. The white sauce was properly seasoned, and it actually had a spicy kick to it. Unfortunately, for our Desi taste-buds, the original can be a bit bland.  There were sliced mushrooms, and herbs for additional flavor. Lastly, there was cheese and quite a bit of it. But in moderation with the rest of the ingredients. 
This is her recipe, with a few additions from my end.
Please note that this particular recipe is a Desi version of lasagne, and not a true authentic lasagne with ricotta filling and a bolognese sauce that is simmered for hours. I hope I get a chance to try that out one day (through a trip to Italy hopefully), and then I can share a recipe for that too. But till then, this particular recipe is quite delicious, and honestly, with the difficulty of finding ricotta in Pakistan, far more doable.
Would love it if you could try out and rate the recipe, and let me know how it was in the comments below! And if you are looking for a quick tomato sauce recipe, just click HERE
To keep updated with recipes, stories and so much more follow me on Facebook here, Instagram here and Twitter here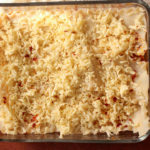 Lasagne with Mushrooms & Bechamel Sauce
This delicious lasagne made with mincemeat, white sauce, mushrooms and lots of cheese is seasoned with Pakistani spices for a Desi kick.
Total Time
1
hour
20
minutes
Ingredients
For Meat Sauce:
3

tablespoon

oil

1

can

mushrooms (425 grams)

sliced

2

teaspoon

garlic paste

divided

1/4

teaspoon

red chilli flakes

optional

2

medium onions

chopped

1/2

kg

mincemeat

chicken or beef

1/2

teaspoon

Whole Spices/Sabit Garam Masala

optional for Desi flavor - 3 cloves/laung, one black cardamom pod/bari elachi, 1/2 inch cinnamon bark/daal chini ka tukra

1/2

teaspoon

black pepper

1/2

teaspoon

chilli powder

1/2

teaspoon

coriander powder

optional

1 1/2

teaspoon

salt

4

tablespoon

tomato puree

2

tablespoon

ketchup

1/2

teaspoon

dried oregano

more to sprinkle between layers
White Sauce/Bechamel Sauce:
4

tablespoon

butter

4

tablespoon

flour

2

cups

milk

1/2

chicken cube

1/2

teaspoon

salt

1/2

teaspoon

black pepper

2

tablespoon

cheddar cheese
For Layering
1

box

lasagne strips

about 14 - 16 should be good

6

tablespoon

chilli garlic sauce

to spread between layers or ketchup if mild spice is preferred

1 /2

cup

cheddar cheese

1/2

cup

mozzarella cheese

1/2

teaspoon

oregano

1

tablespoon

butter
Instructions
Meat Sauce
Heat 1 tablespoon oil in a medium frying pan or pot. Add sliced mushrooms, along with 1/2 teaspoon garlic paste. Saute till lightly browned. Season with 1/2 teaspoon salt and 1/4 teaspoon red chili flakes.

Take mushrooms out of the pan and set aside.

Add the remaining oil in the same pan, and add chopped onions. Fry till light golden. Add whole spices, if using, followed by garlic paste. Saute for about a minute.

Add mincemeat and cook for a few minutes till meat changes color. Add salt, black pepper, chili powder, tomato puree and ketchup. Bring to a boil and then cook on simmer, till cooked through. The time duration will be less for chicken mince, and more for beef mince.

Add sliced mushrooms and dried oregano and cook for 2-3 minutes. Turn the heat off, and remove the whole spices from the meat after meat has been cooked.
White Sauce
In a small saucepan, melt the butter on low flame. Add flour, and whisk quickly for about a minute making sure the flour doesn't burn. A thick paste will be formed.

Add milk and keep whisking to make sure there are no lumps. Cook on low heat till bubbles appear on the side, and mixture is thick. Add chicken cube, salt and pepper to taste, and cheddar cheese.

In case white sauce gets thick or there's only a little bit left, add more milk and whisk.
Assembly:
Boil lasagna strips as per packet instructions. Set aside.

Take a glass pyrex square/rectangular baking dish. I personally used a 9 by 9 inch square one. Lightly oil the bottom of the dish and then spread the strips on it, cutting any edges if necessary. Place meat sauce over the strips then the white sauce. Spread 2 tbsp of chili sauce if using.




Sprinkle with cheese, oregano and then start on the second layer (strips, meat sauce & white sauce). End the layers with lasagne strips on top.

Cover the top layer with white sauce, cheese & oregano. Bake in a pre-heated oven for 10 minutes at 200 centigrade till cheese melts, and is browned from the top.
Recipe Notes
Reserve the best lasagne strips for the top and if there are any torn pieces, put them in the middle.
Cut with a sharp serrated piece to be able to cut square pieces showing all the layers.