This mango coconut trifle (or mango coconut layered dessert) is a delicious tropical dessert made of layers of sponge cake, whipped cream, fresh mango, and toasted coconut. Read on for the recipe, along with flavor variations.
Jump to Recipe
The dessert I am sharing today is a recipe that I created completely by accident. I had planned on making a sponge roll but the recipe I tried was a disaster. The sponge itself tasted nice, but it just wouldn't roll properly. I had spent quite a few hours making the sponge so I didn't want to throw it away so I looked through my fridge for inspiration. I had some whipped cream, and also fresh mangoes, and that's when I thought let's do a layered dessert with the sponge as the base, and cream as the filling. Basically a mango coconut trifle but with cream instead of custard as the filling. To be honest, I was worried about the taste because I am not a fan of too much cream. But when I had a bite of this dessert, I was just blown away by how delicious it tasted. The light and airy sponge complemented the cream so well, and the bursts of fresh mango and coconut added just the right amount of sweetness and crunch. I tweaked the recipe after that, and it's now become my new favorite summer dessert. Perfect for the mango season.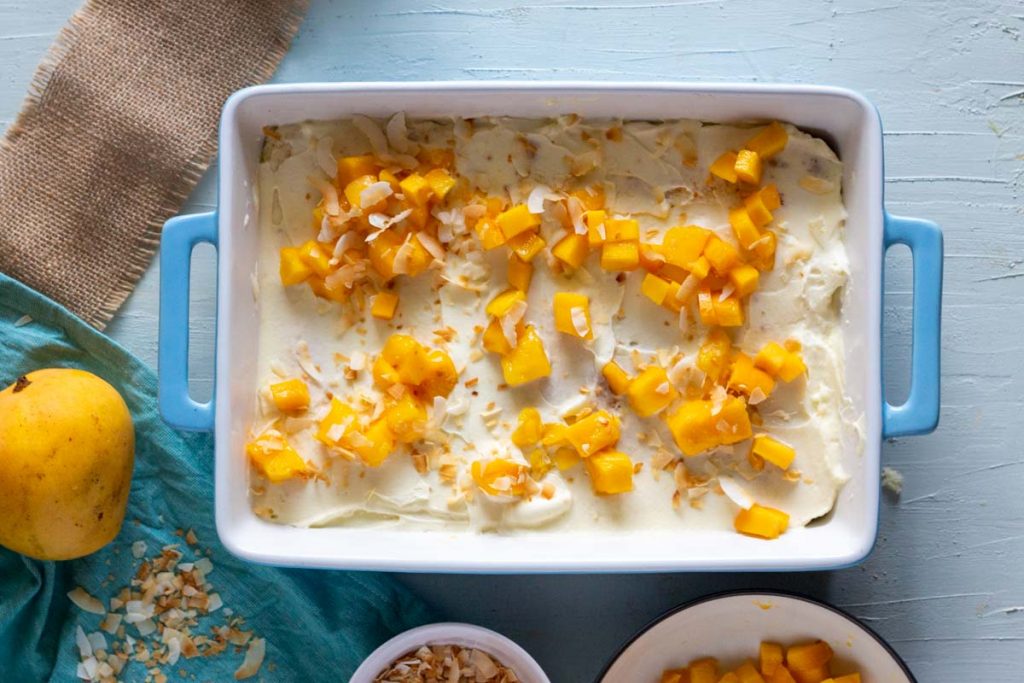 Mango coconut trifle – the ingredients:
There are four main components to this dessert, and they can be prepared in advance making this the perfect dessert to serve at a party.
Sponge cake: I have used sponge cake as the base for this layered dessert because of it's light and airy texture. If you don't have time to make the sponge cake from scratch, you can get it from the supermarket or the bakery. This dessert is also a great way to use up leftover sponge cake.
Whipped cream: Lightly sweetened whipped cream flavored with vanilla is the perfect complement to the sponge cake.
Mangoes: This is a mango dessert and diced mangoes are a must for the filling as well as the topping. Make sure to select sweet and firm mangoes so they are easy to cut and keep their shape. In case fresh mangoes aren't available, it's possible to use mango puree or another tropical fruit such as pineapples, kiwifruit, passionfruit, or strawberries.
Coconut: Mangoes and coconut make for a delicious tropical fruit combination. Make sure to toast the coconut for added flavor. I have used coconut slices, but it's also possible to use desiccated or shredded coconut.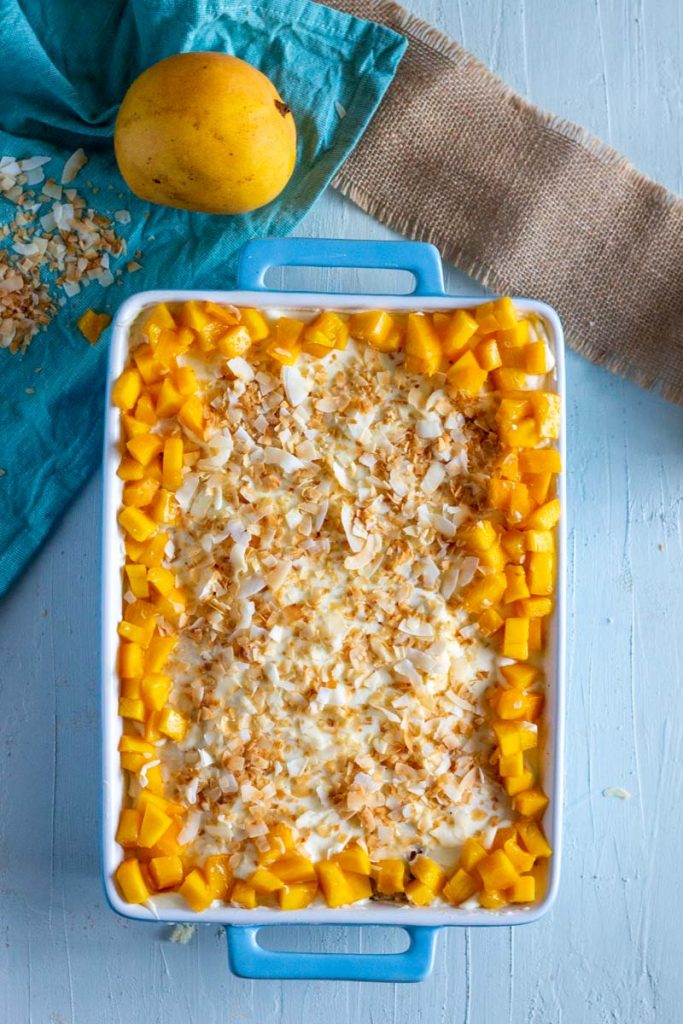 Serving suggestions:
This dessert can be served in a variety of ways, depending on the size of the gathering, and the formality of the event.
Large Rectangle Dish: This style of serving the dessert is similar to an icebox cake and is my preferred method. The reason being that since the sponge cake is baked in the form of a rectangle, it's quick to assemble. Plus it's easy to slice and serve, and can be made in two dishes as well for larger gatherings.
Trifle: This dessert can be served in a trifle bowl like a traditional trifle. Make sure to use a glass trifle dish so that it's possible to see all the pretty layers from the side. It's also possible to serve this dessert in mini trifle bowls.
Individual dessert jars: It's also possible to make individual portions of the dessert in glass bowls or glass jars. Use a cookie cutter to cut the cake to size, and layer accordingly.
Mango coconut layered dessert – variations:
The best thing about layered desserts is how versatile they are. Here are some ideas on how to play around with this dessert.
Use other fruits instead of mango, or even a mix of fruits to make this trifle. Tropical fruit such as passionfruit, kiwifruit, and pineapple would taste delicious. It's also possible to use berries such as strawberries, blueberries, or raspberries. It's also possible to use canned fruit such as canned pineapple or a can of tropical fruit cocktail. The syrup can be used to moisten the sponge cake, while the fruit can be used as the filling.
Instead of coconut, it's possible to use sliced or crushed nuts. Almonds, pistachios, walnuts, or macadamias would complement mango beautifully, and add flavor as well as crunch to the dessert. It's also possible to use a praline for an added burst of flavor.
Add more flavor to this layered dessert by adding your favorite sauce or fruity condiment such as chocolate ganache, salted caramel sauce, strawberry syrup, or a fruit coulis.
If you don't have sponge cake, you can use pound cake. Remember to drizzle milk or sugar syrup since pound cake can be dense. It's also possible to skip the cake and use tea biscuits in this dessert. In that case, this will be similar to an icebox style cake so a mango coconut icebox cake. If you are using biscuits, you will have to chill the dessert at least for 12 hours so that the biscuits can soften.
Would love it if you could try out and rate the recipe, and let me know how it was in the comments below!
To keep updated with recipes, stories and so much more follow me on Facebook and Instagram
If you are looking for more dessert recipes, do try out the following:
📖 Recipe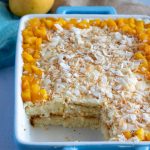 Print Recipe
Mango Coconut Trifle | Mango Coconut Layered Dessert
This mango coconut trifle (or mango coconut layered dessert) is a delicious tropical dessert made of layers of sponge cake, whipped cream, fresh mango, and toasted coconut.
Ingredients
Sponge Cake
4

eggs

at room temperature

2

cups

finely ground sugar

see note 1

2

cups

flour

2

teaspoons

baking powder

½

teaspoon

salt

1

cup

milk

¼

cup

butter

2

teaspoons

vanilla essence
Whipped Cream
400

ml

cream

chilled

1

cup

icing sugar / powdered sugar

½

teaspoon

vanilla essence
Toppings & Assembly
½ - 1

cup

milk

2

medium mangoes

diced

1

cup

sliced coconut

toasted
Instructions
For the cake
Preheat oven to 180 C fan forced (360 degrees F). Grease and flour a 9x13-inch baking pan.

Place flour, baking powder, and salt in a medium sized bowl. Mix together with a fork.

Place eggs in a large bowl and beat with an electric whisk or a stand mixer on high speed until lemon coloured.

Gradually add sugar, and continue beating until the mixture is thick, about 5 minutes.

Fold in the flour mixture using a spatula.

In a small microwave-safe bowl, warm up the milk till small bubbles form at the edge. Stir in the butter, and vanilla essence.

Add the milk and butter mixture to the batter, and lightly combine. This can be done with a spatula, or an electric whisk on low speed. Make sure you don't overbeat.

Pour the batter into a prepared pan, and bake in a pre-heated oven until a toothpick or skewer inserted in the center comes out clean, 25 to 30 minutes. Let the sponge cake cool for a few minutes, and then take it out on a wire rack to cool completely.

This recipe makes a large cake – you will need about 75 – 80% for the trifle / ice box cake. The rest of the cake can be eaten (it's delicious with a cup of tea), or you can make extra whipped cream, and make an additional small trifle / ice box cake.
For the cream
Place cream in a large bowl and beat with an electric whisk till soft peaks form. Add sugar gradually and continue beating till stiff peaks are formed. Stir in vanilla essence, and set aside in the fridge to chill.
For Assembly
Once the cake has cooled use a serrated knife to cut off any domed edges from the top. Then cut the cake in half lengthwise. This will create a thin layer that can be used for the layering.

Take a rectangle glass serving dish (I used the Pyrex 4.5L rectangle dish) and place a layer of sponge cake at the bottom. Drizzle milk on the sponge cake, and then top off with half the whipped cream. Add ¾ cup mangoes, and ½ cup toasted coconut.

Top off with another layer of cake, and drizzle with more milk. Top with the remaining whipped cream and use a spatula to smoothen out the top. Keep in the fridge for at least 6 hours to soften, chill, and let the flavors develop together.

Take out the trifle 15 minutes before serving, and garnish with the remaining cubed mango, and toasted coconut. I prefer to do the final topping garnish in the end, so the coconut remains crispy, and the mango doesn't get mushy.
Nutrition