A detailed guide on how to make a layered dessert. It talks about all the different ingredients that can go into making such desserts and how to mix and match them to create your own dessert. List of possible flavour combinations to work with and serving instructions at the end of the blog post. 
Layered desserts are some of my favourite types of desserts to make. Super easy to put together. Just mix and match different components (could be made from scratch or store bought) and start layering. 
So what exactly is a layered dessert? 
It's a type of dessert where the various components are layered together to create a cohesive dish. Biscuits, cake, pudding, custard, fruits and nuts are just some of the ingredients that people to create these layers.  There are some layered desserts that have familiar names such as the English trifle, the Italian tiramisu, Banoffee pie, American style no bake cheesecakes, meringue tortes but quite often people give their own names to such desserts such as berry surprise, chocolate lasagne, banana pudding pie, custard chocolate pudding depending on the ingredients that they put in it. 
And this is a major reason why I love layered desserts - they are immensely adaptable and they always taste delicious. Plus they are a great way to use up leftover ingredients! 
Leftover cake in the house which no one is eating - let's make a trifle out of it.
Made a pavlova with too many cracks - make an Eton mess. 
Leftover caramel sauce - make vanilla pudding, add some fruit and nuts and here's a fancy dessert ready to serve.
So what I want to do today is share a guide on how you can create layered desserts - the different components that go into them with what ingredients you can use for those components along with popular flavour combinations. I will be linking some of my favourite recipes but I want this guide to be a way to experiment and create your own desserts. 
Things to keep in mind when making a layered dessert: 
Ratio of components in the layered dessert is important. There needs to be a soft layer and there needs to be texture and crunch as well. A good ratio that I follow is 1 part base to 2 - 2.5 parts filling to 1 part topping. 

Make sure that the flavours in the dessert compliment each other. Pick a primary flavour let's say vanilla and then think of the rest of the rest of the components. For instance, if vanilla is your primary flavour you can complement it with chocolate crumbs base and caramel sauce or you can go tropical

and pair pineapple and coconut together with a vanilla whipped cream filling.

But at the same time, make sure the flavours don't overwhelm together. Adding vanilla, chocolate, pineapple, coconut, strawberries and nuts all in one dessert may not be the best idea. Check out the end of the blog post for popular flavour combinations.  
First step - decide the base:
There are a multitude of options when it comes to deciding on the base of a layered dessert. For instance: 
Plain cake - any plain cake can be used as the base of a layered dessert.  Buy ready made from the local bakery, make one from a boxed cake mix or make your own completely from scratch - all will work. Vanilla, chocolate, almond whatever is available - just as long as there's no frosting. My favourite option is the bakery style plain vanilla cake because it lends itself to so many flavour options. Depending on the serve ware used, the cake can be sliced or torn into crumbs to be used as the base. Note: To add more flavour or to moisten cake that is dry add sugar syrup (flavoured or plain) for vanilla cake or brewed coffee for chocolate cake. Other options include strawberry jam and milk.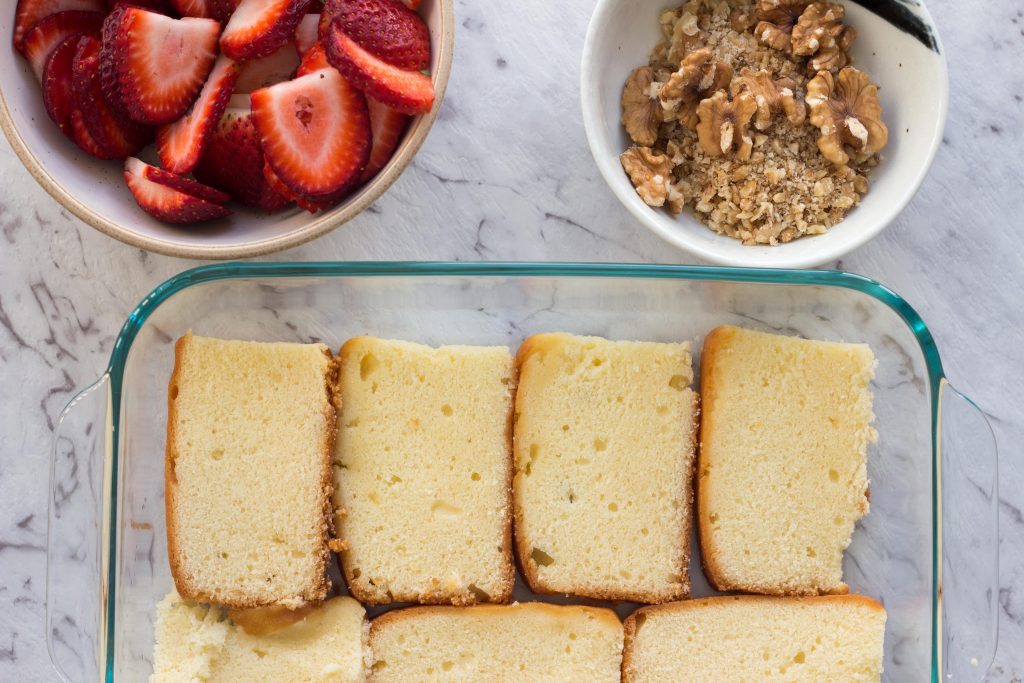 Brownies - brownies are another great idea for a layered dessert base especially when they are torn up into pieces. They can be quite rich though so make sure to ensure the filling is balanced accordingly. If they are on the dry side soak them for a few minutes in coffee syrup or sugar syrup.  
Biscuits - plain tea biscuits, digestives, graham crackers also make for a great dessert base. And let's not forget the recent popularity of Lotus Biscoff biscuits. The biscuits can be used as is or can be dipped in a liquid (such as milk or coffee) if they are on the crisp side. For instance, in my pineapple dessert fiesta I use Marie biscuits and I dip them in milk.  An absolutely scrumptious dessert made using Biscoff biscuits and Biscoff spread is the Biscoff Lasagne by Walla Abueid.  
Biscuit Crumbs - blitz up your favourite biscuits into crumbs using a food processor or a rolling pin and use it as a base layer. This works particularly well for cream style biscuits like Oreos. Biscuit crumbs can also be mixed with melted butter to create a pastry style base layer that can be used for tarts, pies etc. Just pulse biscuit crumbs with melted butter, press into a baking pan and bake in the oven for about 10 minutes till golden brown. The filling can be poured over the cooled crust and allowed to set. Some options for biscuits to be used as crumbs include Marie, Digestives, Hobnobs, Biscoff, graham crackers. 
Oats and nuts (great option for Vegan desserts) - other options for base layers include oats and nuts but they need to be pulsed together with other ingredients like butter to create a uniform base. Nuts and oats can also be mixed with biscuits to add more texture to your dessert. 
Second step - decide on the filling: 
Options for fillings include: 
Pudding - be it homemade or from a packet, pudding is one of the most popular fillings in a layered dessert. In fact, multiple layers can also be created such as a vanilla pudding layer followed by a chocolate pudding layer. If you want a recipe using vanilla pudding check out Maham Alavi's famous chocolate eclair dessert here. Puddings can also be made with non-dairy milk for a vegan option. 
Custard - custard is also a popular filling in layered desserts. Compared to pudding, custard is thicker and firmer. Both taste delicious, just the texture is different so keep that in mind when using either of them in a layered dessert. Again, custard can be made from a packet or from scratch. 
Cream cheese - cream cheese is also a popular filling in layered desserts and can be used in many different ways. It can be used as is, or folded together with heavy cream to make it lighter which is what I did when making these no bake cheesecake jars. It can also be mixed with gelatin to make a no bake cheesecake.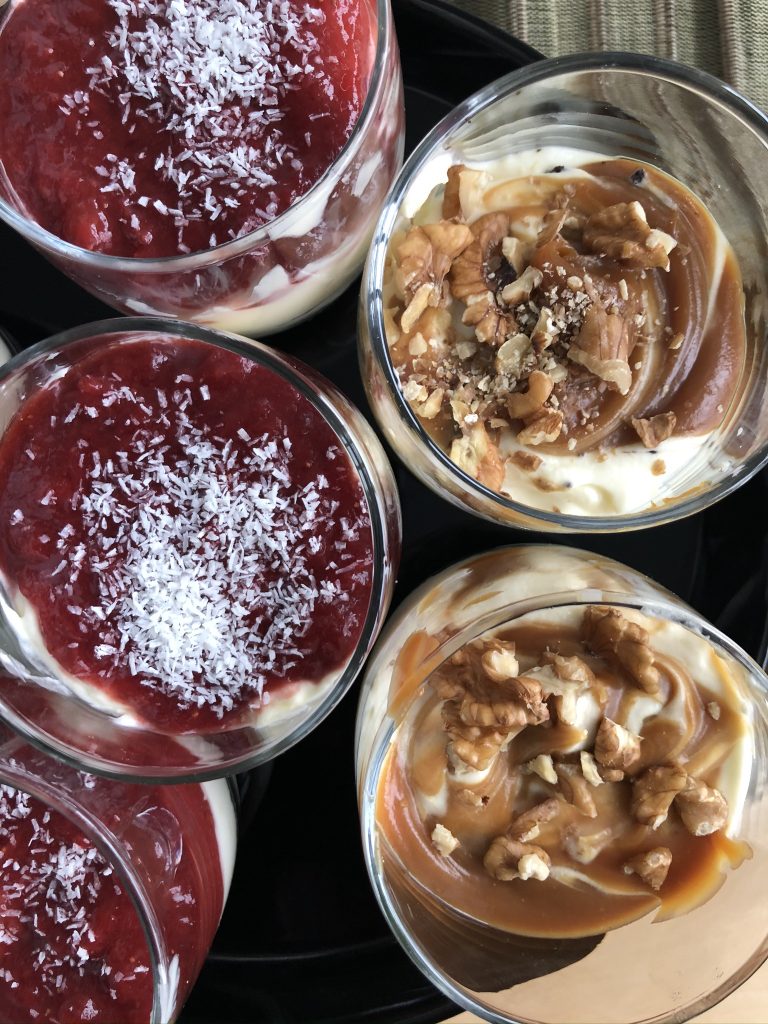 Cream - cream once whipped up into soft peaks can also be used as a filling in layered desserts. It can be used plain (just sweetened with sugar) or with different flavours.  The definition of cream that can be whipped will vary from country to country but generally speaking cream that has a high milk-fat ratio (35% and above) will be easier to whip and also hold it's shape once whipped. In Australia, the cream that I use is thickened cream and is available in the fridge section in supermarkets and has a 35% fat content. In the US, Canada and UK this form of cream goes by the name heavy cream, whipping cream or heavy whipping cream. Whipping cream is a little lighter at around 30% milk fat whereas heavy cream or heavy whipping cream is around 36% milk fat. In Pakistan, the most common cream available is in tetra pak form. It can be whipped into soft peaks especially after it's chilled but as the fat content is on the low side (around 30%) it won't hold it's shape once whipped. Basically, it can be used as a filling but piping rosettes is tough. For an absolutely delicious dessert made using cream and caramel check out this Gaytime Slice by Walla Abueid here.
Whipped topping (option for vegan desserts) - Cool whip in the US and Whippy whip in Pakistan are what is known as whipped topping or imitation whipped cream. The benefit to them over normal cream is that they are easy to whip up and are far more stable especially in humid climate countries such as Pakistan. They are also normally vegetable fat based and thus if you are making a layered dessert for someone who is vegan or has dairy allergies, these are a good option. Certain brands like Dream Whip are available in powder form and can be kept in the pantry - just whip with milk and vanilla to create a creamy mixture that can be used as a filling or a topping. In my pineapple coconut dessert fiesta I have used Dream Whip / Cool Whip with cream as the filling.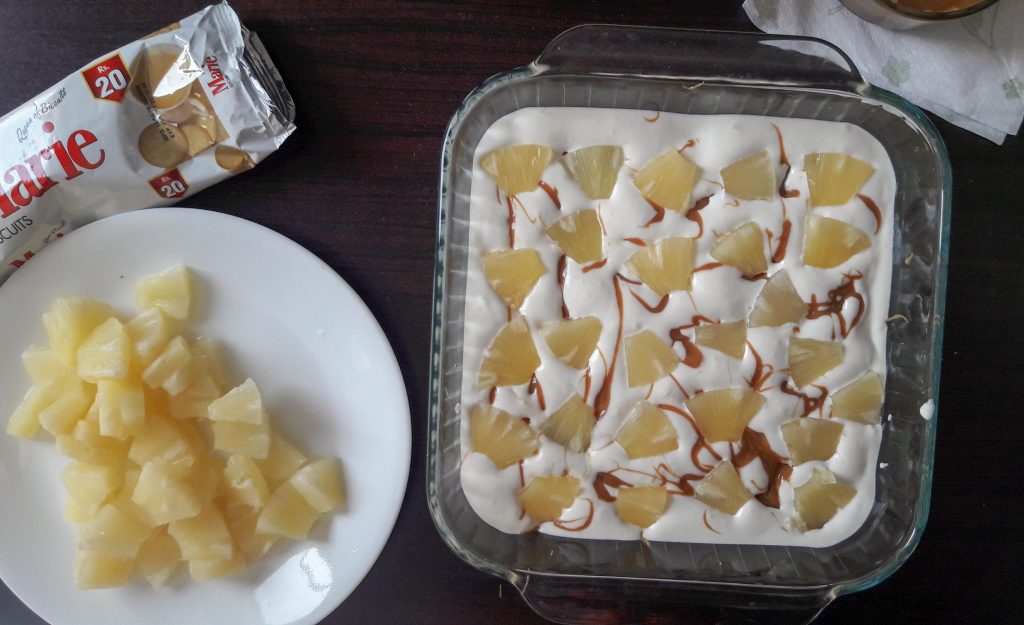 Other: Other filling options to consider are condensed milk (needs to be mixed with some sort of cream though), mascorpone cream (can't make a tiramisu without this), coconut cream (excellent option for a vegan layered dessert), qashta cream (super popular in the middle east) and ice-cream (to create an ice-box layer cake)
Third step - decide on the toppings and flavours:
This is where the fun begins! You can use one or multiple toppings, just make sure that the flavours complement each other. If you are doing layered desserts in a jar or small bowls you can create multiple options to cater to different taste buds. For instance, when I made no bake cheesecakes in a jar (recipe here), I used caramel sauce and walnuts in one version and strawberry compote and coconut in the other version. Some options for toppings and flavours include:
Fruits - fruit adds flavour and looks stunning especially if it's added in multiple layers. Fresh fruit, canned fruit and even fruit cooked with sugar to make a fruit compote can all be used. Some of my favourite fruits to use in a layered dessert are strawberries, kiwis, bananas, mangoes and pineapples. In my recipe for vanilla pudding, I have used sliced strawberries in combination with caramel sauce and nuts to create a visually stunning dessert. 
Nuts - Nuts are a great way to add texture and crunch to a layered dessert. They can be crushed, sliced, ground into powder or just left whole depending on how you want to use them in the dessert. They can also be toasted to add a nutty flavour or mixed through with caramelised sugar to make praline. Pistachios, walnuts, almonds, peanuts are some of my favourite options to experiment. 
Jelly - super simple topping that is a favourite among kids, and also adds colour to your dessert.
Sauces  - Chocolate, strawberry and caramel are some of the most common flavours available. And let's not forget Nutella! 
Caramel - though it is a type of sauce, I am going to give caramel a category of its own because I love it so much. Salted caramel (recipe here), dulche de leche (recipe here) or a butterscotch caramel are just a few of the options that you can make at home or you can buy a jar of caramel sauce from the supermarket. Shehzeen (aka Desi Wonder Woman) has a yum pineapple toffee dessert on her blog (recipe here) in which she whips up a super quick toffee caramel sauce on her stove. Just remember that caramel is on the sweet side so you will need to balance the rest of the ingredients accordingly. One of my favourite desserts to make with salted caramel is this salted caramel custard with a base of chocolate crumbs, caramel custard filling and salted caramel on top. 
Chocolate - use chocolate to make a ganache or just grate and use as is. The adaptability of a layered dessert means that you can use cooking / baking chocolate as well as regular chocolate brands (plain or flavoured) such as Cadbury, Flake, Galaxy, Hershey's, Snickers, Mars, Bounty, Kit Kat etc. Just remember that confectionery chocolate is sweeter than baking chocolate and thus the dessert will need to be balanced accordingly.
Fourth step - decide how you are going to serve the dessert: 
Presentation is key in a layered dessert. Look at the ingredients that you have and then decide on the right serve ware.  Some points to consider are: 
Is the dessert going to be shared family style or is it going to be individual servings? 
Is it going to be one layer or multiple layers? Look at the components you have and then pick the right size dish. 
Changing the serve ware is still possible after you have layered the base, but the moment you place the filling the layers will be messed up if you move things around. 
Options include trifle bowls, glass dishes (square or rectangle) or individual glasses / bowls. Glass is preferred to see the layers but not necessary. 
And finally, below are some flavour combinations to consider when creating your own layered dessert: 
Use the following flavour combinations as a guide to creating your own layered desserts. For instance, if I had chocolate cake or chocolate brownies that I wanted to use up, I would make a base layer of the brownie or cake, top it with vanilla pudding or custard and then drizzle with caramel sauce and nuts. On the other hand, if I had some vanilla cake, I would pair it with a vanilla pudding filling and top it with sliced strawberries and coconut.
Blueberry, coconut and vanilla 

Chocolate, vanilla and caramel 

Chocolate and coffee 

Chocolate and vanilla 

Chocolate and peanut butter 

Dark chocolate and orange 

Lemon, vanilla and berries 

Lemon, vanilla and coconut 

Strawberry, chocolate and vanilla 

Vanilla, strawberries and coconut 

Vanilla, pineapple and coconut - classic Pina colada flavour 

Vanilla, mango and caramel 

Vanilla, banana and caramel - think banoffee pie 
I hope this blog post was helpful to you - do let me know some of your favourite layered dessert combinations in the comments section below.
In case you are looking for other dessert recipes, do try out the following:
To keep updated with recipes, stories and more follow me on Facebook here and Instagram here