Rice kheer or chawal ki kheer is the Desi equivalent of rice pudding. It's a dessert that suits all occasions - be it a weeknight dinner with the family, a fancy party thrown for friends and family, an Eid celebration, or a wedding. 
Jump to Recipe
All you need to make it are a few pantry staples - rice, milk and sugar along with your preferred flavourings. Considering the ease of availability of these ingredients, it's no wonder that rice kheer is one of the most common Pakistani and Indian desserts. I have used cardamom, nuts and edible rose petals in my recipe but read on ahead to find some other options on how to flavour this creamy and delicious Desi dessert.   
What is kheer?
Kheer is the generic term given to a style of pudding dessert popular in India and Pakistan. It can be made from vermicelli (seviyaan kheer), tapioca (sabudana kheer), sweet potato (shakarkandi kheer) but the most common form of kheer is the chawal ki kheer (rice kheer). In fact,whenever the term kheer is used it is usually referred to chawal ki kheer. 
How to serve chawal ki kheer? 
Chawal ki kheer can be served hot or cold, and can be had with the meal or at the end of the meal. In fact, one of my favourite ways to eat kheer is actually for breakfast. A traditional Pakistani breakfast usually has one sweet element, either a halwa or kheer which one can eat with puri or paratha. It does sound odd but the combination of a hot crispy paratha with chilled kheer is scrumptious - if you get the chance, I highly recommend you try it out someday. Btw - this traditional Pakistani breakfast is reserved for special occasions or weekend brunch. There's no way I am making such a fancy breakfast on a daily basis. 
So many flavour options
This Desi rice pudding is pretty great on its own, but is also the perfect base for all sorts of flavour additions. Here are some options for you to experiment with. 
Cardamom: this has to be the most common kheer flavouring, and is a must whenever I make kheer, or any Desi dessert. I use cardamom seeds, which I crush in a mortar and pestle, however, cardamom powder can also be used. 
Nuts: Nuts add flavour, crunch and also act as a super pretty garnish. I mix some through the kheer mixture and then add the rest on top. I usually use almonds and pistachios but cashews and walnuts can also be used. If there is someone in the family who doesn't like nuts or has a nut allergy, you can set kheer in a separate bowl for them without the nuts. 
Saffron: my family loves the flavour of saffron, and when I am making kheer for a special occasion such as Eid I will add saffron. A few strands of good quality saffron is all that's needed to give your kheer a beautiful golden yellow colour, and a delicate aroma. 
Rose water and/or dried rose petals: a few drops of rose water gives the kheer a delicate floral aroma and taste. Adding edible dried rose petals is another way to add the same flavour, while also acting as a stunning garnish. 
Coconut: Dessicated coconut would taste lovely in kheer. To amp up the coconut flavour you can also use coconut milk and garnish with slivers of dried coconut. 
Raisins or sultanas: I am not a fan of raisins, but these are also a popular addition to kheer. 
Kewra: Kewra is known as screw pine essence in English and is extracted from the thick leathery yellow green flower petals of the pandanus tree. It's got a unique floral flavour and is used in Desi desserts. 
Can kheer be made vegan?
Yes, it can. Just substitute the milk with a plant based alternative such as almond milk, coconut milk or oat milk. Soy milk can also be used, but it does have a unique and strong flavour that would not go well with kheer.
Looking for more Pakistani and Indian desserts? Check out the following:
Sheer Khurma (Vermicelli in Milk)
Chana Daal Halwa (Traditional Desi dessert made from chana daal / split bengal gram)
📖 Recipe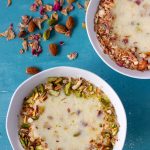 Print Recipe
Rice Kheer | Chawal ki Kheer | Rice Pudding
The Desi version of a rice pudding, chawal ki kheer is a popular dessert from India and Pakistan. Made with just a few pantry ingredients, this simple dessert is quick to make and tastes delicious. Can be served hot or cold.
Ingredients
½

cup

basmati rice

1 ¼

litre

milk

½

cup

water

3

cardamom pods

1

cup

sugar

2

tablespoons

pistachios

sliced

2

tablespoons

almonds

sliced
Instructions
Wash and rinse the rice. Soak for 30 minutes.

Remove the cardamom seeds from the cardamom pods, and lightly crush in a mortar and pestle.

Place milk, water and cardamom seeds in a heavy bottomed pot and bring to a gentle simmer (should be hot but not boiling). Drain the water from the rice and add it to the milk.

Cook the rice and milk mixture on low simmer for around 1 hour. Once the rice is soft, stir vigorously with a whisk to mash the rice and break into small pieces. An immersion blender can also be used for a few seconds to break the rice up.

Make sure to keep stirring every few minutes so the milk doesn't scald on the bottom of the pot. As the kheer cooks, a layer of milk skin (known as malawill form on the top of the milk - it can be removed but I mix it in as it adds texture to the kheer.

The longer the kheer cooks, the milk will reduce further and the texture will get thicker. So adjust cooking time based on preferred consistency.

Add the sugar, and cook for another 10 minutes making sure to stir every 1 - 2 minutes.

Add 1 tablespoon sliced pistachios and 1 tablespoon sliced almonds, and stir through. Any additional flavourings can also be added at this stage.

Cook for a few more minutes, and turn off the heat.

Kheer can be served warm or cold. Most people prefer it cold.

The kheer will thicken further as it cools, so pour it into the desired serving bowls to set. Garnish with remaining pistachios and almonds. I decided to decorate one bowl with sliced almonds and edible rose petals.

Let the kheer come to room temperature, and then chill in the fridge.
Nutrition