Shahi Tukray is a traditional Pakistani dessert made with fried bread slices soaked in cardamom & saffron infused milk. A Desi version of a bread & butter pudding. 
One of my favorite traditional Pakistani desserts has to be Shahi Tukray – deep-fried slices of bread soaked in a creamy cardamom and saffron scented milk mixture. Left to soak in the fridge for a couple of hours and the end result is truly divine!
Similar to an American bread & butter pudding this dessert has pretty humble beginnings. There are no croissants or ciabatta or any sort of artisanal bread. Just simple white bread, preferably a day old. Crusts removed – save the edges to make breadcrumbs for another recipe. But what transforms this breakfast staple to something truly decadent is the cooking technique. Deep frying – that's the magic ingredient! No toasting or shallow frying; the bread needs to be deep fried so it gets all crispy & crunchy. Yes, please do use a slotted spoon and kitchen towel to drain out excess oil but make sure you fry the bread.
Meanwhile, heat milk with a bit of elaichi powder. Turn heat on low and then let it simmer for at least an hour. Make sure you keep stirring every couple of minutes – no one wants burnt milk. Soon the milk will take a light yellow hue as it caramelizes. That's the next magic ingredient – slightly caramelized milk which will the soaking liquid an extra ounce of flavor. Add cream, sugar and nuts – let them simmer for a bit more. Then start layering.
Wait as long as you can and be prepared to bite into true deliciousness – bread that's been imbued with mounds of flavor with just a little crispiness on the edges and nuts in every bite. Mmmmmmmm…………
Would love it if you could try out and rate the recipe, and let me know how it was in the comments below! 
To keep updated with recipes, stories and so much more follow me on Facebook here, Instagram here and Twitter here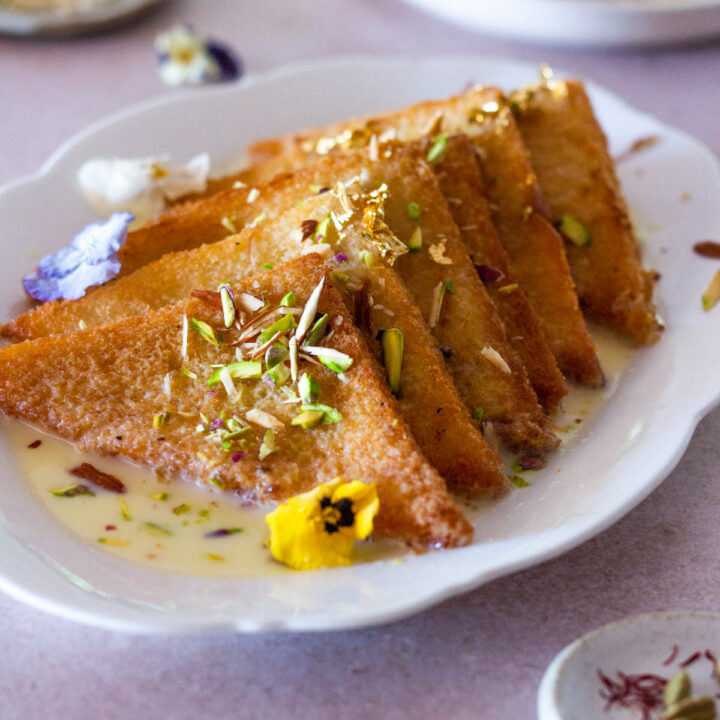 Print Recipe
Shahi Tukray
Shahi Tukray is a traditional Pakistani dessert made with fried bread slices soaked in cardamom & saffron infused milk. A Desi version of a bread & butter pudding.
Ingredients
1

litre full-fat milk

½

teaspoon

crushed cardamom seeds

elaichi

1 ½

cups

sugar

1

cup

cream

2-3

strands of saffron

optional

Pinch

yellow food color

not required if using saffron

3

tablespoon

almonds

crushed

3

tablespoon

pistachios

crushed

10 – 12

slices of large loaf bread

or 15 - 18 slices of normal size bread, preferably 1-2 days old

Oil

for deep frying
Instructions
Crush cardamom seeds in a small mortar or pestle. Alternatively use a coffee grinder (completely cleaned) or a rolling pin.

Add crushed cardamom seeds to milk. Heat on low-medium heat till it comes to boil.

Turn heat to low and let it simmer for 45 minutes – 1 hour. Keep stirring occasionally to ensure that the milk does not burn. The longer the milk is cooked, it will start reducing and changing color from white to off-white/cream.

Add sugar and cream to milk. Stir with a whisk to make sure the sugar dissolves and cream is mixed properly. Let it simmer for 10 - 15 minutes, stirring every few minutes.

Dissolve saffron (if using) in a tablespoon of milk and then add it to the hot milk mixture. Let it simmer for 2-3 minutes to let the flavor infuse. Add a pinch of yellow food color if required.

Crush almonds and pistachios and set aside. Add half of the nuts mixture in the milk and set aside the rest for layering and garnish. Turn off heat and set aside milk

Cut the crusts of the bread. (Don't throw away the edges – use them as breadcrumbs in some other recipe). Cut the bread slice into triangles or squares based on the dish / style you prefer. I prefer square because it's far easier to layer in a square or rectangle dish.

Heat oil and deep fry the bread pieces. Use a slotted spoon to remove bread and drain on kitchen towels.

Take a glass dish and start layering with fried bread, sweetened milk & nuts.

First put a layer of bread, then add milk to soak. Sprinkle some nuts and then start layering with bread, milk and topping with nuts. Sprinkle nuts for every layer and then on the top as per your preference.

Cover with cling wrap and then chill in the refrigerator for at least 3-4 hours and serve cold. The shahi tukray taste best when they are soaked in the milk properly, so choose a shallow rectangle dish. If using a deep dish, move the bread slices from top to bottom, and bottom to top after an hour of chilling to let them soak the milk properly.
Notes
Day old bread is best for making Shahi Tukray as fresh bread absorbs a lot of oil. Buy a large loaf preferably from the bakery - they are easier to handle and fry. Make sure you keep an eye on the milk when it is on simmer - it can burn.
Nutrition