Similar to a ground mince patty, rissoles are an Australian classic. These turkey rissoles are made with onion, zucchini, coriander and spices. Serve with a wedge of lemon and vegetables on the side.
Jump to RecipeClick here for the recipe
Rissoles is something that I found out about when I moved to Australia. It's a classic weeknight meal in Australia and rissoles are usually served with sides like steamed or roasted vegetables, roasted or mashed potatoes or perhaps a green salad. They are super easy to make, and can be ready in under 30 minutes, plus they can also be made ahead and kept in the freezer to fry as needed.
What is a rissole?
Rissoles are made from ground mince could be beef, chicken, turkey or lamb. The recipe I am sharing with you is for a turkey rissole. They are shaped into a circular round like a burger patty, but on the smaller side and they are not eaten with bread or burger buns like an American hamburger patty. Think bigger than a meatball and smaller than a burger patty. They are cooked in a pan or on a barbeque and are eaten on their own just like Indian style or middle eastern style kebabs. Unlike hamburger patties, an Australian rissole also contains more ingredients – there's the ground mince, along with herbs and spices, grated vegetables and breadcrumbs.
Why is the rissole so popular in Australia?
The Australian rissole gained popularity during the two World Wars as a way of stretching ingredients. Rissoles were made by mincing different off cuts of meat, and then adding leftover breadcrumbs, vegetables, spices, herbs to improve their flavour. Now the rissole is an Australian classic with every family having their own special recipe. Uncooked versions are easily available at the supermarket and the butcher, with cafes and pubs always having an option of rissoles on their menu.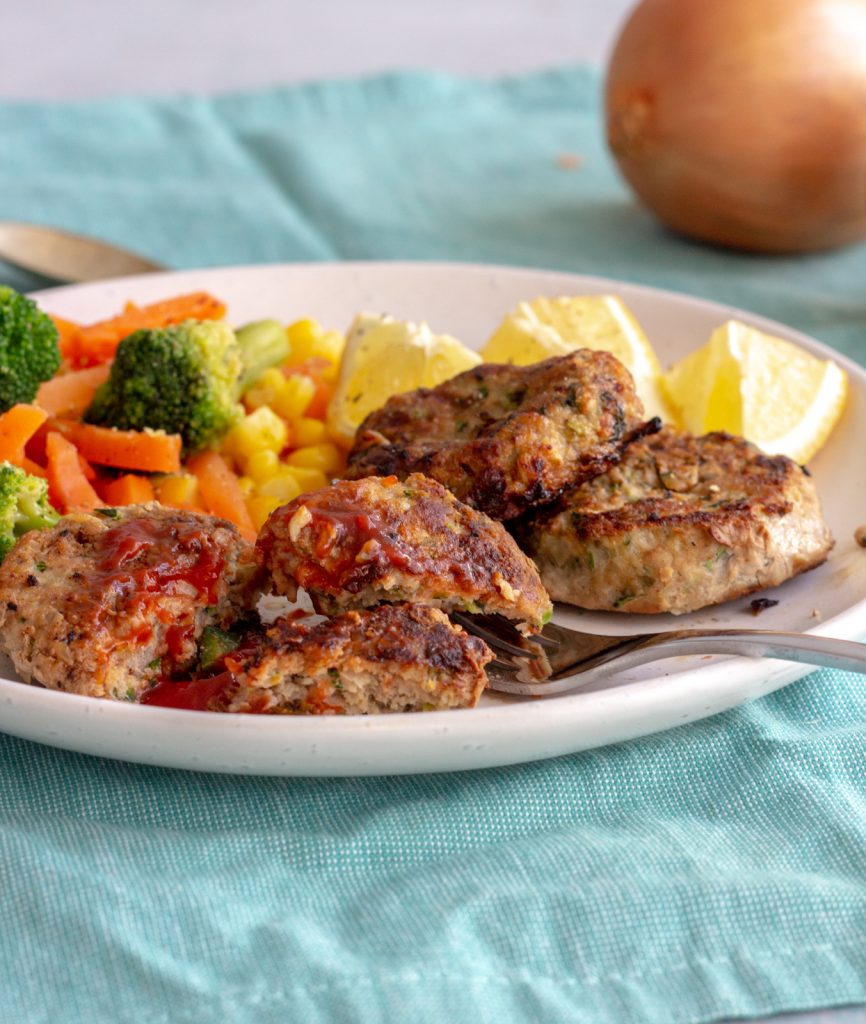 How do you make turkey rissoles?
Selecting the mince: Rissoles can be made with any type of ground mince. The reason I prefer making turkey rissoles is because turkey is leaner (and healthier) than beef mince, yet has the flavour and meaty taste that can be somewhat lacking in chicken mince. In case you don't have turkey mince, you can use whatever mince is available.
Add flavour and bulk with vegetables: A rissole always has vegetables – they add bulk, lighten the mince mixture and also add flavour. I have used onions and zucchini in my version, but carrots and peas are popular choices too. I have also seen options where people have added potatoes and cauliflower.
Season, season, season: Herbs and spices are necessary to add flavour to rissoles. In my recipe, I have used Worcestershire sauce, coriander leaves along with black pepper and red chilli powder for a bit of spice. Adjust spices to your taste, or play around with options such as parsley or other Italian herbs, smoked paprika, maybe some middle eastern spices.
Don't forget the breadcrumbs: Breadcrumbs are a necessary binding agent to form a proper rissole mixture. I am using panko style breadcrumbs for their crispy crunchy texture, but regular breadcrumbs can be used as well. The quantity of breadcrumbs may need to be adjusted depending on what vegetables are used, and how watery they are.
Looking for more kebab recipes - check these ones on the blog below:
Would love it if you could try out and rate the recipe, and let me know how it was in the comments below! 
To keep updated with recipes, stories and more follow me on Facebook here, Instagram here and Twitter here
📖 Recipe
Print Recipe
Turkey Rissoles
Similar to a ground mince patty, rissoles are an Australian classic. These turkey rissoles are made with onion, zucchini, coriander and spices. Serve with a wedge of lemon and vegetables on the side.
Ingredients
1

small onion

1

zucchini

2

large garlic cloves

½

cup

panko breadcrumbs

500

g

turkey mince

1

egg

½

teaspoon

Italian herbs

½

teaspoon

salt

½

teaspoon

black pepper

½

teaspoon

red chili powder

2

teaspoons

Worcestershire Sauce

½

cup

coriander

finely chopped

Oil

for shallow frying
Instructions
Place the onion, zucchini and garlic in a food processor and pulse for a few seconds till finely chopped. Place the mixture into a large bowl. In case a food processor is not available, the vegetables can also be grated using a box grater.

In the same bowl, add the remaining rissole ingredients – ground mince, spices, herbs, egg and breadcrumbs.

Mix well. In case the mixture is too wet, add another tablespoon of breadcrumbs to bring it together.

At this point, you can make a mini rissole and fry it off to taste the seasoning. Adjust if necessary.

Scoop up about ¼ cup of mixture and form a rounded circular patty. Indent the middle slightly with your thumb – this is to prevent the rissoles from puffing up. Repeat with the remaining mixture – this will make about 15 – 20 turkey rissoles. At this point, the rissoles can be frozen (instructions in the notes section).

Heat oil in a skillet over medium heat. Add the rissoles and cook for about 3 – 4 minutes on one side until dark golden. Flip and cook the other side for the same duration until golden and cooked through. Repeat till all the rissoles are cooked through.

The rissoles can also be baked or air fried. For both options, spray with oil and cook at 200C/390F (standard) or 180C/350F (fan/convection) for about 8 - 10 minutes each side until golden brown.



Serve hot on their own ketchup or chilli garlic sauce. Other serving options include steamed or roasted vegetables, potatoes, and even bread. One of my favourite ways to have these rissoles is actually with flatbread or roti like a kebab.
Notes
This recipe has been adapted from the rissole recipe on RecipeTin Eats here
1. Turkey mince can be substituted with chicken, beef or lamb. The water content can differ based on the type of mince purchased – adjust with more or less breadcrumbs as needed.
2. Make ahead freezer instructions: Grease a tray (can be plastic or a baking tray) and lay out the rissoles one by one on it, making sure there is space between each one of them. Keep them in the freezer for an hour or so till they are partially frozen. Once they are frozen, carefully remove them from the tray and place them in ziplock bags. To make the rissoles, take them out of the freezer and let them thaw for about 10 minutes. Then shallow fry till golden on both sides - time for cooking from frozen will be 1 - 2 minutes longer than cooking fresh. 
Nutrition