Hello Everyone!
Starting off a new series on the blog and as the name suggest it's all about "what to cook this week". Deciding what to make during the week is one of the most difficult tasks one has to do - it not only requires thinking of what dishes to make but also when to do the grocery shopping and when to actually cook. All in a way that the other chores are not disturbed and the recipes cooked are ones that the entire family will eat. Every household has their own way of dealing with this challenge and that's why I have started this series where I am going to talk to some of my favourite bloggers and learn how they tackle this essential task.
The first blogger that I am talking to for this series is Wajiha fromButter Over Bae
Let's start ....
So Wajiha - tell us about yourself? What's your cooking style like - what are the things that you enjoy cooking?
Hey hey Kiran! thankyou for having me over love! hmm about me? that sounds like a long conversation, but I'll try to be brief :P.
I am married, a non practicing dentist, proud Pakistani and I live with my husband in Jeddah. I've been born and brought up in the Middle east and been in Pakistan for almost 7 years. Which is why most of my cooking revolves around desi spices, Asian cuisine and Middle Eastern flair. Oh and I think Christopher Nolan is the best thing that happened to Hollywood, just like Biryani is the best thing that happened to Desi food.
I loveeee cooking fusion food. I think I feel a high the day that I am experimenting in the kitchen. The day when I created chicken tikka nachos (most recent) was an ACTUAL memorable day for me. get it?
100% agreed with you on the Biryani.
Now my next question to you is if you had less than 30 minutes to make dinner, what would you make?
I am allowed to pick more than 1 right? lol. Well, Chicken Karhayi is on the top of this list and I know this sounds crazy, but given the number of times I've made it, Biryani also falls into that category! i mean the quick version of course
My third question and the most important one really - what is a standard weekly menu in Wajiha's kitchen?
So I feel like the cooking anyone does is based on 2 things,
1 is the no. of people in their house
the other is the time they have on hand for cooking.
So since we are a couple, I am usually just cooking for the 2 of us on weekdays, and I usually host a dinner or lunch on alternate weekends.
Sunday -
Lunch - a quick sandwich made with some leftovers (if any) or with a kebab from the freezer and salad
Dinner - aloo muttor and saabit masala moong masoor daal with roti
Monday -
Lunch - Saabit daal from yesterday diluted and revamped to be eaten with rice. and achaar and salad
Dinner - bhuna Qeema, roti, salad
Tuesday -
Lunch - Left over daal mixed with lentils to make khichdri
Dinner - Left over qeema mixed with left over aloo muttor
Wednesday -
Lunch - a smoothie ( with or without nuts and boiled eggs)
Dinner - Chicken steaks or a chicken tikka with vegetables and potatoes on the side
Thursday -
Lunch - a smoothie (with or without nuts and salad)
Dinner - chicken fajita wraps made from Steak left overs or a (left over style home made pizza)
Friday -
Lunch - Biryani (or any other rice based meal)
Dinner - Either at someones place or we go out
Saturday -
Lunch - Brunch style meal (like batata harras, some puff pastries, and tea cakes and a hearty cashew salad kinda thing)
Dinner - we eat out
And how do you plan this menu?
My husband and I are both foodies and we could live off of Biryani every day (for reals) But we also know that we aren't 20 anymore. So I try to strike a balance, where we are able to indulge a few meals/days and eat healthier for a few meals. This gives us the freedom to eat whatever we want without going into insane craving mode!
We do something called the Intermittent fasting where we only eat in a selected window of the day. Kinda like Ramadan fasting but with water. So that means we skip breakfast and only do a lunch and dinner. Or sometimes its a snack and a dinner. Not only does this save me time in the kitchen, but it also gives me more flexibility in choosing what I eat. This will come as a shocker coming from a food blogger, but I genuinely don't like to be in the kitchen everyday. I prefer cooking thrice a week and meal prep that way. On an ordinary week, I am most likely cooking on Sundays, Wednesdays and Fridays
Our weeks here start on Sundays so that's our first working day. I like to start the week with a nice healthy vegetarian day just to compensate for the previous weekend.
So for Sundays, my meals are usually based on lentils and vegetables. And it can either be rice or roti happening or maybe a pasta bake or something similar. Since Sundays are my cooking days, I also prepare at least 1 meat based dish as well to use later in the week. Monday Tuesday are left over days and pretty much involves no cooking.s
Wednesdays are my kitchen days. All the malai botis and seekh kebabs of the world happen on these days.
This is when I am in the kitchen most of the day.
I cook for the day,
marinade something later for the week if needed,
prepare some frozen kebabs etc.
prep for a dawat if any happening on the weekend
do random cooking tid bits (think making a batch of garlic ginger paste)
This is also when I usually cook for the blog and record steps if I need to.

These Pakistani street food style batata harra made by Wajiha look delicious!

This is also kinda like my experiment day where my lunch is very basic so i have enough time to create something new or put a new spin on some old recipe.
I like to keep Wednesdays and Thursdays lunch as smoothies with nuts and probably an egg. Since we don't eat breakfast and snack very rarely (am..as in snack with good food very rarely..you get what I mean), we miss out on important fruits and vegetables. So converting 2 entire meals into a smoothie just fits right into our schedule and takes care of that.
Then Thursday dinners are kinda unpredictable for us as well since its the start of the weekend. So I like to keep Thursdays open ended. If we are home then some of the frozen batch comes out or left overs from last night remixed into something, becomes are belly peace keepers
Fridays are hands down a rice day for us. It mostly happens to turn into a biryani day but rarely there is pulao or some other thing going on too. Dinners are usually out.
Since I miss breakfast food a lot, sometimes I tend to whip a brunch kinda meal for Saturday, or we can just go back to our left over Biryani. Dinners are again out or in someones place.
So over a period of 3 yrs and lots of trials and errors, this is the meal plan that works the best for us. I remember cooking everyday, full fledged meals when I was newly married and I can't tell you the amount of left overs I had to deal with back then, not to mention the subtle weight that kept creeping on. I am happy with the way I run my kitchen today and its going to take a big change in my life to change this routine.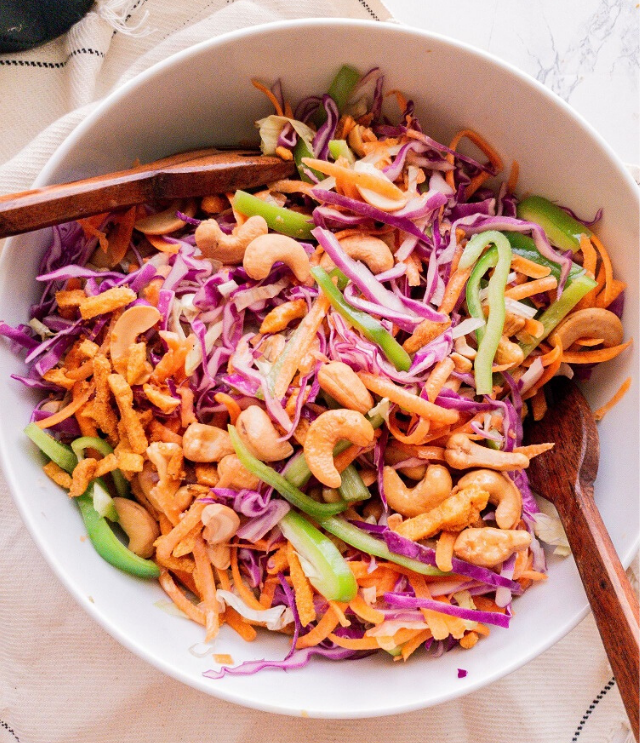 I love how you have you utilise your leftovers! Now the last question - what's your favourite gadget in the kitchen?
ohhhh good question. So up until last year, my nutribullet was the Kitchen Gadget of the year for me. But this year, since I've bought an immersion blender, I have become a bigggg fan. It is soooo convenient for soo many things. Like I am making masala for sabzi and tomatoes aren't blending quickly enough. what do i do? put in an immersion blender in it.
I m making daal and the clock is ticking and I can't wait for the daal to cook on its own? wel....immersion blender baby!
Haleem, raita, sauces, sometimes even for shakes....who's to the rescue? yep yep! Its the hand blender! So I guess its my new fav gadget
Talking to Wajiha has made me start craving biryani, and I am off to the kitchen to try out her quick and easy version. I hope you enjoyed our talk. All of Wajiha's recipes can be found on her website - Butter Over Bae and you can also contact her on Facebook and Instagram.