This blog post is your detailed guide to meal planning! What is meal planning, the difference between meal planning and meal prepping, how to make a meal plan and how to approach your weekly meal plan from a Desi or Pakistani Indian perspective. By the end of the post you will be able to create your own weekly meal plan and not have to deal with those aaj kia pakayein / what to cook today questions.
What is meal planning?
Meal planning or menu planning is the process of deciding in advance what to cook. It can be done for the next few days, for the next week, fortnight or even the month. Whatever time frame is convenient. From the Pakistani Indian or Desi perspective, think of meal planning is the answer to 'aaj kia pakayein' or 'what to cook today'.
What is the difference between meal planning and meal prepping?
There is always a lot of confusion between meal planning and meal prepping. Both are connected but separate activities. Meal planning is planning what to cook, and meal prepping is deciding how and when to cook those meals. Think of meal prep or meal prepping as the next step in the meal planning process.
Let's say you have made a meal plan to cook aloo ki sabzi (potato curry) on Monday, daal on Tuesday, aloo gosht (potato and mutton curry) on Wednesday, Thursday is takeaway, and Friday is biryani day. Your meal prep will be deciding when to do the grocery, when to prep the ingredients for the meals, and when to cook them. Will you make all the meals on the day itself or will you do the prep in advance?
Some people cook daily, some batch cook and prepare entire meals on the weekend, some prep ingredients in advance and prepare the actual meal on the day itself, and some use a combination of everything. Once there is a meal plan for the week, it is possible to plan the cooking tasks in a way that it's as efficient and productive as possible.
This blog post is a guide to meal planning – why meal planning is so beneficial and how you can create a weekly meal plan and share a sample meal plan of my own. I will also share tips regarding meal planning, especially from a Pakistani Indian or Desi perspective. I will also be sharing my weekly meal planning templates which you can download, print and use.
P.s. I haven't forgotten about meal prepping – that will be covered in another blog post.
Benefits of meal planning:
First of all, it stops you for wondering about 'aaj kia pakayein' / what to cook today.
It saves time and money. Meal planning helps in planning the weekly or monthly grocery store, which means fewer impulse purchases and a reduction in the grocery bill.
Less wastage of food – meal planning means stuff in the pantry, fridge and freezer gets utilized properly. No need to get more onions when there is already a bag of onions in the pantry, and that bhindi that you bought last week can be used to make bhindi ki sabzi this week.
Planning ahead means healthier and more balanced meals for the entire family.
Prevents the last-minute scrambling of what to cook for dinner, resulting in a reduction in takeaway / dining out.
Helps in creating a cooking routine for the week. Once the meal plan is made, a cooking schedule for the week can be made. That way chores can be delegated to other family members, and if you are running late, someone else can start making dinner.
How to build a meal planning routine – the tools and templates you need:
Before you start working on your meal plan, get your meal planning tools ready. Here is what you need:
A recipe master list:
This recipe master list is a list of all the meals and dishes that are regularly made in your home. This includes simple meals like makhan toast (bread and butter) and chai paratha to dinner meals like biryani and aloo gosht ka salan. This master list can be made in a notebook, an Excel sheet, or written on pieces of paper that are placed in a binder. You can also Google Keep, Evernote or any other note application on your phone.
Create categories such as daal, rice dishes, biryani / pulao, salan, one pot meals and others. Add sticky notes or tabs to flip through sections. Other options for categories include by cuisine (Thai, Chinese, Indo Chinese, Continental) or by protein (chicken, beef, lamb, mutton / goat meat). It's also possible to create sub-categories. For example, create a breakfast section and divide it into eggs, bread / toast, pancakes and waffles, paratha and oats. You can also add symbols next to the recipes indicating easy recipes, freezer friendly recipes, budget meals or dietary considerations.
Start by listing down the recipes yourself, and then ask your family members to go through the list in case recipes are missed. Make sure to leave space at the end of every section so you can add new recipes.
It can take a few hours to create this master list, but once it's done, it will be a resource that can be referred to again and again for your weekly meal plans.
Create a meal planning guideline for the week
The next step is to think about the way that meals are eaten in your household and create a meal planning guideline for the week. Depending on the way your household is structured, there will be a routine to the way that meals are eaten in your house. Examples of this could be:
Themed meals: Friday biryani, Thursday daal chawal, Taco Tuesdays are examples of theme nights.
Ingredient based: This could be a limit placed on certain ingredients. For example, 2 meals a week will be red meat, or at least 3 meals will be vegetables. Weekday dinners will be roti based, and weekend dinners will be rice based. Sandwiches for lunch and roti salan for dinner.
Schedule driven: Depending on work, school and extra-curricular activities, there would be certain days of the week when meals are time bound. This is when food needs to be prepared in advance, or you might decide to get takeaway.
Seasonal meals: The season, particularly the weather also plays a part in the weekly meal plan. The weather plays a part in how hot the kitchen is as well as what fruits and vegetables are available. In the summers I like to make quick meals such as aloo ki sabzi (potato curry), and daal chawal. I also like having yoghurt-based dishes such as pakora karhi or baighan ki borani. In the winters, it's all about winter vegetables and comfort meals such as nihari and Haleem.
The benefit of having this guideline is that it can be used as a starting point for your meal plan, and then you only need to fill in the blank spots remaining.
Think about the number of meals that you need to make
This depends on the number of people in your house, how they eat their meals, and the serving size of each meal.
How many people will you be cooking for? 2 people, 4 people, 6 people or more? Serving size for the meals you cook is something to think about here.
Will you be making one meal for everyone, or separate meals? This is especially important if there are children, elderly or people with dietary considerations in the same household.
Will all meals be made fresh or will one meal of the day be made fresh, and the other meal be leftovers?
How many meals will be had at home, and how many will be had outside? Remember to plan for snacks as well as school lunches and/or office lunches.
In my personal case, we are 2 people at home and on average, every meal is a serving for 4 people. This means that we either eat the same thing two days in a row, or we eat the same thing for lunch and dinner. Or I freeze half to use after a few weeks.
Decide the meal plan format and template that you want to use:
Decide whether you want to do meal planning for a week, or fortnight or month and also decide the number of meals that you will be planning in a day. If you are doing it for the first time, best to start off planning on a weekly basis, and focusing on the dinner meal. My personal preference is to make a weekly or fortnightly meal plan and I plan breakfast, lunch and dinner along with one snack option. In the beginning I only planned for the dinner meal but since I made my grocery list from my meal plan, I would forget to add the bread and cereal for breakfast.
Note – in this blog post I have shared my meal planning templates. There's a weekly template, along with a monthly template.
Grab your meal planning template and tools and schedule a time slot
That's your recipe master list, a pen or pencil (or computer if you want to do it digitally), along with something to write your meal plan on. This can be a piece of paper, a meal planning template, an Excel sheet, a diary, a magnetic meal planner that can be stuck to the fridge. It doesn't have to be fancy, just something that works for you. You can also get colored highlights, post-it notes, or stickers – whatever you enjoy!
What I would recommend is to keep your old meal plans with you – that way, if you are in a rush you can just 'copy paste' ahead. If you are using a magnetic or chalkboard style meal planner template, just take a picture with your phone to save the old weekly meal plans.
Once you have your tools with you, book an hour of 'meal planning time' in your calendar. Grab a cup of tea or coffee and make sure you don't have any distractions. If you are doing meal planning for the first time, it may take a bit of time but as you continue with the exercise, you will need less time. Now that you have all of the tools ready, you can start your meal planning exercise.
Finally, let's start meal planning:
Now that you have the time, the template as well as the tools you can start your meal planning exercise. The pre-work earlier makes the actual meal plan exercise super simple.
Look through the pantry, fridge and freezer for ingredients:
Before you start writing down your meals look through your pantry, fridge and freezer for to have an idea of the stuff you have in the house, and the ingredients you want to use up. Write them down on a piece of paper. The template that I have shared has space on the side to write down these ingredients.
Let's say you have some tomatoes that are going to spoil soon – use them to make tomato chutney ginger chicken. If you already have masoor daal and chickpeas in the pantry, there's no need to buy more, right? This exercise is super helpful for your grocery budget – this way you won't spend extra money and buy double the ingredients, and you will also use the ingredients you have on hand before they spoil.
If you are looking for a grocery list for the Pakistani Kitchen, do check out my blog post here.
Check the family schedule
Look at your family's schedule for the next week (or whatever time frame you are making the meal plan for) and write down the days that you (or another person in the family) will be eating outside. These are the meals that you don't have to prepare. Also make a note of any appointments, classes or extra-curricular activities. These are meals that you can prep in advance, or maybe on those days you will just do takeaway.
Recipe selection:
Start off with filling the meal plan with the weekly regulars - themed meals such as Friday biryani or Thursday daal chawal. If there are any ingredients that need to be used up soon, make sure to add recipes that will use them up. If you are stuck, go through your recipe master list for ideas. Keep simple meals for the days that you are busy, and look into incorporating leftovers into new meals. For instance, if I am making aloo keema for dinner the next day, I will make aloo keema sandwiches for lunch. For more creative ways to use leftovers, check out my post here.
Grocery Shopping:
Once the meal plan is ready, it's time to make your grocery list. Since you have already had a look in your pantry, fridge, and freezer the grocery list will be super specific and not have extra items. When you do go for grocery shopping, it's always a good idea to take your meal plan with you. Just take a picture on your phone. That way if there are any ingredients that aren't available, or if something is too expensive you can adjust.
Sample Pakistani Weekly Meal Plan
Below is a sample meal plan that I made for the week. The guidelines that I followed are:
There's always a mix of meat and vegetables in our meal plan.
Breakfast is simple on the weekdays, and special on the weekends.
Lunch is usually something light or leftovers, and it's usually not Desi.
Dinner is usually Desi, with simple meals in the start of the week and special meals in the later half of the week.
There are always 1 – 2 meals that are leftovers
You can also check out other sample weekly dinner meal plans on the blog here:
Finally - here are your meal templates
To get the meal plan templates and the grocery list, subscribe to my mailing list here and you will get it in your inbox right away.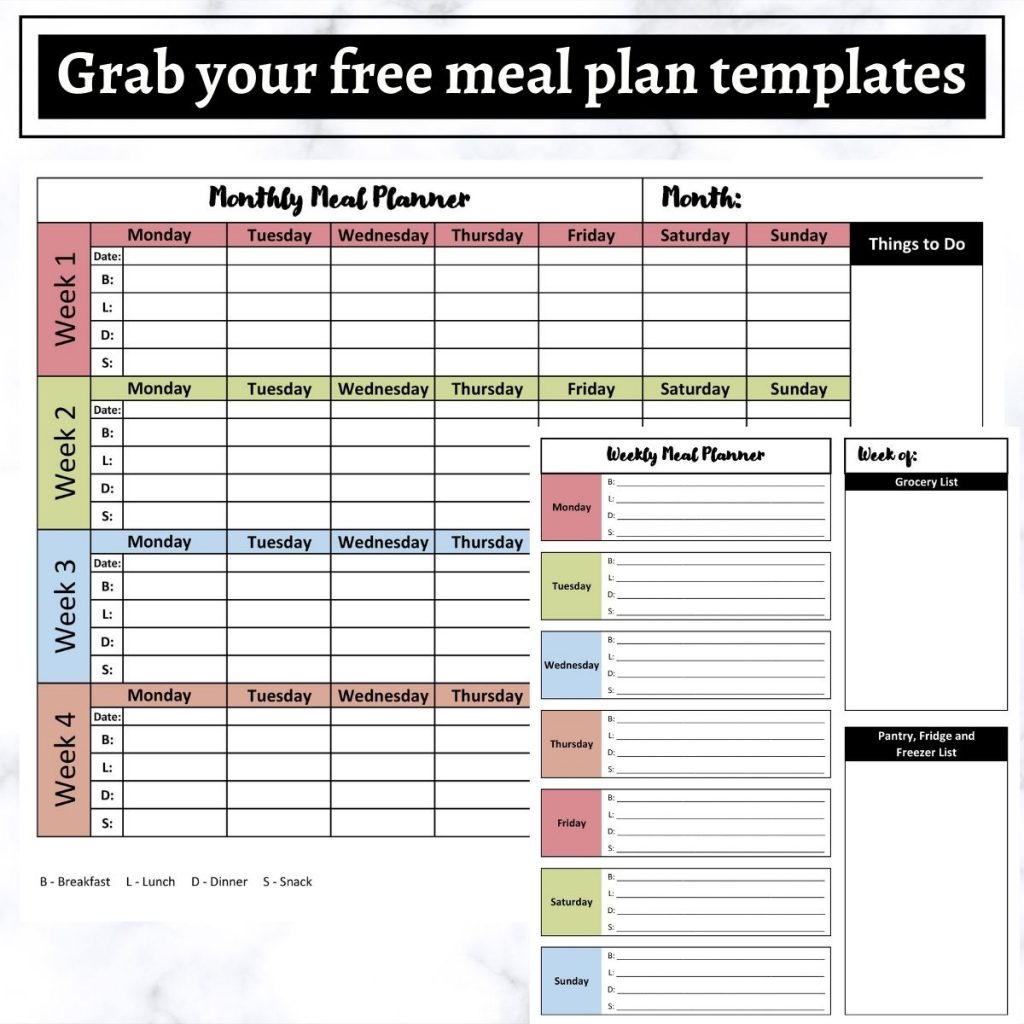 One last thing before I finish this blog post. Meal plans are designed to make your life easy. It is not a contract. Sometimes the ingredients that you have planned to buy aren't available or too expensive. Sometimes the meals that you have planned don't happen. You come home late from work and are unable to make dinner. Basically, life happens. You can always adjust and change your meal plan. Use them as a guide to plan out your weekly meals, and save time and money. But remember - they are always flexible!
As always, keep updated with recipes, stories and so much more follow me on Facebook and Instagram