Hosting an Iftar party can be quite challenging. Here are tips on how to organise an Iftar party with as less stress as possible along with sample menus for Iftar & Dinner. 
I know it's only 10 days to the end of Ramadan, but I had been getting messages on the best way to organise and host an Iftar party (which can sometimes be an Iftar + dinner party) and here it is! The following blog post is all about how to plan for an Iftar party, decide on a menu for your party menu along with some sample Iftar party menus!
Hosting a  Desi dawat (Desi party) is challenging enough. Hosting an Iftar party is 10 times the challenge. Not only is everyone fasting, but there's a time pressure to get everything on the table at a certain time. Plus it's never just an Iftar party, it's usually Iftar + Dinner. Not everyone eats dinner, but there are quite a lot of people (especially the men) who will come back from maghrib prayers and have dinner right away since they have to leave for tarawih (special prayers hosted in Ramadan). And then of course, there are the Ramadan lawaazmaat (delicacies) that everyone expects – pakoras, samosas, spring rolls, fruit chaat and dahi baray. As much as I love those lawaazmaat, I personally believe that you should keep things simple in Ramadan. Filling the table shouldn't be the objective.  
The sample menus can be found in the post below, but following are some points that will help you in planning an Iftar + Dinner party in Ramadan.
1. Try to use multiple cooking options when making food for an Iftar party:
If you have multiple cooking options, use them all instead of just using the regular stovetop. Make a list of all the cooking options – stove, oven, multi-cooker, airfryer and plan what you can make in them. That way you are not standing at the stove trying to stir multiple dishes at one time. You can make chicken patties in the oven, and pakoras on the stove and that's your two items for Iftar. The multi-cooker can be used to make Haleem or aloo gosht (mutton curry with potatoes), and the air fryer can be used to make samosas or spring rolls.
2. Make a list or well multiple lists:
Once you have planned out your menu, start making lists. One list is going to be your grocery list – include items you need, quantity and when you are going to buy them. Pantry staples can be purchased in advance but fresh items need to be purchased a day or two before. Make another list detailing all the things you have to do, when you will do them, and who will do them. 
3. Advance prep is essential in an Iftar party:
Though there are certain items that can only be made just before Iftar (the pakoras!), make sure you include items in your menu that can be prepared in advance and can be kept in the fridge or just need to be warmed up.  For instance, you can fry and freeze dahi baray (lentil fritters) even a month in advance. The baray (fritteres) can be soaked and placed in the yoghurt mixture a few hours in advance, or even in the morning of the Iftar party.
4. There's no need to do everything yourself:
As much as we want to do everything ourselves, it isn't always possible, especially if you are working and/or have kids. Get everyone in the family to help – assign chores and tasks to your spouse and kids; and if possible, ask friends for help. When I was young, I was responsibility for making the drinks (squash and rooh afza) at Iftar and when I grew up, my younger brother took over that responsibility.  
Think of getting a few items from outside. Get jalebi from the mithai wali dukaan (sweet shop), or pick up a box of frozen samosas or spring rolls from the supermarket or get it made by someone. Prepare the Iftar yourself and get the biryani catered from outside.
5. Keep the menu simple:
When it comes to food, we Pakistani's tend to go all out even if it's at the cost of our own sanity. We will ideally want to serve a lavish iftar, followed by a grand dinner. Keep it simple, and what is manageable by you! If you are planning to do more items for Iftar, keep the dinner simple or vice versa. Remember that after having a heavy iftar, people will be too full to have a heavy dinner. Even one dish is enough.
6. Go disposables:
There's one thing that I have noted with dawaat's in Ramadan – the amount of crockery that gets used. There's a separate plate for Iftar items, a separate plate for dinner items, and then a bowl for fruit chaat / dahi baray. Plus since everyone is going to be thirsty everyone's going to be using glasses galore – one for water, one for sherbet and let's not forget the mugs for that all essential chai that everyone expects. I am not a fan of disposable, but in a big dawaat it becomes essential. What you can also do is get eco friendly disposable that is better for the environment. What you can also do is think of keeping glasses and mug disposable while using glass crockery and cutlery. It will make cleaning up so much easier for you!
7. Make sure there's enough place to sit and a place for prayers:
Other than planning the menu, you also have to make sure there's enough space to properly sit as well as space to offer prayers. Best is to go traditional by having people sit on the floor. Just use a white chaddar and a dastarkhawan – more people can be accommodated that way in much less space, and it's easier to eat as well. Keep a few chairs for the elders who may find it difficult to sit on the floor. Do the same for prayers by just spreading chaddar and jaan-e-namaz in a separate room.
Those are all the tips from my end on how to organise an Iftar party. Scroll ahead to see sample menu's, and let me know what you do to make your Iftar party as stress free as possible.
How to organise an Iftar Party – Menu 1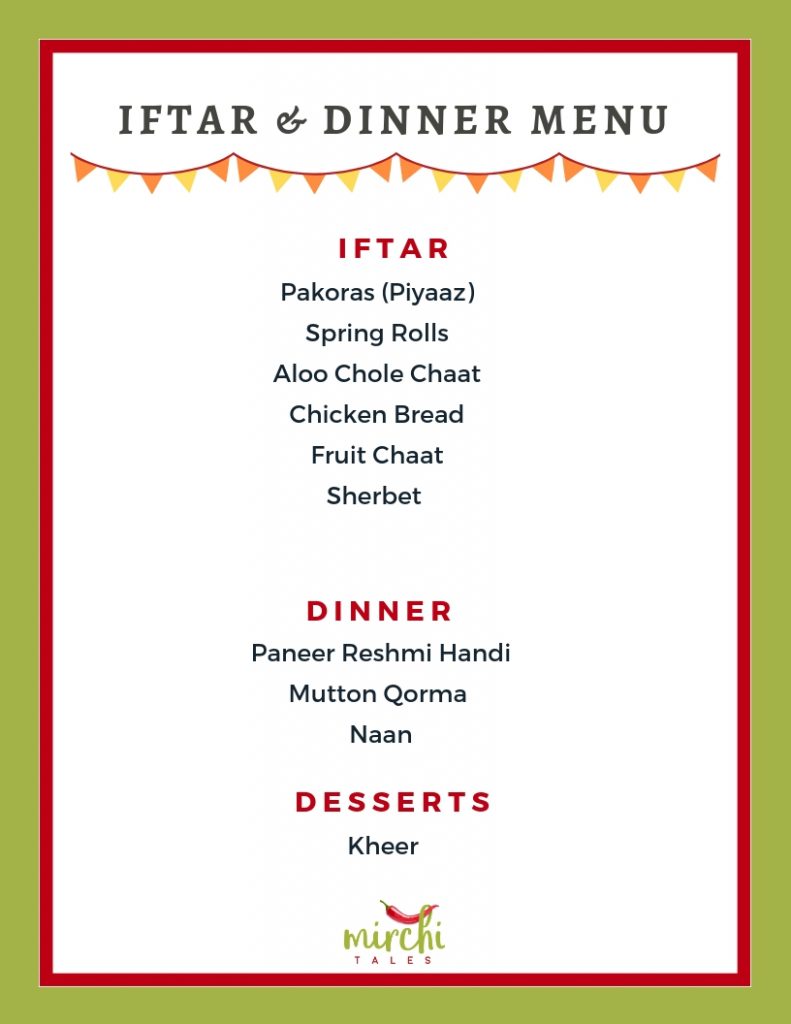 Sample Iftar Party Menu 2
Sample Iftar Party Menu 3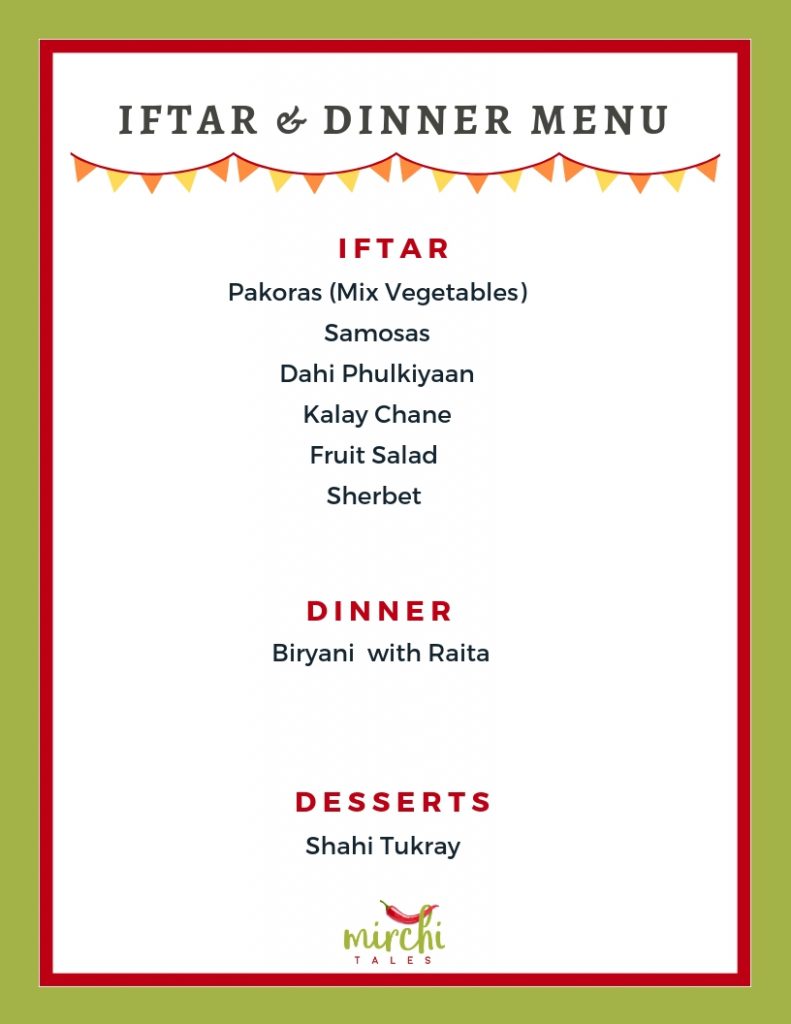 Check out other posts in my Ramadan series below:
To keep updated with recipes, stories and so much more follow me on Facebook here, Instagram here and Twitter here