Bursting with flavor and lots of vibrant colors, aloo gobi matar sabzi is a Pakistani vegetarian recipe that can be served as a main meal or as a side dish with rice or roti.
For the past couple of weeks, I have focused on introducing more regular recipes on the blog. Recipes that are cooked on a daily basis in the house; the daal, sabzi, gosht and chawal. Not all of them together, of course, but a combination of them based on what the family enjoys. This is because of the dreaded 'aaj kia pakayein?/what to cook for dinner?' question. If someone asks me what to cook for a party/dawaat I can give a combination of menu's from traditional Desi recipes, to an international feast, to a menu suited for a hi-tea or a kid-friendly themed menu. But when it comes to designing the weekly menu of what to cook at home, I am blank after the first 3 days. Repeating the same menu is going to cause lots of 'oh no! this again!'. Too much of meat or fancy dishes is going to stretch the monthly budget, plus too much of one food group is not healthy in the long-term either.
Hence, the need for more regular recipes, like this aloo matar gobi sabzi (potatoes, pea and cauliflower vegetable). It's delicious with garam roti, and can be had with rice as well. It's a good idea to get peas in bulk, when they are cheap, and then shell them. Keep the frozen peas in the fridge, and add them in dishes like matar pulao or this aloo gobi matar sabzi.
For a different type of aloo sabzi try zeera aloo ki sabzi and aloo hari pyaz.
Also from February onwards, I am planning to start a menu of the week section on the blog along with sample dawaat menu's for different kinds of gatherings. The menu of the week will be published every 1st and 3rd Friday of the month, and the dawaat menu on the 2nd Friday of the month. Any suggestions on what blog features I should start for that 4th Friday?
Would love it if you could try out and rate the recipe, and let me know how it was in the comments below! 
To keep updated with recipes, stories and so much more follow me on Facebook here, Instagram here and Twitter here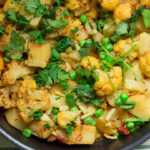 Aloo matar gobi sabzi
Bursting with flavor and lots of vibrant colors, aloo gobi matar sabzi is a Pakistani vegetarian recipe that can be served as a main meal or as a side dish with rice or roti.
Ingredients
4

tablespoon

oil

1

medium onion

chopped

1 ½

teaspoon

cumin seeds

2

tomatoes

chopped

1 ½

teaspoon

red chili powder

½

teaspoon

turmeric

Salt

to taste

3

medium potatoes

cut into cubes

1

cauliflower

cut into florets

1

cup

peas

1

teaspoon

ginger

sliced

1

green chili

sliced

½

teaspoon

red chili flakes

optional

½

cup

coriander

for garnish
Instructions
Heat oil in a medium sized pot. Once the oil is hot, add onions and fry till golden. Keep stirring to ensure that the onions don't burn.

Add cumin seeds and cook for about a minute till they start spluttering and release their fragrance.


Add tomatoes, followed by red chili powder, turmeric and salt. Stir for a minute or so, and then let the tomatoes cook on low heat for about 10 minutes till they turn soft and release oil.


Add the chopped potatoes along with about a cup of water, and cook for about 10 minutes. The potatoes take longer to cook, so they need to be added first, followed by the other vegetables.


Once the potatoes are half-cooked through, add the cauliflower florets and stir together. Cook for another 2 minutes, and then add the peas.


Once the vegetables are almost cooked through, add ginger and green chilies. Cook for a minute and turn off the heat. Add coriander, and red chili flakes. Serve hot with roti/naan or rice.