These lemon blueberry muffins are super easy to make and yield a fluffy tender crumb. Bursting with blueberries and lemon, they are the perfect breakfast or tea time treat.  
Blueberries are in season right now, and I seem to be finishing one box after another. I love to eat them on their own, add them to pancakes, blend them into smoothies, or add them to baked goods such as these lemon blueberry muffins. 
How to make Lemon Blueberry Muffins
This recipe is super easy and doesn't require any fancy equipment – just two bowls and a whisk. I have used a regular whisk, as well as an electric whisk to make this recipe and they both work fine.
Start the recipe by preparing your muffin or cupcake tray and preheating the oven. Line it with cupcake liners or use a baking spray.  Then place flour, baking powder and salt in a medium bowl and whisk it together.
In another bowl, whisk the egg till foamy and then add the sugar. Whisk together again till creamy, and then add the melted butter, followed by the yoghurt. Add lemon juice, lemon zest and vanilla to the sugar mixture. At this point fold the flour into the egg and sugar mixture, reserving a tablespoon of flour. Toss the  blueberries into the reserved flour (this is to prevent the from sinking to the bottom) and then fold them through. Use an ice cream scoop to put the batter into the prepared muffin tray, and bake in the oven till golden brown. 
Pro Tips for Making The Best Lemon Blueberry Muffins 
It can be difficult to find fresh blueberries year around so use fresh or frozen – both kinds will work. Just toss the fresh blueberries in a tablespoon of flour so that they don't sink to the bottom. When using frozen blueberries, add them right from the freezer – don't let them thaw as they will bleed colour otherwise.

When folding the blueberries through the flour mixture reserve a couple to add to the top of the muffin batter. Add these blueberries to the muffins that look a bit bare on the top. 

Use fresh lemon zest. The best lemon flavour comes from using fresh lemon, and both the zest and juice are used in this recipe. Use a good zester to make sure only the yellow part of the lemon skin is removed and not the pith which can give the muffins a bitter taste. 

Using other berries. If blueberries aren't available, you can use other berries such as raspberries or blackberries in the same quantity. Just don't use strawberries as they tend to release water, and can result in a soggy muffin. 

Skipping the blueberries. In case blueberries aren't available, you can always skip them and just make lemon muffins. Or you can add other mixins of choice such as coconut, almonds or other nuts. 

The sprinkle of sugar on top of the muffins is not necessary but it adds a nice crunch and flavour. I have used granulated sugar but demerara sugar can be used instead.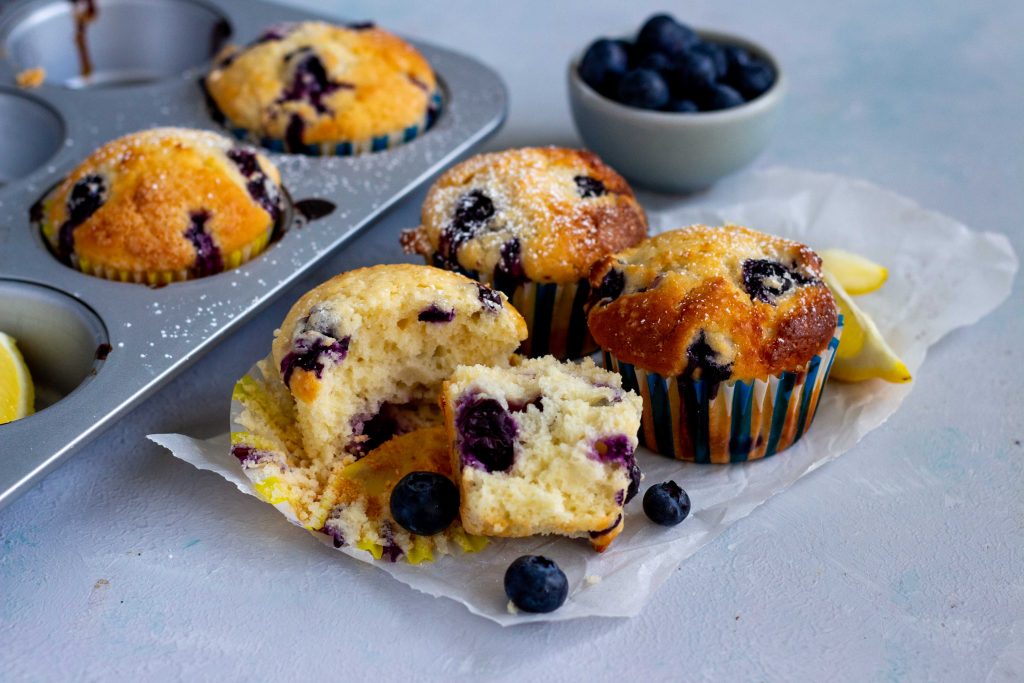 If you are looking for other dessert recipes, do try out the following:
Would love it if you could try out and rate the recipe, and let me know how it was in the comments below! 
To keep updated with recipes, stories and more follow me on Facebook here and Instagram here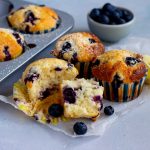 Lemon Blueberry Muffins
These lemon blueberry muffins are super easy to make and yield a fluffy tender crumb. Bursting with blueberries and lemon, they are the perfect breakfast or tea time treat.
Ingredients
2

cups

all purpose flour

1

tablespoon

baking powder

1/2

teaspoon

salt

1

egg

1

cup

sugar

4

tablespoons

butter

melted

1 1/4

cups

plain yogurt

1 1/2

cups

blueberries

fresh or frozen

1

tablespoon

lemon juice

½

teaspoon

lemon zest

¼

teaspoon

vanilla essence

1

teaspoon

sugar
Instructions
Prepare a muffin or cupcake tray by lining it with cupcake / muffin liners. Or you can grease it with butter, or spray a non-stick cooking spray. Set aside.

Preheat oven to 175 Celsius conventional (350 degrees Fahrenheit).

Place flour, baking powder and salt in a medium bowl. Whisk together.

Place the egg and sugar in a large bowl and beat together with an electric hand beater till light and creamy. This will take about 1 ½ - 2 minutes. This can also be done using a regular whisk.

Add butter to this mixture followed by the yoghurt, beating with the electric hand beater for a few seconds after every addition.

Add the lemon juice, lemon zest and vanilla essence to the flour mixture.

Place about 1 ¼ cup blueberries in a bowl, reserving the remaining ¼ cup blueberries. Sprinkle a tablespoon of the flour mixture over the blueberries, and toss together. Set aside.

Add half of the flour mixture into the butter and sugar mixture and fold together with a spatula. Repeat for the remaining flour till just about incorporated.

Add the flour tossed blueberries, and fold again.

Use an ice cream scoop or a large scoop to divide the batter into the cupcake or muffin tray.

Top the muffins with the remaining blueberries - place the blueberries on the muffins which look bare from the top.

Sprinkle sugar over the muffins, and then place them in the oven.

Bake for about 25 - 30 minutes till light golden on top, and the skewer inserted into the middle of muffin comes out clean.

Remove the muffins from the oven, and let them cool in the pan for 5 minutes. Remove to a wire rack to finish cooling.