Deciding what to make for dinner can be exhausting. Here's a Pakistani weekly dinner menu plan that will help you decide 'what's for dinner' or as we say locally 'aaj kia pakayein'
One of the most difficult tasks of the day is to decide what to cook for dinner. That's why I started my series featuring the 'Pakistani Weekly Dinner Menu' to help you answer this difficult question. Follow the menu as is, or tweak it a little bit based on the preferences of your family.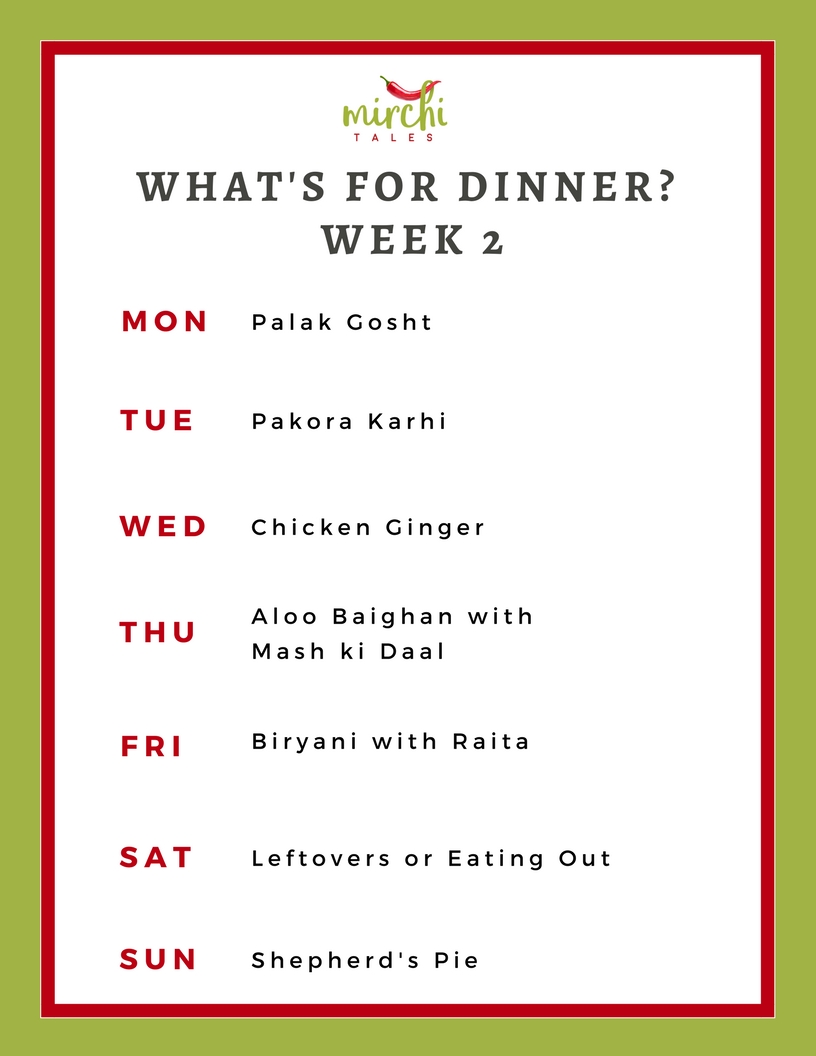 Monday – Palak Gosht.
Start off the week with palak gosht. A meal that will ensure your family gets their portion of meat and vegetables in the same dish. Make it in beef, mutton or chicken depending on budget and personal preference.
Tuesday – Pakora Karhi.
Not vegetarian but a meat-less dish that everyone loves. Fry off a double batch of pakora's, one to add in the pakora karhi and one to have with your shaam ki chai. Recipe HERE.
Wednesday – Ginger Chicken.
A different kind of chicken ka salan with lots of aromatic ginger and fresh coriander. Recipe HERE.
Thursday – Aloo Baighan with Mash ki Daal.
Fresh vegetables with tarka wali daal. A vegetarian meal that is comfort and satisfying at the same time. Recipe for aloo baighan HERE.
Friday – Friday Biryani with a side of raita. Make it in beef, chicken or mutton but make sure to add a portion of aloo.
Saturday – Kitchen Closed.
It's a no cooking Saturday, meant to be enjoyed by eating outside or ordering take-away.
Sunday – Shepherd's Pie.
This comforting casserole is a layer of mincemeat, vegetables with mashed potatoes on top. Find the recipe HERE.
To look at other sample menus in this series, just click HERE.
To look at sample dawat menus (another popular feature on the blog), please click HERE.
To keep updated with recipes, stories and so much more follow me on Facebook here and Instagram here