Pavlova is a meringue-based dessert made from egg whites. In this recipe, the crisp pavlova base is topped with whipped cream, salted caramel and strawberries.
Salted Caramel Pavlova and Happy 2017
2016 just flew by and what an exciting year it was. So many things happened in my life, my career and this blog. Alhamdullilah all of them good.
I got married to someone who supports me in everything I do. Who is okay with eating cold food because I will inevitably have to take a picture of whatever we are eating. I started working at DesiAppetite.com where I was able to combine what I studied with what I loved doing. I built a website from scratch, talked about food all day long AND made recipe food videos.
I figured out Google analytics and now have a regular presence on Twitter, Instagram, Pinterest and Snapchat. I am writing more, but also spending time on promotion to make sure everyone gets to know about the recipes I post.
Here's to hoping that 2017 will be even better than last year.
Here's a recipe of a decadent pavlova with whipped cream, my favorite salted caramel sauce and strawberries. Pavlova is a dessert that originated in either New Zealand or Australia made from egg whites that are whipped to create a meringue with a crisp crust and soft center. It is topped with sweetened whipped cream and fruit. It was created in honor of the Russian ballerina Anna Pavlova. In recent years, it has become a popular dessert offering by bakers and caterers of Karachi especially in winter when fresh fruits like kiwi and strawberry are in season.
It always looked like a complicated dessert but when I tried it out I was surprised by how simple it was. The tricky part is the baking, which is done on a low temperature till the exterior is crisp. The oven is then switched off, but the pavlova is kept in the oven for at least an hour to ensure that it doesn't crack.
I followed Ina Garten's basic recipe for pavlova from HERE. The topping was whipped cream mixed in with salted caramel sauce and topped with strawberries.
Would love it if you could try out and rate the recipe, and let me know how it was in the comments below! 
To keep updated with recipes, stories and so much more follow me on Facebook here, Instagram here and Twitter here
📖 Recipe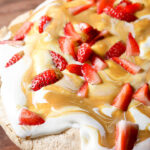 Print Recipe
Pavlova with Salted Caramel and Strawberries
Pavlova is a meringue-based dessert made from egg whites. In this recipe, the crisp pavlova base is topped with whipped cream, salted caramel and strawberries.
Ingredients
For pavlova base:
5

egg whites

at room temperature

Pinch

of salt

1

cup

fine granulated sugar

2

teaspoons

cornflour

1

teaspoon

white vinegar

½

teaspoon

vanilla essence
For topping:
1

cup

cream

chilled in fridge

½

cup

sugar

1

teaspoon

vanilla essence

4 - 6

tablespoons

salted caramel

1

cup

fresh strawberries

hulled and sliced
Instructions
Preheat the oven to 120 degrees C.

Place a sheet of parchment paper on a sheet pan. Draw a 9-inch circle on the paper, using a 9-inch plate as a guide, then turn the paper over so the circle is on the reverse side. (This way you won't get a pencil mark on the meringue.)

Place the egg whites and salt in a glass or steel bowl. Beat the egg whites with an electric mixer on high speed until firm, about 1 minute. With the mixer still on high, slowly add the sugar and beat until it makes firm, shiny peaks, about 2 minutes. The peaks will be shiny and firm – they will not move when the bowl is tilted.

Use a fine mesh colander or strainer to sift the cornflour onto the beaten egg whites. Add the vinegar and vanilla, and fold in lightly with a rubber spatula. Do NOT beat.

Pile the meringue into the middle of the circle on the parchment paper and smooth it within the circle, making a rough disk. Pile it with a spoon and smooth it with a spatula.

Bake for 1 ½ hours. The meringue will turn crispy on the edges. Turn off the oven, keep the door closed, and allow the meringue to cool completely in the oven, about 1 hour. It will be crisp on the outside and soft on the inside.

Meanwhile, make the sweetened whipped cream. Pour out the cold cream into an electric mixer. The cream needs to be cold otherwise it won't whip properly. Use an electric mixer to whip the cream till it makes soft peaks. When it starts to thicken, add the sugar and vanilla and continue to beat until firm. Avoid overbeating.

Once the meringue disk is ready, invert it out onto a large plate and spread the top completely with sweetened whipped cream. Top with

salted caramel

and swirl it in the cream with a knife. Finally top with sliced strawberries (or any other seasonal fruits). Serve immediately.
Notes
The pavlova can be substituted with other berries or stone fruit like mangoes or peaches, based on what is in season.
Nutrition