Packed with chicken, capsicum, carrots and cabbage these chicken and vegetable spring rolls are crispy, crunchy and absolutely delicious! Serve hot with ketchup or sweet chili sauce.
Today I am sharing a recipe for Chinese style chicken and vegetable spring rolls – an oriental snack that is super popular in Pakistan. It's a snack that you will not only find in Chinese restaurants but also at local Pakistani restaurants, cafes and even roadside vendors. It's a snack  you can find year round but it's most popular during the month of Ramadan in Pakistan. For those that don't know, Ramadan is the 9th month in the Islamic calendar, and every day during this month, Muslims around the world spend the daylight hours in a complete fast by abstaining from food and drink from sunrise to sunset.
The evening meal at which we break open our fast is called iftar and the traditional iftar menu in Pakistan is a variety of snacks (similar to a hi tea). The iftar meal is supposed to be a light meal that can be eaten quickly as everyone needs to rush for evening prayers. Dinner would be right after prayers or later in the night depending on how long the fast is. In countries like the UK & USA where the summer fast can be around 14+ hours long, most people have dinner right away.
A standard iftar meal in Pakistan would consist of dates, some form of dahi baray (lentil fritters in yoghurt), fruit chaat (a Desi fruit salad), lemon squash or laal sherbet (a traditional Pakistani cordial made of nuts and dried fruit that is red in colour) and at least a few fried items. Things like pakoras (vegetable fritters), samosas, box patties and of course spring rolls!
Which is why every year a few months before Ramadan would begin, my mother would start stocking up the freezer with samosas, spring rolls, dahi baray and other items for Iftar. Preparing things in bulk was efficient, and freezing things in advance meant we could minimise cooking prep during the actual month and focus on the actual fast.
For the spring rolls, my mother would make a large batch of filling, get fresh spring roll wrappers from the local bakery and once everything was ready she and I would sit and start folding the spring rolls. When I was young, I could barely make one spring roll in the time she would make 5 or 6, but as time went by, and with practice I became better.
Even though I am on my own now, and it's just two of us in a foreign country I still try to continue this tradition every year. It requires me to plan ahead but there is something so comforting and nostalgic about homemade spring rolls. Plus they are budget friendly and can be customised with fillings and spices to preference; and so can you with the options below!
Change up the filling of these chicken and vegetable spring rolls:
Skip the chicken and make it vegetarian.
Do a Desi version with ground mince (qeema) with onions, coriander and green chillies.
Add bean sprouts. Wash and drain the bean sprouts, and add them with the rest of the vegetables.
Add boiled noodles. Just break them into small pieces and use thin ones so they don't overwhelm the filling.
Add mushrooms. If you are using fresh mushrooms, saute them with the chicken till they become golden brown and caramelised, then add the rest of the vegetables. Mushrooms tend to release a fair bit of water so either evaporate it or add cornstarch with water to thicken the filling.
Add other vegetables like sliced black olives, corn, chopped broccoli or green beans.
Check out other posts in my Ramadan series below:
My complete list of Ramadan and Eid recipes on the blog can be found here
Click HERE for my Ramadan meal planner and sample menu guideline for iftar, sehri and dinner.
Click HERE for a collection of 19 make-ahead recipes in Ramadan
Some other snack recipes that you can try are:
📖 Recipe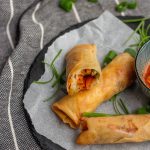 Print Recipe
Chicken & Vegetable Spring Rolls
Packed with chicken, capsicum, carrots and cabbage these chicken and vegetable spring rolls are crispy, crunchy and absolutely delicious! Serve hot with ketchup or sweet chili sauce.
Ingredients
4

tablespoon

vegetable oil

divided

2

cloves

garlic

sliced

1

teaspoon

ginger paste

1 ½

cup

chicken mince

or boneless chicken

1 ½

cups

carrots

sliced

1 ½

cups

capsicum

sliced

4

cups

cabbage

sliced

4

tablespoon

soy sauce

3 - 4

tablespoon

vinegar

2

tablespoon

sriracha sauce

1

teaspoon

salt

1

teaspoon

white pepper

Spring Roll Wrappers

for filling

Oil

for frying
Instructions
Heat 2 tablespoon oil. Add sliced garlic followed by ginger paste.

Add boneless chicken mince and cook for about 10 - 15 minutes till colour changes from pink to white. Use a wooden spoon or spatula to break up the mince while it's cooking.

Season with a pinch of salt and white pepper.

Once the chicken mince is cooked, add carrots followed by capsicum. Cook for about a minute and then add the cabbage.

Add soy sauce, vinegar and sriracha sauce followed by salt and white pepper.

Cook for about 2 minutes, during which the cabbage will start wilting and reduce in quantity.

Toss the mixture to make sure the chicken, vegetables and spices get mixed together properly.

Taste and adjust seasonings, if required.

Take the filling off the stove, and let it cool down.

In the meanwhile, mix flour and water in a small bowl to make a paste that will be used to seal the rolls.

Carefully peel off one spring roll wrapper. Keep the others covered under a damp tea towel, so that they don't dry out.

Place the wrapper in a diamond position. Place a very heaped teaspoon of filling on the bottom. Add more filling if you have larger spring roll wrappers. Roll up halfway, fold sides in, then finish rolling. Use the flour paste to seal the edges. Once the spring rolls are prepared, they can be frozen (see note for freezing instructions).

To make the spring rolls, heat oil in a wok or large frying pan. Heat oil on medium heat and add 3 - 5 spring rolls in the oil and cook, turning occasionally until golden brown. Remove with a slotted spoon and transfer to a kitchen towel to drain. Continue frying the rest of the spring rolls.

Serve hot with ketchup, sweet chili sauce, chili garlic sauce or green chutney.
Notes
Freezing Instructions:
Grease a tray (can be plastic or a baking tray) and lay out the spring rolls one by one on it, making sure there is space between each one of them. Keep them in the freezer for an hour or so till they are partially frozen. Once they are frozen, carefully remove them from the tray and place them in ziplock bags. To make the spring rolls, just take them out of the freezer and deep fry till golden.
Spring Roll Wrappers: 
The number of spring rolls that will be made depends on the size of the wrappers. For this recipe, I used the 7.5 inch size (190 mm x 190 mm) which resulted in about 20 - 24 spring rolls.  The brand of pastry that I used is TYJ Spring Roll Pastry by Spring Home, which is available in major supermarkets in Sydney and also in Asian stores. In Pakistan, spring roll wrappers can be purchased from your local bakery - they are easily available in Ramadan, but need to be ordered in advance at other times of the year. 
Nutrition