The pineapple coconut dessert fiesta is a delicious no-bake tropical dessert featuring tea biscuits, coconut cream, caramel sauce and pineapples. 
I absolutely love making desserts. It's the reason why I started this blog. I wanted to share the desserts that I loved making. Through a lot of experimentation, lots of discussions with my mother on cooking and my cookbooks, I have managed to bring my savory cooking repertoire upto speed But making desserts will always be my first love - the kind of happiness that comes from watching a cake rise in the oven, of whisking & whisking till that custard thickens into a creamy spoonful of joy is beyond match.
I still don't have the patience to delve into fancy fondant cakes. My strength has been playing with flavor, whether it's an almond scented tea-cake or a decadent caramel custard. A hint of almond, a dash of cinnamon, specks of fresh vanilla. Rich custard, toasted nuts, creamy pudding! Lots & lots of salted caramel.
Making desserts that require so many components can be tough. As much as people love my salted caramel dessert, it takes two days to make and unless I am given advance notice, it's not possible to serve if one drops by randomly.
For a recent family party, I decided to experiment and create a dessert that is simple, requires minimal or no cooking AND delicious. And Viola! Enter the Pineapple Coconut Dessert fiesta. A mouthful to pronounce but the dessert is simplicity personified.
Biscuits layered with coconut flavored cream topped with caramel sauce & pineapples. Repeat. Keep in fridge. Eat when chilled.
Start with a glass dish and a packet of biscuits. I chose Marie tea biscuits – 9 of them to be precise. Why? Because they don't get soggy in layered desserts.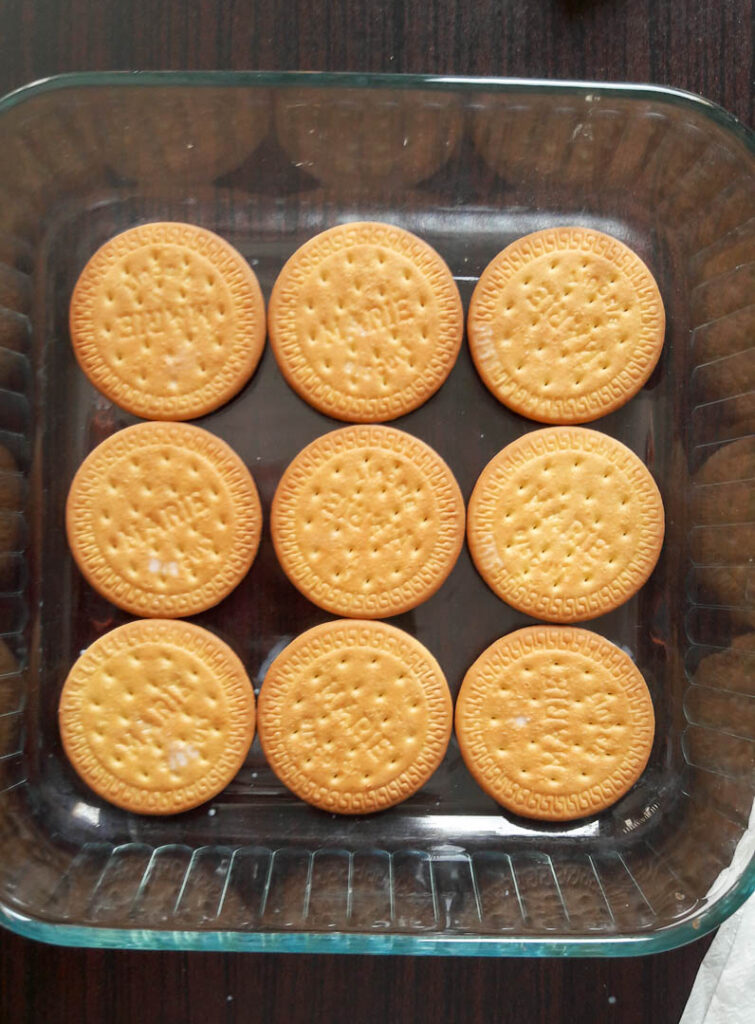 Top with coconut flavored cream. Make this by whipping up cream, cool whip (or dream whip or whatever whip is present in your country), coconut milk, icing sugar and a hint of vanilla essence.
Smooth it out. A spatula works best.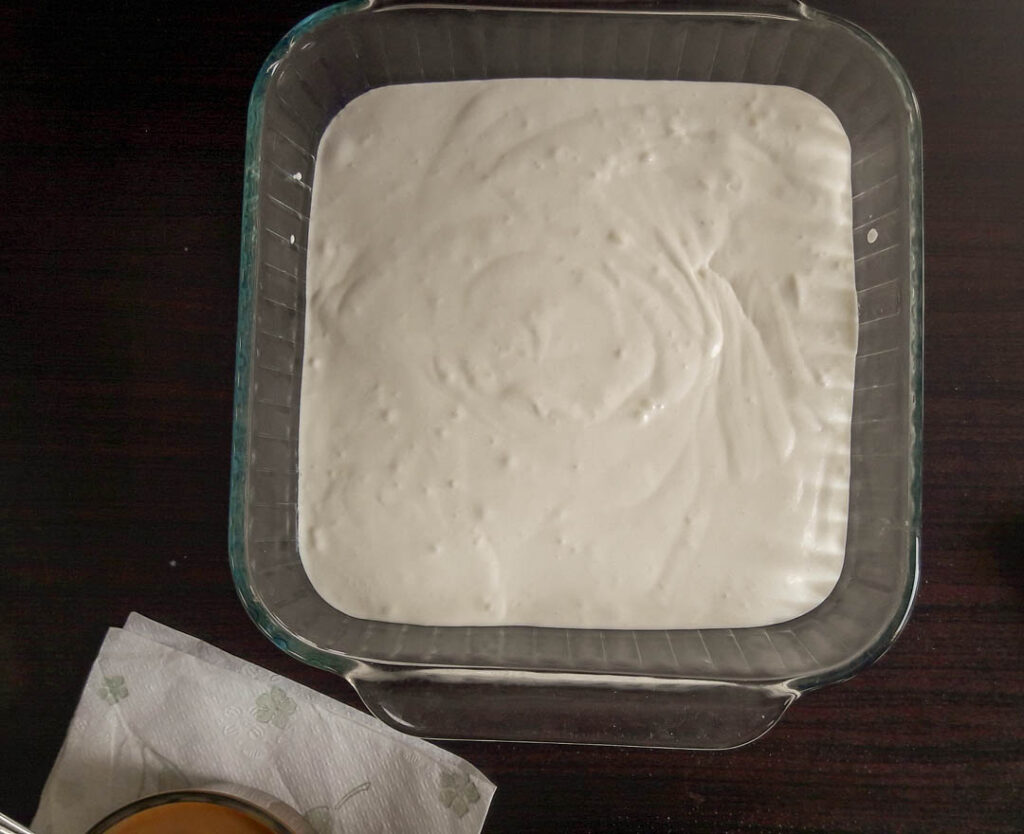 Caramel sauce – I used Dulche De Leche or what is known as Condensed Milk Caramel. One can use salted caramel sauce too. I am partial to the salted caramel.
Pineapple tidbits. One could use other fruits but pineapples come cut up in a can already; and well, the focus is to go simple here.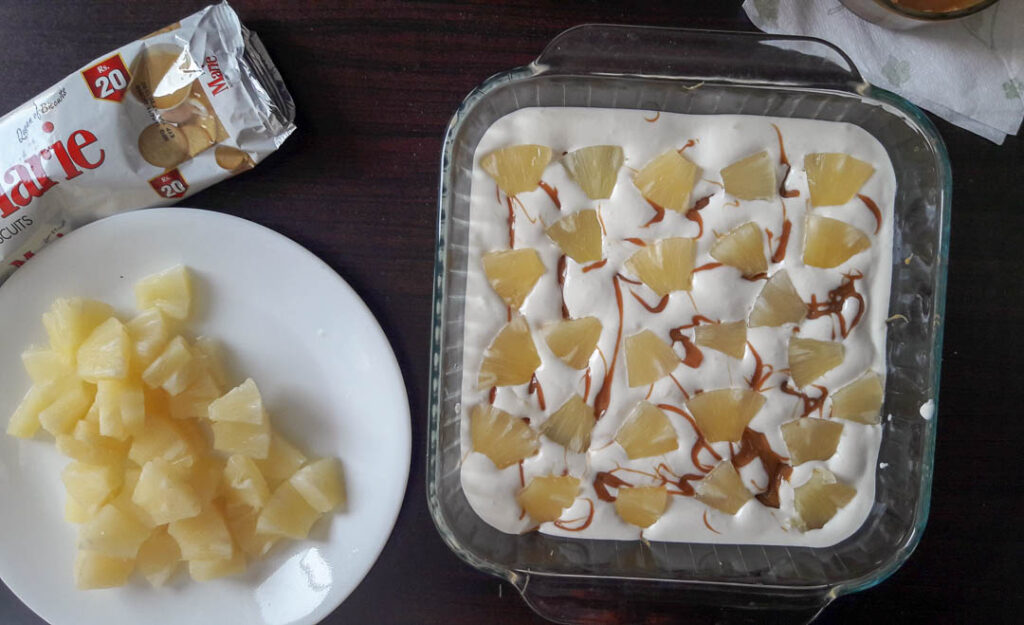 Repeat – Two layers are necessary.
You need more biscuits for the second layer. Someone explain to me why that is so?
Last layer is the pineapple tidbits again. Chill. Serve cold.
Pineapple Coconut Dessert Fiesta
The pineapple coconut dessert fiesta is a delicious tropical dessert featuring tea biscuits, coconut cream, caramel sauce and pineapples.
Total Time
1
hour
30
minutes
Ingredients
½

cup

dulche de leche or salted caramel

or make a quick caramel sauce with ingredients mentioned below
Quick Caramel Sauce
1

cup

brown sugar

½

cup

cream

4

tbsp

butter

½

tsp

salt

1

tsp

vanilla essence
For coconut cream and layering
2

cups

prepared Dream Whip or Cool Whip

In case this isn't available substitute with 1 cup of cream, and whip till double the volume

1

cup

200 ml cream

must be cold

½

cup

coconut milk

½ - ¾

cup

icing or confectioners sugar

½

teaspoon

vanilla essence

Omit this step if already added when making whipped topping

20 - 24

tea biscuits

I used Marie, but any other firm tea biscuit can work

½

cup

milk

for dipping biscuits

1

can

pineapple tidbits

1 can is 567 grams
Instructions
For caramel sauce
In case preparing caramel sauce from scratch, place brown sugar, cream and butter in a saucepan. Heat on low simmer till sugar is dissolved and mixture is smooth. Cook till mixture is thick. Add salt and vanilla essence. Set aside to cool. Only ½ cup will be used for the recipe, and the rest can be used in other desserts.
For coconut cream and layering
Take a large glass or steel bowl.

Prepare Dream Whip / Cool Whip as per package instructions. Beat with an electric hand beater till it is soft and creamy.

Add 1 cup chilled cream and beat for about a minute till soft peaks are formed.

Add coconut milk, icing sugar & vanilla essence. Beat again for a minute. Omit the vanilla essence if already a part of the Dream Whip / Cool Whip instructions. Taste the coconut cream and adjust sugar if necessary.

Keep cream in the fridge to chill for about 30 minutes.


Take a large glass rectangle or square dish. This particular recipe has been built using a 9 x 9 inch square pyrex dish. Dip the tea biscuits in milk and layer on the bottom.

Top with half the coconut cream. Smooth with a spatula if needed.

Top with about ¼th cup caramel sauce. Swirl with a knife and add ½ of the pineapple tidbits (not the juice).


Start the second layer of biscuits dipped in milk again. Top with the leftover coconut cream. Top with remaining caramel sauce & pineapples.

Keep in fridge to chill for at least 2 hours. Serve chilled.

Recipe Notes
There can be many variations of this recipe based on availability of ingredients.
In case a whipped topping like Dream Whip  / Cool Whip isn't available, substitute with cream adjusting sugar and vanilla essence as required. Just remember that there should be about 3 cups of softly whipped cream to which coconut milk and icing sugar will be added. 
In case the flavor of coconut milk isn't preferred, almond milk or plain milk can be used. 
Nuts like sliced almonds or walnuts, along with toasted coconut flakes can be added as a garnish and filling to the dessert.
Instead of pineapple, other fruits like berries or banana's can be used. Just remember they may get soggy so ideally eat it soon!