Menu Planning for a Desi dawat or party can be SO tough! Not to worry. This blog post addresses factors to consider when deciding what recipes to make, a menu guideline and a sample menu.
We Pakistani's love to eat, and hosting a dawat or party for friends and family is one of the things that we love to do! But with so many factors to consider, deciding on what to include in the dawat menu can be tough. I thought of making life easier for you all by making a list of all the factors to consider when menu planning for a Desi dawat. Be it the traditional dinner dawat, a hi-tea or a brunch, this includes all the potential things to consider. Following that I have a menu guideline designed to help you plan out your menu. Lastly, there's a sample dawat menu, with more to come every month.
Let's get started shall we?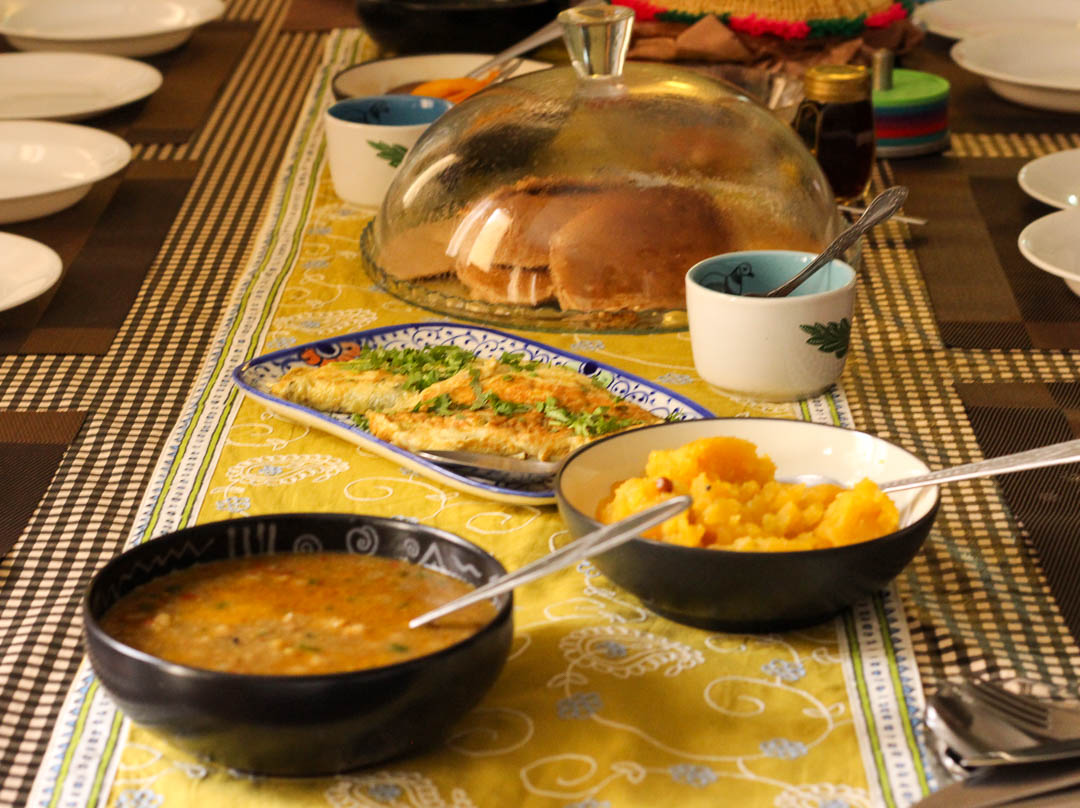 Things to consider when menu planning for a Desi dawat:
1. Number of People Invited:
The number of guests plays an important part on the complexity of the menu. With a larger guest list it's best to stick to a menu that is simple with crowd-favourites that the majority will love. For instance biryani, qorma, haleem, karahi, kebab are items that fall in this category. On the other hand, if the guest list is small then one can experiment with detailed recipes that take more time to prepare. For instance, salted caramel custard for dessert or shepherd's pie for the main course.
2. Age Group:
If young children are invited keep at least one dish that has mild spices and is preferred by children. For instance, pasta or noodles, burgers and fries, pizza. Children will also eat less so keep a note of that when deciding quantity. Similarly, guests who fall in the older age bracket will prefer dishes that are classic and traditional like mutton pulao over biryani or beef stew versus chicken reshmi handi. A guest list that comprises of mostly elderly people might also be prone to limitations like less oil, sugar and spices. So keep that in mind.
3. Dietary Restrictions:
After inviting the guests do ask them if they have any dietary restrictions or allergies. For instance, there may be certain guests who are vegetarian, allergic to seafood or diabetic. If all guests have the same dietary restriction, then the menu needs to be planned accordingly. But if only 1 or 2 people have restrictions, then design a dish that they can eat but will also be enjoyed by the rest of the guests. For instance, sugar-free kheer for diabetics, palak paneer for vegetarian guests, chicken karahi for guests allergic to seafood.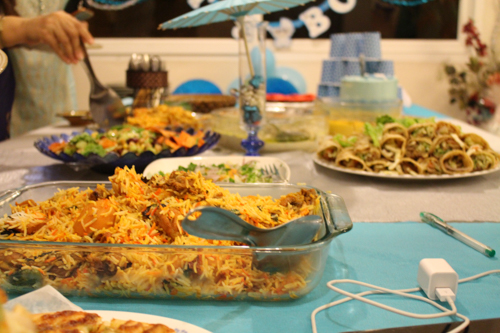 4. Guest Type:
What is the type of the guests that you have invited? Are they the traditional roti salan pulao eaters or are they willing to try continental dishes? Are they health conscious or prefer vegetarian over meat?
For instance, if I am having my university friends over for a game night I would do an experimental yet casual setup. Butter chicken with chicken pot pie and pineapple coconut fiesta for dessert. However, if I am inviting my in-laws I would make a mutton salan with a fish curry, and perhaps a matar pulao with a Desi dessert like shahi tukray or suji ka halwa.
One thing that always helps in menu planning is finding out what the guest dislikes. If you ask someone what they want to eat, they will usually end up saying 'kuch bhi/anything' in 'takalluf'. But people are more open in mentioning what they don't like and that gives a guideline on what to absolutely not cook. If your guests don't like fish, this is not the time to make your beloved fried fish recipe no matter how amazing it is.
5. Theme
Mostly, the Desi dawat is focused on family and friends gathering over dinner. However certain times the dawat has a theme and the food needs to be prepared in its consideration. For instance, if it's a children's party the menu should be filled with kid favorites like pizza, chicken nuggets, French fries, burgers and of course a beautiful cake. If it's a hi-tea, people will expect sandwiches, sliders, patties, samosas, and perhaps something a bit more filling like haleem or chicken pot pie.
6. Budget
The MOST important thing when planning a dawat. If throwing a lavish party, it's best to keep groceries separate. This helps evaluating what the average monthly budget for the household on a regular basis is. A good idea for making the most of the budget is to buy seasonal produce that not only tastes delicious but will also be reasonably priced. Additionally, focus on a balanced meal that includes a meat item, a vegetarian item, a lentil or beans item. If looking for more ideas, do check out my blog article on dawat ideas on a budget.
Desi Dawat Menu Guideline:
After considering the above you can now start thinking of the recipes to prepare. Here's a guideline to help you decide what to include in your menu designed to appeal to most guests. You can definitely make adjustments based personal preferences.
Starter – The typical Pakistani dawat rarely has appetizers, but nuts and crisps can be set out for guests. If the guests are open to starters then fried items like spring rolls or peri bites can be served. Otherwise chola chaat, pani puri, dahi baray are delicious Desi options.
Meat Gravy – A gravy / salan dish is must to eat with roti or rice.
Dry Meat Dish – This can be a bhuna salan, a fried item or barbeque.
Rice Dish – Can be plain rice or pulao/biryani style rice. Depends on the rest of the menu.
Vegetarian Dish – Can be daal, sabzi or chole. Something light to complement the meat in the main menu.
Sides – Achaar, chutney, raita and more.
Dessert – Desi or continental. Home-made or store-bought. Can even be mithai.
Drinks – Best kept on the side so guests can take as needed, without wastage. Make sure to keep a jug of water, and a diet drink also.
After Dawat Chai/Coffee/Green Tea – Serving hot drinks after the food can be tough, so this can be avoided if guests aren't in the mood. To make life easier, offer only one option to the guests or serve in disposable cups.
WOW dish / Hero Dish / Show Stopper – This is not a separate dish, but can be one of the items above, but is supposed to elicit ooh's and aah's from the guests. It can be a main like paye or nihari, it can be a rice dish like biryani or Singaporean rice, it can be a non-Desi dish like khowsuey or a cheesy baked casserole. It can even be a dessert like pavlova or a drink like Kashmiri chai. But it should basically look spectacular yet a recipe that you are comfortable with.
Sample Dawat Menu: 
Going to finish off this blog post with a sample dawat menu, with the star dish highlighted. Also, will be sharing a dawat menu on a monthly basis. Save it on your phone or your laptop and use  as a reference for planning the next Desi dawat at your house.
Lastly, remember that the purpose of a dawat is to spend time with family and friends. Whether you are the host or the guest, remember that the primary purpose of the get-together is to enjoy each other's companies. Don't let the food and drink over shadow that. Be a good guest, come on time and don't complain too much about the food. Be a good host serve food on time and be with your guests instead of stressing in the kitchen.
To keep updated with recipes, stories and so much more follow me on Facebook here, Instagram here and Twitter here.